Best Freelance Websites for Hiring Top Developers for Any Project in 2023 + Hiring Tips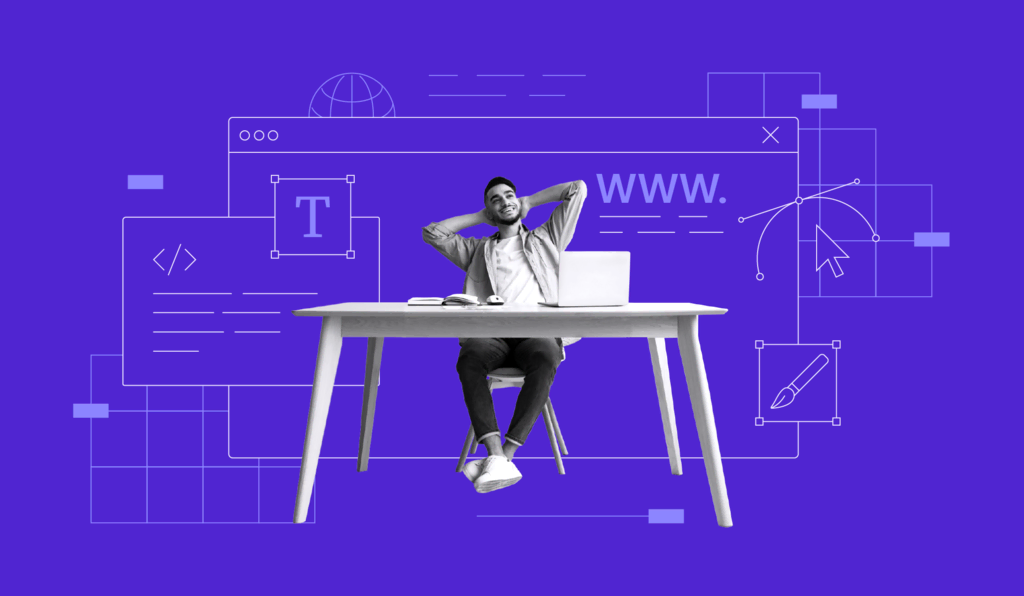 Building a website is crucial to establish a strong online presence. While you can easily make one using a site builder, developing a more advanced site requires technical skills.
Website owners usually hire freelance web developers for this task. Compared to web development companies, hiring freelancers is a more viable option for small projects like building a website.
To help you find a suitable freelance developer for your needs, we'll go over the 10 best freelance websites. We'll also explain the best practices for hiring freelance developers and answer some commonly asked questions.
The 10 Best Freelance Websites for Hiring Developers
1. Upwork
2. Toptal
3. Fiverr
4. Arc
5. PeoplePerHour
6. Codeable
7. Freelancer
8. UpStack
9. Yeeply
10. Scalable Path
In this section, we will list the 10 best freelancing sites to find developers for any tech projects.
Our experts have evaluated each freelancing site based on its user ratings, services, pricing, as well as reputation, and credibility.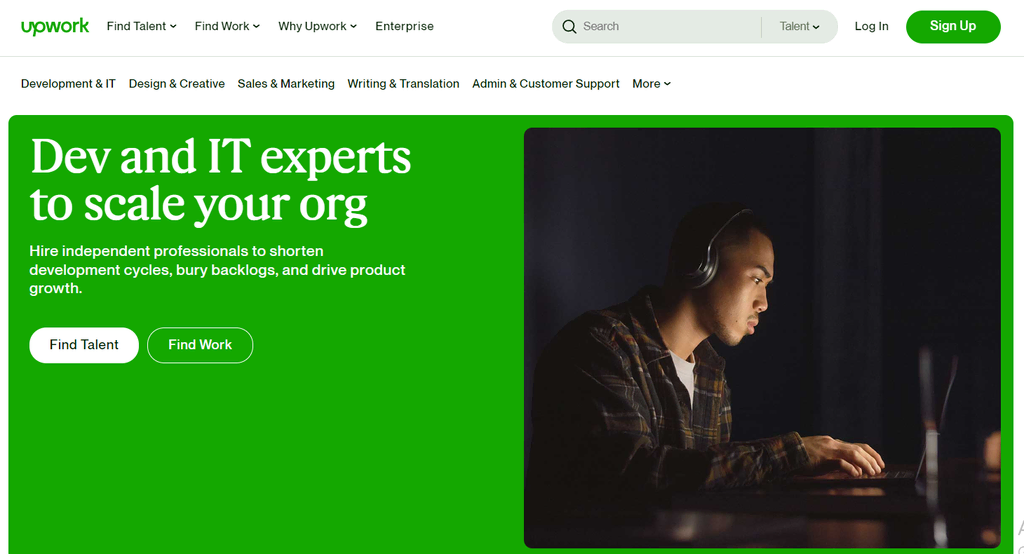 Upwork stats:
Best for: all types of development projects
Services offered: app, eCommerce, and website development, site content and visual design
Pricing: $15-$35/hour
Best known for its IT and development services, Upwork is a freelance platform that lets you choose from plenty of developers for your projects.
These include freelance developers skilled in various programming languages, QA engineers, and data scientists. Furthermore, it comes with a talent recommendation feature to help you find the best developers for your needs.
The main drawback of Upwork is its bidding feature which may complicate the hiring process. Also, some users often report poor customer service.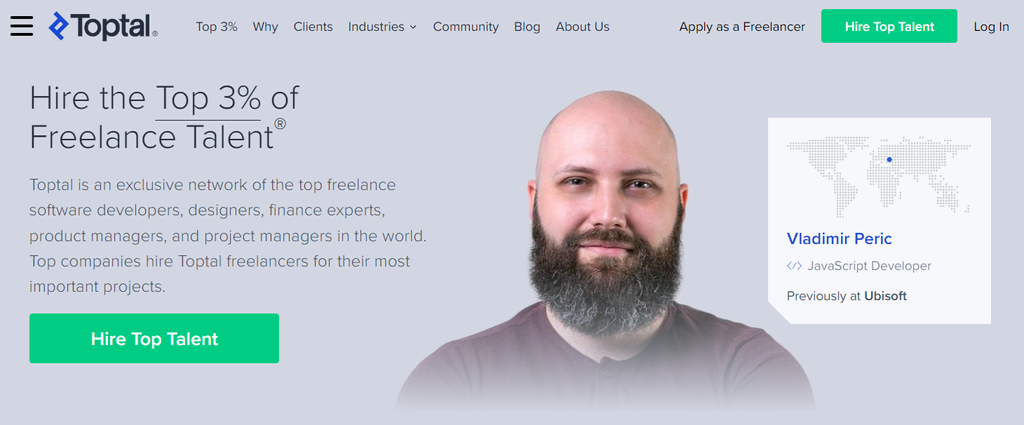 Toptal stats:
Best for: a high-budget project that requires a professional developer
Services offered: coding, web programming, UI & UX design
Pricing: $60-$150/hour
Toptal is the best place to hire highly-skilled freelance professionals. The website evaluates and vets the candidates strictly, ensuring you will choose from the best freelance developers.
Hiring a freelancer in Toptal takes only up to 48 hours, with free recruiting and termination costs. Simply specify your candidate's requirements, and Toptal will connect you with the right talent.
However, Toptal charges more for its services compared to other freelance websites. As a result, it might be ideal for long-term projects with a large budget.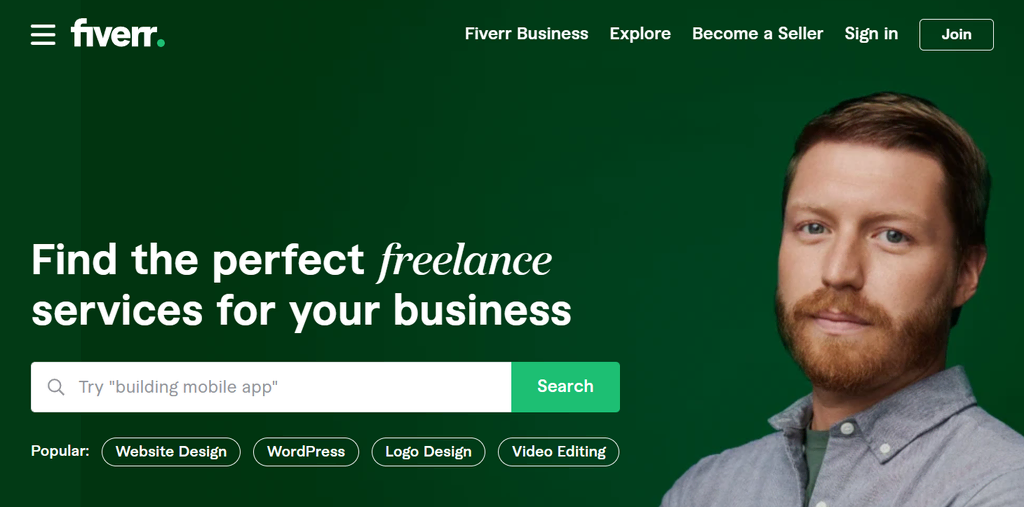 Fiverr stats:
Best for: minor development tasks with a small budget
Services offered: programming, web app development, security, and QA
Pricing: starts at $5/order
Fiverr is an order-based freelance website offering a wide range of services, including tech and IT development.
You can find various freelance positions on this platform, from entry-level developers to tech professionals. Use its user rating and review systems to find trustworthy and reliable website developers. Their services start at $5/order and may cost more depending on the project's difficulty.
For this reason, Fiverr is a great option if you have a limited budget. However, this order-based platform is only effective for non-project development tasks. If you use Fiverr for long-term projects, you must repeatedly place orders.
Furthermore, Fiverr doesn't have a vetting procedure. You must carefully do the screening process to prevent fraud and ensure the candidate's credibility.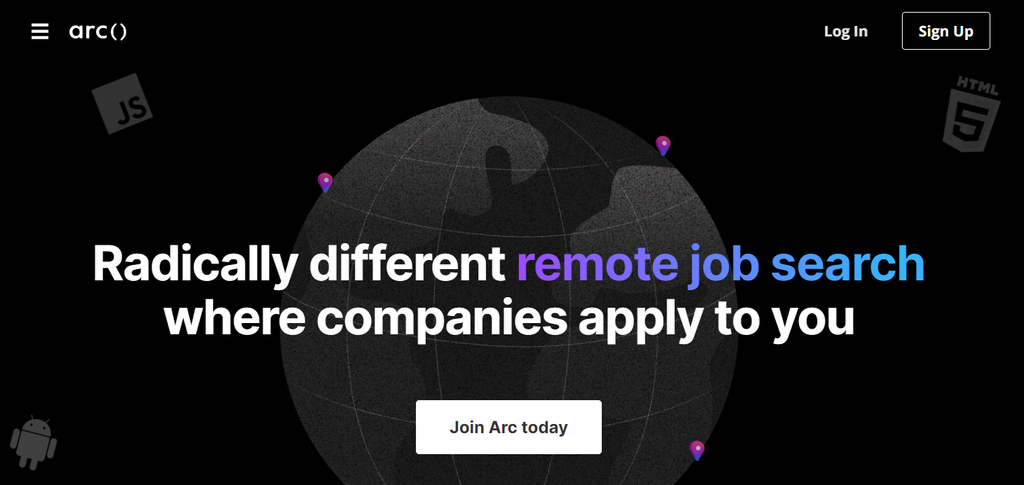 Arc stats:
Best for: long-term and scalable projects requiring highly-skilled developers
Services offered: web and software development, database and cloud management
Pricing: $60-$100/hour
For those looking to find freelance developers that are highly skilled and educated, Arc is the place to go. This freelance website lets you choose only from senior developers, such as former Google employees and PhD students.
These freelance talents include full-stack developers, DevOps engineers, software developers, and database managers. It also offers full-time positions in case you want to scale your project for a longer term.
Arc's downside is its higher rates compared to other freelance platforms. This website also has a small talent pool due to its strict vetting policy.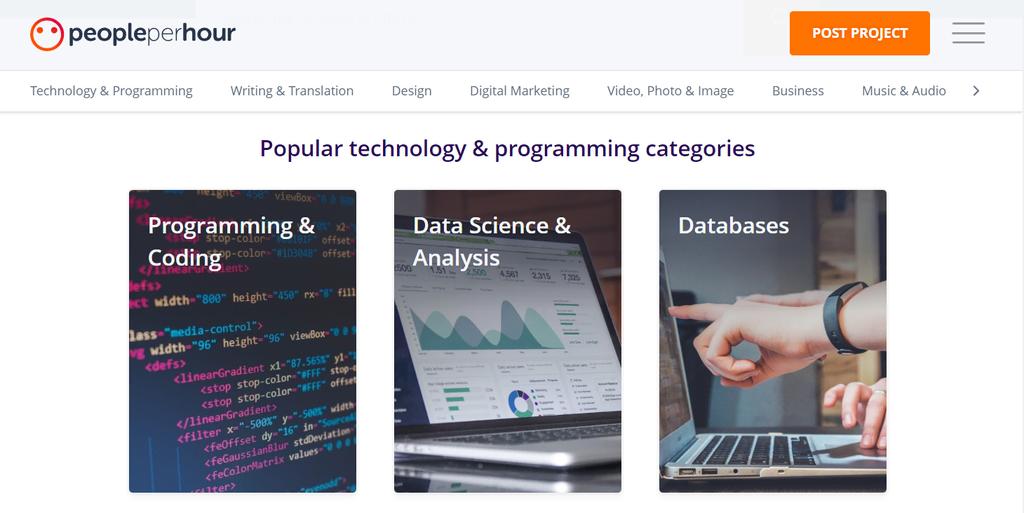 PeoplePerHour stats:
Best for: collaborative project-based development tasks with a limited budget
Services offered: coding and programming, website and app development, data management and analysis
Pricing: $10-$1,300/order
Like Fiverr, PeoplePerHour is an order-based freelance marketplace. The main difference between the platforms is that the latter applies a vetting process to verify the freelancers' credibility.
Moreover, its WorkStream project management feature makes it more suitable for project-based tasks. This feature allows you to manage multiple web developers working on the same project via a single platform.
However, PeoplePerHour's talent pool is not as large and diverse as Fiverr's. Its search feature is also less advanced, making it difficult to look for the ideal talent.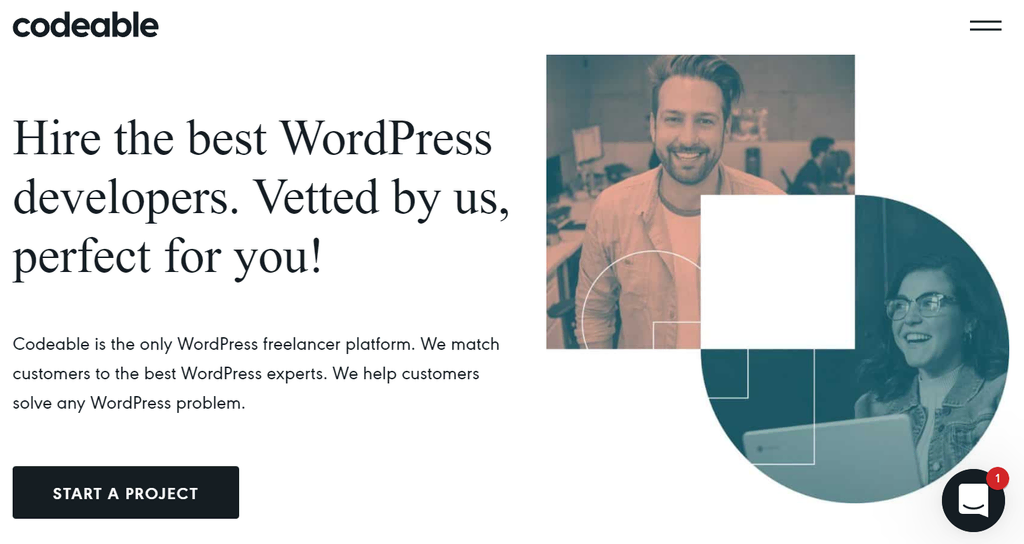 Codeable stats:
Best for: high-budget WordPress development projects
Services offered: custom WordPress site development, themes, and plugins customization
Pricing: $960-$15,900/project
Codeable is a one-stop solution for a WordPress development project. Here, you can hire WordPress developers experienced in creating themes, plugins, custom sites, or eCommerce stores.
To ensure the best possible quality, this platform carefully monitors its developers when working on a project. It also offers a 28-day bug warranty and partial or full refund.
The main drawback of Codeable is its steep hourly rate which comes with additional costs. Moreover, you use its services only for WordPress projects.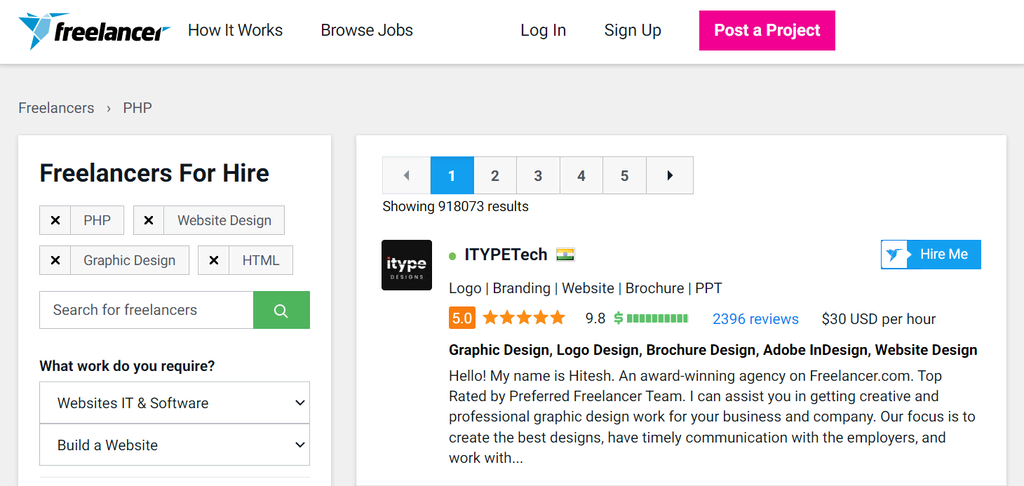 Freelancer stats:
Best for: small to medium projects with multiple skills requirement
Services offered: website and app development, database management
Pricing: starts at $8/hour
With over 60 million registered users, Freelancer has a huge talent pool to cater to various projects.
Thanks to its Post a Job feature, finding freelance web developers on this website is easy. Simply upload your job offer, and wait for interested freelancers to offer their prices.
However, the platform has an outdated interface, and its search feature may yield irrelevant results, making it difficult to find a fitting candidate.
Another drawback of this website is its additional costs for some features. What you can typically get for free on other freelance work sites will cost you between $9-$19 in Freelancer.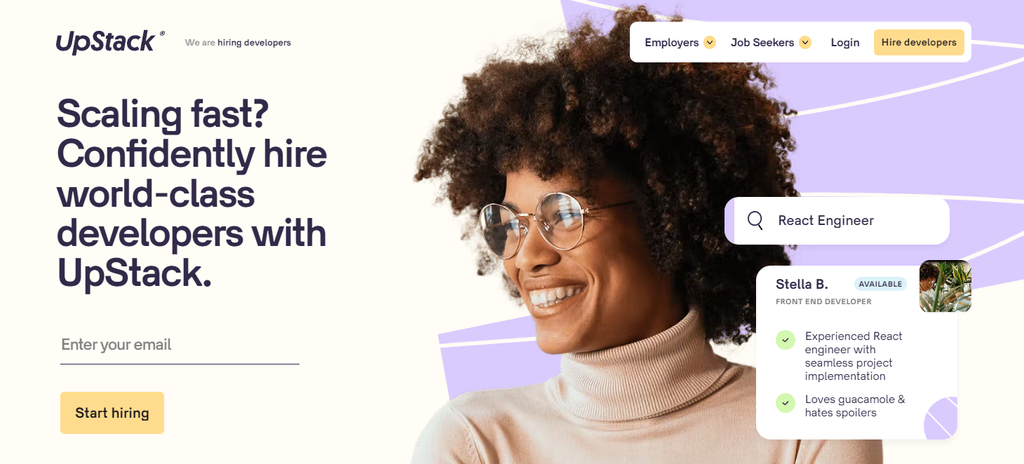 UpStack stats:
Best for: high-budget projects with a small talent pool requirement
Services offered: full-stack web development in multiple programming languages
Pricing: $65-$75/hour
UpStack claims to be the number one Toptal alternative, offering high-quality developers at reasonable prices. First, every freelancer on this website must undergo a strict assessment.
Second, you don't have to manually search for a good freelance developer. Its hiring team will find the perfect candidates based on your project requirements.
Finally, you will only need to interview the shortlisted candidates at the end of the hiring process. The process is also straightforward, helping you find a developer quickly.
While cheaper than Toptal, UpStack still charges a high price with an additional $399 upfront deposit. Its talent pool is also smaller than Toptal's, limiting your candidate options.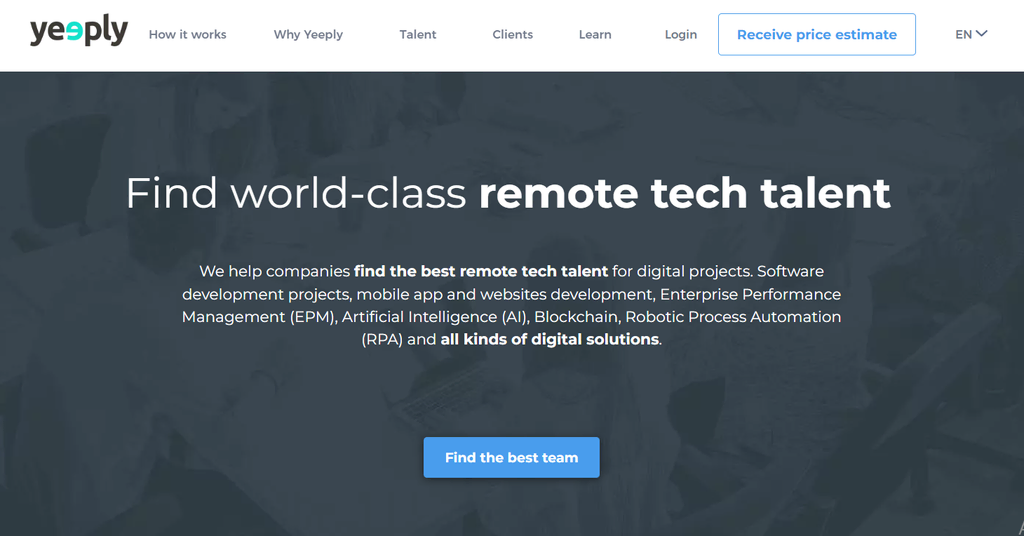 Yeeply stats:
Best for: enterprise-level projects requiring flexibility and transparency
Services offered: web and app development, programming and coding, AI
Pricing: depends on the project
Yeeply offers freelance tech talent for all kinds of digital projects, from website and app development to AI. Its typical clients include big companies, startups, and SMEs.
This website's highlights are its communication transparency and project management flexibility. You can freely customize your development team and resources to optimize your budget.
Yeeply's downside is its small talent pool, with only 150 teams. As for pricing, you will have to present your project and discuss it individually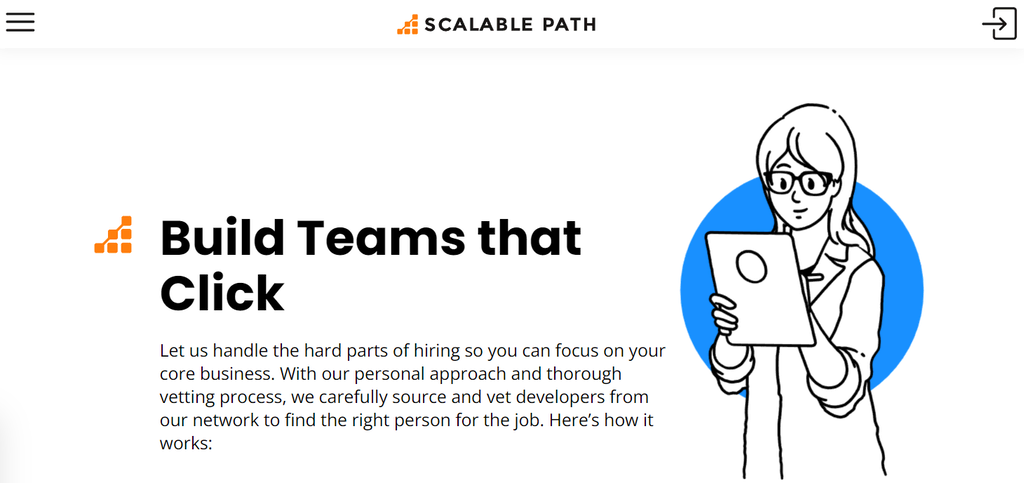 Scalable Path stats:
Best for: long-term development project with a sufficient budget
Services offered: Front-end, back-end, and mobile development, DevOps, UI/UX design
Pricing: $50-$75/hour
Scalable Path is a freelance website specializing in tech development and engineering tasks. With remote developers around the globe, this platform lets you collaborate effectively at any time.
This website offers free upfront hiring costs and zero additional hidden fees. It also provides risk-free and low-risk trial periods to ensure you only pay for satisfactory services.
However, Scalable Path's recruitment process is longer compared to other freelancing websites. At best, it takes two weeks for the candidates to finally join your team.
Also, Scalable Path has a minimum project size requirement of 150 hours or $7,500. This policy makes this website only suitable for a long-term project that lasts at least a month.
Alternatives to Traditional Hiring a Freelance Developer
In case you don't want to use a freelance website, consider alternative methods to hire developers online.
Ask for Referrals
Asking for referrals means asking other people to recommend freelance developers. We recommend approaching site owners who have had similar projects and hired freelance developers before.
Network at Online Tech Events
Usually, many freelance developers gather at online tech events to share their knowledge and learn from each other. You can use this opportunity to pitch your project – developers who will be interested in your project will contact you, shortening the recruitment process.
Browse Remote Job Boards
Since web developers are among the most popular work-from-home positions, browsing remote job boards might be a good idea.
A tech-specific job board like Dice is the ideal place to find and hire freelance developers. Alternatively, use other job boards with broader categories, such as We Work Remotely and Working Nomads.
With such platforms, you don't have to manually search for freelance web developers. You can simply post job listings and wait for them to contact you.
Best Practices for Hiring a Freelance Developer
To hire web developers suitable for your project faster, consider the following best practices.
Define Project Requirements
When posting a job on freelance programming sites, include a web development proposal. A well-written proposal must clearly define your project requirements, such as its budget, timeline, and job description.
Otherwise, you may hire developers who don't suit your budget or lack the relevant skills. As a result, you might waste your time and resources.
Review the Developer's Portfolio and Examples of Work
Before hiring a developer, carefully analyze their profile. Going through the developer's portfolio allows you to determine if the candidate is capable and suitable for your project.
Aside from portfolios, examine the shortlisted web developers' resumes. Make sure your candidates should possess relevant skills and web development certificates.
Establish a Reliable Relationship and Build Trust
To improve your project's development, establish a reliable relationship with your developers. Only when developers openly discuss and communicate with their clients is it possible to achieve the best result.
This is because intensive communication lets you clearly explain your goal and understand technical limitations.
Moreover, this relationship can develop into a long-term one – you might not need to look for a suitable freelance developer once you start a new project.
Finally, don't be afraid to hire a motivated person that lacks certain skills – in time, they can become great web developers who will feel loyal to you.


Conclusion
When working on a web development project, consider hiring freelance developers to help you with the task. One of the easiest ways to do so is by using freelance sites.
In this article, we have also listed the 10 best websites to hire freelance developers for any project.
In addition to using such platforms, you can ask peers for recommendations, participate in tech events, and explore a remote job board. Good luck!
Freelance Websites for Developers FAQ
In this section, we will answer some commonly asked questions about hiring developers on freelance sites. If you have other questions, leave a comment below.
What Are the Types of Websites for Hiring Freelance Developers?
Upwork, Toptal, and Fiverr are the most popular freelance work websites for hiring a freelance developer. 
Alternatively, use remote job board websites such as We Working Remotely and Working Nomads.
How Much Does It Cost to Hire a Freelance Developer?
A web developer's salary depends on their experience, expertise, and location. Your project's requirements and difficulties can also significantly affect the price.
For instance, Upwork estimates that hiring a freelance web developer to build a full custom-coded site will cost you at least $75/hour. Meanwhile, you will pay $15/hour for an entry-level web developer.