How to Manage Multiple WordPress Sites: 5 Tools to Make the Management Easier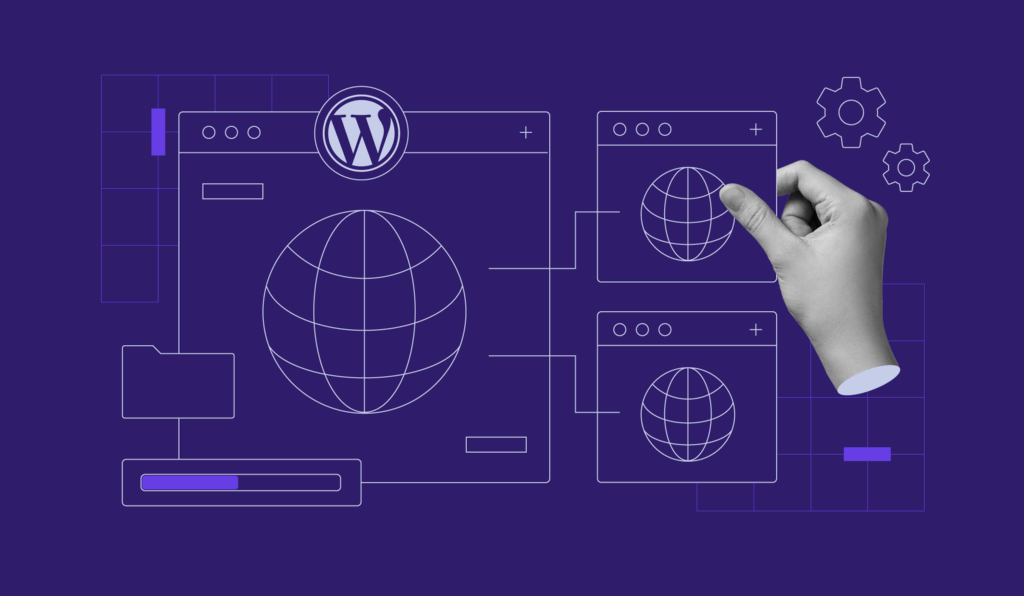 Whether you manage multiple WordPress sites for your clients or have your own, this process might be complicated and time-consuming. You will have to log in to each site to ensure it is up-to-date, secure, and runs optimally.
This is where a WordPress management tool can come in handy.
With it, you can access multiple websites from one single dashboard. As a result, you will streamline site management tasks and work more efficiently.
In this article, we will list the five best tools to help manage multiple WordPress sites. We'll review each plugin and walk you through its features so you can choose the right WordPress management tool for your needs and budget.
Download WordPress Security Checklist
Why Use a WordPress Management Tool to Manage Multiple Sites
There are two ways to streamline WordPress website management. First, you can activate the WordPress Multisite feature, which enables you to run multiple WordPress sites under the same installation and server.
However, this option is only suitable for managing websites that share the same WordPress core files. Installing a plugin on one client site will make it available for the other sites on the network, so you can't customize the plugins for different clients.
If you want more flexibility, opt for a dedicated WordPress management tool.
Much like WordPress Multisite, such a tool lets you manage multiple websites from a single dashboard that is outside of WordPress.
Since it doesn't share the same WordPress core files, your clients don't need to use the same plugin.
Moreover, as the websites don't share the same server resources, a sudden spike of traffic in one site won't negatively impact the whole network's performance.
Thus, using a WordPress management tool will save you time and effort as well as help scale your business.
Learn More About WordPress
What to Look For in a WordPress Management Tool
When compiling our list of the five best tools, our WordPress experts were looking for the following features to help manage multiple sites:
One-click login. You should be able to access multiple sites from one single dashboard.
Bulk updates. These include updating themes, plugins, and WordPress core files.
Backups. In case of an emergency, a reliable tool should include manual or automatic backups.
Furthermore, we paid attention to additional features such as security scans, uptime monitoring, SEO audits, analytics reporting, and user management. However, most of these features are available in premium versions only.
Moreover, all of the following tools for managing multiple WordPress sites are compatible with the latest CMS updates.


Top 5 Tools to Manage Multiple WordPress Websites
Here are the five best tools to manage multiple WordPress websites: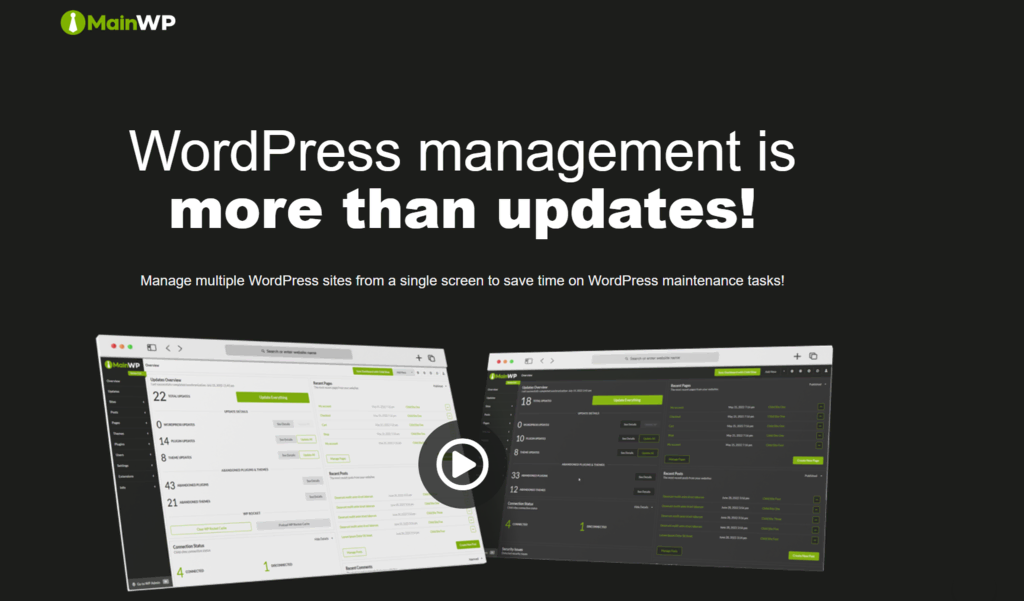 MainWP stats:
Best for: tech-savvy users looking to have more control over their WordPress management tool
Price: freemium, starting at $29/month
MainWP is a powerful plugin to help users manage multiple WordPress sites from one dashboard, including those using different web hosts and servers.
With its one-click access to the connected sites, users can easily manage plugins and theme installations, check for their updates, and remove unused ones.
Furthermore, it is open-source and highly customizable. Besides putting its source code on GitHub, MainWP offers API hooks, making it ideal for developers looking to have more control over their plugins.
To use this tool, WordPress users need to download two plugins. First, install the MainWP Dashboard plugin on an admin site – a new WordPress website without additional plugins or themes.
Then, install the MainWP Child plugin to the sites you want to manage and connect them to the admin site.
Once done, you will be able to track and manage all your Child sites from the admin site's dashboard.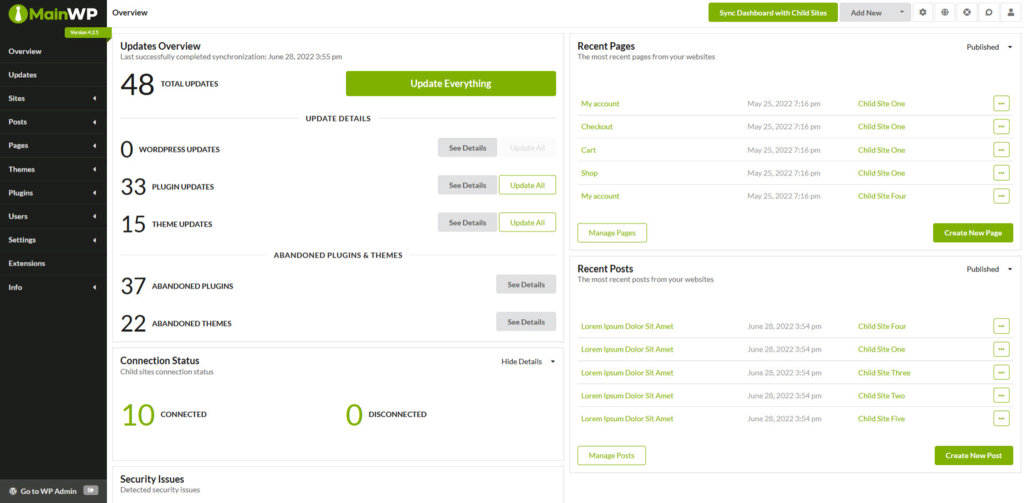 With its free version, you can manage unlimited websites. It also offers essential site management features, including security checks, uptime monitoring, updates management, and regular backups.
However, to access its full features, you need to get the premium plan, starting at 29/month for unlimited sites. Alternatively, get its lifetime license for $499.
The premium version provides access to more than 30 premium extensions to optimize the MainWP dashboard.
These include third-party extensions for Google Analytics integration, content management, page speed monitoring, white labeling, scheduled backups, WordPress cloning, and web caching.
MainWP also provides users with comprehensive documentation, a knowledge base, and a supportive community to help set up the tool and troubleshoot issues.
Key Features
Custom dashboard. Choose from a variety of built-in themes. Alternatively, tweak existing themes, font, colors, or button placement on the MainWP dashboard by adding code to the WordPress site.
Dashboard lock. Add extra protection by managing access to the MainWP dashboard. You can also limit access to the wp-admin pages and wp-login.php for specific IP addresses.
WooCommerce shortcuts. Quickly access the WooCommerce pages on your Child sites, such as product pages, orders, coupons, and shipping settings – all from the MainWP dashboard.
Bulk content management. Write, publish, edit, and delete multiple posts and pages straight from the MainWP dashboard without logging into each site separately.
Updates management. Set up automatic or bulk updates and get alerts when they're done. This includes WordPress core, plugins, themes, and translation updates. In addition, the plugin detects outdated plugins or themes.
WP compress integration. Reduce file sizes across all your websites easily to improve their page load time. It also entails image resizing and bulk optimization using various compression modes.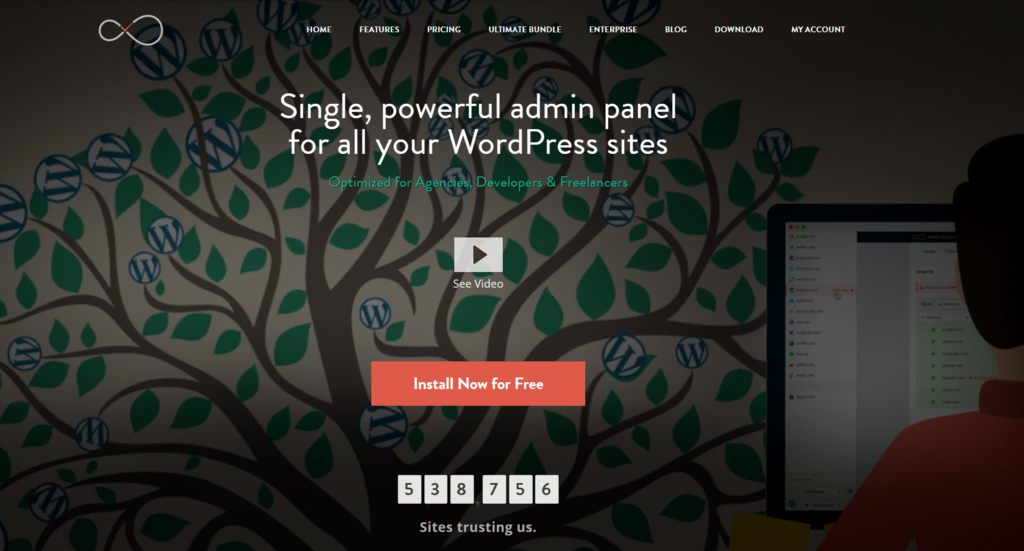 InfiniteWP stats:
Best for: anyone looking for a secure WordPress management tool
Price: freemium, starting at $147/year
Similar to MainWP, InfiniteWP is a secure WordPress management tool. It also requires one WordPress site as the hub for managing all the other connected websites from InfiniteWP's admin panel.
To secure your admin panel, InfiniteWP offers multiple layers of protection, including IP address restriction, two-factor authentication, a password-protected folder, and an HTTPS support layer.
There are three methods to install it – via an installer plugin, a control panel, or manually uploading the plugin to your server.
Once set up, simply add the WordPress websites you want to manage.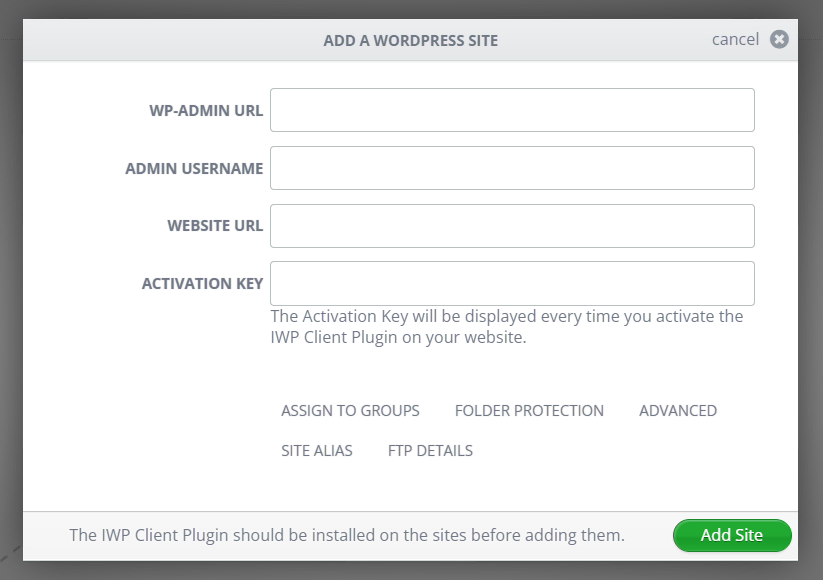 Although the initial installation can be challenging, and the interface is slightly outdated, the plugin is easy to use once set up.
To support users during the installation and troubleshooting, the tool is well-equipped with tutorials, forums, a knowledge base, and ticket support. However, its response time varies depending on the purchased plan, from four days for the free plan to up to 12 hours for the Enterprise.
InfiniteWP's free version is limited to one-click access to the main dashboard, generating and restoring backups, and performing updates for all connected sites.
To unlock its premium features, consider opting for one of its paid plans starting at $147/year for up to ten sites.
Its premium plans come with security scans and various add-ons for site analytics, maintenance, and reporting.
Key Features
WordPress staging. Create a copy of your site to test updates, modify plugins, and employ other changes without affecting the live website.
Migration. Safely migrate an existing site to a new location. The tool will automatically redirect all links to prevent error pages.
One-click update. Run bulk updates for plugins, themes, and translations for individual or multiple sites with a single click. Users can also monitor an activity log.
Cloud and scheduled backups. Set up daily, weekly, or monthly automatic backups and save them to cloud storage like DropBox and Google Drive.
Various security measures. Protect your WordPress websites against malware and other cyber threats by integrating security plugins like WordFence, Google Safe Browsing, and iThemes Security. Should an attack occur, users will get immediate notifications via email.
Client reporting. Choose from simple to professional report templates for your clients to present insights into their businesses.
Uptime Monitoring. Includes keyword, port access, and ping monitoring. In addition to notifying users when the site goes down, InfiniteWP also explains its possible causes.
Broken Link Checker integration. In addition to detecting broken links, this WordPress plugin allows users to remove or modify the links straight from the InfiniteWP dashboard.
WP Maintenance integration. Manage spam comments, optimize database tables, clear post revisions, and auto-draft posts.

CMS Commander stats:
Best for: managing affiliate websites
Price: starts at $12/month
CMS Commander is a highly popular premium WordPress management tool with a simple yet highly intuitive interface.
Similar to other plugins, it helps WordPress users manage multiple sites from a single dashboard by connecting the client sites to the main website.
Unlike other WordPress management tools, CMS commander supports content creation by offering access to more than 20 sources, including Flickr, Amazon, Youtube, and iTunes. From them, users can feature images, embed videos, create blog content, and insert affiliate ads.
With its content curation feature, you can optimize, create or monetize content easily – making it an ideal solution for handling multiple affiliate marketing websites.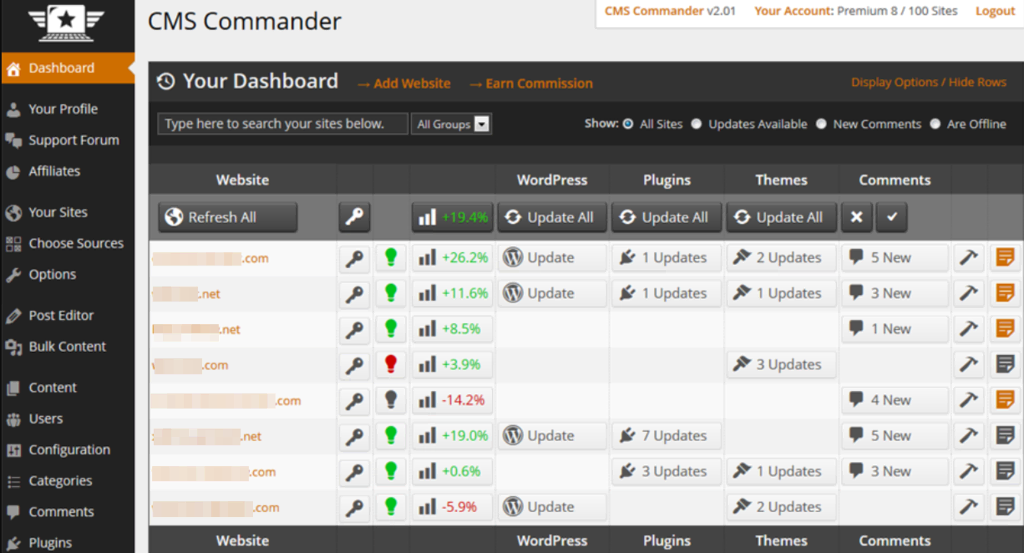 If an issue occurs, users can send an email or reach out to the CMS Commander support team on its Twitter and Facebook accounts. It also comes with documentation to help users maximize the tool's features.
CMS Commander's pricing depends on the number of sites you want to manage.
The Starter plan ranges from $8/month for five sites to $20/month for 30 sites and three user accounts. If you handle more client websites, opt for one of its Business plans, which allows you to manage from 50 to up to 200 sites at $35 and $75/month, respectively.
In addition, you can order more sub-user accounts addon at $9/month for 20 users. That way, you can give and manage website access to your clients or coworkers.
While CMS Commander doesn't offer a free demo, it comes with a 30-day free trial that unlocks all of its features.
Key Features
Affiliate network integrations. Integrates with popular affiliate marketing programs like Amazon, CJ, and eBay, helping users keep track of each network's statistics.
Automatic backlink tracker. Displays backlink statistics of each managed website. This includes the total number of backlinks, nofollow, dofollow, and new links. These statistics are updated biweekly.
Pagespeed monitoring. Shows the average responsitivity of connected WordPress sites.
Bulk editing. Users can replace keywords, change thumbnail images, and insert affiliate links in multiple published content simultaneously.
Content scheduling. Streamlines consistent content publishing to all your WordPress sites.
Import Content. Simultaneously upload content in various formats to WordPress, including RSS Feeds, and CSV.
Multilingual versions. CMS Commander supports French, Dutch, Portuguese, German, and Chinese in its management dashboard.
Various backup destinations. This includes the server where the backup was created, an FTP server, email as well as Dropbox, Amazon S3, and Google Drive accounts.
Site creation templates. Users can install a new WordPress with pre-configured templates that include activated plugins and other settings.
[DOWNLOAD]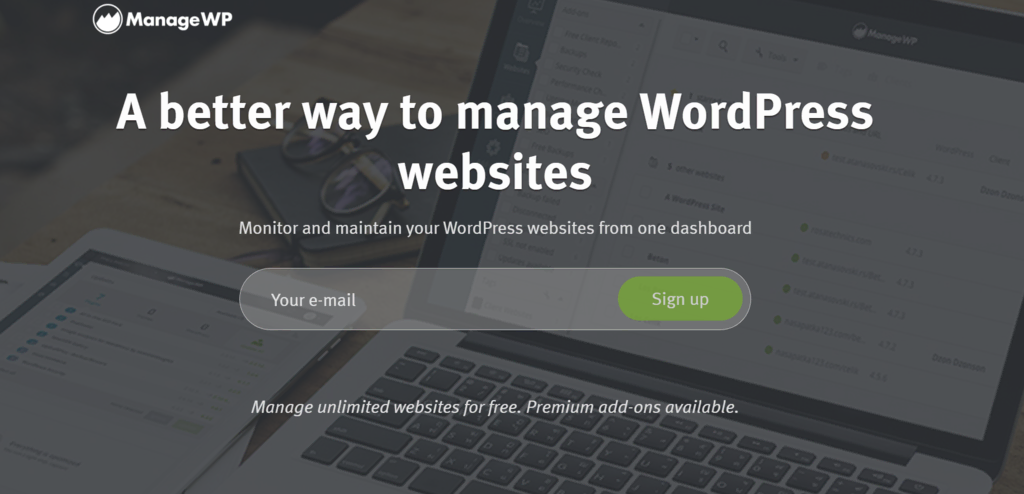 ManageWP stats:
Best for: web agencies
Price: free, with premium add-ons starting at $1/site
Another one on the list, ManageWP is a simple WordPress plugin that helps you manage multiple WordPress websites. To start using it, simply go to its official site and sign up for a new account.
Then, install the ManageWP worker plugin on the sites you want to manage and connect them to the ManageWP dashboard by entering the WordPress admin login credentials.
From the main dashboard, users can perform essential site management tasks, like running one-click updates to plugins, themes, and WordPress core files.
You can also run security checks and track how your site performs with its widget that integrates with Google Analytics.
One of the biggest advantages of this tool is that it offers support both for free and premium users. Moreover, there is a comprehensive user guide, forums, and ticket support.
While ManageWP offers a free version for unlimited sites, advanced features are only accessible as premium add-ons, starting at $1/site/month.
For example, the free monthly backup includes scheduled backup, off-site storage, and one-click restore. To access automated and on-demand backups, get the premium Backup add-on.
As you choose from many upgrades, this tool is ideal for web agencies managing client websites with different needs.
Moreover, for those managing over 25 websites, ManageWP offers a bundle package applicable to up to 100 websites. Users can pay a flat monthly fee of $25/add-on.
However, the complex pricing for advanced features can add up over time. Meanwhile, other tools offer a more cost-effective option for the same features.
Key Features
Customizable client reports. Tweak colors, fonts, header, footer, and cover page, as well as localize the content in multiple languages. Premium access offers white labeling, scheduling, bulk reporting, and sending the report from your email address.
SEO ranking. Integrated into the client reports, the tool shows your main competitors, keyword ranking history, and website visibility.
Code snippets. Tech-savvy users can write and execute their own code from the ManageWP Dashboard for further customization. This includes customizing plugin settings, editing content, or updating widgets.
Maintenance mode. Provides customizable templates to inform visitors when the website is inaccessible due to maintenance.
Safe updates. Schedule updates during the lowest traffic. Automatically generate backups before every plugin and theme update. If an error occurs during the updates, you will be able to retrieve the backup.
Smart clone. Bundled with the premium Backup add-on, users can clone the website to a WordPress staging environment or a new web hosting service. The tool compares the source and destination files and skips the duplicate ones, saving time in the process.
Collaboration tool. Streamlines collaboration with teams and clients by providing access to maintenance operations. All it requires is entering their email addresses, then simply switching between the different accounts.
Link monitor. Checks every link on the managed sites daily and alerts users of broken links or unresponsive pages. Then, users can edit the link, unlink texts, or add a nofollow tag straight from the ManageWP dashboard.
[PREVIEW]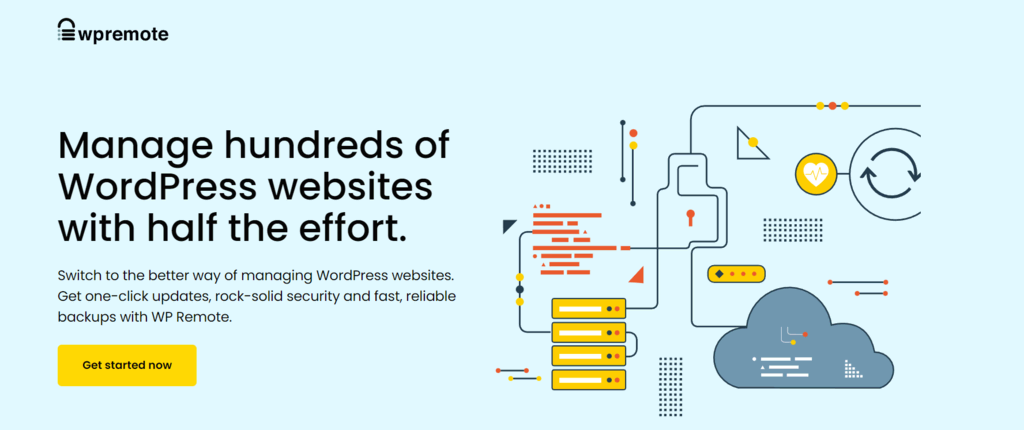 WP Remote stats:
Best for: users who want a simple WordPress management tool
Price: freemium, starting at $29/month
For those looking for a simple tool to manage multiple WordPress installations, WPRemote might be what you need.
Equipped with a user-friendly interface, users can conveniently update the WordPress core files, create backups, and scan multiple client sites for malware without having to log in to each site.
You can also add a new WordPress plugin or theme straight from the main WP Remote dashboard.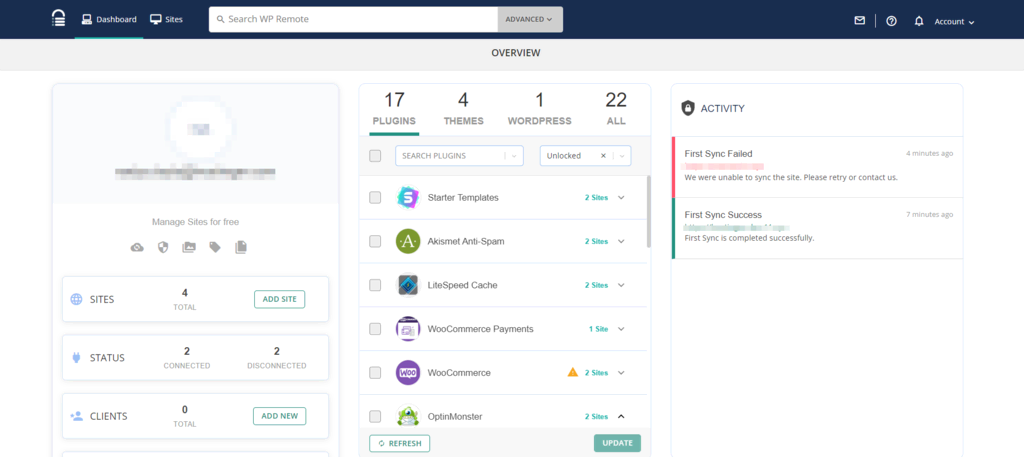 To get started, create an account at the official site, which hosts the main WP Remote dashboard. Then, install the free WPRemote plugin on each client site to connect it to the dashboard.
There are two methods of installation – manual and automatic. The latter allows users to install the plugin on client sites without having to leave the main WPRemote dashboard. Simply enter your site's URL and WordPress admin login credentials to do so.
Although you can use the tool for free, accessing its complete features requires upgrading to one of its premium plans. WP Remote's pricing for each category also varies depending on how many sites you're managing.
For example, the basic plan starts at $29/month for five sites and goes up to $99/month for 20 sites.
Furthermore, WP Remote has an active forum, a comprehensive knowledge base, and email support.
Key Features
Visual testing. Preview how the site looks before going live with the new changes. That way, you can ensure the new code changes will not disrupt the site's usability.
Staging environment. Create staging sites with a single click. The tool automatically disables Google indexing, preventing the website from appearing on search results and hurting the live site's SEO.
Regular backups. Schedule automatic backups or generate them anytime you make a change. It keeps your backup history for a year in case of data loss.
Advanced client reports. Automatically generate personalized reports for backups, updates, website performance, uptime, or security issues you've handled. Schedule weekly, monthly, or one-time reports in multiple languages.
Instant malware removal. Identify malware before it takes over the entire site and clean it with a single click.
Smart web application firewall. Protect the site against malicious network traffic and unauthorized remote access.
Site monitoring. Keep track of client sites' speed and performance. Once a website is down, this tool will immediately notify you via Slack or email.
[DOWNLOAD]
Conclusion
Using a tool that helps you manage multiple WordPress sites from a single dashboard can improve productivity and efficiency.
With the many WordPress management tools available, it's important to consider your budget and needs before choosing one.
We recommend the following tools to manage multiple WordPress websites:
MainWP. Best for users looking to have more functionality and customization over WordPress sites, as it's open source and offers API hooks.
InfiniteWP. Ideal for users who prioritize website security features since it offers multiple layers of protection to their main dashboard.
CMS Commander. Great for users managing affiliate marketing or content-heavy websites due to its ad insertion and features to manage blog posts.
ManageWP. Recommended for website agencies, as it allows individual upgrades for each client's website and has a more cost-effective bundle pricing.
WPRemote. Suitable for users looking for a simple, user-friendly tool to manage multiple WordPress sites.
After learning about several WordPress management tools, it's time to pick the most suitable one to scale your business. If you're still unsure, try out the free versions and upgrade according to your needs.
Manage Multiple WordPress Sites FAQ
In this section, we'll answer some commonly asked questions about managing multiple WordPress sites.
What Are WordPress Management Tools?
These tools help users manage multiple WordPress websites from one dashboard. Their functions include performing updates, generating backups, managing content, removing malware, and bulk plugin installations. 
Which Tool Is Best for Managing Multiple WordPress Websites?
The best WordPress management tool depends on your budget and needs. We recommend MainWP for its ease of use, CMS Commander for handling multiple affiliate marketing websites, and ManageWP for web development agencies managing multiple sites that have different needs.