How to Create a Coming Soon Page for WordPress + 3 Best Coming Soon Plugins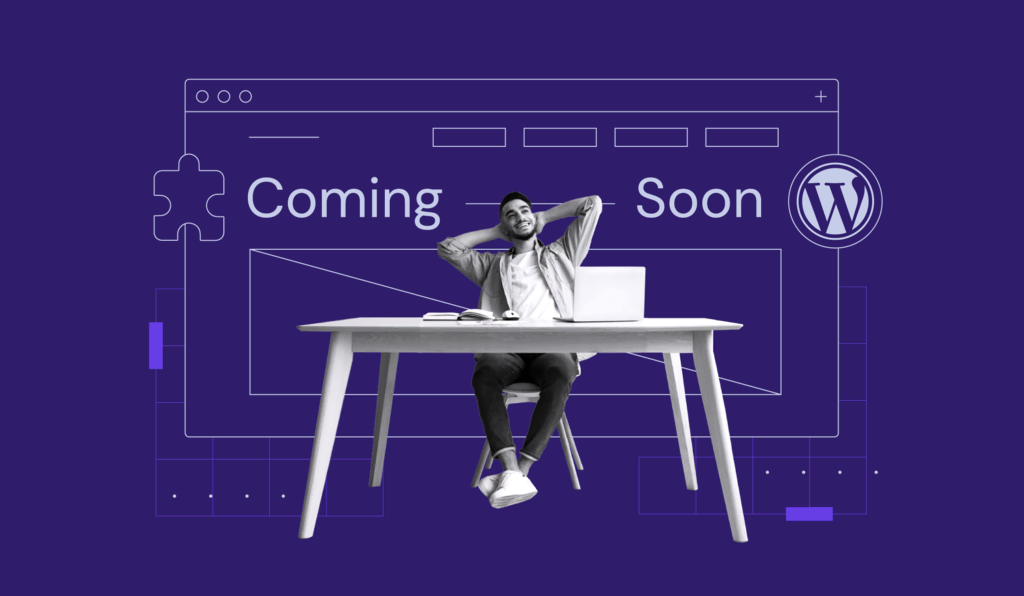 There are many ways to promote a new WordPress website after launch. However, only a few website owners take advantage of the pre-launch period to build brand awareness. This is where a coming soon page comes in handy.
A coming soon page is a powerful lead generation tool for new websites yet to launch. This page type offers information about the site and what it offers. If built smartly, a pre-launch page can help garner site visitors and secure future sales.
Keep reading as we dive into the importance of a coming soon page for a WordPress website. You will also learn how to create a coming soon page using one of our suggested plugins.

What Is a WordPress Coming Soon Page?
A WordPress coming soon page builds anticipation for the launch of a new website. It serves many marketing purposes, like building brand awareness, capturing leads, and gathering an audience. A coming soon page usually contains a countdown timer to the site launch, a sneak peek of new products and services, and promo deals.
Despite looking similar, a coming soon page and a maintenance page serve different purposes. The former builds hype and generates leads during the website development process, whereas the latter maintains user experience when updating an existing WordPress site.
Why Create a Coming Soon Page in WordPress
A WordPress coming soon page generally serves as a placeholder for websites that are currently in the development stage. It informs people about when the website will be live and its content.
For a business website, the coming soon page usually promotes the brand it represents.
By redirecting visitors to a beautiful and informational coming soon page rather than displaying an unfinished one, you can retain user experience and brand credibility.
From the marketing perspective, a coming soon page is an excellent lead generation tool. For example, adding a signup form to the page helps to build your email list for future promotions.
Esentea is among many companies using a coming soon page to generate leads. It offers a launch discount code to encourage email signups, creating potential sales opportunities before the business is operational.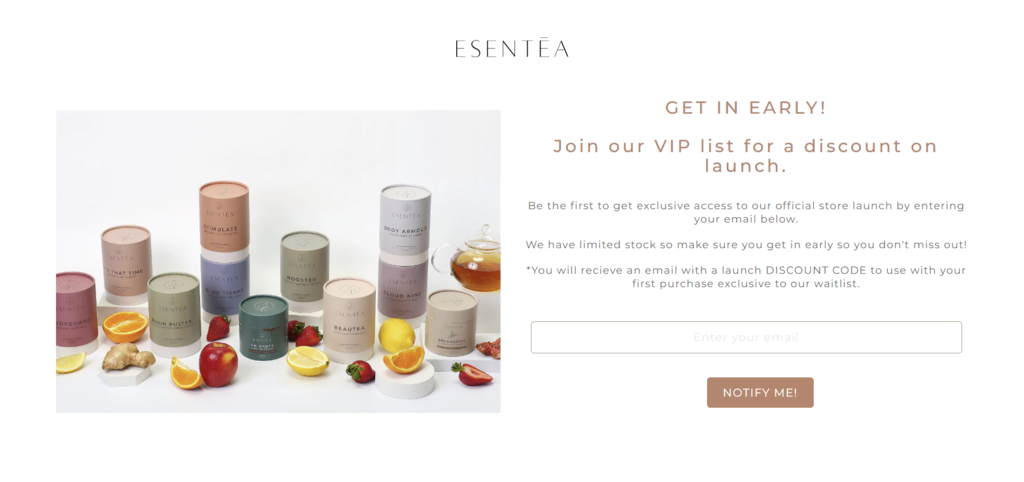 Other companies leverage coming soon landing pages to build brand awareness and influence buying decisions. Evermore details its upcoming facilities and how the resort benefits its target audience on its coming soon page.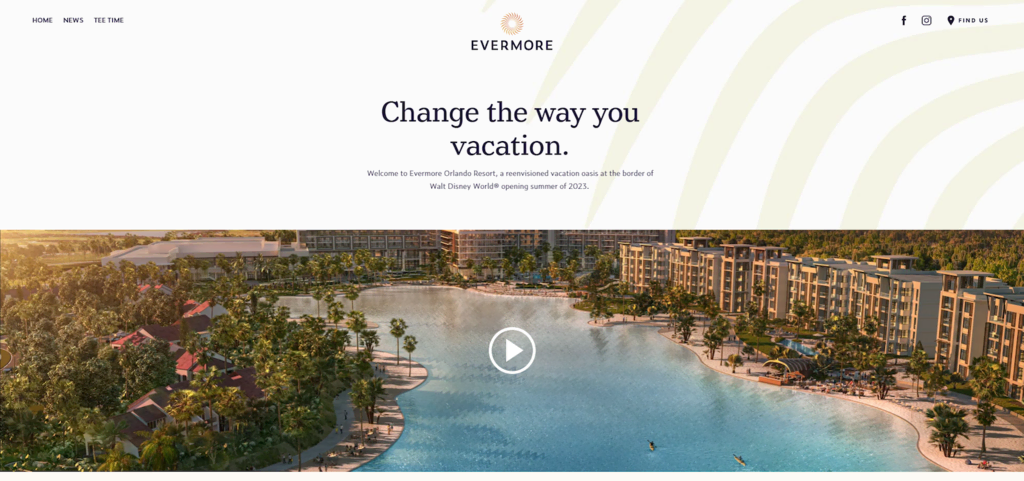 Creating a coming soon page in WordPress also lets you engage in cross-promotion. You can link your coming soon page to your brand's social media pages, offering alternative channels for people to stay updated with your website and business.
How to Create a Coming Soon Page in WordPress
There are many methods to create a coming soon page so you can prevent website visitors from accessing your unfinished WordPress website.
Hostinger users can enable WordPress maintenance mode from hPanel to generate an automatic page. However, this method doesn't let you customize the content and design of the maintenance mode page.
We recommend using a WordPress coming soon plugin if you want flexibility in customizing your coming soon page.
The following tutorial will show you how to build a WordPress coming soon page using the Lite version of the popular page builder SeedProd. If SeedProd doesn't suit your needs, check out our list of the best WordPress plugins with similar functions in the next section.
1. Install a Coming Soon Plugin
Navigate to Plugins → Add New from your WordPress dashboard. Locate SeedProd by typing the name in the search bar, then install and activate the plugin.

Follow the instructions to complete the setup process. Since we're using the Lite version, make sure to uncheck all the Pro features when configuring the plugin.
2. Create the WordPress Coming Soon Page
Open the SeedProd tab → Landing Pages. Click the Add New Landing Page button.

Select the Coming Soon filter. Then, pick a starter page template by hovering over it and selecting the checkmark symbol. Click on the magnifying glass button to preview the coming soon page template.
Choose a pre-built WordPress coming soon landing page template or design one from scratch to fit your website niche. The starter page templates in the Lite version may be limited, so consider upgrading to SeedProd Pro to unlock more options.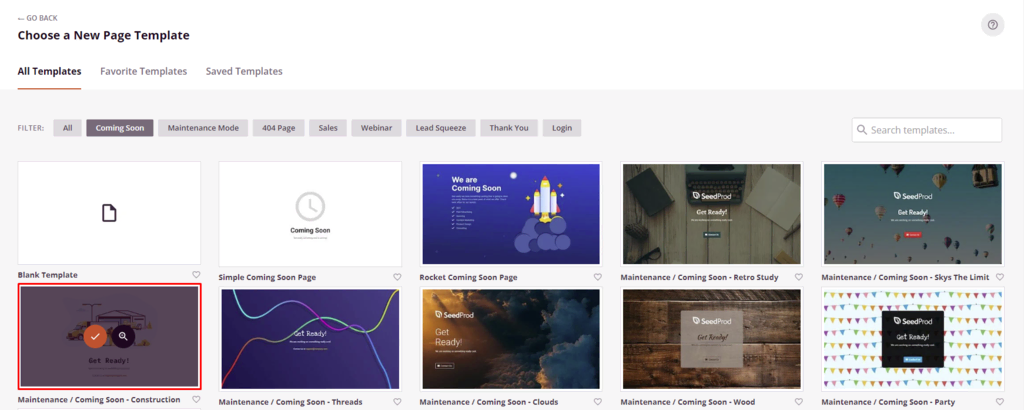 The plugin will ask for a page name and URL. You can change them later in Page Settings.
Click Save and Start Editing the Page to customize the coming soon template.
3. Customize Your Coming Soon Template
The drag-and-drop page editor lets you freely add and move elements from the Blocks tab to the page preview. For example, drag and drop the Contact Form block to the page to aid your email list-building efforts with WPForms.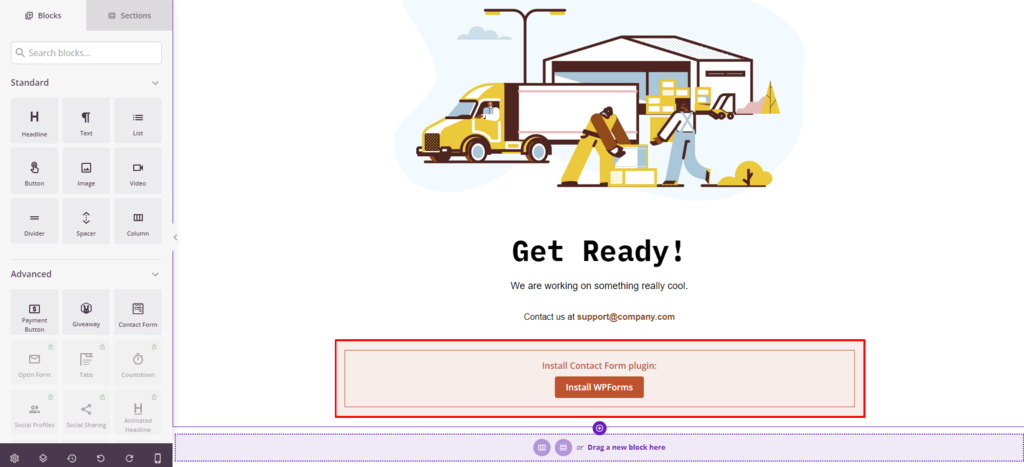 To change the background image or color, click on the landing page to activate the Content tab under the Design menu. Then, configure the Background settings.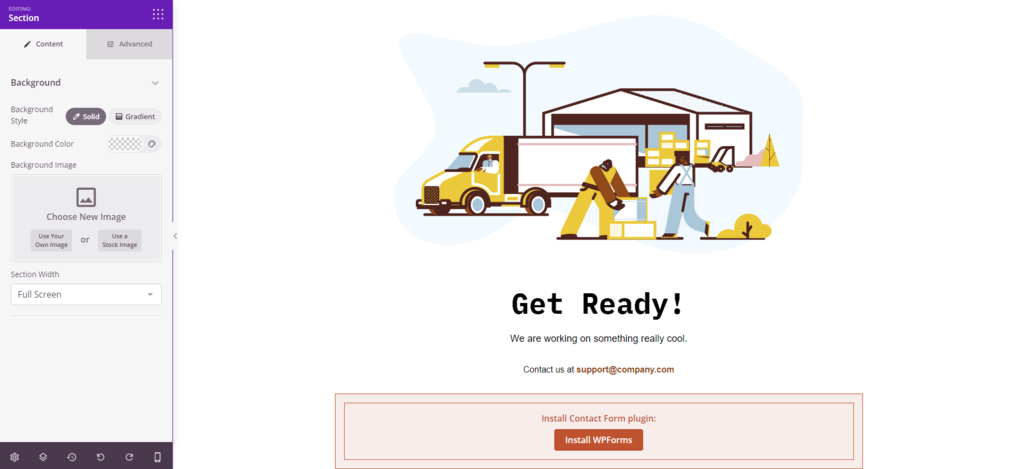 Go to Page Settings → SEO to integrate SeedProd with the All-In-One SEO plugin. With the plugin, set up an SEO title and meta description.
The plugin also supports the MonsterInsights Google Analytics plugin via Page Settings → Analytics.

Select Preview at the top-right corner to see how the landing page looks in coming soon mode. Once you're happy with the design, click the Save button and publish the page.
4. Activate the Coming Soon Page
Go back to the SeedProd tab and activate the Coming Soon Mode box. Visitors should now see the newly built coming soon page when accessing your website. Disable the mode once your full website is ready to go online.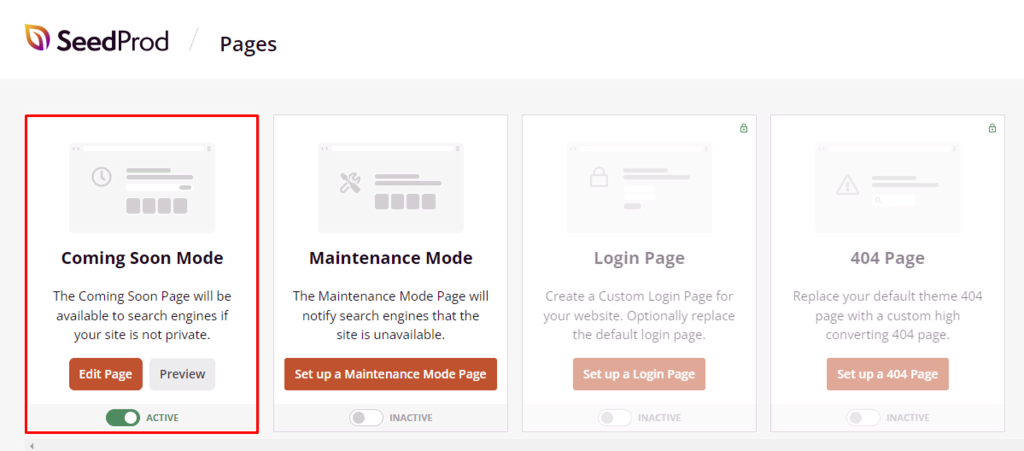 Pro Tip
Creating a coming soon page is only one of many actions to ensure a successful website launch. Follow our
website launch checklist to help you stay on track.


Best WordPress Plugins to Create a Coming Soon Page
Many excellent plugins are available to help you create appealing coming soon pages. To narrow your search, we have compiled a list of the best WordPress page builder plugins and an overview of their best features.
SeedProd

SeedProd is one of the best landing page builder plugins for many reasons. It has a drag-and-drop builder compatible with any WordPress theme and blocks to create landing pages.
This lightweight plugin offers responsive and mobile-ready page templates, including coming soon pages. The built-in color schemes, Google Fonts integration, and live preview feature make designing WordPress coming soon pages cost-effective and easy for beginners.
The coming soon and maintenance mode page templates are available in the free version. You can also access SEO settings and Google Analytics integration to configure the page's visibility on search engines.
Upgrading to SeedProd Pro for $199.50/year unlocks over 90 blocks and 150 landing page templates, including thank you pages, login pages, and 404 pages. The Pro version also comes with handy business tools, such as email marketing service integrations and access controls.

Coming Soon and Maintenance Mode is an excellent freemium WordPress plugin that helps website admins create maintenance pages. This coming soon WordPress plugin has been tested on popular themes and supports custom CSS for advanced customization.
This plugin's free version packs all the essential features to improve the WordPress maintenance mode. Some noteworthy free features include IP exclusion, custom logo, social media integration, meta description and keywords, and search robots.
The paid version starts at $14/license and offers features to create more dynamic coming soon and maintenance mode pages. You can add a video background, a countdown timer, and animation effects. It also unlocks the option to send email notifications to subscribers.

If you're analytics-driven, Under Construction might fit your needs best. This WordPress maintenance mode plugin provides affiliate and traffic tracking features for conversion rate optimization. The Mailchimp integration also makes collecting leads and emails easy.
The free version lets you create and assign whitelisted user roles, set an automatic end date for the maintenance mode, and access over 25 pre-built custom themes. The WordPress Basic Google Analytics integration is also included with the plan.
Consider upgrading to the premium version starting at $49/year to get the most out of the Under Construction plugin. The paid plan includes third-party shortcode support, local storage for leads, URL-based rules, Google Analytics events tracking, and no-setup statistics.
Conclusion
A coming soon page keeps your entire site hidden from visitors until it's ready to go live. With the right design and website elements, this page type can boost your marketing efforts by turning visits into leads.
Plenty of WordPress coming soon plugins can streamline your page's setup and design process. This article taught you how to create a coming soon page using one of the available plugins.
We hope this article helps increase the success rate of your website launch. Good luck!