What Is cPanel Webmail and How to Access It
Webmail is an email application accessible via a web browser. It allows you to view your email accounts on any device as long as there's an internet connection.
Most internet service providers and hosting companies include webmail in their plans. For example, cPanel hosting plans have built-in webmail applications to make email management easier.
In this article, we will show you the various ways to access webmail via cPanel. In addition to that, we'll cover its features and functions.
Download Glossary For Web Beginners
How to Access cPanel Webmail
The cPanel webmail account is accessible in three different ways ‒ using the server's IP address, your domain name, or through the control panel's Email Accounts section.
The following sections will cover each of these methods.
Accessing Webmail Through the Server's IP Address
This method uses a server's IP address provided by your hosting provider.
Enter the URL https://server_ip:2096 (HTTPS port) or http://server_ip:2095 (non-HTTPS port). Alternatively, use http://server_ip/webmail. Server_ip is the placeholder for the IP address of your hosting server.
Both of these URLs will take you to the webmail login page. There, you will have to enter the email address and password for your email account. The webmail login page should look like this: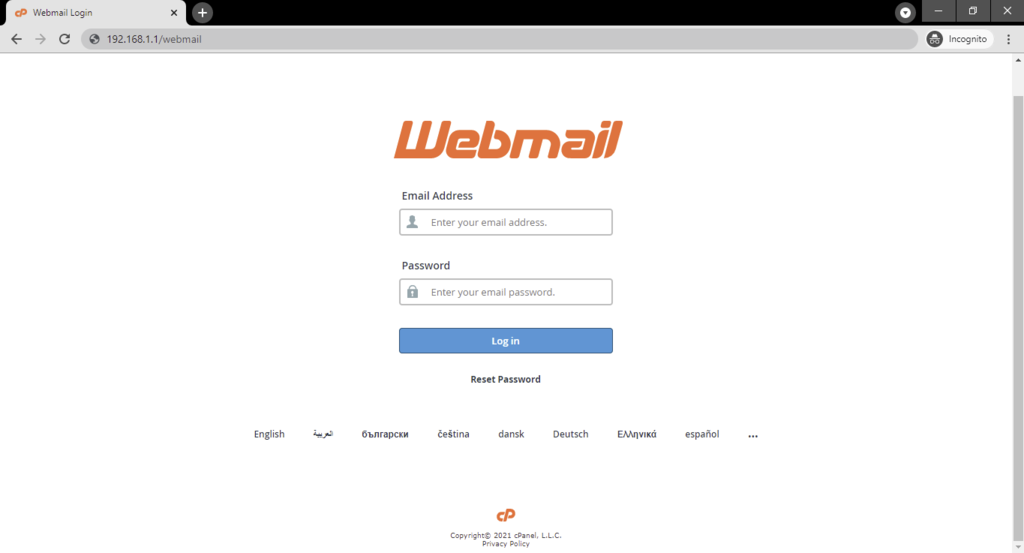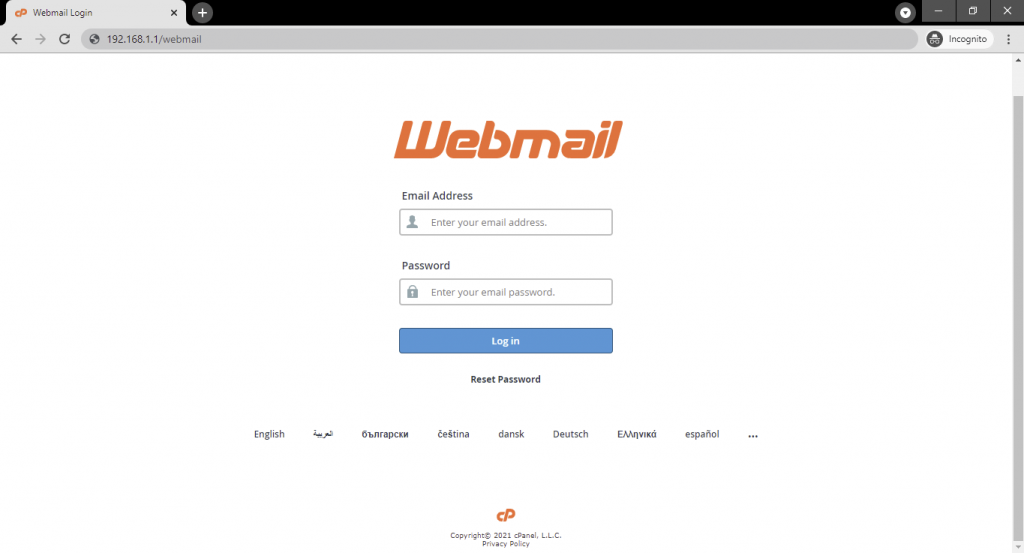 You can locate your hosting server's IP address by navigating to the General Information box on the cPanel home screen.

Accessing Webmail Through Your Domain Name
Remembering the IP address to access webmail may be impractical. Instead, you can use your domain name like this: example.com/webmail/.
Replacing the /webmail part with the port number will also work. Enter example.com:2095 for a non-HTTPS port or example.com:2096 for an HTTPS port. The webmail interface should look like this: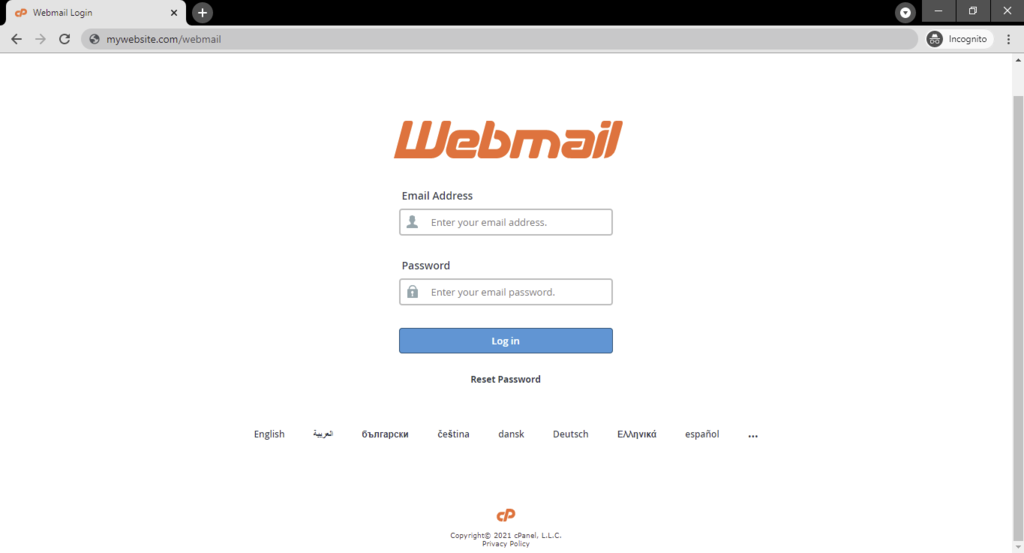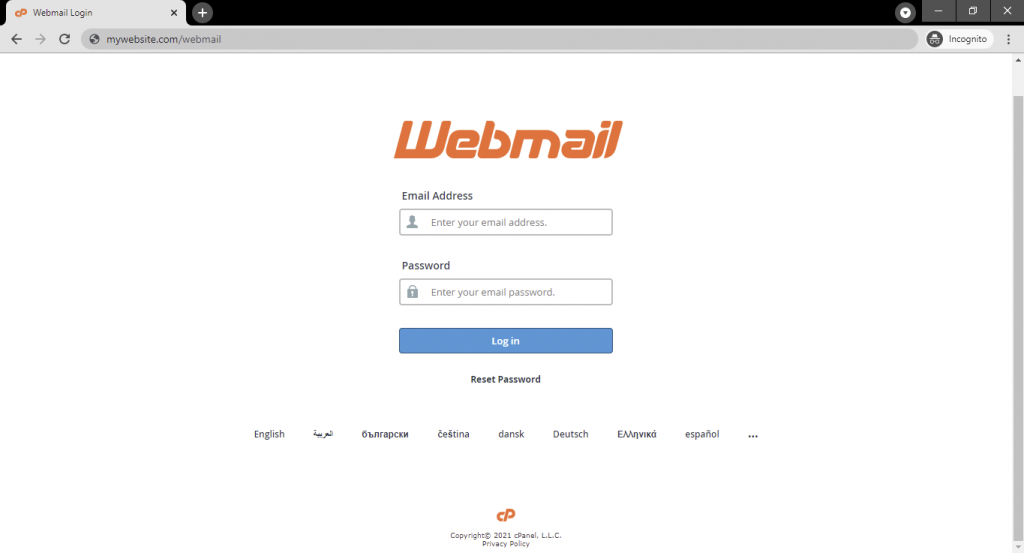 You can check your domain name in the General Information box on the cPanel dashboard. It will be labeled Primary Domain.


Accessing Webmail via cPanel's Email Accounts Section
Navigating to Email Accounts under the Email section of your cPanel dashboard is the easiest way to access the webmail interface.
This method will also let you easily connect webmail accounts to your mobile device.


Select the email account you want to access, and click Check Email. Here, you can also pick a default email address to which to forward emails sent to invalid addresses with your domain.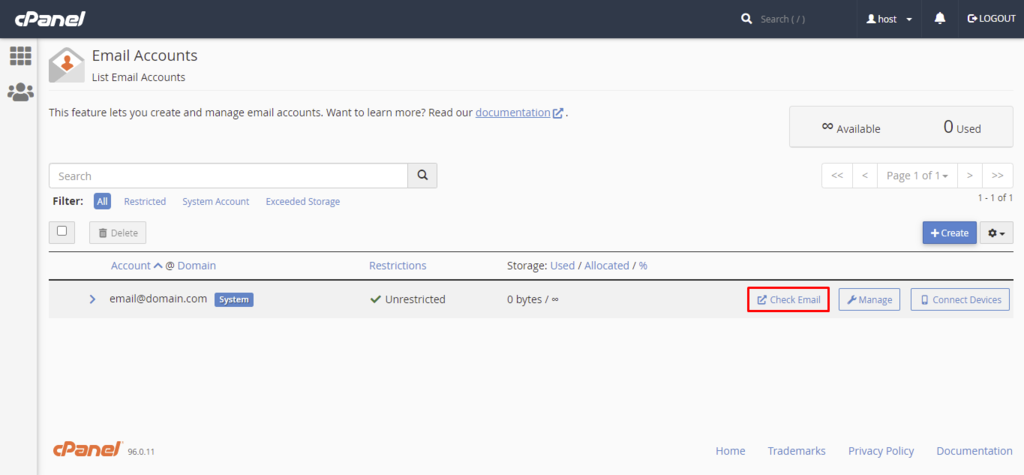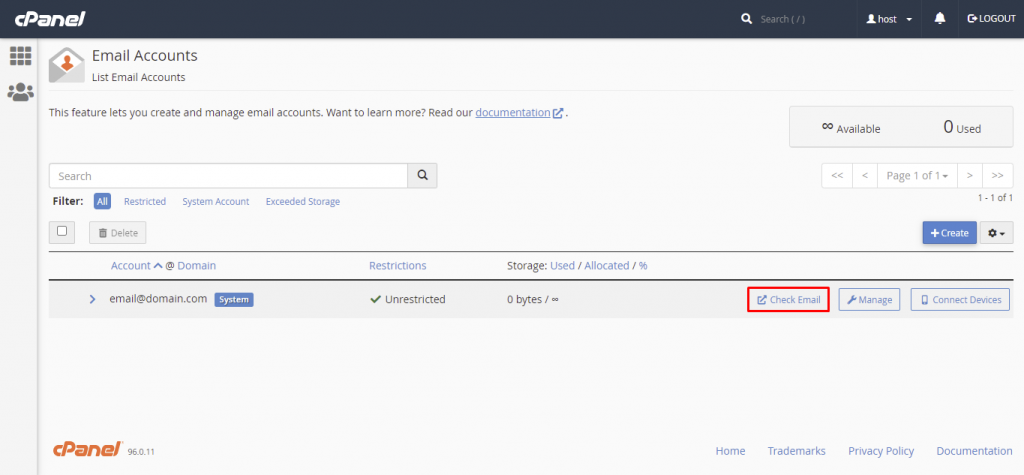 A window will pop up, prompting you to choose a webmail client. You'll see two webmail applications to choose from ‒ Roundcube and Horde.
The default choice for Hostinger users is Roundcube – we also use it for the hPanel webmail service.
Check Open my inbox when I log in to set the webmail client you chose as the default one and click Open.


A Look Into cPanel Webmail Application Features
The cPanel webmail has several features to streamline email account management. We'll cover what each of them does in the following sections.
Autoresponders
This feature lets you send automated emails. Autoresponders can be employed whenever you're unavailable, for example. Each email address can only have one autoresponder.
The following tutorial will help you create and manage a mail autoresponder via cPanel:
Go to Autoresponders from the webmail interface. Click the Add Autoresponder button.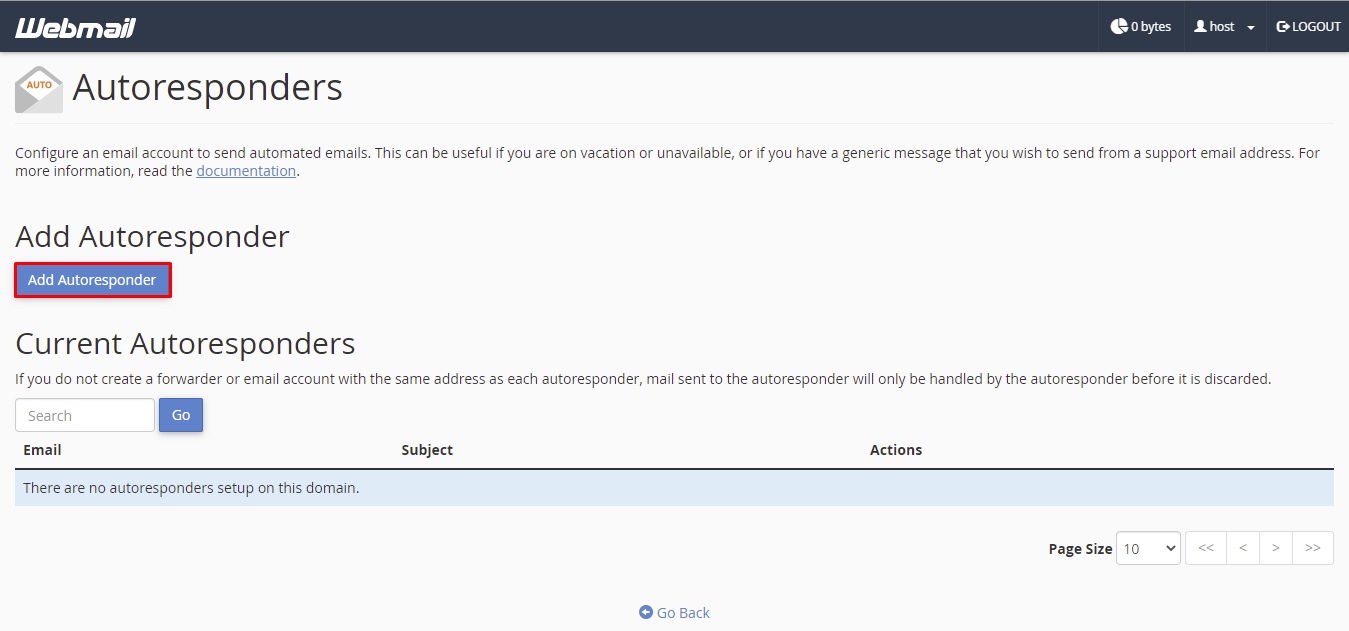 Enter the interval between emails to be sent to the same email address. Input the sender in the From: field and the Subject for your message. If you have multiple email accounts, pick one from the drop-down menu. We recommend using utf-8 for the Character Set value.
Write your response in the Body section, and check the HTML box if your message contains HTML code. Lastly, set the start and end dates for when the autoresponder will be active.
Once you're done, click Create. The new autoresponder will appear in the Current Autoresponders table.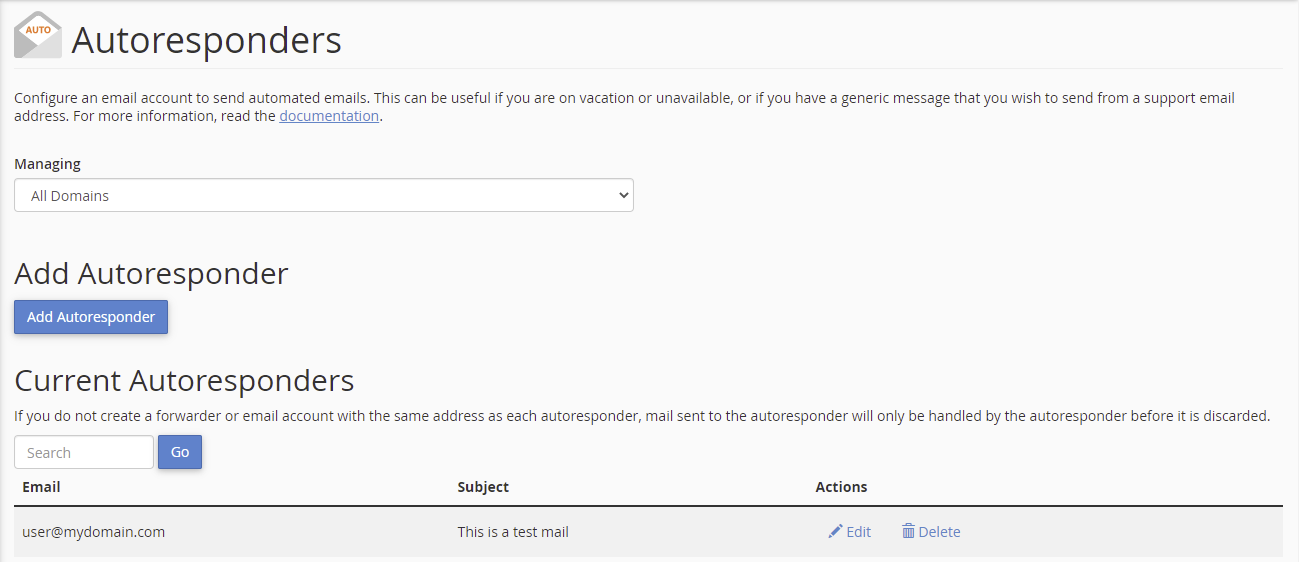 Email Filters
The Email Filters feature helps efficiently manage incoming email messages. Access the feature's interface to create, manage, modify, test, and remove filters.
Create a Filter
cPanel uses Exim as its mail transfer agent. It handles simple filters better than complex ones, so we recommend creating multiple filters instead of just one with a lot of variables.
Go to Email Filters from the webmail interface, and select Create a New Filter.
Add the filter name and configure its rules and actions.
Click Create. The new filter will appear in the Current Filters section.

Select Edit to modify the filter or Delete to remove it.
Test a Filter
After creating a filter, the Filter Test section will appear. Add a dummy message to the text box and hit Test Filter.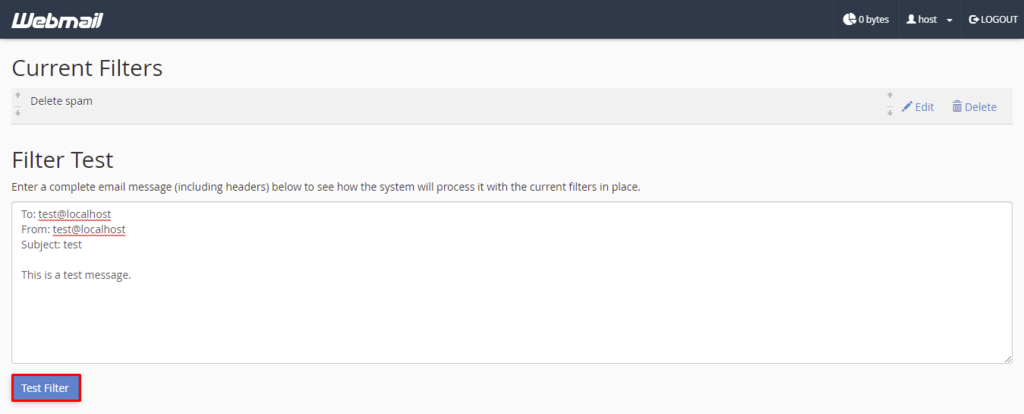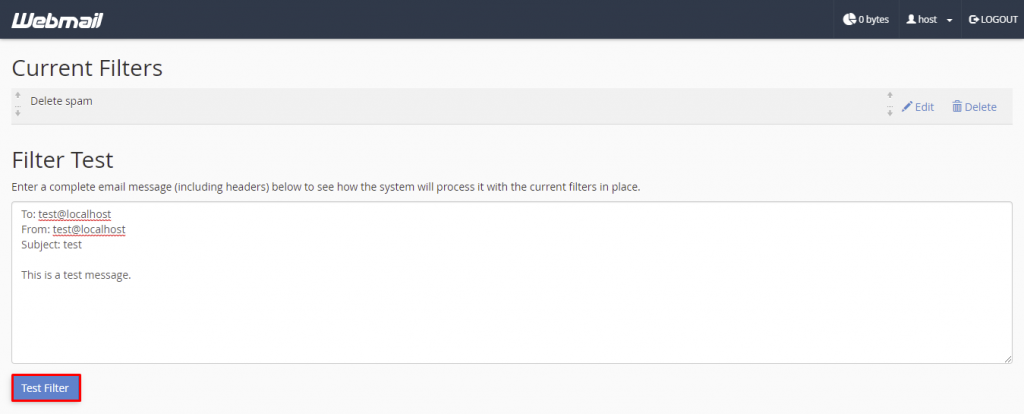 The webmail will show the filter trace results, informing you whether the filter works correctly: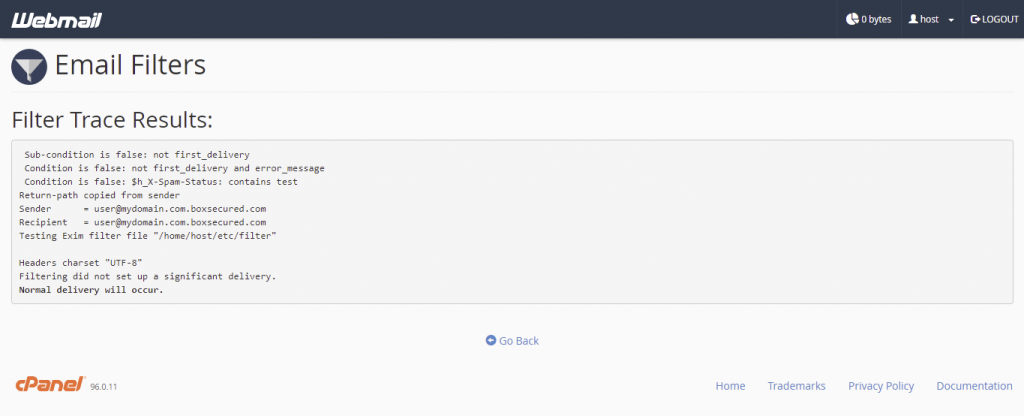 Email Forwarders
The Email Forwarders feature benefits users who have multiple email addresses. It forwards incoming email messages from different email accounts to a designated one.
Here's how to create an email forwarder:
Access the Forwarders menu from your webmail dashboard and select Add Forwarder.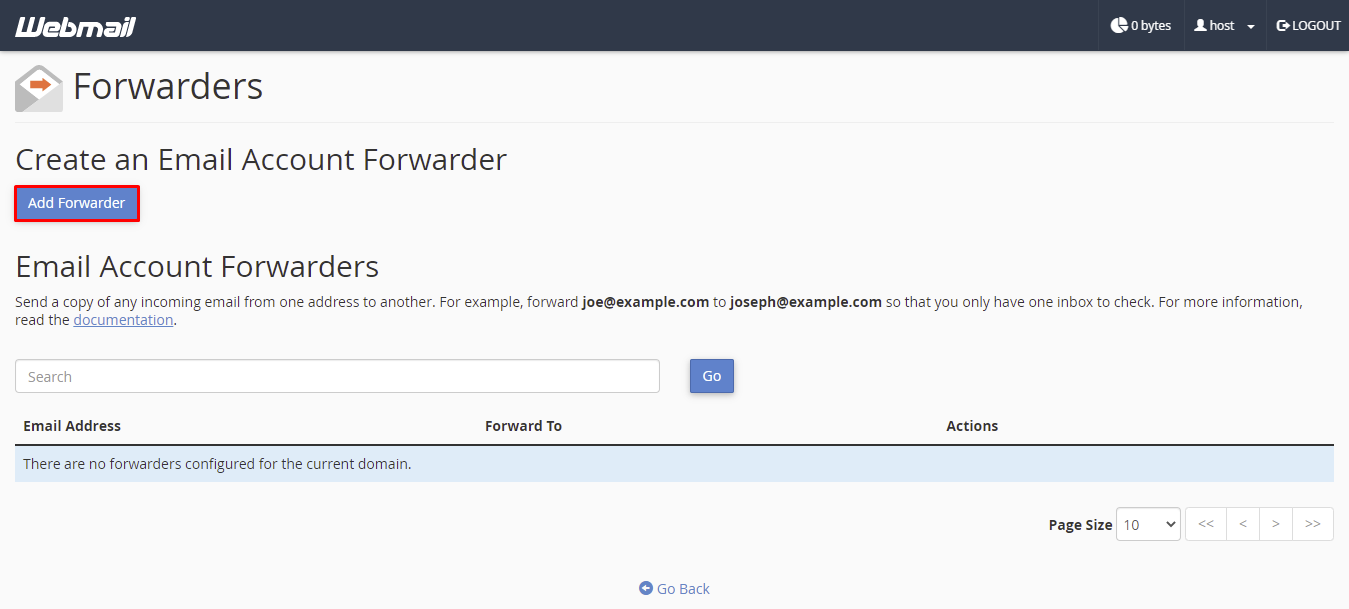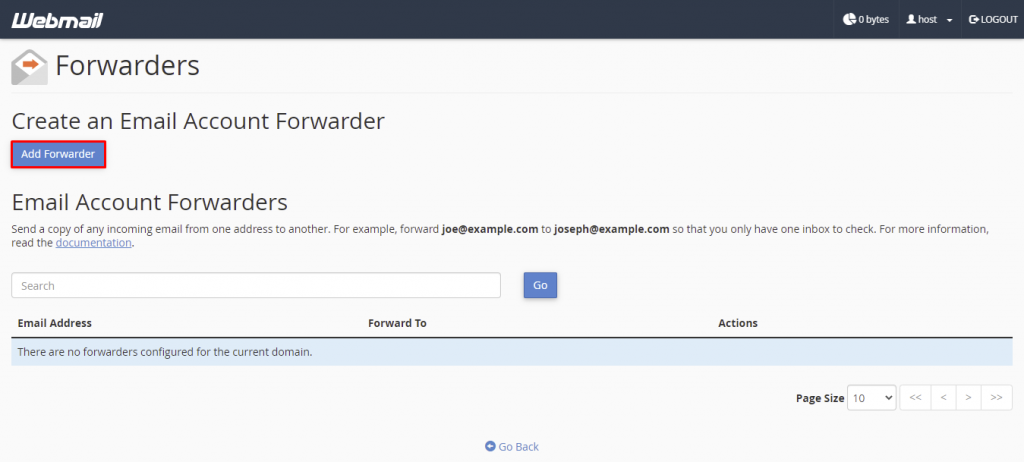 Enter the email address to forward the messages to. Click on the Add Forwarder button.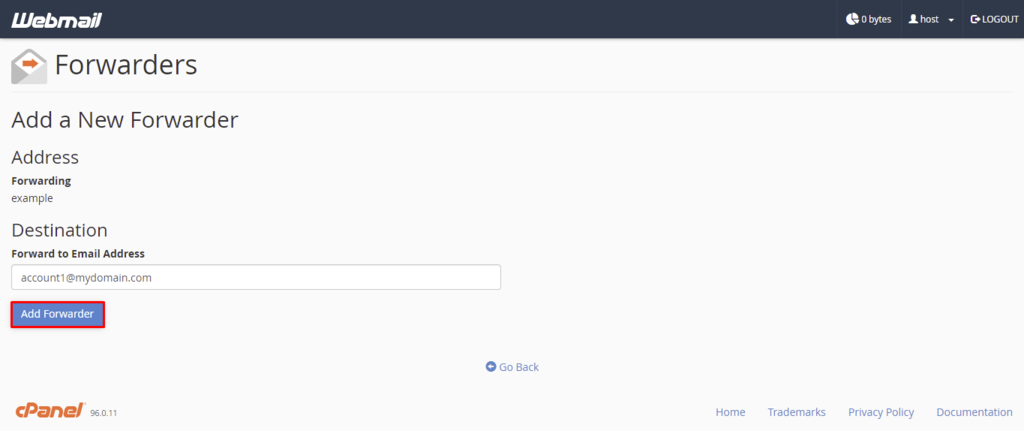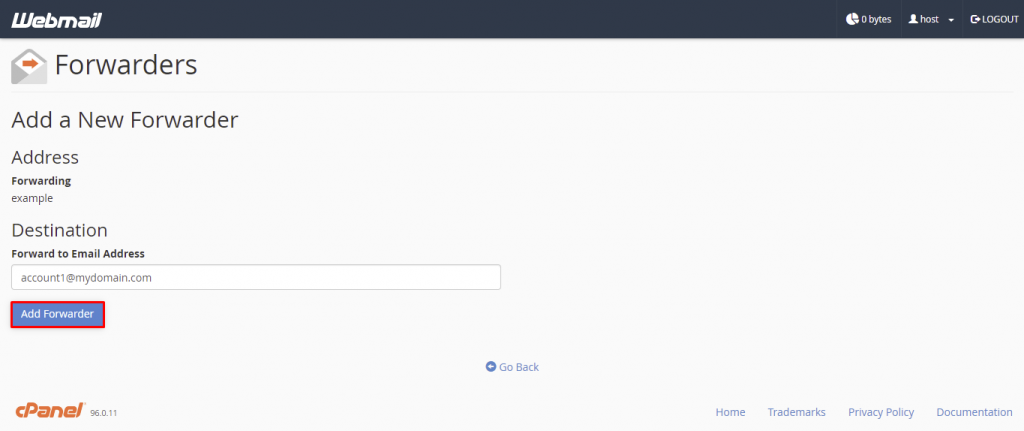 The new email account forwarder will appear in the Current Forwarders section.
If you don't want to receive messages on both accounts, delete the account that uses forwarding. Alternatively, redirect mails from an address that doesn't have an account.
Password and Security
Using a strong password will help protect your account. Therefore, we recommend testing your password's strength with a password strength checker and changing it periodically.
Here's how to change your account's password via cPanel.
Go to Password & Security in the webmail interface. This feature is also accessible through the Preferences section of your cPanel.


Enter your old and new passwords in the respective text boxes. Use the built-in password generator to create a new password if cPanel considers yours not secure enough.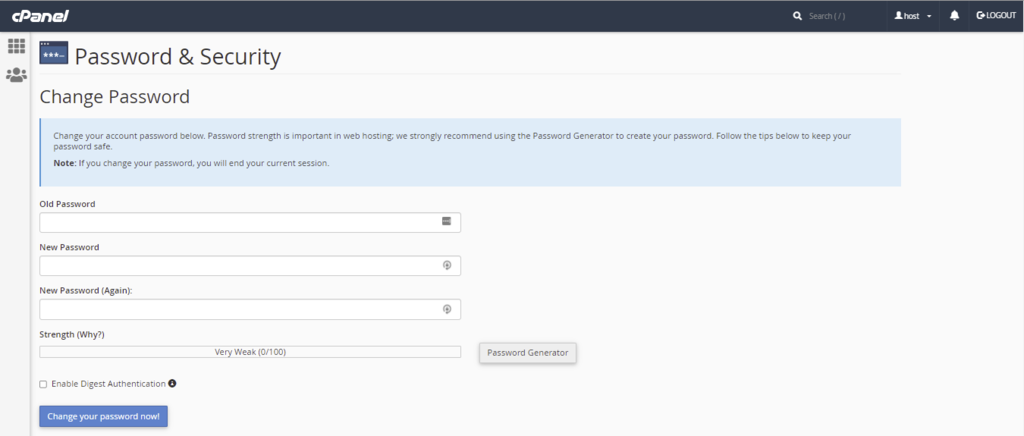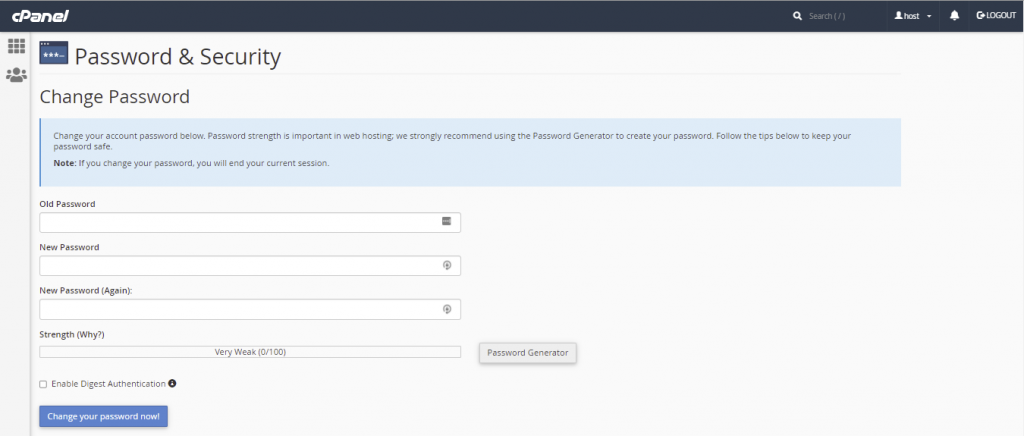 Click Change your password now to save the changes.
Pro Tip
To easily reset your email password through cPanel, open it and navigate to Email Accounts. Then, click Manage on the email account in question. You'll now be able to set up a new password for it. Clicking on Update Email Settings will save the new login credentials.
Contact Information
This feature allows setting up an email address to receive account notifications and password reset confirmations. It's accessible via the webmail dashboard.
Add additional email addresses in the Edit Contact Information and Preferences section. You can also add a Pushbullet access token to receive notifications on multiple devices.

Scroll down to view your contact preferences. These options control the instances when the system will notify you. For example, you can opt to receive a message when the disk quota is near its limit.
Check the boxes to set your notification preferences and click Save to record any changes made.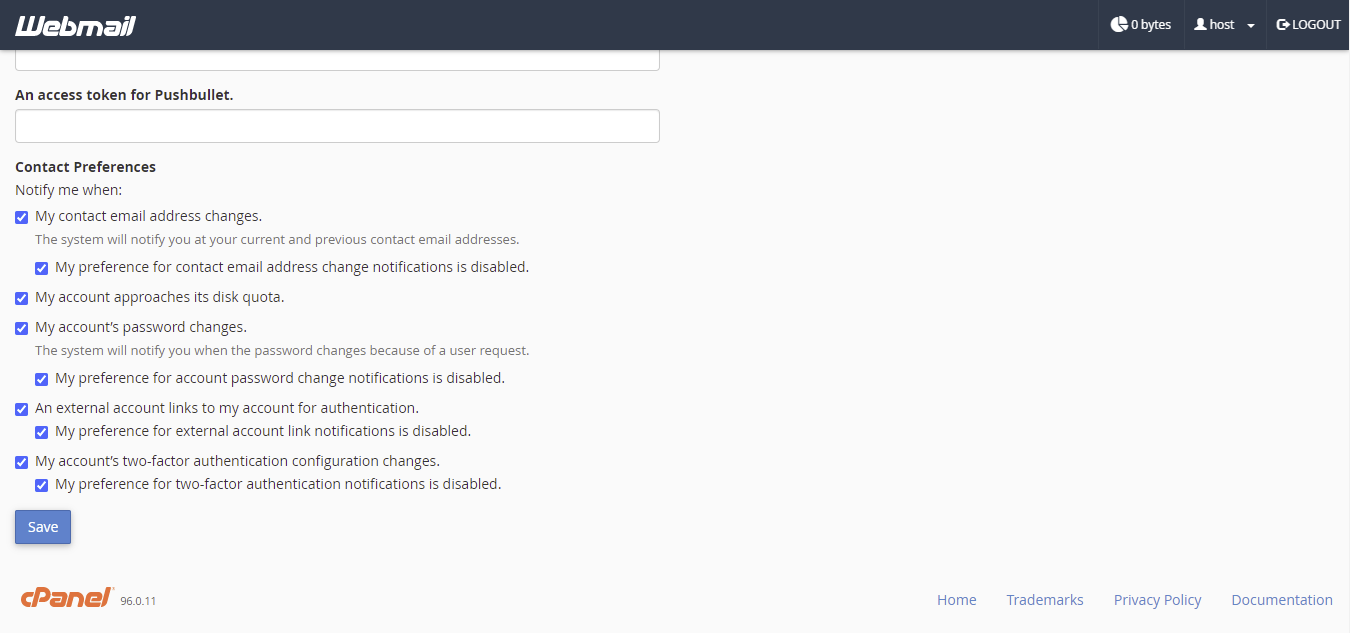 Spam Filters
The Spam Filters feature prevents spam from entering your mailbox. It automatically deletes messages that meet or exceed a custom spam-score threshold.
cPanel has the spam auto-delete feature disabled by default. Follow these steps to enable it:
Access Spam Filters through your cPanel or webmail dashboard.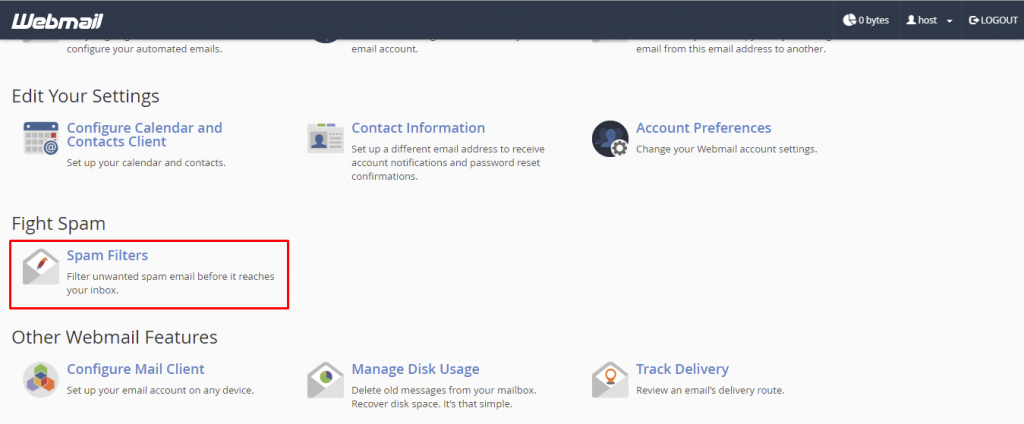 Pick the Set a custom threshold for your system email account option and enter a number into the field. A lower threshold means that the server will remove more emails.


Click Submit to enable the spam auto-delete feature.
Make sure you set a high enough score to prevent false positives from triggering the filter.
Mail Client Configuration
This feature provides more tools to help manage your inbox, such as:
Desktop mail client configuration
Disk usage management
Tracking email delivery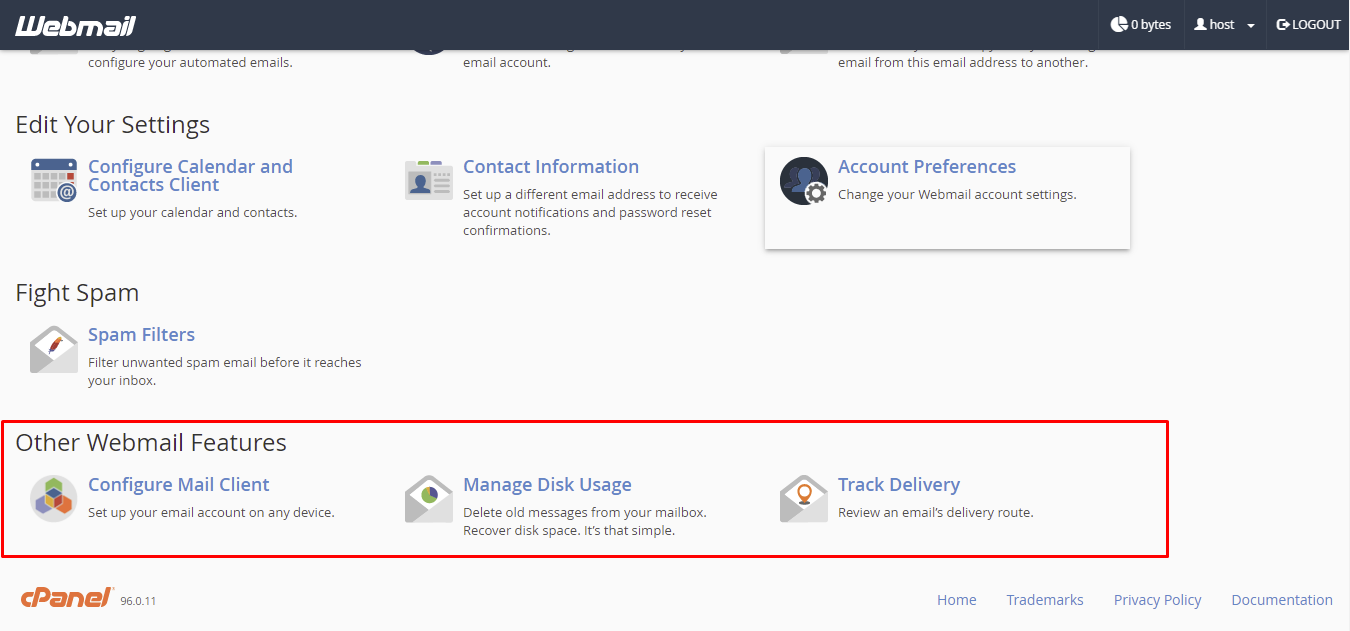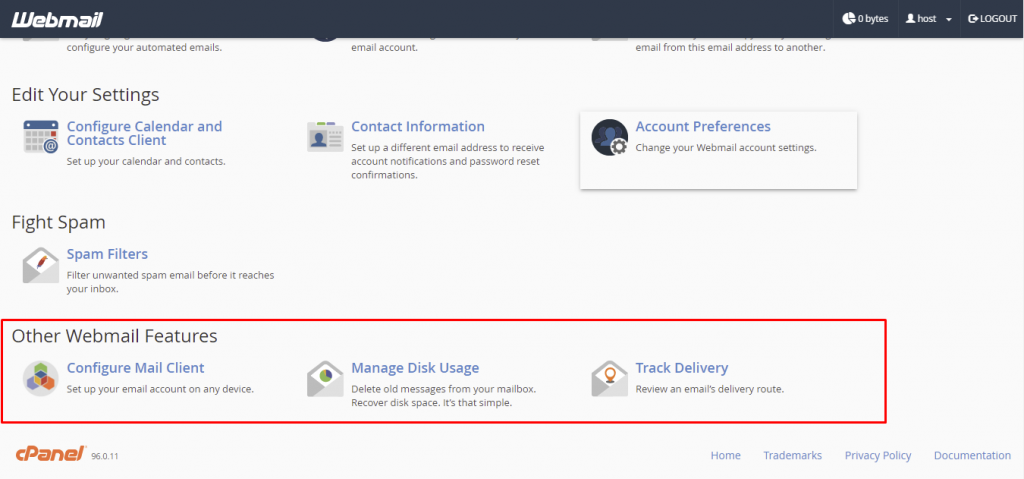 Conclusion
Webmail is computer software that lets users access and manage their email accounts via a web browser. cPanel hosting users can access webmail applications using the server's IP address, domain, or through the control panel's dashboard.
Here's a recap of the features that cPanel webmail has:
Autoresponders
Email filters
Email forwarders
Password and Security
Contact information
Spam filters
Mail client configuration
In case you're looking for more functionality in your emails, check out Hostinger's email hosting plans.
We hope this article has been informative and taught you about webmail on cPanel and its functionality. In case you have any questions, leave them in the comments section below.