10 Best VPS Hosting Providers for 2023 and How to Choose the Right One
Providing high-performance hardware and flexibility, a virtual private server (VPS) is excellent for hosting resource-intensive sites or web applications. However, choosing a plan can be tricky since many providers offer different features.
In addition, using the wrong plan may lead to performance or incompatibility issues. To help you make an informed decision, this article will explore the 10 best VPS hosting providers.
We will assess each web host based on various factors, such as pricing, key features, performance, security, and support. You will also learn tips for picking the right virtual private server hosting provider and plan for your needs.


Top 10 VPS Hosting Providers
This section will explore the 10 best VPS hosting providers, including their pricing, pros, cons, key features, and who they are best suited for.
1. Hostinger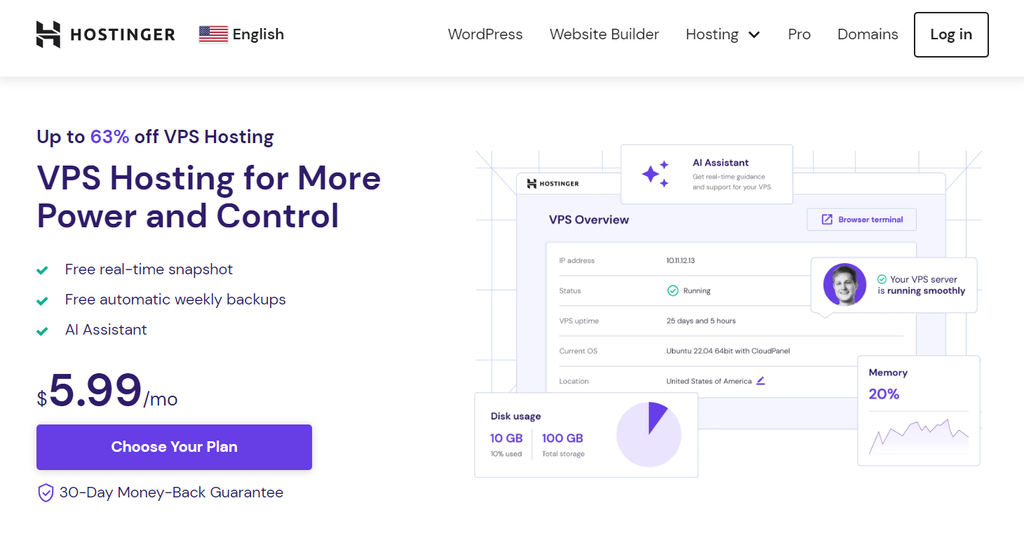 Stats
Rating: 5/5
Best for: value-conscious users looking for all-purpose VPS hosting
Price: starts at $5.99/month
Hostinger offers four KVM VPS hosting plans with excellent performance and features at affordable prices. They include a free snapshot, weekly backups, full root access, a dedicated IP address, and unlimited website support.
All plans also come with NVMe SSD storage, which is significantly faster than a typical solid-state drive. With up to 8 vCPU cores and 32 GB of RAM, our VPS is suitable for various purposes, including hosting resource-intensive applications.
In addition, Hostinger VPS plans have an intuitive VPS Dashboard with various tools that simplify various server management tasks. For instance, it has a built-in monitoring tool, a one-click OS installer, the Browser terminal, and an AI-powered assistant.
Hostinger VPS users can choose from five data center locations for free and incorporate a content delivery network (CDN) service to ensure optimal website performance regardless of the visitors' locations.
Even though we provide unmanaged VPS hosting services, our Customer Success Team is available 24/7 via live chat for any general inquiries. We also offer 30-day money-back and 99.9% uptime guarantees for all plans.
Hostinger VPS hosting supports various Linux distributions, like Debian, CentOS, and AlmaLinux, which offer better security than Windows Server. We also offer VPS OS templates with pre-installed control panels or applications like Docker.
Key Features:
VPS AI Assistant – generate instructions, commands, or code snippets for VPS management using simple prompts. This feature makes your hosting simpler and more efficient, especially for non-technical users.
Browser terminal – connect and run commands on your VPS without using an SSH client like PuTTY or Terminal. It lets you remotely manage the server directly via a web browser.
Built-in security features – get BitNinja protection, Suhosin PHP hardening, and DDoS protection to improve VPS hosting security. We also have a built-in firewall and malware scanner in the VPS Dashboard.


2. LiquidWeb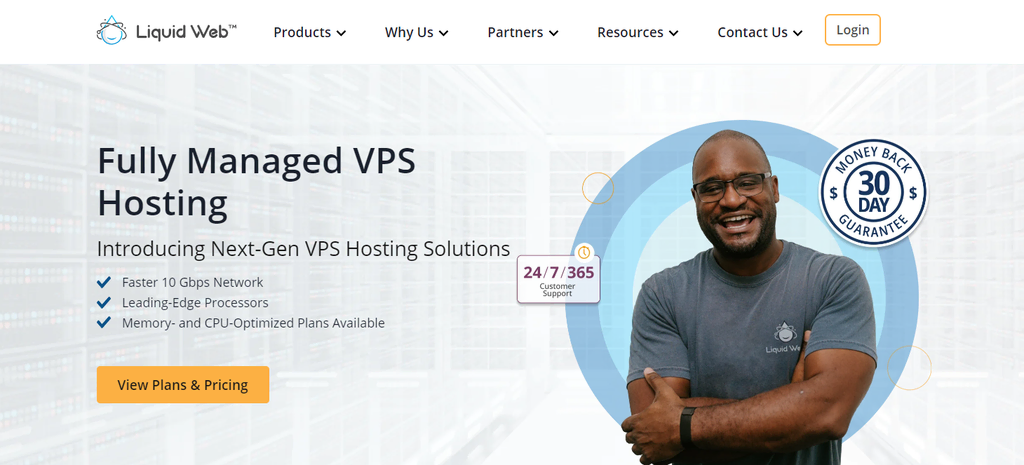 Stats
Rating: 4.8/5
Best for: large enterprises prioritizing stability and security
Price: starts at $20/month
Providing reliable, secure, and feature-rich VPS hosting services, LiquidWeb is an excellent option for large enterprises. It offers three plan categories optimized for different purposes and user needs.
The general VPS plans balance the CPU core counts, RAM capacity, and storage space, making them ideal for hosting multiple websites. Meanwhile, the memory-optimized one is excellent for databases, and the CPU-focused plan is suitable for traffic-intensive applications.
In addition to 100% uptime, LiquidWeb offers a 30-day money-back guarantee and 24/7 customer support. It also provides the free Cloudflare CDN for DDoS protection and the Standard ServerSecure Advanced Security feature.
LiquidWeb's VPS hosting also supports various operating systems and control panels, but the compatibility depends on the plan. Moreover, even though the cheapest biannual plan starts at $20/month, you will have to pay the full price upfront, which is $480.
Key Features
High-performance network – LiquidWeb VPS users get a 10 Gb/s redundant network with 10 TB of outbound bandwidth and unlimited inbound data transfers.
Free backup solution – all VPS plans offer free 50 GB Acronis Cyber backups. In addition to being off-site, it supports encryption and provides anti-ransomware protection, improving security.
100% uptime – LiquidWeb has a 100% uptime guarantee for its VPS plans. Unlike most VPS providers, it also offers users compensation based on the downtime length.
3. Ultahost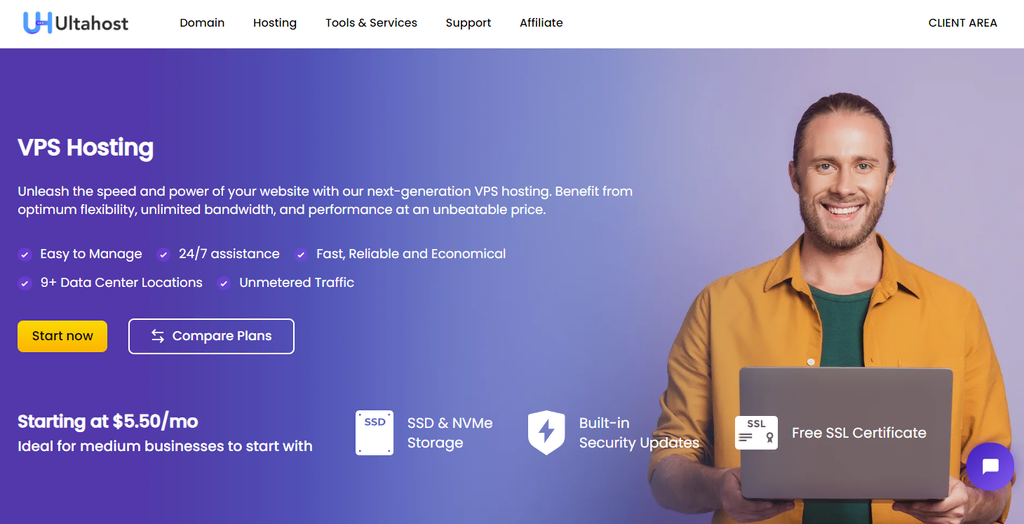 Stats
Rating: 4.7/5
Best for: new VPS users prioritizing features and affordability
Price: starts at $5.50/month or $56/year
Ultahost offers affordable managed VPS hosting plans suitable for new users. While it provides free domain transfer and hosting migration, other services like error troubleshooting and software updates start at $25/month.
These VPS plans provide comprehensive security features, including BitNinja protection, dedicated firewalls, and a free SSL certificate. They also have multiple data center locations, a CDN add-on, and advanced caching to improve server performance.
Despite the unmetered bandwidth, this web host doesn't have the most powerful hardware, with only up to 4 vCPU cores and 100 GB of storage. Moreover, the starting VPS hosting plan only has 1 GB of RAM and supports up to seven websites.
While you can increase the storage and domain limits using add-ons, they are expensive. For example, Ultahost charges $10.49/month for an additional 100 GB of storage, while hosting unlimited domains costs $18/month.
Key Features
Robust security – all Ultahost VPS plans offer comprehensive security features, including free SSL certificates, auto-healing infrastructure, regular security patching, automated updates, and BitNinja protection.
Team management – this feature helps simplify VPS management tasks when multiple users work on the same virtual instances. It allows you to share an account's server with different team members.
Script-based installation – Ultahost provides automatic installation scripts for various applications, including content management systems (CMSs) like Joomla. It also offers the Softaculous script library add-on for $4.99/month.
4. TransIP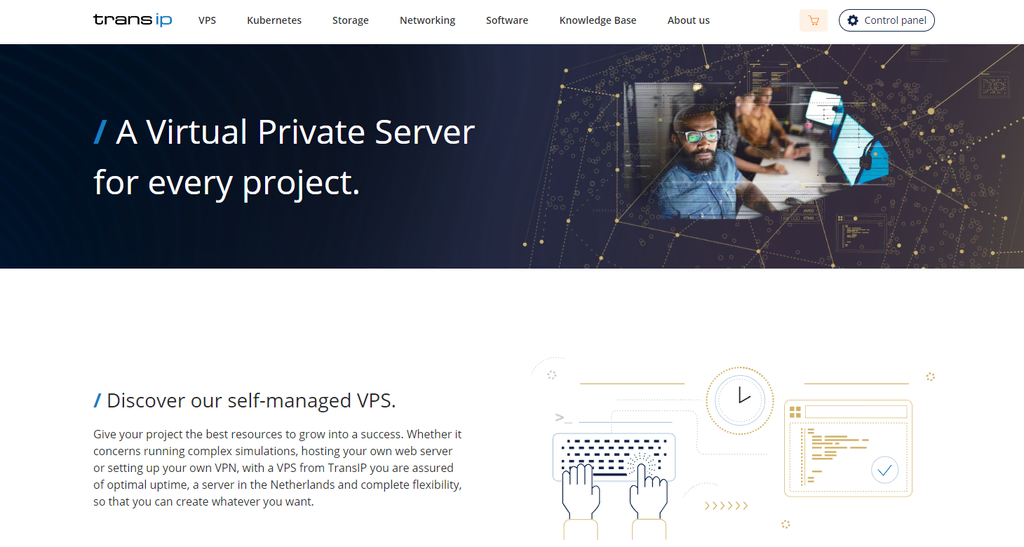 Stats
Rating: 4.5/5
Best for: small businesses wanting customizable and scalable VPS plans
Price: starts at €2.99/month
TransIP is the best VPS hosting for small businesses looking for comprehensive plan selections and scalable solutions. It offers over ten VPS hosting plans divided into three types – BladeVPS, PerformanceVPS, and SandboxVPS.
SandboxVPS is designed for a production environment, while PerformanceVPS provides high computing resources for hosting live applications. Meanwhile, BladeVPS offers all-purpose servers that users can upgrade using resource add-ons.
TransIP offers snapshots, built-in server monitoring, automatic backups, firewalls, and private networks. However, the starting plans lack some of these features, and you must purchase the more expensive services to get them.
This provider's drawback is its data center locations, which are only in the Netherlands. Moreover, its customer support isn't available 24/7 and answers within 60 minutes. That said, it has a comprehensive knowledge base and documentation.
Key Features
Add-on resources – instead of purchasing a more expensive plan, users can buy an add-on to improve a specific server resource at a lower cost. For example, they can add more CPU cores, memory, storage space, snapshot, and IPv4 address.
TransIP API integration – TransIP supports REST API, a web service that enables software systems to communicate over the internet. It helps simplify task automation, remote system management, and performance monitoring.
HA-IP – an add-on failover system and load balancer. It distributes traffic to another instance to minimize system usage and eliminates a single point of failure in your VPS to improve uptime.
5. RoseHosting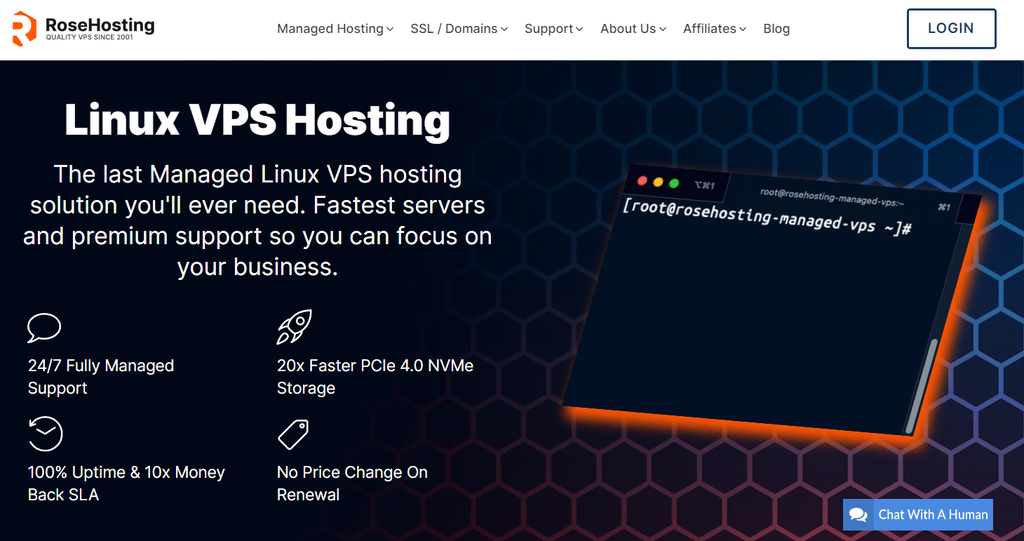 Stats
Rating: 4.3/5
Best for: business wanting fully managed services
Price: starts at $39.55/month
VPS administration can be difficult if the provider doesn't offer complementary features like a GUI or built-in assistant. If you don't want to manually configure and tweak your server, consider RoseHosting's fully managed hosting services.
The provider handles all the server management tasks, including the hosting transfer, server setup, software installation, and monitoring. The customer support team is also available 24/7 via live chat, email, and tickets to help you resolve issues quickly.
In addition, RoseHosting's managed VPS hosting offers powerful hardware with unlimited bandwidth and website support. It also provides free secure sockets layer (SSL) certificates and weekly backups to ensure optimal security.
However, this managed VPS hosting provider costs more than other web hosts. It also only offers one data center in the US, meaning you need a CDN to maintain consistent performance for visitors worldwide.
Key Features
Fully managed hosting – all RoseHosting VPS plans include free managed services, handling tasks like website migration, server setup and configuration, optimization, and error troubleshooting.
Unlimited support – you can open unlimited support tickets for your server issues, which the hosting provider will fix for free.
Custom VPS resource – RoseHosting offers a custom-configured VPS plan. Users can select their preferred CPU cores, RAM capacity, storage, and bandwidth limit.
6. Hostwinds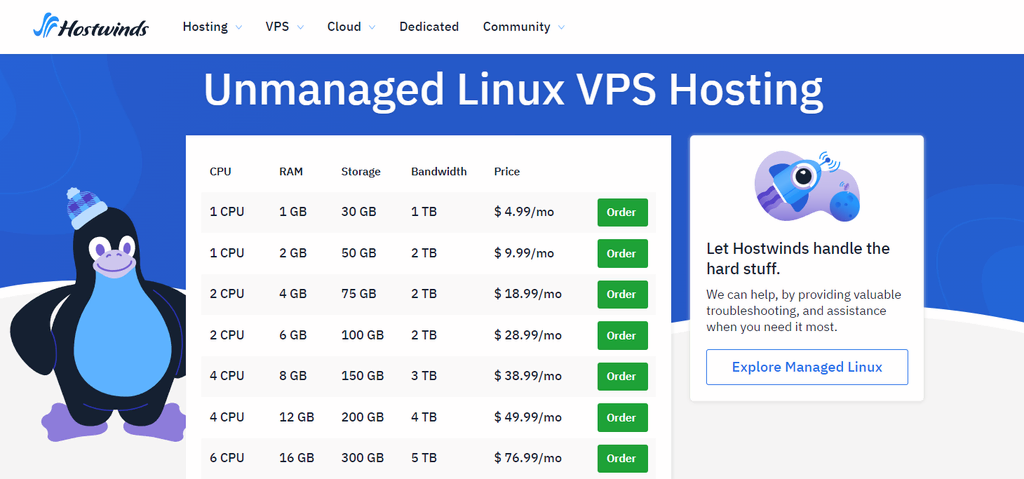 Stats
Rating: 4.3/5
Best for: users looking for control and flexibility
Price: starts at $4.99/month
Hostwinds offers flexible VPS hosting plans. In addition to Linux, users can install various operating systems using a custom image and .iso files. Moreover, they can configure the backup system to their needs, including its duration, storage length, and the files to archive or restore.
Moreover, you can choose a managed or unmanaged VPS hosting service depending on whether you want complete control or convenience. Aside from the price, these plans have identical hardware and built-in features.
For example, Hostwinds' VPS plans include an enterprise-grade firewall, snapshots, and multiple data center locations. They also have a monitoring system that automatically opens support tickets upon encountering an issue.
However, unmanaged VPS users won't get any support, making it unsuitable for beginners. Moreover, Hostwinds data centers are only available in the US and the Netherlands.
Key Features
Custom images – this web hosting provider lets users install any operating system in their VPS plans, including Windows, by uploading custom .iso files or disk images.
Load balancer support – users can set up a load balancer on their VPS to distribute traffic among multiple instances to boost performance. In addition, this feature improves uptime by redirecting traffic to a healthy server.
Volume – Hostwinds' Volume feature lets users add more storage to their servers. They can also move Volumes between different servers.
7. Mochahost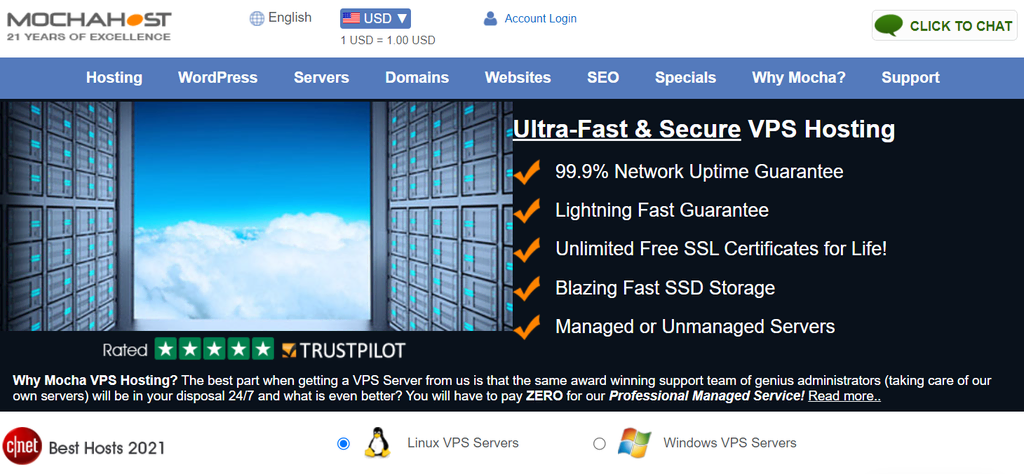 Stats
Rating: 4.2/5
Best for: small businesses and online store owners
Price: starts at $8.38/month
Providing various marketing features, Mochahost offers excellent VPS hosting for eCommerce and small business sites. All plans include a free email marketing platform that simplifies your newsletter campaign tasks.
Moreover, it provides a free search engine submission service, ensuring internet users can discover your site more easily. You also get free Attraca search engine optimization (SEO) and marketing tools that help attract more customers.
Mochahost virtual servers also offer a free domain and unlimited SSL certificates, allowing you to launch your website immediately. In addition, they utilize malware protection, spam checking, health monitoring, and RAID 10 SSD storage to ensure optimal security.
However, this hosting provider still uses the OpenVZ virtualization technology, which is slower than modern solutions like the KVM hypervisor. Its server hardware is also less powerful than other providers, with only up to 4 vCPU cores and 8 GB of allocated memory.
Key Features:
Lifetime discount – Mochahost's two or three-year VPS plans offer a permanent renewal discount. It makes the total cost lower in the long run.
Unmetered bandwidth – all Mochahost VPS plans have unmetered bandwidth. It means the provider doesn't limit the amount of transferred data and traffic to your website.
Automatic CDN integration – Mochahost duplicates your site content in Cloudflare's CDN servers worldwide.
8. Contabo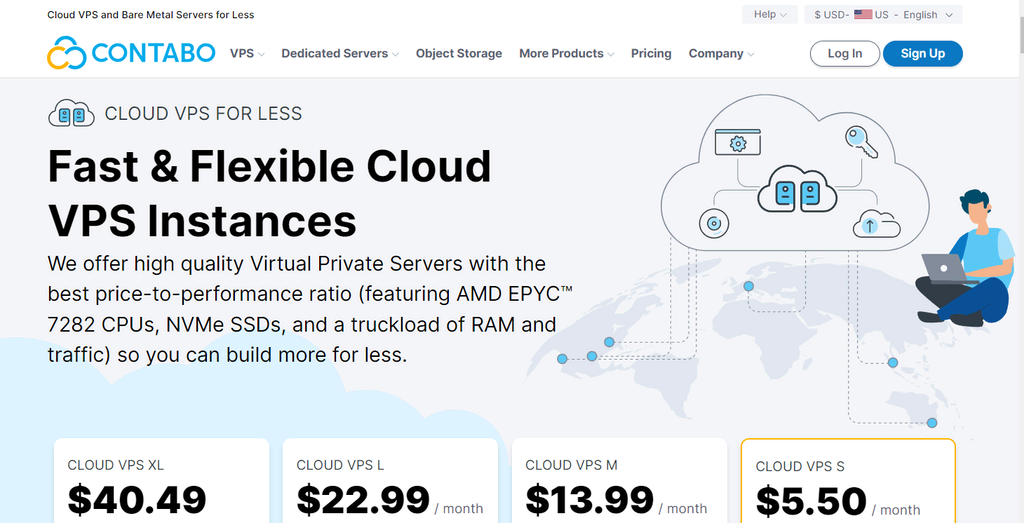 Stats
Rating: 4.2/5
Best for: businesses prioritizing server scalability
Price: starts at $5.50/month
Contabo provides cloud VPS hosting services with high-performance hardware at reasonable prices, suitable for businesses with traffic-intensive web apps.
In addition, Contabo offers dedicated hosting plans that user can integrate with their virtual private servers to create a powerful infrastructure. It makes the provider excellent for users looking for easily scalable solutions.
Moreover, Contabo offers various features that help simplify server management and development, including a WebUI control panel, Restful API support, and cloud-init.
This web hosting provider has multiple data centers in the US, Europe, Australia, and Asia, which users can choose for an extra fee. Although it provides phone support, it only offers 24/7 customer support via ticketing.
Contabo's main drawback is its hidden and additional fees, increasing the total cost. For example, you will have to pay an additional fee to choose a particular data center location. Moreover, it has a setup fee for the six-month and shorter subscription lengths.
Key Features
Private networking – this feature lets users connect their VPS with dedicated servers within a secure and private network. As a result, you can easily scale your infrastructure for a more advanced workload.
Cloud-init – software containing metadata describing your system configuration, including the packages to install and which services to start at init. It makes setting up a new virtual instance more efficient and less prone to errors.
Contabo CLI – the cntb command-line interface lets users manage Contabo VPS products via Terminal or Command Prompt. For example, they can create a new instance or upload a custom image.
9. VPS2Day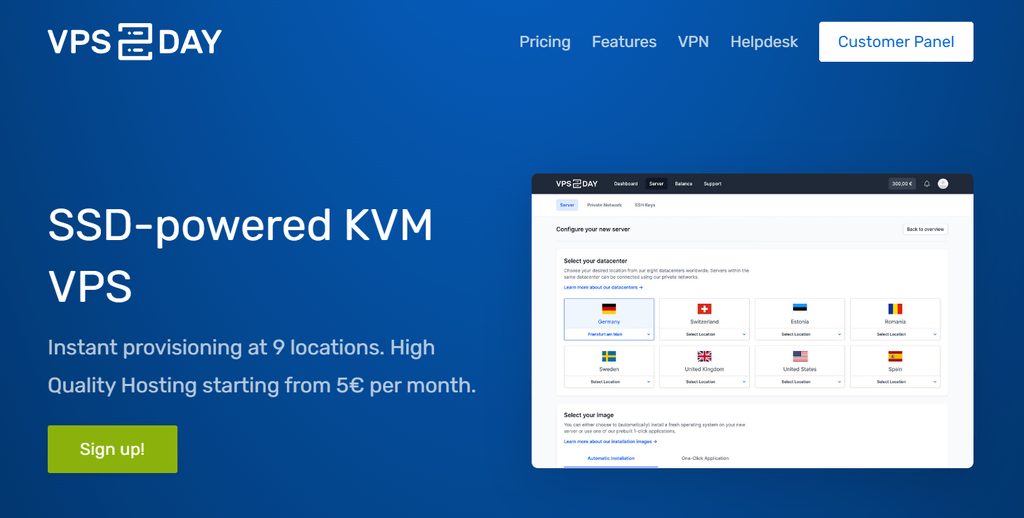 Stats
Rating: 4/5
Best for: VPS beginners looking for a simple management panel
Price: starts at €3/month
VPS2Day offers an intuitive, centralized management panel that allows users to easily purchase, install, manage, and upgrade their VPS hosting plan. To launch a server, create an account, top up the balance, and pick a hosting plan, all in this platform.
This management area also offers a one-click installer for various applications, including OpenVPN, Docker, k3s, LAMP stack, and HestiaCP. In addition, it also lets users purchase feature add-ons for backups and server monitoring.
Moreover, they can select their preferred data center location and switch to another anytime for free via the management panel. While VPS2Day offers nine server locations, they are concentrated in Europe and the US.
In addition to charging deposits and additional fees for essential features, VPS2Day offers only a two-day money-back guarantee, shorter than other VPS hosts. Moreover, it only provides customer support via a ticketing system.
Key Features
Feature-rich panel – VPS2Day offers a centralized client and service management area with an intuitive graphical user interface. It lets you easily purchase, set up, or reconfigure your VPS on a single platform.
One-click installer – users can install an application, operating system, or control panel by selecting the corresponding icon and clicking install. This feature is useful for beginners unfamiliar with VPS commands.
Full RDP and root access – VPS2Day grants users full remote access to their servers. The Linux VPS plans offer full root access, while the Windows counterpart supports Remote Desktop Protocol (RDP).
10. Time4VPS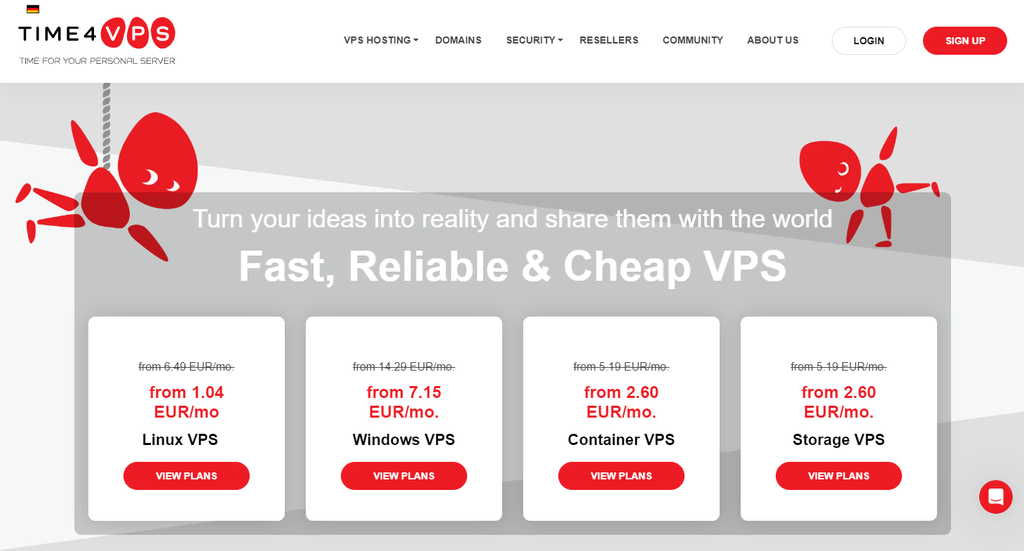 Stats
Rating: 4/5
Best for: enterprises with particular hosting configurations
Price: starts at €1.04/month
Time4VPS offers Linux KVM plans, container-based OpenVZ servers, and Windows VPS hosting services. This provider is suitable for users setting up a web host with specific software and virtualization technology requirements.
This web hosting provider offers high-performance servers with up to 16 CPU cores and 64 GB of RAM. However, the VPS plans lack built-in features, which users must purchase separately as add-ons.
For example, users must purchase all the security features separately, including SSL certificates, SpamExpert spam protection, and BitNinja protection suite. While all VPS plans include a VPN service, it is only free for six months and renews at the regular price.
The VPS plans also offer daily or weekly backup, NVMe storage, and 1 Gb/s network speed upgrade as add-ons, costing €1/month each. You don't get these features by default, and the network speed is limited to 100 Mb/s.
Key Features
Operating system templates – instead of setting up operating systems and control panels separately, you can install both simultaneously using a template, simplifying the process.
Customizable kernel – users can modify their Linux VPS kernels according to their needs. For example, they can optimize server resource consumption, reduce memory usage, and modify security configurations.
Powerful hardware – Time4VPS plans offer up to 16 vCPU cores, 64 GB of RAM, 640 GB of SSD storage, and 128 TB of bandwidth, sufficient for resource-intensive enterprise applications.
How to Choose the Best VPS Hosting?
Choosing the right hosting provider is crucial to ensure optimal website performance, security, and uptime. With this in mind, we will explore several aspects to consider when choosing the best VPS host for your needs.
As for selecting the best hosting plan for your needs, make sure to check their pricing and offered resources.
Performance and Reliability
Reliable and high-performance VPS hosting ensures your website loads quickly and remains accessible. It is crucial for businesses as slow sites harm your user experience and position on search engines.
When choosing a VPS host, ensure it uses high-quality server hardware and network. Pick one with NVMe SSD storage, ample RAM, and sufficient vCPU core according to the website size and complexity.
In addition, ensure the network has sufficient speed and bandwidth limitations. For example, Hostinger's VPS offers a 300 Mb/s network and up to 8 TB of bandwidth, enough for large-scale business websites or applications with high traffic.
Important! VPS hosting service providers with unmetered and unlimited bandwidth commonly cap usage at an undisclosed number. Like a limited-bandwidth one, the network speed will decrease once users exceed the fair usage policy.
For stability, choose a web hosting company with redundant RAID storage to ensure data safety during accidents or cyber attacks. We also recommend using one with an error-correcting code (ECC) memory to reduce data corruption that may harm your server performance.
Scalability
As your sites or web applications grow and have more features, their resource consumption also increases. Scalability improves server performance, allowing it to handle more traffic and process more data.
There are two methods of scaling – vertical and horizontal. Vertical scaling increases the server resources, including the RAM, CPU cores, and storage space. Meanwhile, horizontal scaling adds a new VPS instance or dedicated server in your infrastructure to distribute the load.
To ensure scalability, pick a web host with multiple VPS plans with different resource capacities and load balancer support. Some companies also offer add-on resources, allowing you to upgrade particular server capacities based on your needs.
In addition, consider the ease of upgrading. At Hostinger, users can seamlessly upgrade their virtual private server in one click via the VPS Dashboard without downtime. The process takes around 10 minutes and keeps all files and configurations.
Value for Money
Avoid a VPS hosting provider with overly cheap plans since they may lack essential features like backups and security software. While affordable, it has poor value for money since you must purchase other services separately to ensure the server runs properly.
Choose VPS web hosting services that include various free services like Hostinger. In addition to free backups and security tools, our plans include a snapshot feature, a built-in monitoring tool, a malware scanner, and an AI assistant.
Also, carefully check the final price since some providers charge hidden fees, like setup. To ensure you get the most out of your money, choose a company with a trial period or a money-back guarantee, like Hostinger.
User Reviews and Reputation
User reviews are crucial in determining whether a web hosting provider is reliable and trustworthy. A low-rated company may not fulfill its service level agreement (SLA) and have unresponsive customer support.
To assess a web hosting provider's reputation, search for reviews on trustworthy websites and check its track records on review platforms like TrustPilot or G2. We recommend looking for companies with at least four-star ratings and over a hundred reviews.
Beware of VPS hosting reviews or awards featured on the company websites since they might be fabricated. To ensure their legitimacy, check whether they are cited from another website or review platform.
For example, Hostinger's review page features user testimonials from over 20,000 Trustpilot reviews and awards from renowned websites like TechRadar and PCMAG.
Suggested Readings
Still unsure? Check out our Customer Spotlight section featuring our clients' success stories in using Hostinger's products to start their online journeys.
Security Measures
The ideal web hosting company should apply robust security measures to safeguard your data. If you collect users' information, they are also important to comply with data protection laws, such as the European Union's General Data Protection Regulation (GDPR).
Linux VPS commonly offers robust security features, such as built-in firewalls like iptables or an Uncomplicated Firewall (UFW). It also supports open-source, free security software, like the ClamAV malware scanner, Fail2Ban, and OpenVPN.
Moreover, ensure your virtual private server has DDoS protection and SSL certificates. If your web hosting providers don't include them, providers like Cloudflare and Let's Encrypt offer them for free. However, you may need the paid versions once your website grows.
Hostinger is compatible with these features and offers additional VPS security measures in all plans. For example, we provide Suhosin-hardened PHP, BitNinja protection, 24/7 server monitoring, snapshots, and weekly backups.
Operating System and Control Panel
Choose a web hosting service provider that supports your preferred operating system (OS) and control panel. Otherwise, your sites or web applications may not run properly due to incompatibility issues.
If the provider doesn't offer your chosen OS, ensure it supports custom image installation. Also, choose one with a one-click installation feature since installing software on a VPS via SSH or Terminal can be tricky, especially for beginners.
Most VPS hosting providers, including Hostinger, offer popular control panels like cPanel, Plesk, WebMin, and VirtualMin. For the paid ones, you can purchase the license directly from our VPS Dashboard.
Hostinger offers various Linux distributions bundled with various control panels and applications. Instead of installing the OS and the software separately, users can configure them simultaneously using templates via the VPS Dashboard.
Data Center Locations
The best VPS hosting provider should have multiple data center locations worldwide. It allows you to choose the one closest to you or your target audience location, reducing the travel distance and improving your website loading speed.
Having a nearby data center also improves management efficiency since the further your VPS, the bigger the network latency. It leads to an unresponsive server with an input delay when you connect remotely using SSH or VNC.
Hostinger's VPS hosting service has data centers in Asia, North America, South America, and Europe. Users can choose any of them for free and change to another location anytime.
Our VPS also supports CDN services like Cloudflare to ensure optimal website performance worldwide regardless of your visitors' location.


Conclusion
Users seeking a high-performance and customizable hosting service should consider a virtual private server (VPS). However, choosing one can be tricky since providers offer various plans with different features and resources.
Moreover, picking the wrong plan can lead to poor website performance and uptime. To help you make informed decisions, this article has explored the 10 best VPS hosting services. Here are our best picks:
Hostinger – easily scalable VPS hosting plans with excellent value for money, security, features, and performance.
LiquidWeb – suitable for large enterprises wanting powerful and reliable VPS hosting.
RoseHosting – excellent for businesses looking for a managed VPS hosting plan.
To choose the best VPS hosting service provider, consider its performance, security, scalability, and reputation. Also, pick one with multiple data center locations to minimize latency and extensive software compatibility to ensure your application functionality.
Best VPS Hosting FAQ
In this section, we will answer several questions related to the best VPS hosting services.
What Are the Benefits of Choosing VPS Hosting?
VPS divides a physical server into multiple virtual environments with dedicated software and hardware. Compared to shared web hosting, VPS is safer, performs better, and offers more flexibility due to the isolation.

While less isolated than dedicated web hosting services, virtual private servers are easier to manage and more cost-efficient.
How Much Does VPS Hosting Cost?
VPS services' cost depends on the provider and subscription length. It also varies based on the plans' features, after-sales services, CPU cores, RAM capacities, storage, and bandwidth.

For example, Hostinger's Linux VPS hosting plans range between $5.99–$21.99/month and includes essential services like backups, snapshots, and a malware scanner.
What Are Some Common Use Cases for VPS Hosting?
Like other hosting types, users can use VPS to host websites or applications. However, it is also suitable for various purposes, including database hosting, off-site backup storage, load balancer, and email hosting server.