Tuesday November 22, 2022
Creative Graphics UK Saved Its Time and Money After Migrating 60 Websites to Hostinger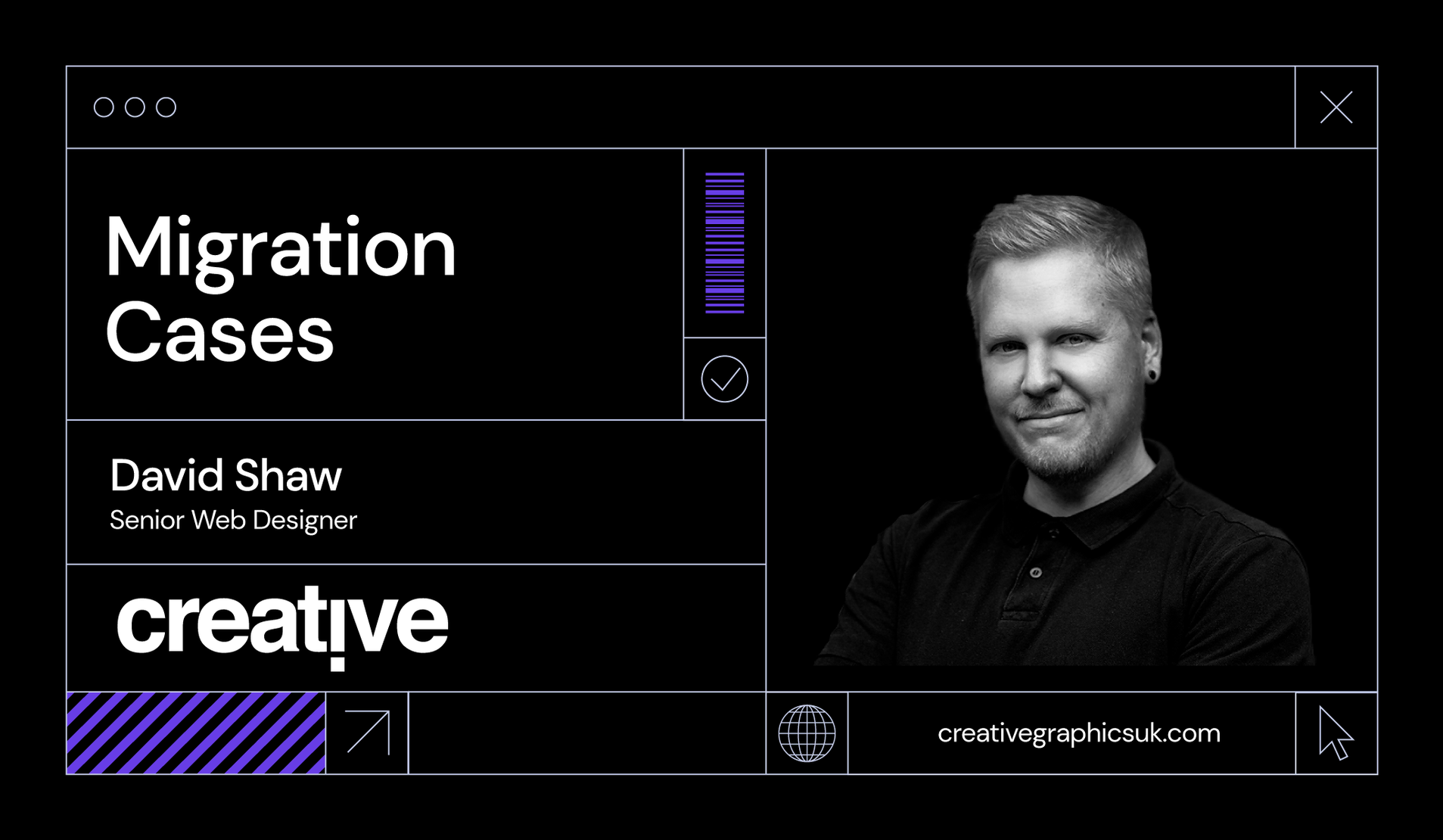 Managing multiple websites across different hosting providers was exhausting, expensive, and time-consuming for David. To solve this problem, he decided to look for a user-friendly web host to move all of his clients' sites to. Discover how migrating to Hostinger has made David's job more efficient. 

Background
David Shaw is a web developer at Creative Graphics UK, a digital printing house-turned-marketing agency that has been around for over 25 years. The company provides web development services for more than 60 clients, all of whom host their sites with Hostinger.
The agency's projects range from a simple business site to a large eCommerce store.
Challenges
When David first joined Creative Graphics UK, he found a major problem with how the clients' websites were hosted.
"It was a bit of a mess. The websites that we had for various clients were split out over a few different servers and hosting providers. So when I took over, my first job was to get all of the sites into one place for my own sanity and to consolidate them all."
From there, he began searching for the best web hosting provider to host all of the clients' websites. The most important factor was user-friendliness.
Before becoming a web developer, David was a graphic designer for 10 years. While he had some basic knowledge, he mostly learned how to build and manage websites in his new job. As a newcomer in the field, he preferred a hosting platform that was easy to use.
While most hosting companies today use cPanel, David found it difficult to navigate.
He also looked for web hosts with responsive customer support so that he could solve errors in his clients' websites faster.
"One of the providers I used previously was horrible. There was no live chat, and you have to log a ticket every time you have a question. Then, you have to wait several days for a reply via email."
Solution
To resolve the problem, David decided to try all of the different hosting providers the company was using.
Hostinger was one of them. After comparing the different control panels, he found hPanel to be the simplest to use.
"I had a look at all of the platforms. Some were on cPanel, but when I looked at Hostinger's hPanel, I realized it was going to be the easiest to manage. Many developers may prefer other options, but for me personally, I like hPanel."
Because of this, he purchased Hostinger's Cloud Professional plan and moved all of the websites there. The process was quick and easy.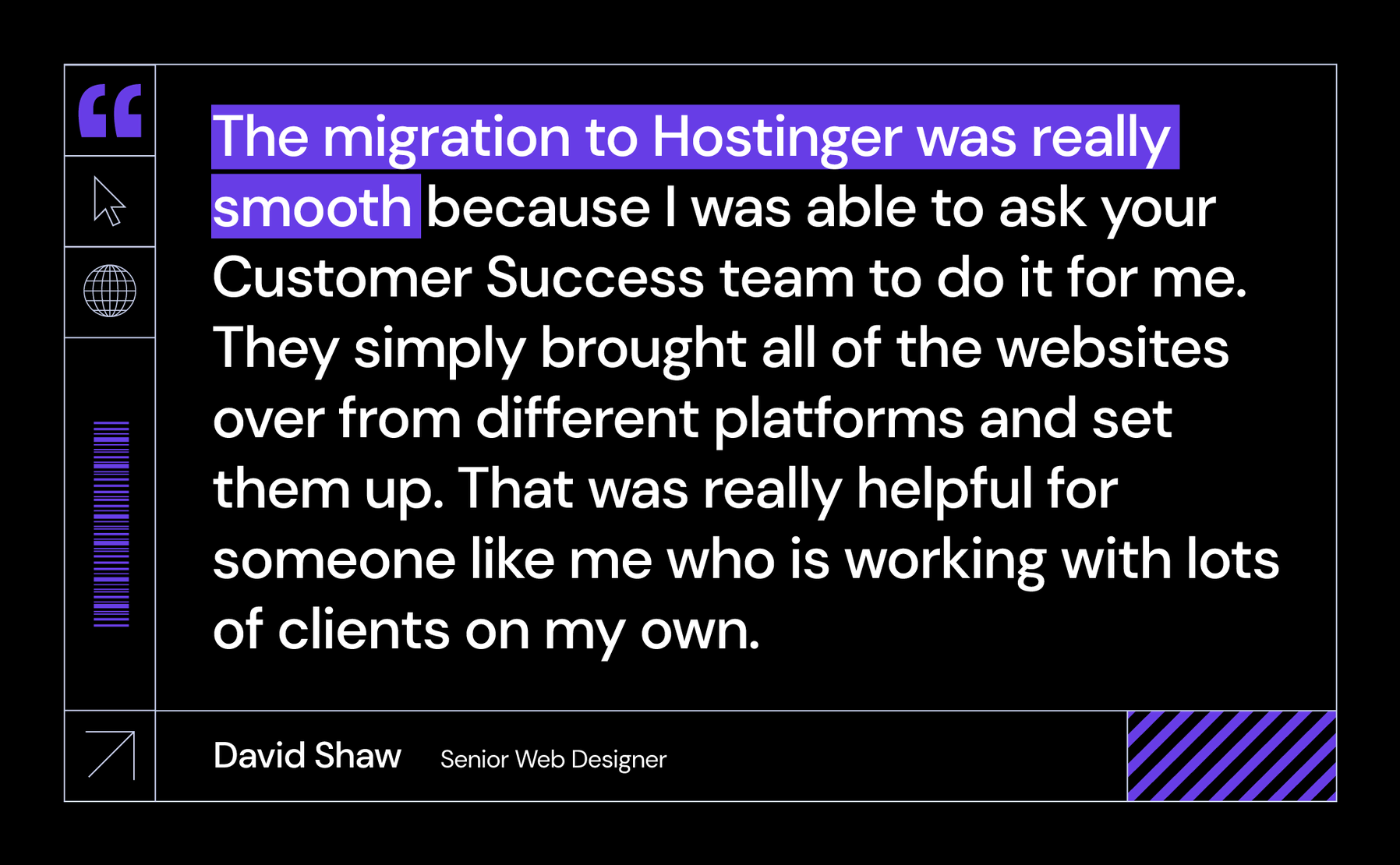 He also found our Customer Success agents to answer quickly and go the extra mile.
"Hostinger's Customer Success team has been awesome. They've answered questions like, 'Why isn't this website working?' or 'Why is this happening?' It doesn't have anything to do with your service and more to do with my lack of knowledge. But the agents are always happy to point out where things have gone wrong. When I'm really stuck, and I've got no one else to ask, they're always there," he shared.
Furthermore, Hostinger clients can visit the knowledge base and tutorials to find information about our services and website-building. We also have Hostinger Academy, where our instructors teach you all about managing your site and scaling your online business.
When it comes to additional tools, the WordPress Staging Tool is a go-to feature for David. In one click, it will generate a replica of your website to test out new customizations or check for bugs before pushing the changes to the live site.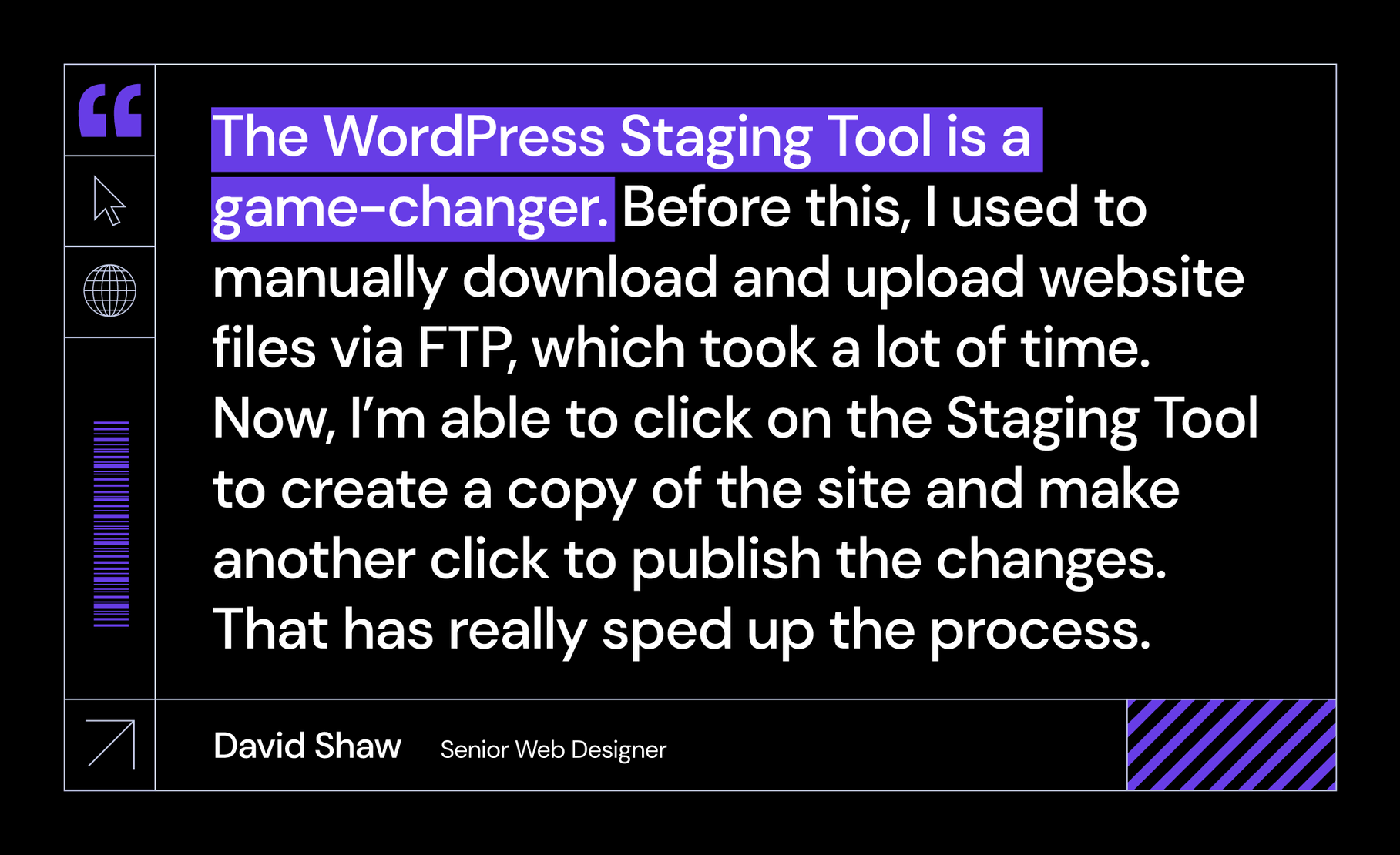 Finally, Hostinger's value for money has allowed Creative Graphics UK to offer high-quality web development services at a reasonable price.
While other agencies charge £60 to £70/month for hosting, Creative Graphics UK strives to be fair and ensure clients can get a well-designed and optimized website without having to spend a fortune.
"We have a lot of regular clients. If one company comes to us for a printing job, they'll usually end up asking about web development, graphic design, or social media management. So they usually stick with us because we offer quite a lot of services. And almost all of our biggest clients have websites with us."
With hosting taken care of, David can focus on other goals, such as website optimization.
"I think the best website I've built is creativegraphicsuk.com, which measured 100 on Page Speed Insights. I was really chuffed when that happened, and now I'm trying to make every client website score 100 as well. We can refresh them, make them faster, and improve their SEO."
Conclusion
"I'm happy with my decision to migrate to Hostinger, so we're not looking to move anywhere else," David summed up. In fact, he recently purchased a VPS plan to build a Magento website for a client.
During the pandemic, many people decided to take their business online. This trend enabled Creative Graphics UK to grow its clientele.
"We define our success in growth and longevity. We've been here a long time, and while many agencies come and go, we've stood the test of time. If our client base keeps getting bigger, I will need someone to assist me. So that's a positive."
Thanks to our hPanel, hosting has become much easier to manage for David. We're excited to see where Creative Graphics UK is heading in the future.