How to Transfer a Domain From HostGator to Hostinger in 7 Steps
Whether you seek better speed, more features, or a user-friendly control panel, Hostinger is an excellent HostGator alternative when it comes to web hosting and domain registration.
If you've moved your web hosting provider from HostGator to Hostinger, it's more convenient to have your domain under the same roof.
This guide will outline the domain transfer process from HostGator to Hostinger to ensure a smooth migration.
Download Guide To Using Hostinger
How to Transfer a Domain to Hostinger From HostGator
We will walk you through the steps to transfer a domain name from HostGator to Hostinger.
1. Purchase a Domain Transfer at Hostinger
To make Hostinger your new domain registrar, purchase a suitable transfer package.
Go to Hostinger's Domain Transfer page. Next, enter the domain name you wish to transfer in the field and click Transfer.
Fill in the necessary details in the next screen to pay for the domain transfer fees. If you're a first-time Hostinger user, you can quickly set up your account before making the payment.
2. Update DNS Settings
You must update your domain's DNS settings on HostGator and point it to Hostinger's nameservers.
Updating nameservers is crucial for minimizing downtime during the transfer process. It will keep your website online and accessible when switching to another domain registrar.
Hostinger utilizes two nameservers – each with a corresponding IP address – to maximize stability and connectivity. Usually, you only need to enter the nameserver names, but some registrars may ask for their IP addresses.
Follow these steps to point your HostGator domain to Hostinger's nameservers:
Copy these Hostinger nameserver details:
ns1.dns-parking.com (162.159.24.201)
ns2.dns-parking.com (162.159.25.42)
Log in to your HostGator account and click on the Domains option on the left sidebar.
Locate the domain you intend to transfer to Hostinger and click More to open the Domain Overview tab.
Click Change under Name Servers.
In the new tab, select the Manually set my name servers option, input Hostinger's nameservers in the fields, and click Save Name Servers.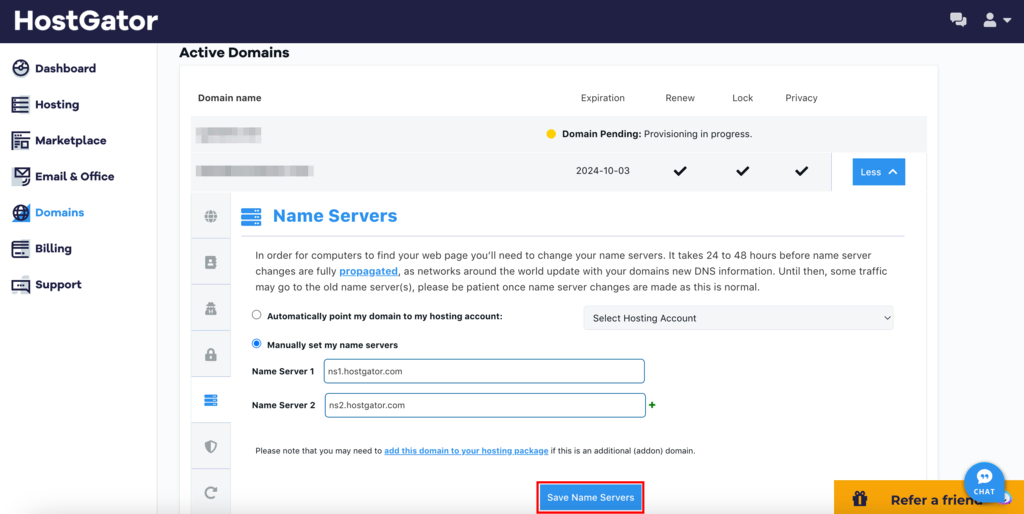 Warning! If you don't update the nameservers prior to transferring the domain, you won't be able to modify your DNS settings until after the transfer process is fully completed.
3. Unlock Your Domain
Next, you must unlock your domain at HostGator before you can initiate the transfer to Hostinger as the new registrar.
Here's how you can disable the transfer lock:
Navigate to the Domains section in your HostGator dashboard and find the domain you want to transfer.
Click on the More option next to the intended domain name to open Domain Overview.
Click Change next to the Locking status.
The Domain Locking feature is turned on by default. To unlock the domain, toggle the switch to Locking OFF.
Click on the Save Domain Locking button. This implements the change and ensures that the domain is unlocked.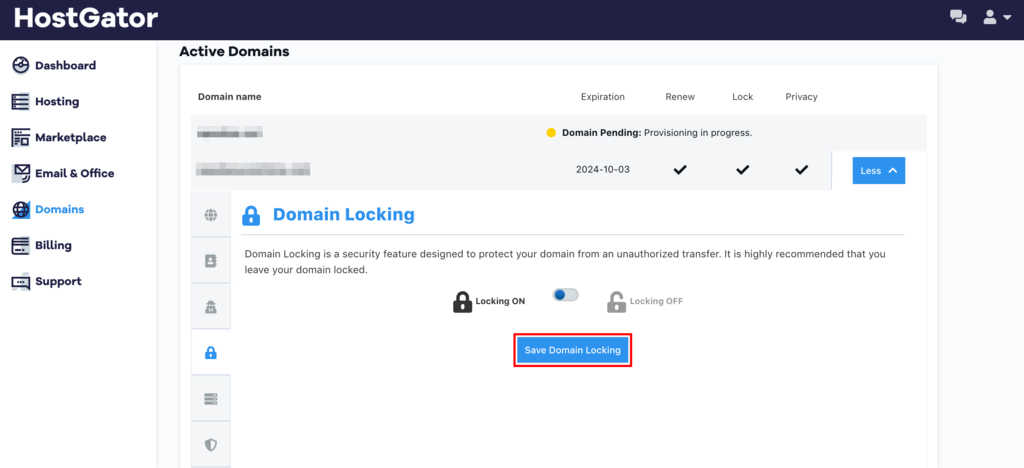 4. Disable Domain Privacy
To proceed with the domain transfer process, disable the WHOIS privacy settings.
Disabling domain privacy allows the current and new registrars to access and verify ownership details efficiently, streamlining the transfer process and preventing delays. Also, it meets transfer protocols and requirements set by certain registrars.
To disable domain privacy, go to the Domain Overview section and click on Change next to Privacy.
Next, select the Public option and click Save.
5. Get the EPP Authorization Code
Once unlocked, obtain the domain's authorization code from HostGator. Also called the auth code, transfer code, or the EPP key, it is a critical part of the domain transfer process.
The auth code contains a unique sequence of characters. Its purpose is to prevent unauthorized transfers, so only the legitimate owner can initiate the migration.
Retrieving the EPP code from HostGator is easy. In the Domain Locking screen, locate the EPP Key section.
Click Request Your EPP Key to view your transfer code and copy it on your computer.
Handle transfer authorization code with care. Only share it with your new domain registrar for a secure domain transfer process.
6. Initiate the Transfer on Hostinger
Transferring your domain to Hostinger is a breeze once you're equipped with the necessary EPP code and domain details. Here's a step-by-step guide:
Log into your Hostinger account and head to the Domains tab in the main dashboard.
Initiate the transfer process by clicking on the Transfer an existing domain option.
In the next screen, enter your domain name in the marked field and click on Transfer.
Follow the rest of the prompts to ensure a successful domain transfer process.
Hostinger will send a confirmation message to the domain's administrative email address to obtain the domain owner's consent for the transfer. Follow the instructions in the email to confirm your HostGator to Hostinger migration.
7. Wait for the Domain Name Transfer to Complete
Domain transfers usually take 5-7 days to complete, depending on factors like domain extensions and registrar responsiveness. During this phase, patience is key.
To minimize the waiting period, make sure to check your emails frequently. Hostinger and possibly your current registrar will primarily communicate with you via email.
These emails may include domain status updates, requests for additional information, or instructions on the next steps. Promptly address any emails requesting actions or information to prevent delays in the transfer process.
It's essential that you don't miss out on any critical notifications. In addition to checking your main inbox, monitor your spam or junk folder, too.
You will receive a confirmation email once the domain has been successfully transferred. This email is the final indicator that your domain is now with your new registrar, Hostinger.
Conclusion
Transferring your domain from HostGator to Hostinger is not as difficult as it may seem. This comprehensive guide can help you through the journey.
Here's a quick recap of the steps to transfer a domain to Hostinger:
Purchasing a domain transfer – initiate the transfer process by selecting and buying a suitable domain transfer package from Hostinger.
Updating nameservers – point your domain to Hostinger's nameservers to ensure your website stays online.
Unlocking your domain – domain locking is a useful security measure, but it needs to be toggled off for migration.
Disabling WHOIS privacy protection – same with the domain lock, the privacy feature must be disabled during migration.
Obtaining the transfer authorization code – this code ensures only the rightful owner can initiate the domain name transfer, providing added security.
Initiating the transfer at Hostinger – with the authorization code in hand, initiate a migration request to Hostinger.
Waiting for transfer completion – while waiting for the transfer to complete, keep an eye out for emails from your new or current registrar.
If you have any questions about switching domain registrars and its process, feel free to comment below.
Transferring Domain From HostGator to Hostinger FAQ
Let's address some commonly asked questions about the HostGator to Hostinger domain name transfer process.