How to Transfer Domain From Google to Hostinger in 4 Simple Steps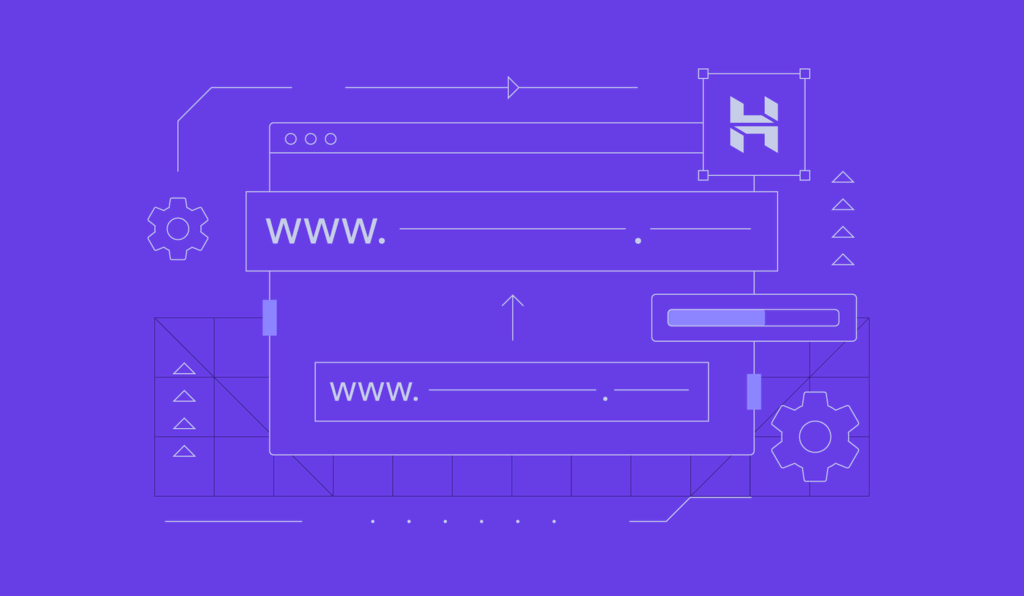 A domain transfer means moving your domain name from one registrar to another. The requirements may vary depending on the top-level domain (TLD).
To be eligible for a domain transfer, the domain name must be active in the current registrar for at least 60 days. In addition, you must disable domain privacy protection and use the correct personal information.
This article will explain how to transfer a domain name from Google Domains to Hostinger. On top of that, we will discuss why you should change your domain registrar.
Download Guide To Using Hostinger
How to Transfer Domain From Google Domains to Hostinger
Follow these instructions to transfer a domain name from Google Domains to Hostinger:
1. Point the Domain to Hostinger Nameservers
Nameservers connect your domain name with the web hosting's IP address. When transferring a domain, you can't modify its settings.
We recommend pointing to Hostinger nameservers before the domain transfer begins, so you can still manage the website and use emails.
Note that DNS changes may take up to 24 hours to propagate fully. Here's how to point the domain to Hostinger nameservers:
Open the Google Domains dashboard and click the domain.
On the top-left section, select the Menu icon → DNS.
Click Use custom name servers and select + to add more. To point your domain to Hostinger's servers, enter the following:
ns1.dns-parking.com
ns2.dns-parking.com
Choose Save. If you haven't added custom nameservers before, select Switch to these settings.
2. Unlock the Domain at Google Domains
A domain lock is a security setting that prevents unauthorized attempts to transfer your domain to another provider or registrar. Since Google Domains enables it by default, you must unlock your domain first before transferring it to your Hostinger account:
On your Google Domains dashboard, choose the domain you want to unlock.
Click the Menu icon on the top-left section → Registration settings.
Scroll down to Domain lock and toggle to Unlock domain.
3. Get the Transfer Code
Also known as the authorization or EPP code, the transfer code is assigned to a domain by the registrar to help identify the registrant or registered name holder. It is required for domain transfers and prevents hijacking.
Take the following steps to get the transfer code:
Select the domain you want to transfer on your Google Domains dashboard.
Choose Get authorization code next to the Transfer out option.
Click To a different domain registrar, select Continue, and sign in if necessary.
Copy the transfer code.
4. Initiate the Domain Transfer at Hostinger
Once you've unlocked the domain and got the transfer code, it's time to initiate the domain transfer process at Hostinger.
Here's how to do it:
Log in to your web hosting account at Hostinger and select Transfer Domain. Alternatively, open the Hostinger Transfer Domain page if you haven't registered yet.
Enter your domain name and choose Transfer.
After paying, insert the EPP code and choose Use Hostinger nameservers and DNS records.
You'll receive an email regarding the domain transfer, then confirm it.
After initiating, the transfer process will begin. It may take around five to seven days, depending on the previous registrar and the domain's TLD.
Why Change Domain Registrar
There are many ICANN-accredited domain registrars, and they offer different benefits and features. If you're unhappy with the current provider, the domain transfer option is always available.
Here are four common reasons why people change their domain registrar:
Price. Every registrar charges differently based on the services they offer. If you're not getting your money's worth with the current provider, it's best to switch to a different one.
Customer support. You may encounter website issues and need a representative to help you solve them. Some web hosts don't have a support team and only have a sales team that tries to get the customer to upgrade or buy additional add-ons. Therefore, choose a hosting provider that lets you contact 24-hour customer service.
Security. Ensuring the safety of your data is critical. However, some domain providers don't focus on it, making your website prone to malicious attacks. It's best to choose a web hosting plan with sufficient security features.
User experience. An unresponsive dashboard or panel may frustrate customers and waste their time. Choosing a hosting company with a user-friendly interface like hPanel is a good choice.

Conclusion
There are many reasons why people switch to another domain registrar, such as price, customer service, and security. If you aren't satisfied with the current provider, feel free to transfer your domain.
We've discussed four steps to transfer a domain from Google Domains to Hostinger:
Point the domain to Hostinger nameservers.
Unlock your domain at Google Domains.
Obtain the authorization code.
Initiate the transfer process.
We hope this article has helped you transfer a domain from Google Domains to Hostinger. In case you need more information, you can check out the most frequently asked questions about Hostinger. If you have any questions or suggestions, please leave them in the comments section below.