How to Set Up Email on Android
If you're using an Android phone, accessing your emails on the go is easy. Even if you have personal and business email addresses, it's possible to manage multiple accounts on the same device.
That's because setting up a personal email account on Gmail, Android's default email app, is quite simple. However, most business emails use a custom email address, requiring a manual setup.
In this article, we will show you how to set up Gmail and custom business email addresses on Android devices, so you can easily access and manage your email accounts from any location.


Set Up Gmail on Android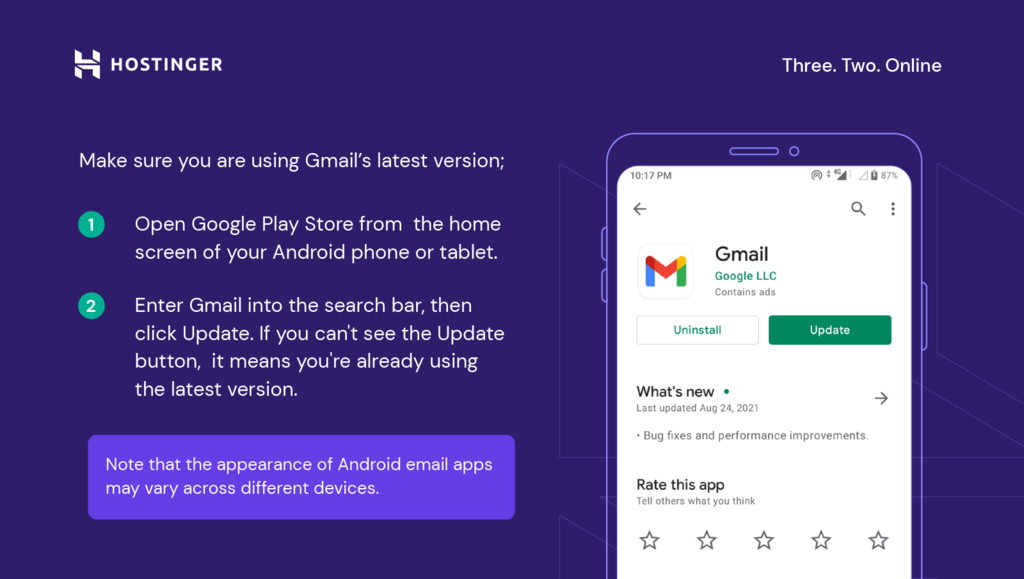 Android devices require you to log in to a Google Account to use Google's services, including Gmail. That means you're automatically logged in to your primary Gmail account the moment you first set up your device after buying it.
Moreover, it's possible to add a secondary Gmail account on your Android device, like your side project's email account. However, before you proceed to set up another account, make sure you are using the app's latest version:
Open Google Play Store from the home screen of your Android phone or tablet.
Enter Gmail into the search bar, then click Update. If you can't see the Update button, it means you're already using the latest version.
Note that the appearance of Android email apps may vary across different devices. If you use a device like Samsung, which has Samsung Mail as its default mail app, these steps will serve as a general guide since the process will be slightly different.
Here are the steps to set up a second Gmail account on the same Android device:
Open the Gmail app.
Click the Google Account icon at the top-right corner of the screen, then select Add another account.
On the Set up email screen, select Google.
Enter your secondary Google account address in the Sign in field and tap Next.
Enter your password, tap Next again.
Google will ask if you want to add a phone number for additional security. We recommend opting in. Tap the Yes, I'm in button.
You'll see the Google Terms of Service screen. Select I Agree.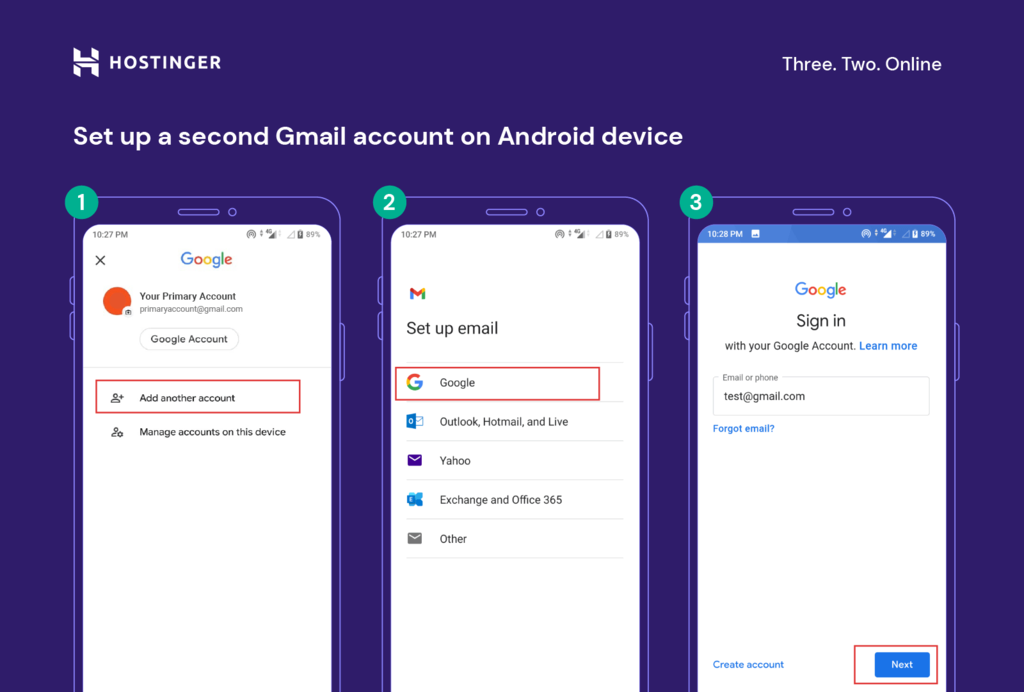 Now you can manage your primary and secondary Gmail emails from one Android device simultaneously.
It's also possible to use Gmail as the main platform to manage all of your business email messages.
Set Up Your Business Email on Android
Custom email addresses use a unique domain name instead of generic email provider extensions such as Gmail or Outlook. Username@mybusiness.com is an example – this address allows people to identify the name of a business or a website easily. Such emails can be created using email hosting services, like free email service on Hostinger or Google business email (6$/month).
Setting up your business email on Gmail is a convenient solution. Doing it means you won't have to log in to multiple platforms to manage your personal and business emails. It's also free, and the familiar interface is easy to navigate.
Note that the steps to set up a business email on an Android device will vary depending on your hosting provider and the type of control panel you use. In this article, we will use Hostinger's hPanel.


1. Finding Your Email Settings
To set up your email on Android, the first thing to do is to find the email account details. If your business uses Hostinger's email hosting, they will be located on your hPanel dashboard.
Log in to your Hostinger account. Then, navigate to Emails -> Email Accounts.


On the left navigation pane, click Configuration settings.
In the Configuration Settings section, find the Manual Configuration dropdown menu containing the email protocols – IMAP, SMTP, and POP. Copy the protocol name, hostname, and port as you'll need them later.


If you don't have a custom email address yet, set it up by navigating to the Create email account section.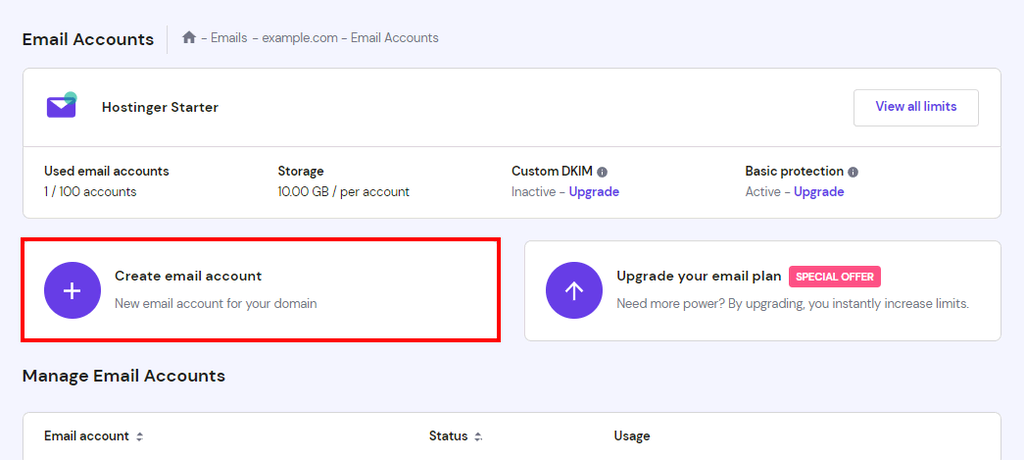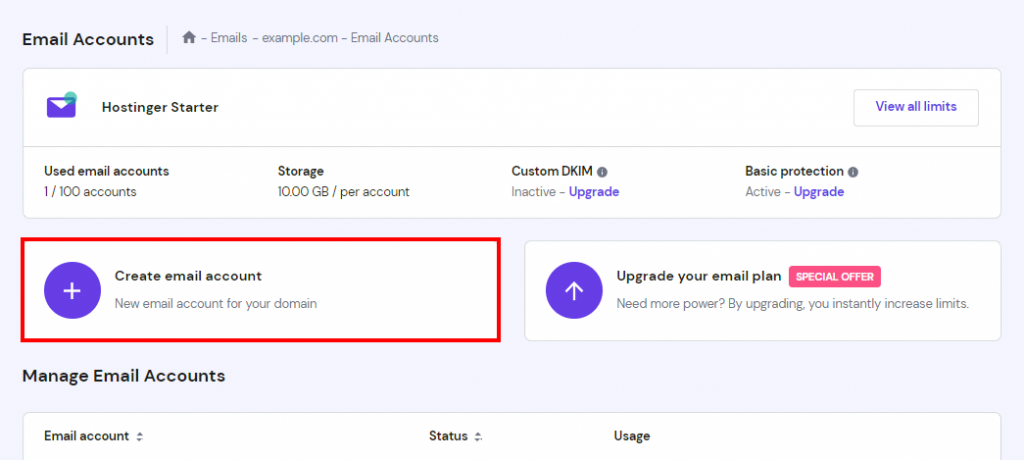 Create a new email address by entering an email name in the available field. Then, create a password, and click the Create button.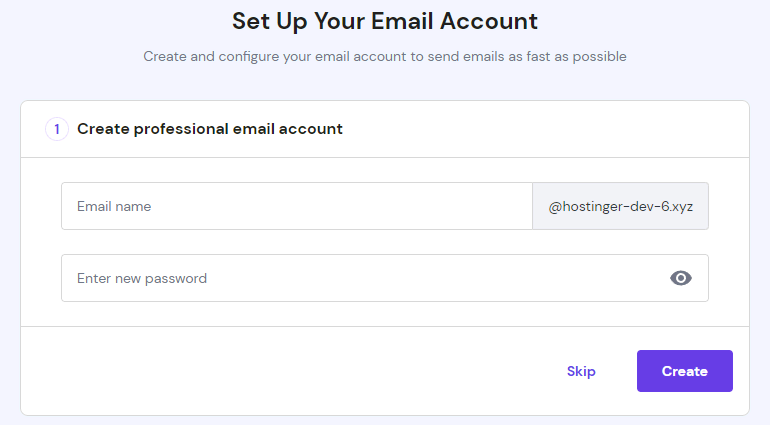 2. Adding and Setting Up a New Email Account
Now that you have the email configuration details, it's time to set up the email account on your Android device.
Open the Gmail app. Tap the menu icon at the upper-left corner of the screen and select Settings.
On the Settings screen, tap Add account.
You'll see a Set up email window where you need to choose an email service. Since we're about to set up a custom email, select Other.
Enter your full email address and tap Manual Setup.
The app will ask what account type your email is, which means choosing an email protocol to use. We recommend selecting IMAP since it lets you synchronize the email inbox across multiple devices. To do so, tap Personal (IMAP).
Fill in the password and tap Next.
Now it's time to configure the Incoming server settings. The Username and Password fields will be automatically filled in with the appropriate details..
Specify your IMAP Server and Port number – use the information from hPanel's Email Accounts page. The Server should be imap.hostinger.com, and the Port – 993.
Still on the incoming server settings screen, click the drop-down menu under the Security type section. Select SSL/TLS (accept all certificates), then tap the Next button.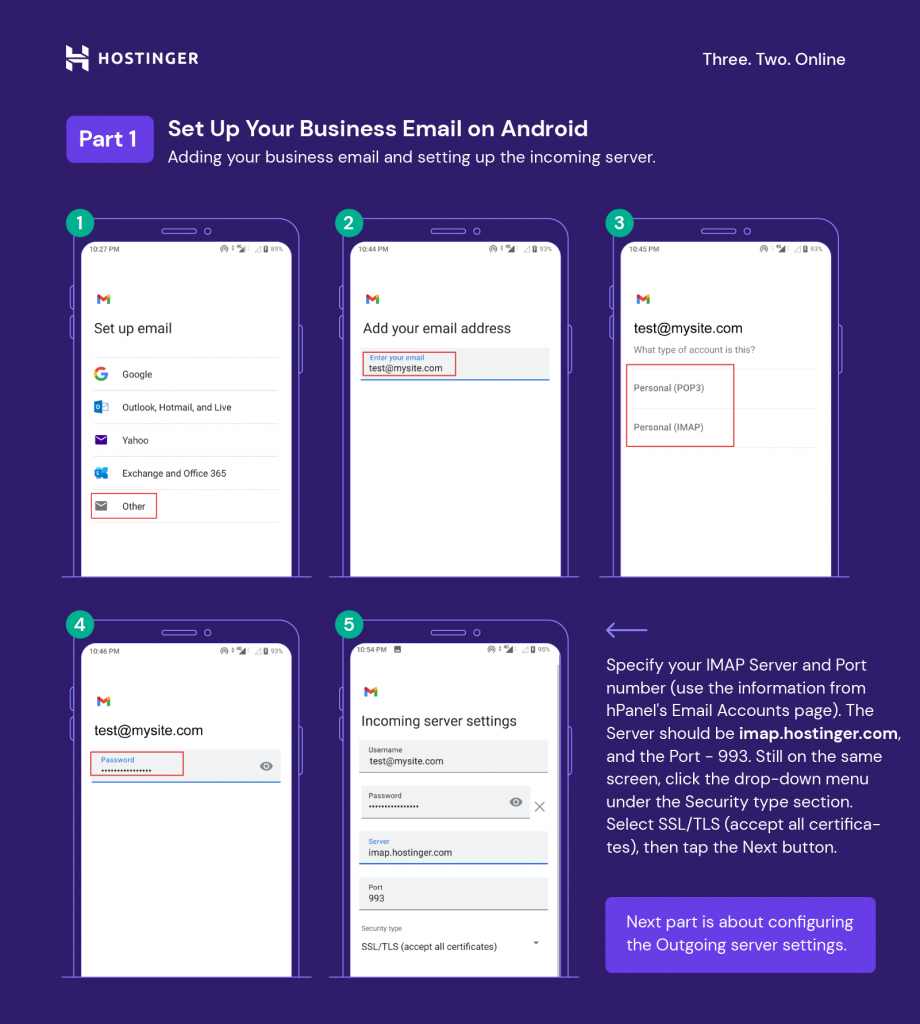 Next, configure the Outgoing server settings. Both the Username and Password fields will be automatically filled with your full email address and email password.
On the same outgoing server settings screen, enter smtp.hostinger.com into the SMTP Server field. Tap Next.
On the Account options screen, set up the Sync frequency and any additional preferences, such as Sync email for this account. Tap Next.
Lastly, type in Your name, which is the display name on messages you send from this account. You can also set an Account name, but it's not mandatory. Tap Next to finish the process.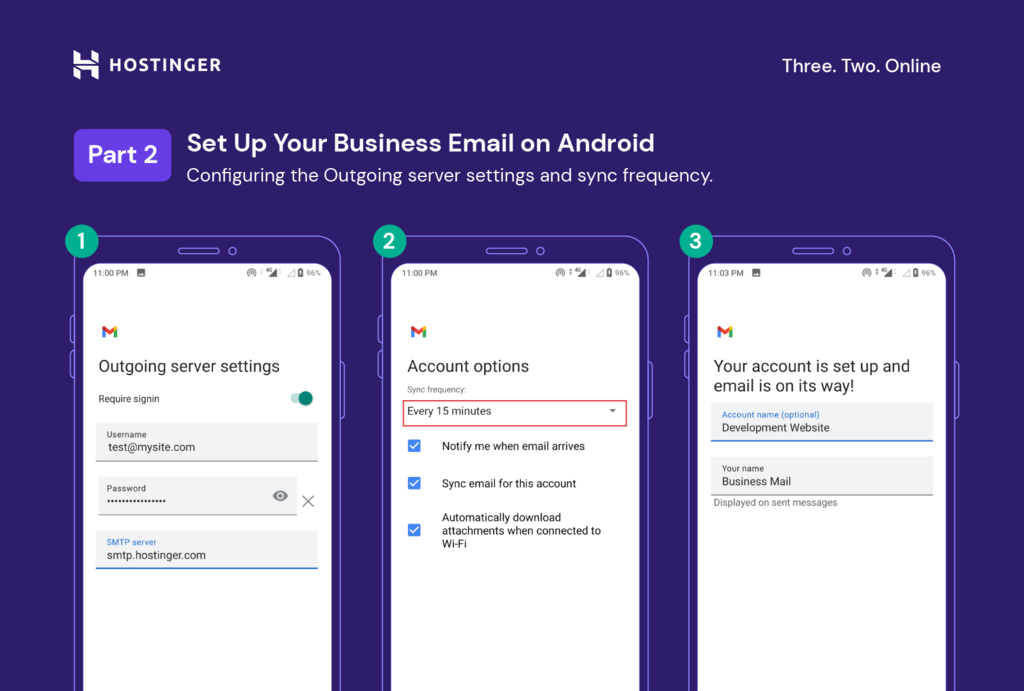 Congratulations – you have successfully added a custom email account on your Android device.
Expert Tip
Some companies use the Microsoft Exchange email server to manage their business emails. It's possible to set up an Exchange account on an Android device, enabling users to access Exchange ActiveSync, Exchange's synchronization protocol.
It lets you access your email, calendar, contacts, tasks, and notes from mobile devices, even when offline. Reach out to your IT administrator to know the name of the Exchange server, as this information is necessary for the setup.
Conclusion
Accessing emails on your Android devices while you're on the go is very convenient. You can set up multiple emails on your Android phone, which may include personal and business email addresses.
Setting up a personal email is simple, while setting up a business one takes a little extra effort since you have to do it manually.
However, as long as you have all the necessary server configuration details, your business email will be accessible from your Android device in no time.
We hope you found this article helpful. If you have any questions, feel free to leave us a comment below.