In this tutorial, we will show you how to use the cPanel's implemented Optimize Website feature. It allows you to compress certain types of files in order to enhance your website's performance.
What you'll need
Before you begin this guide you'll need the following:
Access to your cPanel
mod_deflate Apache module enabled
Step 1 — Accessing the Optimize Website tool
First of all, you need to enter your cPanel. After doing that, you can either use the cPanel's search feature or manually find the Optimize Website tool: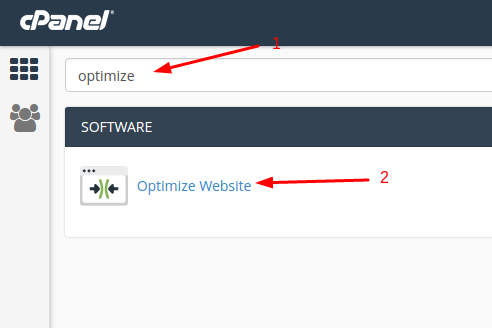 After entering the tool's page, you should see this window:

Step 2 — Working with the Optimize Website tool
Refer to the previous image and follow the instructions below:
Here you can choose the compression option:

Disabled will simply disable this feature and will not perform any compression action.
Compress All Content will compress all the content of your website.
Compress the specified MIME types will let you choose what kind of content will be compressed.

The MIME types field allows you to specify what kind of files/content will be compressed. Enter the space separated list of the content that you wish to compress.
After making your choice, click on Update Settings to apply the settings you have made. You should see this confirmation message after doing that:


IMPORTANT! Do not add image types in the field, for example, .jpg or .png. These types are already compressed by default.
Congratulations, you have enabled cPanel's Optimize Website feature for your website.
Conclusion
cPanel's Optimize Website feature is useful if you wish for your site visitors to have a slightly better and faster experience when browsing your website. The website's content is compressed before sending it to the visitor's browser, therefore, it will take less time to load.