WordPress 6.0 Release Candidate: Why You Should Test It
The WordPress 6.0 release candidate (RC) has been launched – getting us closer to the final version. Although the release candidate version is arguably a stable version of the new release, we still recommend testing it.
Let's look at some of the reasons why you should test the release candidate and how to safely install and test this development version.
Why You Should Test This WordPress Release Candidate
The WordPress team uses release candidates as a final review before the release. As a WordPress user, testing the release candidate on a copy of your WordPress site helps you see how it works with your theme and plugins on a regular website operation.
The WordPress environment comprises themes, plugins, and website customization that testers might not include in the beta testing. So, you may identify issues or bugs that the testers and developers missed during the development phase.
For example, developers and testers might not have noticed a plugin compatibility issue as they didn't test it with that specific plugin. As a result, it may lead to errors like the white screen of death on the release candidate.
Discovering and reporting these flaws will help developers fix them before the final release, preventing other users from experiencing the same problem.
Testing the release candidate is also important for theme and plugin developers. They need to verify if their themes and plugins will work seamlessly with the new major release. Once verified, developers can update the readme files and safely confirm that their products have been tested up to WordPress 6.0.
How to Install and Test the Release Candidate
First and foremost, don't install the release candidate on a live website to prevent errors that may negatively impact your website.
Create a WordPress staging environment with a copy of your site to safely check how the WordPress 6.0 release candidate works with your content, theme, and plugins.
Use hPanel's WordPress staging feature or a WordPress staging plugin to create a copy of your site. Follow these steps once the website's copy is ready:
From your WordPress dashboard, go to Plugins -> Add New.
Search for the WordPress Beta Tester plugin. Then, install and activate it.
Go to Tools -> Beta Testing. Select the Bleeding edge channel and the Beta/RC Only stream. Save the changes.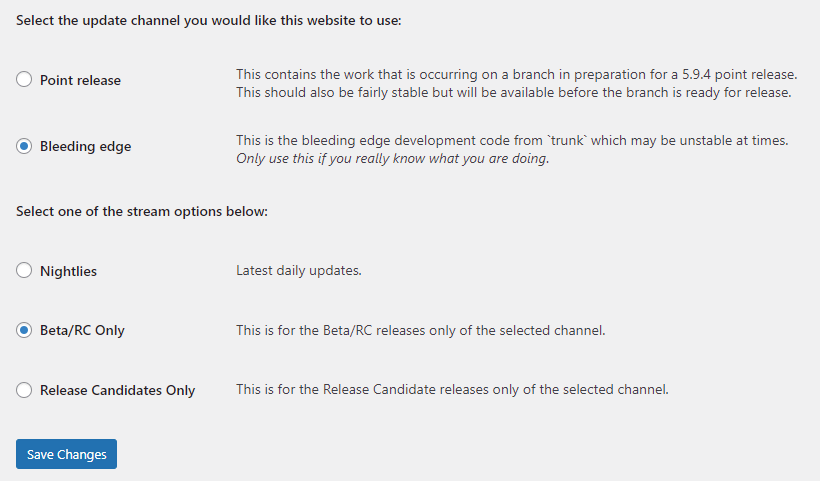 Once your website's copy is running the release candidate version, we recommend taking the following steps:
Test all the new features on WordPress 6.0 and make sure everything works as intended. Read the WordPress testing guideline to see the full list of features to test.
Use the WordPress admin to do regular back-end tasks like creating a new post or editing a page. Ensure that the editor and other WordPress admin interfaces have no issues.
Check your theme and plugins to ensure that they work fine and there are no compatibility issues with WordPress 6.0.
Test all the front-end website features such as form submission, shopping cart, checkout process, or event booking.
If you find any issues, report them to the Alpha/Beta/RC forum or create a WordPress Trac ticket before the final release, scheduled on May 24, 2022.
Overview of the New Features in WordPress 6.0
We have in-depth coverage of the new features in our WordPress 6.0 Beta post. To recap, here are some of the new features and improvements planned for the next major release:
Style switcher for easily changing the site's appearance via the global styles settings panel.
Multi-block text selection to edit text without the boundaries of the paragraph block.
Webfonts API allows theme developers to register custom web fonts in the theme.json file.
Block locking UI makes locking a block easier by clicking an icon on the block toolbar.
New comment blocks like Comments Query Loop, Comments Author, and Comment Title blocks replace the previous Post Comments block.
List view improvements, including the collapsed view and the ability to delete or rearrange multiple blocks in bulk.
New template options, including author, date, categories, taxonomy, and tag.
Block theme export to download the modified theme, including the updated templates and styles.
WordPress 6.0 Release
WordPress 6.0 will be released on May 24, 2022, and we recommend updating your website as soon as possible. Otherwise, it may be vulnerable to security threats.
Read our tutorials on how to update WordPress if you need guides and tips on how to do it safely. You can also do a similar test on a staging site once the final version is released to ensure it won't cause any issues on your live site.