Thursday February 6, 2020
Building a Website in 5 Minutes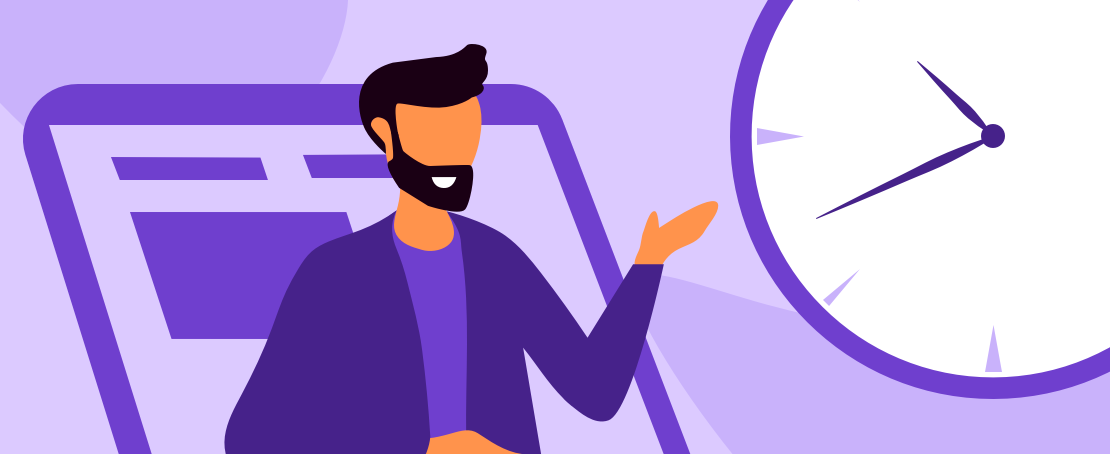 Even though we appreciate humor, when it comes to hosting and building websites, we're not messing around. For many years, building a website was seen as a privilege not accessible to a lot of people. The amount of technical knowledge, development skills, time, and effort required to build a website from scratch made it virtually impossible for people to even dream of being able to create their own websites if they were not a developer.
Challenges like that fuel our fire and make us get out of bed in the morning. A while back, the team here at Hostinger had the wild idea that they could create an onboarding system that guides users with zero development or design knowledge through the creation of a fully functional beautifully designed website in the span of 5 minutes. Let us reiterate that because it's as ridiculously ambitious and crazy as it sounds – we wanted to give people an onboarding system that within 5 minutes, with a series of simple and easy steps, would provide everyone with a website of their dreams. Madness, absolute madness.
"They've managed to take everything that's undesirable about website building and turn it into a seamless onboarding experience. Before I knew it, I was ready to publish my website. This convenient process wouldn't be possible without their excellent user interface, which they've obviously tried and tested to produce a satisfying user experience." Daren Low – Founder of Bitcatcha.com.
There's a Method to Our Madness
Innovation, progress, and breakthroughs all stem from big ideas that were thought to be crazy at first. Why did we have the audacity to think we could pull this off?
How do you even begin such an ambitious project? By listening to the people that websites are meant for. More often than not, technology companies get caught up in their world, forgetting the simplicity demanded by customers. Our daily interactions with thousands upon thousands of customers are a goldmine of knowledge and data. Our customer support team was able to gather invaluable information about the user journey, their needs, desires, fears, and worries, essentially giving us the blueprint for what we had to achieve.
People were looking for a process that is self-explanatory, easy to understand, and avoids technical lingo. A process that's quick, simple, inclusive, and playful. We listened, rolled up our sleeves, and got down to business…
CMS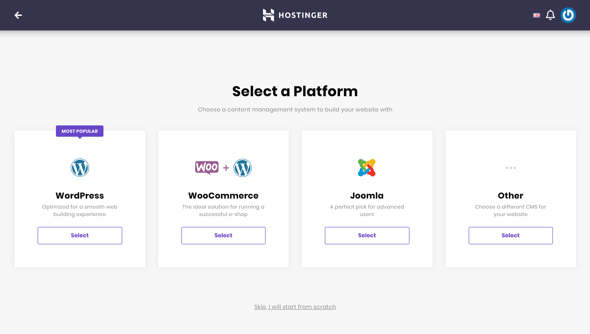 First and foremost, let's start with the content management system. This is the inside of a website, the parts only you, the admin, will get to see. It's the control panel, the dashboard, the place where you get to manage the website. Which one should you choose? WordPress is the most popular CMS on the market (and for a good reason), but we provide a list of over 100 content management systems to choose from. If you decide to go with WordPress, it's important to note that our servers are equipped with the latest LiteSpeed technology, which enables WordPress websites to work 4X faster than the industry average.
Design
The idea here was quite simple. We let the designers do the designing, and you get to choose what they like and apply the finishing touches. Our team partnered with Brainstorm Force, the company responsible for creating the Astra Theme, to provide you with more than 50 stunning website templates. Once you choose the one you like, you can use the Elementor drag-and-drop page builder to give the website a more personal touch.
Domain Name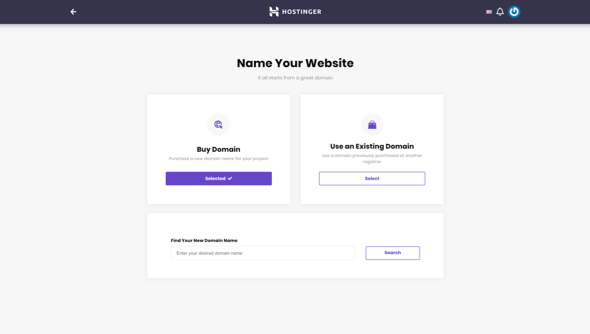 Registering a domain name used to be one of those dull, mundane, and tedious processes that would repel people from wanting to be involved with building their website. What we managed to do is simplify it in such a way that you don't even realize you're doing it. The domain name registration is simply another step of our onboarding flow. Whether you want to use an existing domain name that you already own with us or somewhere else or buy a brand new one, it's all possible in just a few clicks.
Migration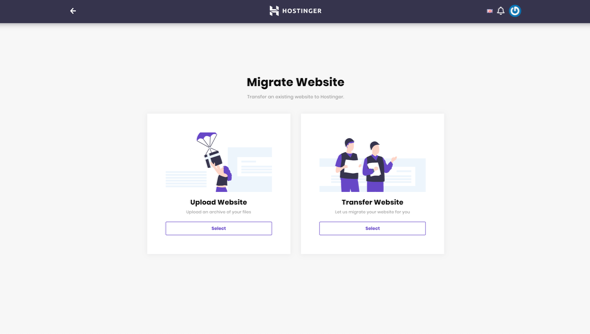 Just hearing the term "website migration" gives you a migraine. It sounds hard, time-consuming, and complicated. The truth is, it used to be like that. That's no longer the case. A dedicated step of our onboarding flow lets you choose whether you want to migrate your website by directly importing it or having one of our professional developers do the work for you.
Also, the website migration service we offer is free of charge and lets you move as many websites to Hostinger as you want.
Recap
New beginnings are always challenging. The re-design of our onboarding flow was created for precisely that reason – simplify your first steps with Hostinger. All the stages of your onboarding were put together to make your life easier and your web hosting experience more enjoyable.