New OpenLiteSpeed VPS Templates: Set Up a CMS on Your VPS in a Few Clicks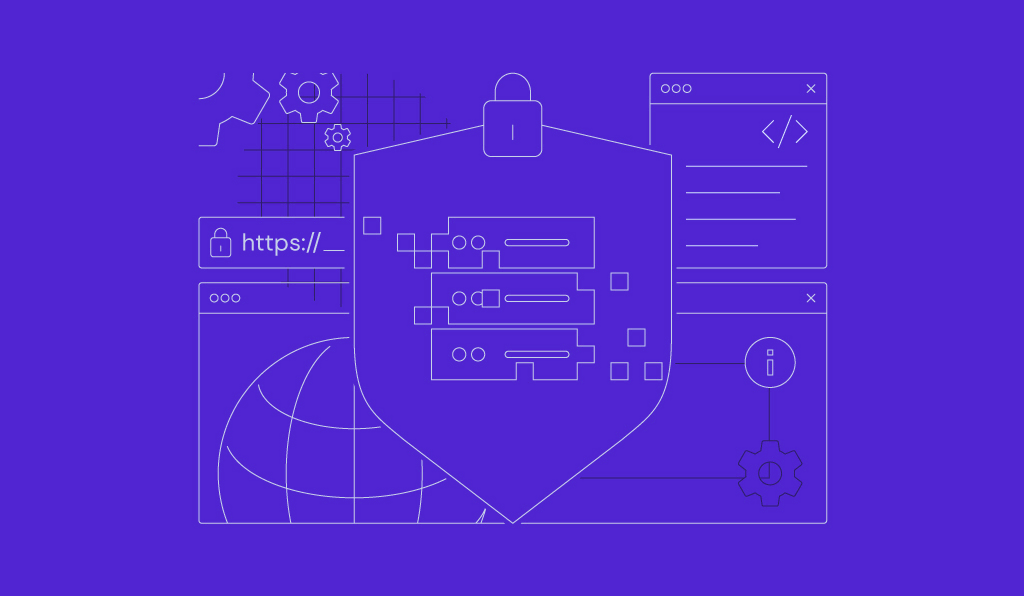 You have a CMS-based website that has outgrown its shared hosting. What do you do?
In this scenario, VPS is often seen as the next logical step. That said, its time-consuming setup and steep learning curve often scare users away from upgrading to this type of hosting.
To overcome that, we're introducing our OpenLiteSpeed VPS templates, which come with a pre-installed CMS of your choice – WordPress, Joomla, or Drupal. They let you enjoy the powerful performance of a virtual server and the user-friendliness of a CMS.
The Best of a VPS and a CMS in One Package
With VPS hosting, you can get plenty of resources to grow your website without paying a fortune.
The catch is, managing a VPS can be complicated. For one, server management knowledge is necessary to configure it properly. Otherwise, you may risk making your website vulnerable to security threats.
Even with some technical experience, the setup may consume much of your precious time – which could be a hassle for a freelancer or business owner.
Our OpenLiteSpeed VPS templates with CMS solve these problems and then some. Their operating system, software, and security settings are pre-configured for the CMS, so they're optimized out of the box.
This makes VPS templates an ideal solution for anyone running multiple servers. You can replicate them so that each server has the same setup, making server management much easier.
OpenLiteSpeed itself is a lightweight and high-performance web server designed to handle large amounts of visitors easily. Using it, your site will have a much more stable connection, even during traffic spikes.
Best of all, OpenLiteSpeed is highly secure. Its anti-DDoS protection, bandwidth throttling, and ModSecurity V3 web application firewall offer robust protection against malicious attacks and hacking attempts.
Our VPS templates also include easy SSL certificate installation and automated script deployment. In a regular VPS, you will need to do these processes manually.
Currently, our OpenLiteSpeed VPS templates are available for the following CMSs:
WordPress. The most popular CMS on the market, famous for its intuitiveness and wide range of plugins.
Joomla. A flexible platform with built-in multilingual support and advanced user management.
Drupal. A website-building software known for its top-notch security.
Each VPS template includes an automatic software installer, letting you set up the CMS in one click. They also come with pre-installed themes and extensions so you can get creative with the site.
LiteSpeed Cache: The Key to Peak WordPress Performance
For WordPress users, ease of setup is only the tip of the iceberg. The OpenLitespeed VPS template offers a major speed enhancement for your website right out of the box.
The template automatically installs the LiteSpeed Cache for WordPress (LSCWP) – a server-level caching plugin. Reports show that pairing OpenLiteSpeed and this caching module can make WordPress sites up to 300 times faster than if hosted on regular hosting.
On top of that, it will automate the initial setup for LiteSpeed Object Cache and the PHP OPcache extension – saving you time on server configuration.
LiteSpeed Object Cache can decrease response times in WordPress sites by up to three times and lessen the likelihood of downtime. On the other hand, PHP OPcache can boost performance by making the site's PHP code execution faster.
How to Install an OpenLiteSpeed Template With CMS
Important! Are you already using a VPS template? Ensure to download backups before following the instructions below. Changing templates will permanently delete all the files on your VPS.
All of our OpenLiteSpeed VPS templates are free to install. Simply go to hPanel and navigate to your VPS dashboard. Then, follow these steps:
On the sidebar, click on Operating System.
On the Change Your Operating System section, select the Applications tab.
Choose the VPS template with the desired CMS.
Press the Change OS button. The template setup can take up to ten minutes. Do not make changes during the installation process.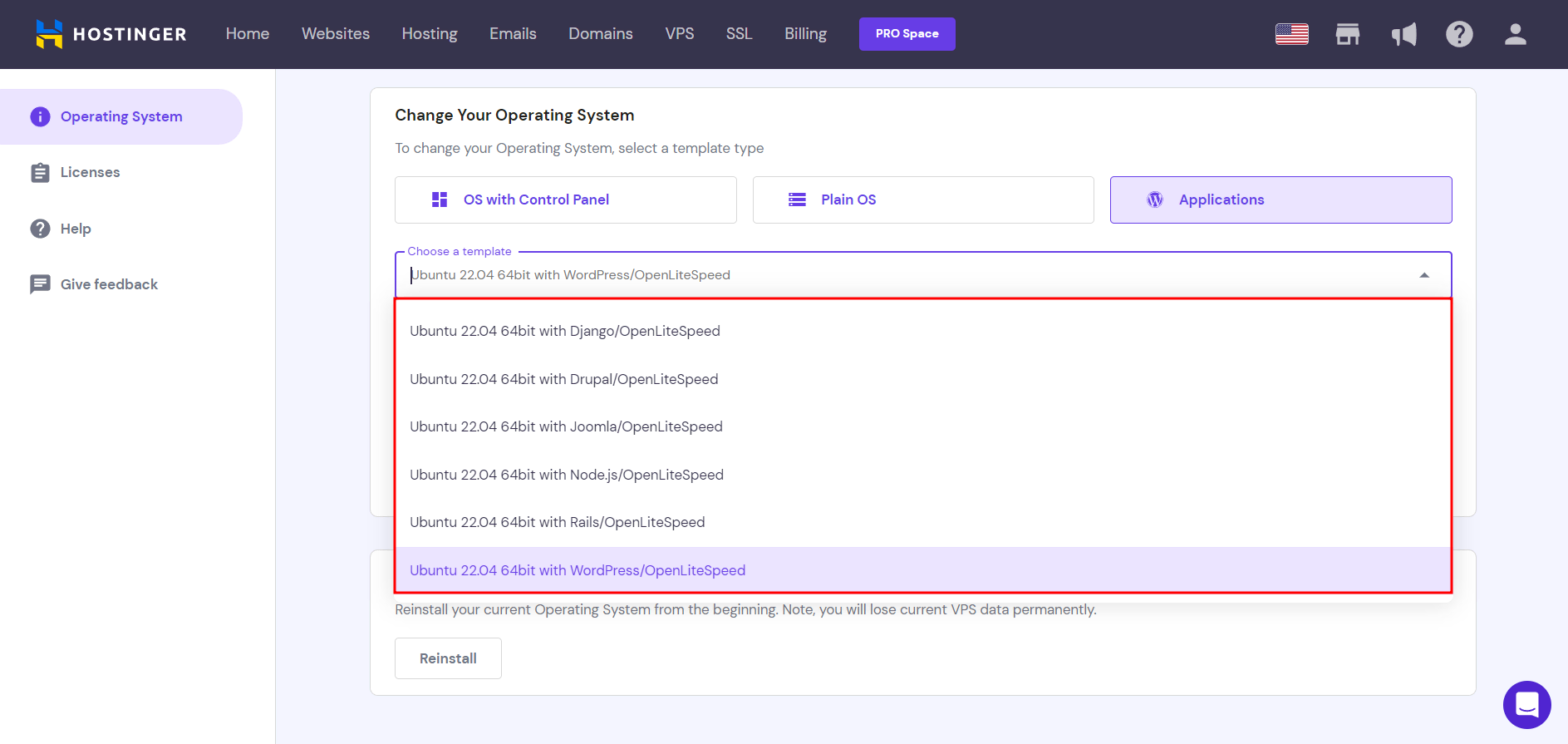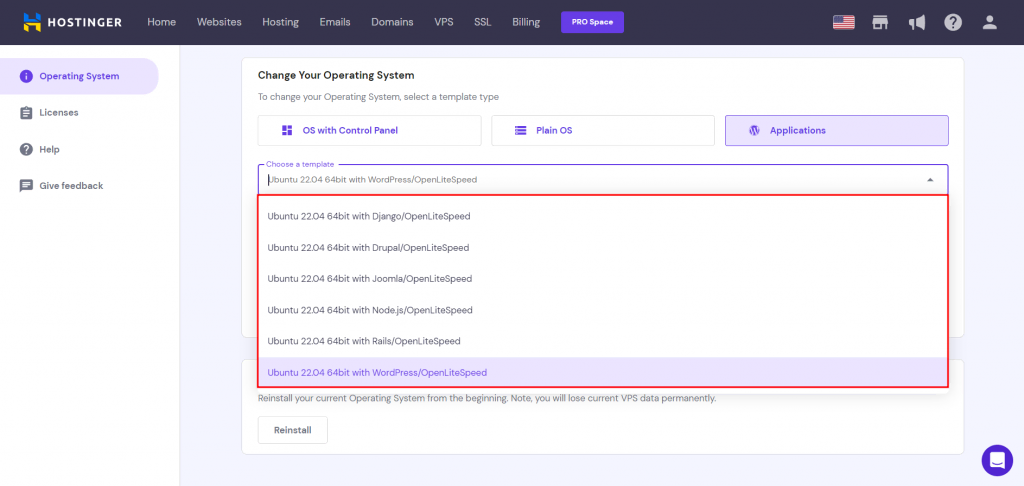 Suggested Reading
To finish the CMS setup, check out the following documentation:
WordPress
Joomla
Drupal
Find the Best VPS Template for Your Needs
With our OpenLiteSpeed VPS with CMS releases, setting up a virtual server will be much more effortless. Experience the difference and install a template for your site today. 
With the three latest CMS templates, we have over 40 templates in our growing library. Whether you need a VPS with a hosting control panel, a CMS, a web framework, or a game panel, Hostinger has the setup you're looking for.