Designing a WordPress site is actually not that hard. Although, there's no guarantee you won't run into problems – mistyping code, errors in a function. You could simply be a beginner and have questions about the platform. No need to come up with answers on your own when you can ask an expert for a solution, right? In this tutorial, you'll know how to find proper WordPress help and get the answers you need.
How to Get Help and Ask Questions the Right Way?
WordPress's continuous updates and support are thanks to many contributors around the globe. It's an open-source community project that's run by volunteers – as opposed to a company-based commercial platform.
Since they're kind enough to commit their time and effort, it's only fair to be respectful when you ask them for help, right? After all, as the saying goes – don't bite the hands that feed you.
So, let's identify where your problems might be coming from.
For example, you just finished installing a WordPress website and want to set up a theme. Let's say there was an error when uploading it, the file size exceeded the limit, or it simply doesn't look the way you want.
In this case, you should know the right person to contact for help – which is the author or the theme's support page. You can go to the homepage of said theme and use their contact form to ask for help.
The same goes for any other problem related to a plugin or even WordPress itself. If you encounter general WordPress issues, asking questions on WordPress forum sites is a good idea.
We do want to remind you to avoid asking general problems to a plugin author – their roles are to help customers who can't get the plugin to work, not to guide you through how to make a post on WordPress.
Lastly, before you make a new thread in a support forum, make sure to check if the same question has already been asked. Take a look at the FAQs (Frequently Asked Questions) or the knowledge base of your hosting provider first. Chances are, you can find the solution there.
Asking the same question that's already been answered is frowned upon in most forums.
With that out of the way, let's learn where to turn to for help.
Where to Get Proper WordPress Help?
There are many sites that can offer WordPress help. Take a close look at each one in the list below and feel free to make use of their assistance: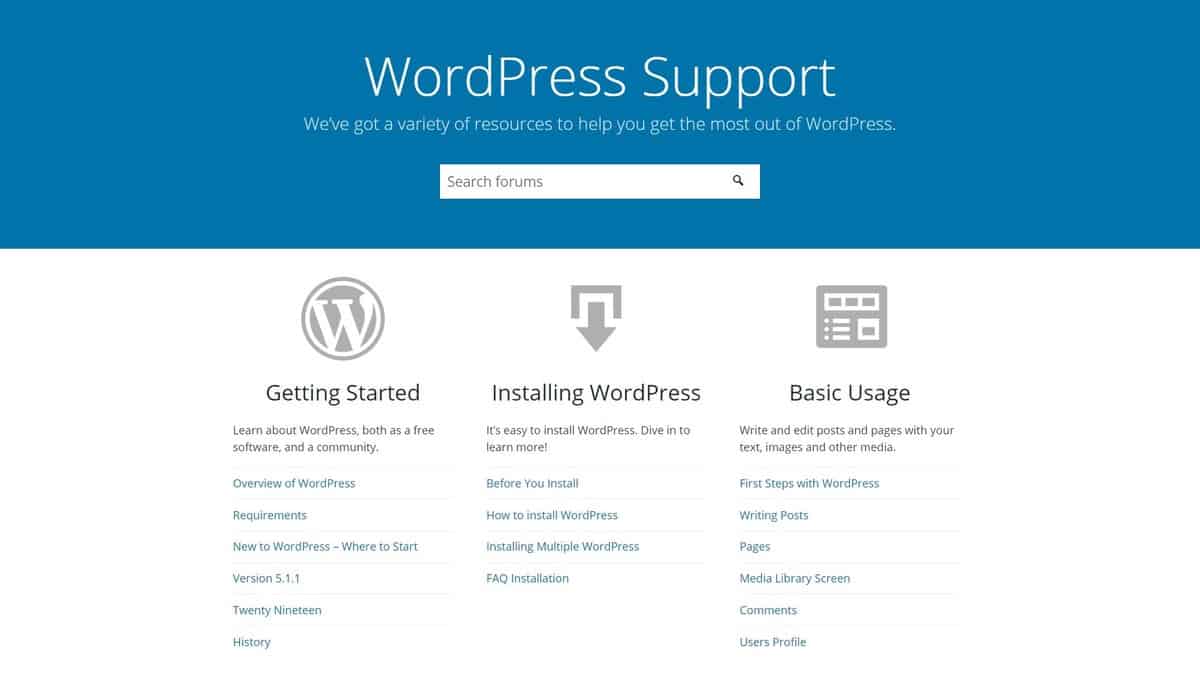 When in doubt, why not go to the official support site for WordPress help? Not only is it free, but it also has a massive library of WordPress tutorials and documentation.
The subjects range from the most common problems such as WordPress installation, its basic usage, customization, to more advanced ones like taxonomy, security, installation through localhost, and creating a multisite network.
WordPress support itself consists of article compilations on everything there is to know about the platform with an easy-to-follow style and in-depth explanations.
However, some users may prefer a more personal approach to solving their problems – that's where the WordPress support forum comes in.
Thanks to the user-friendly interface, it's easy to navigate to the proper forum categories. Plus, the community is a bunch of friendly people!
Even if you ask in the wrong place, not only will they still help you, but also move your thread to the right topic. They also understand that each website is unique, so they encourage you to create a new topic even if a similar question has been asked.
It doesn't stop there – you also get to choose from at least 30 different languages including German, Japanese, Dutch, Russian, and many more.
With such positive vibes, excellent navigation, and language support, there are simply no other sites that come close to WordPress support and forums.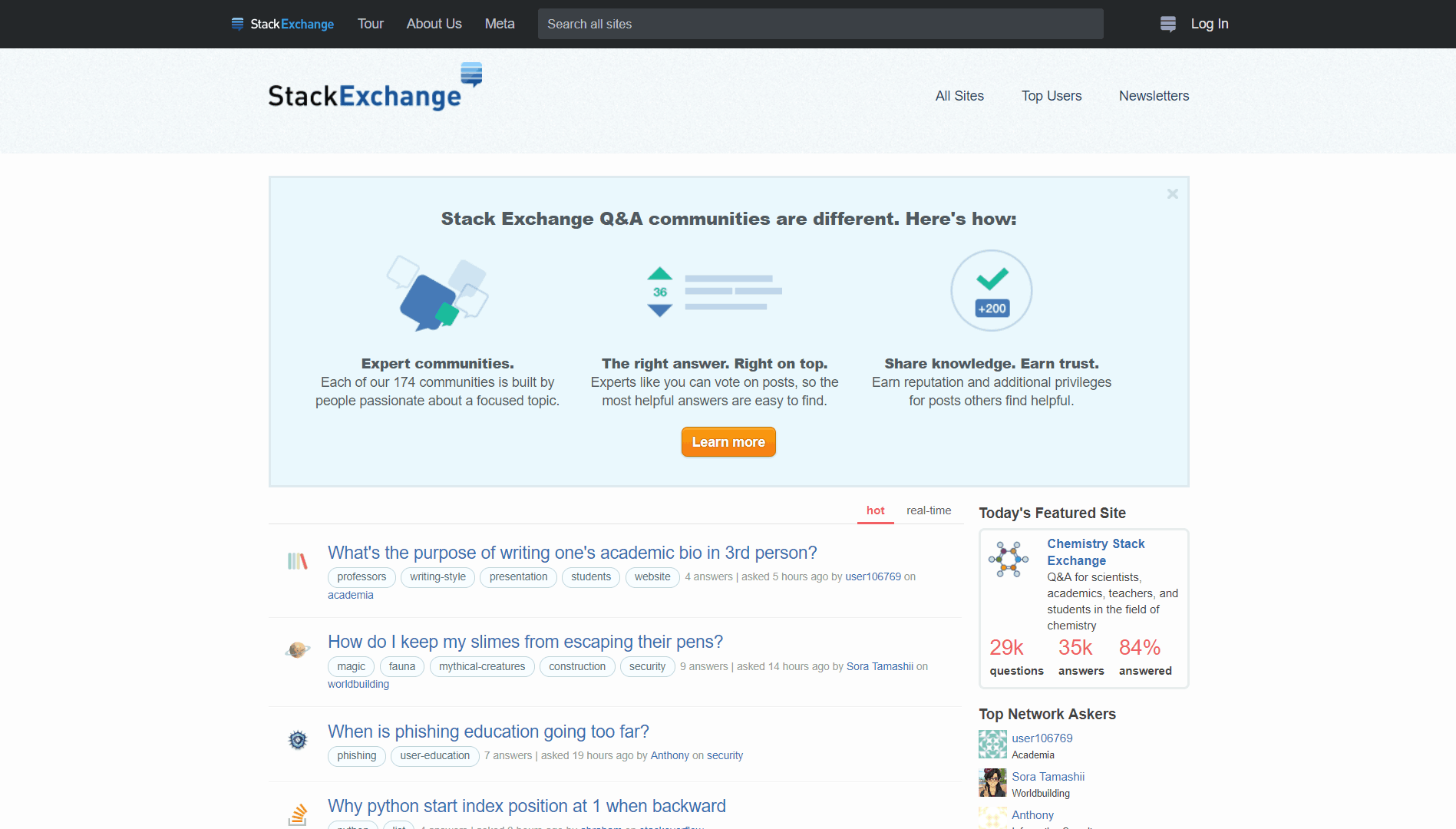 Stack Exchange is a Q&A WordPress help community with hundreds of topics under its belt. There are 174 communities at the time of writing to be exact.
In the forums, you get to discuss an issue back-and-forth with other members. Things are different on Stack Exchange – you only get solutions as the response. The best answers will be shown right at the top.
Aside from the "Best Answer" (it's the one that gets the most upvotes), there is also an "Accepted Answer" variation. It's the answer chosen by the topic starter. It's highlighted because it's the solution that worked for the original poster, so chances are, it'll work for you too. This way, looking for trusted answers is easy even without asking the question yourself.
Even better, the more people upvote your activity on Stack Exchange (asking for help and answering a question), the more privilege you'll have.
Before long, you'll be allowed to edit someone else's answers and even become a community moderator!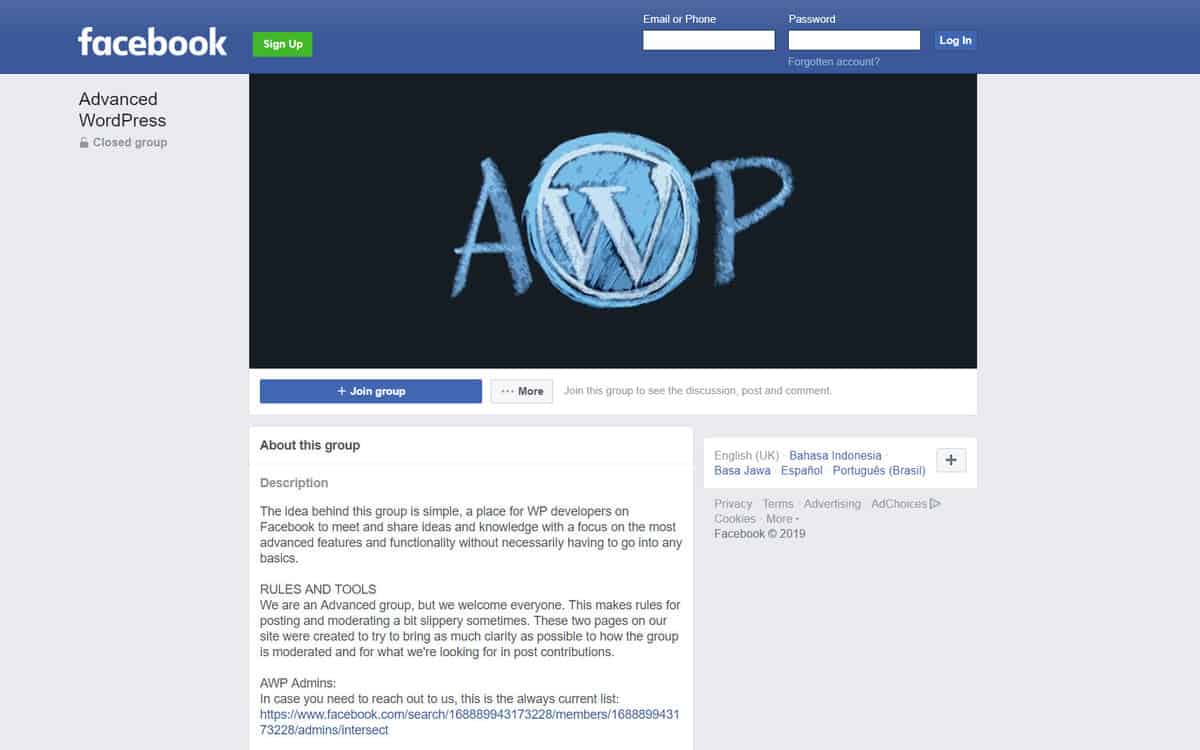 If you're an active Facebook user, joining a Facebook group can be a great idea. It's a good way to seek WordPress help!
Besides getting the solutions to your problems, you'll also get a chance to befriend people with the same interests as you.
One of the best Facebook groups discussing WordPress help is AWP (Advanced WordPress). You can join their group by answering three basic questions about WordPress blogs, and start asking your questions once an admin approves your request.
True to its name, AWP is a WordPress Facebook group meant for discussing advanced WordPress features, but their description states that they also welcome beginners.
Other than waiting for request approval, another downside is that it comes with many strict rules that you should follow.
Some of them are pretty basic such as no spamming, promising to treat other members with respect, etc. But, there are also other rules that require you not to ask certain things such as which WordPress plugins to use, and to try and find a solution on your own first before asking.
Depending on your WordPress expertise, this group may not suit you. But, if you have projects that you want to share (or even want to hire someone for them), you can do so on this group.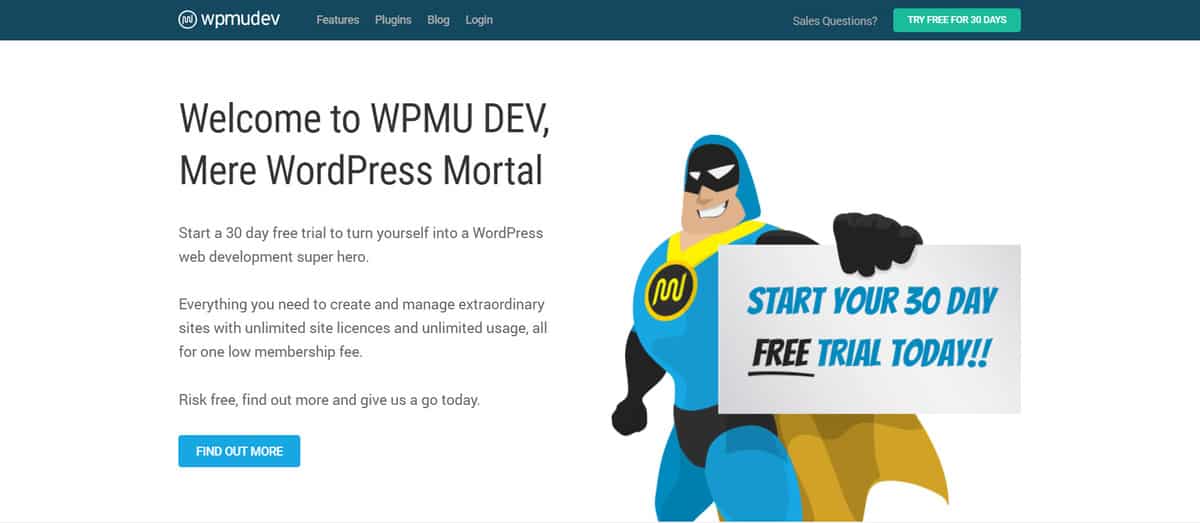 If you're a freelancer, a website owner, or a developer, WPMU DEV isn't something you want to overlook.
It offers a toolkit for improving many aspects of WordPress development – security, performance, speed, SEO (Search Engine Optimization), backups, reports, and revenue.
For $49/month, you can get all of that, including the 24/7 live support provided by WordPress experts. The first month is free, and you can cancel your subscription with just one click.
Not only will their support team assist you with their toolkit, but will also provide WordPress help.
Beyond that, you can enjoy well-documented guides and tutorial articles along with white label videos you can show to your clients.
Just in case you're still having some trouble, you can also let them log in to your dashboard to fix the problem directly.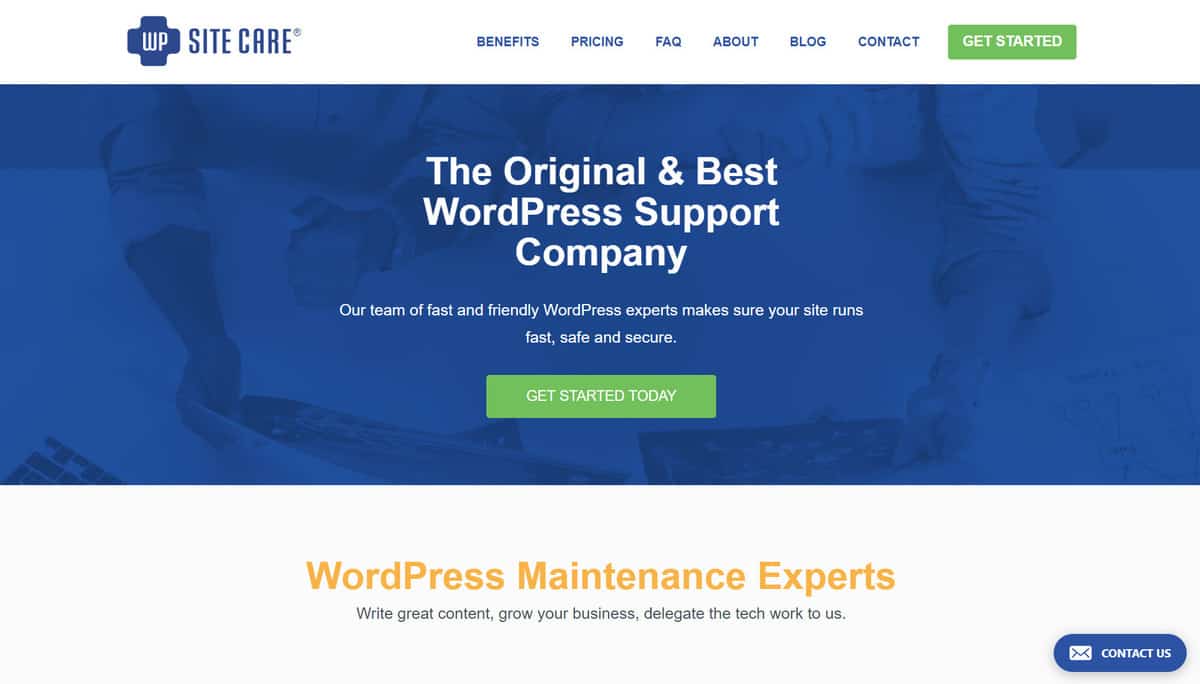 WP Site Care is a WordPress support company that can take care of all problems related to speed, daily backups, updates, performance, security, and traffic for $79/month. If you're not satisfied – their 30-day trial lets users test out the service for free, and let you cancel anytime you want.
You'll also get real-time activity tracking (so WP Site Care could fix your problems as they're happening), core plugin and theme update management, and unparalleled support for WordPress.
If you have an online store, however, you can pick the pro version for $299/month. This service has ecommerce support along with hourly cloud backups, uptime monitoring, and priority support.
Conclusion
Now that you know how and where to get help, there is no WordPress problem you can't solve.
To wrap up, let's take another look at where you can get WordPress help – along with their best features.
WordPress Support and Forums. Free, great navigation, easy-to-follow and detailed explanations provided by a  friendly community.
Stack Exchange. Free, easy to find straight-up solutions, with a nice reputation system.
AWP (Advanced WordPress) Facebook Group. Free, dedicated to advanced users of WordPress, however, has strict rules to follow.
WPMU DEV. Paid membership, 30-day trial, 24/7 live support for any WordPress problem, comprehensive tutorial articles and videos, etc.
WP Site Care. Paid membership, 30-day trial, 24/7 live support, real-time activity tracking, and other features.
You should always remember to be polite when asking questions – follow the rules of the platform you're on, ask nicely, and check the FAQs first.
No matter what issues you run into, there are always platforms to provide WordPress help!