PayPal is one of the most popular payment gateways used for e-commerce websites. It's not a surprise, it literally takes just a few minutes to connect PayPal to e-commerce platform of any kind. In this tutorial, you will learn how to setup PayPal on Woocommerce by using Payment Data Transfer (PDT) method (PayPal Identity Token required).
This tutorial starts from the perspective that you already have installed WooCommerce plugin. If you are not sure how to install WordPress plugins, refer to this tutorial on how to to install WordPress plugins.
What you'll need
Before you begin this guide you'll need the following:
Access to WordPress admin area
PayPal account
Installed WooCommerce plugin
Step 1 – Obtaining PayPal Identity Token
In order to setup PayPal on WooCommerce with PDT method, you first need to obtain PayPal Identity Token. Steps below show how to get one:
Login to your PayPal account and press on Selling Tools button.

You will be taken to My Profile page. Find and press Update button near Website preferences option.

In order get PayPal Identity Token, you need to enable Auto Return for Website Payments, Payment Data Transfer (optional) and enter your shop thank you page url in Return URL field.

Press Save button located at the bottom of the page and you will receive PayPal Identity Token.

Step 2 — Accessing WooCommerce Settings
One of the reasons why WooCommerce is so popular is its simplicity and flexibility. It takes minimum amount of time and efforts to connect various payment gateways with WooCommerce. By default, WooCommerce supports 4 payment methods:
Direct Bank Transfer
Check Payments
Cash on Delivery
PayPal
If you want to accept PayPal payments, follow these steps to setup PayPal payment gateway on Woocomerce:
Access WordPress admin area and navigate to WooCommerce Settings page.

On Settings page choose Checkout tab and click on PayPal.

Step 3 — Setting Up PayPal in WooCommerce
WooCommerce allows to easily change settings and configure PayPal payment gateway the way you like it. You can change the following settings:
Main Options: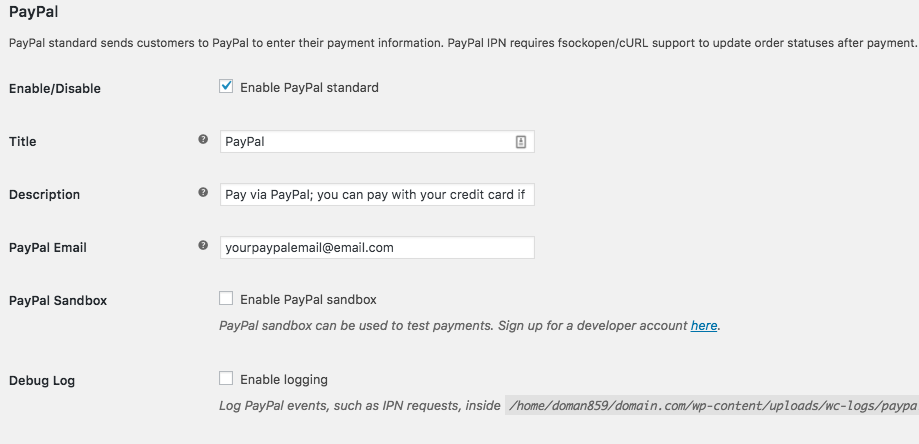 | Option | Explanation |
| --- | --- |
| Enable / Disable | Enables PayPal as payment gateway on WooCommerce. |
| Title | Heading your visitors will see during checkout. |
| Description | Block of text your visitors will see during checkout. |
| PayPal Email | Your PayPal email address. Needed to receive payments. |
| PayPal SandBox | If turned on, this option allows to test PayPal payments. Developer account is required. |
| Debug Log | Logs PayPal events for example IPN requests. |
Advanced Options: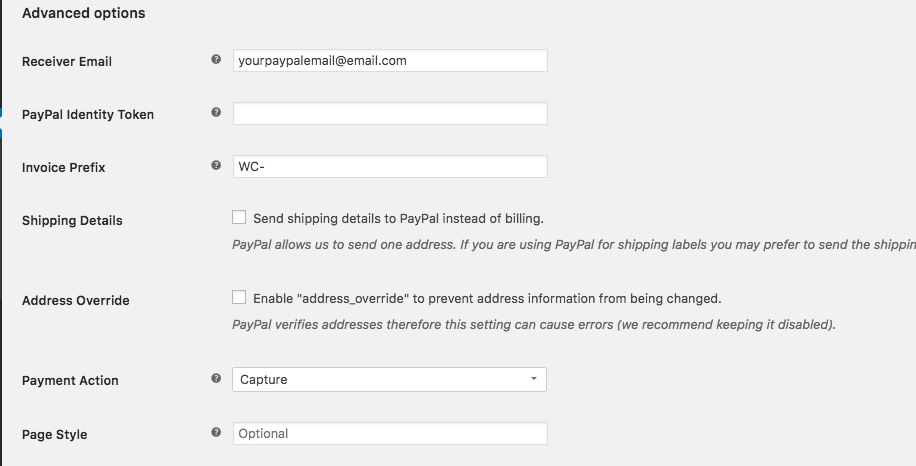 | Option | Explanation |
| --- | --- |
| Receiver Email | Needed if your main PayPal email is different from the email entered above. |
| PayPal Identity Token | This option allows to verify payments without the need for PayPal IPN. |
| Invoice Prefix | Set desired prefix text for invoices. |
| Shipping Details | Due to security reasons PayPal allows to send goods to one address. If enabled, WooCommerce will send shipping details to PayPal instead of billing. |
| Address Override | Prevents address information from being changed. |
| Payment action | Choose if you want to take payments immediately or authorize them first. |
| Page Style | Page style you wish to use. You can set it on your PayPal account. |
API Credentials
PayPal API credentials are needed if you want to process refunds via PayPal. More information on how to get your API credentials can be found here.

Once you are done entering PayPal settings, press Save Changes and you will see a success message.

Conclusion
By finishing this tutorial you have learned how to enable PayPal payment gateway on WooCommerce with PayPal identity token using payment data transfer method. Now you can accept PayPal on your e-shop.