How to Reset PrestaShop Admin Password

This article describes two methods for resetting the PrestaShop dashboard Admin password. You can reset your PrestaShop Admin password via your store password reminder function. If your e-mail service on your website is not working correctly and you fail to receive password reset e-mail message, you can reset Prestashop password manually using the database.
What you'll need
Before you begin this guide you'll need the following:
Access to your hosting control panel
PrestaShop
Option 1 — Resetting Admin password using PrestaShop Dashboard
Access your PrestaShop Admin dashboard and click I forgot my password button.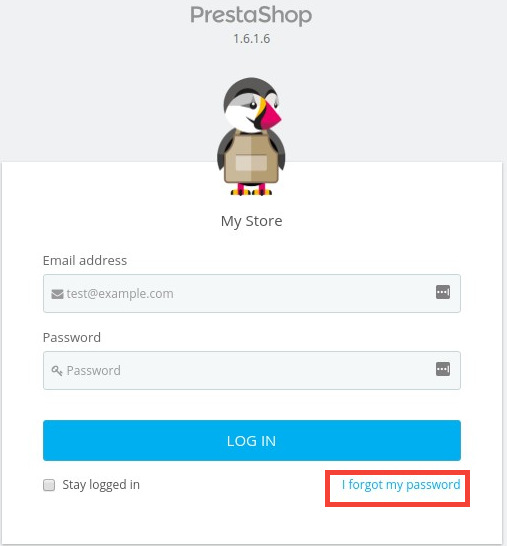 A small window will pop-up which will give you the option to type in the Admin e-mail address for the password reset request.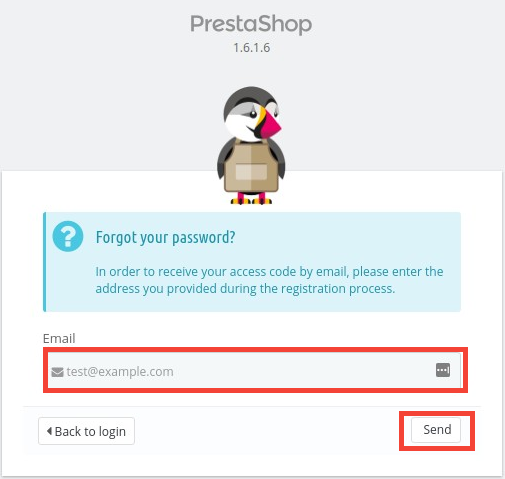 After typing Admin e-mail address, click on the Send button. Check administrator email for the new password to login to the PrestaShop admin dashboard. The email message will come with a subject of [Your Store Name] Your new password. It will be sent from your store website.
Option 2 — Resetting Admin password with phpMyAdmin
Login to your hosting control panel and access File Manager.
We will need to obtain the COOKIE_KEY from SETTINGS.INC.PHP file in order to change Admin password. Navigate to your PrestaShop config folder in File Manager and edit SETTINGS.INC.PHP file.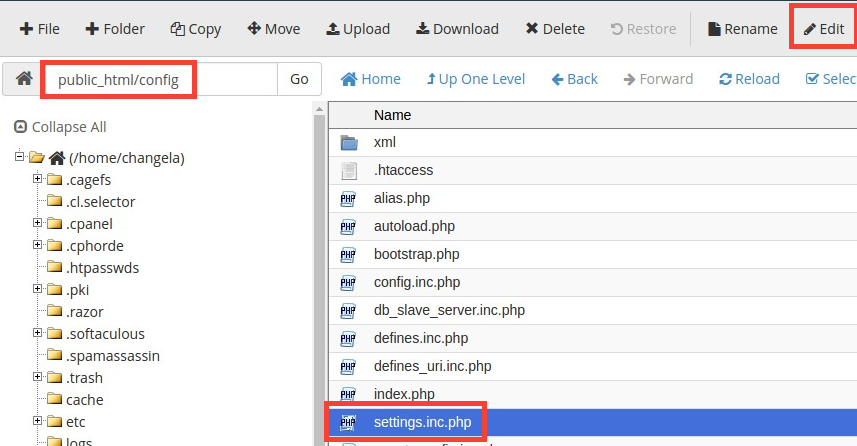 Find and copy COOKIE_KEY from SETTINGS.INC.PHP file.

Once you have your COOKIE_KEY, open phpMyAdmin from cPanel.

Once you have phpMyAdmin open, select your PrestaShop database, find table named employee and click on Browse button.

Once you have opened the table in the phpMyAdmin editor, you will need to click on Edit button in order to edit the PrestaShop Admin password.

When you are in the Edit screen look for the line that starts with the label passwd. Clear the existing value in the passwd field with your backspace or delete key.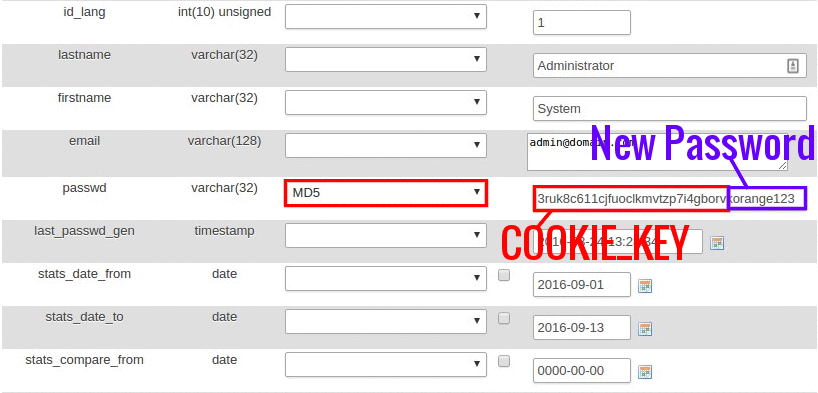 Next, right click (or control-click on a Mac) in the same field and select PASTE to insert the COOKIE_KEY from the SETTINGS_INC.PHP file from earlier.
After placing the code in there, the next step is to type in your desired new password. Please note that we are joining COOKIE_KEY with your new password and there should be NO SPACE in between your password and the COOKIE_KEY. In this particular screen shot, we are changing Admin password to orange123.
Once you are done, click on the FUNCTION drop-down menu and select MD5 option.
After that, click on GO button in the bottom left corner of the screen in order to change Admin password.
Conclusion
Congratulations, you have just learnt how to reset PrestaShop Admin password. Now you should be able to login to your PrestaShop Dashboard without any problems.