Is Hostinger Good for eCommerce Websites: Plans, Benefits, and Features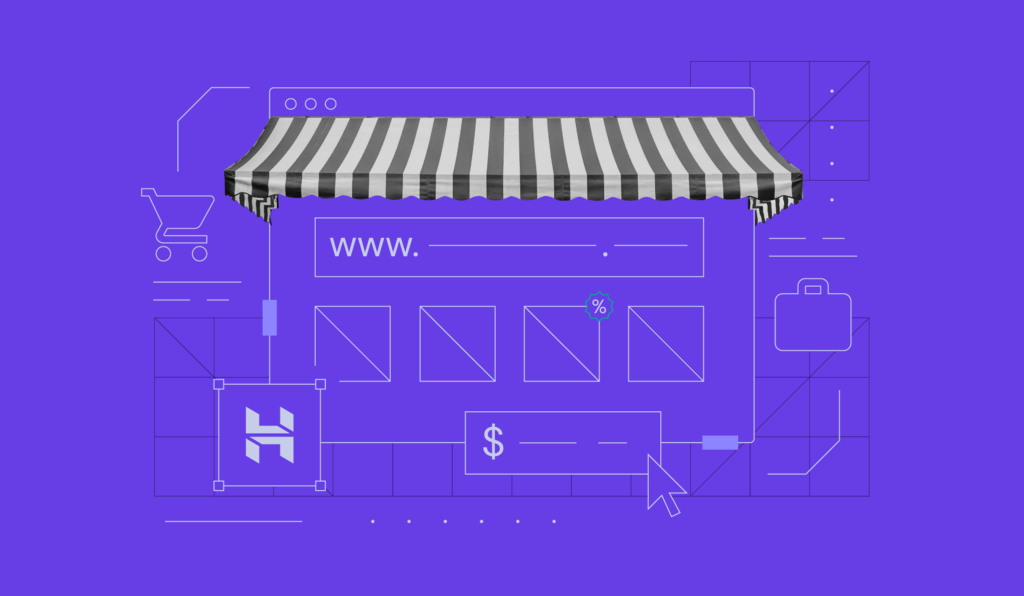 Before starting your online store, you need to find a hosting provider that is suitable for eCommerce websites.
To begin with, look for a web hosting plan that suits your chosen eCommerce platform. Then, consider the plan's aspects like speed, uptime, security, as well as customer support to help build customers' trust.
Keep reading as we explore Hostinger's hosting plans and their key features to find out how eCommerce websites can benefit from them.
Download Guide To Using Hostinger
What Is an eCommerce Website?
An eCommerce website is a platform for buying and selling goods or services over the internet. Through such a website, businesses can showcase their products, process orders and payments, manage shipments, as well as provide customer support services.
What Are Hostinger's eCommerce Hosting Plans
Hostinger provides tailored eCommerce hosting services for the most popular eCommerce platforms, like WooCommerce and PrestaShop.
However, if you're just starting and have a limited budget, consider opting for shared hosting.
Meanwhile, Hostinger's cloud hosting plans may suit those who are planning to build a larger eCommerce store that expects more traffic.
WooCommerce Hosting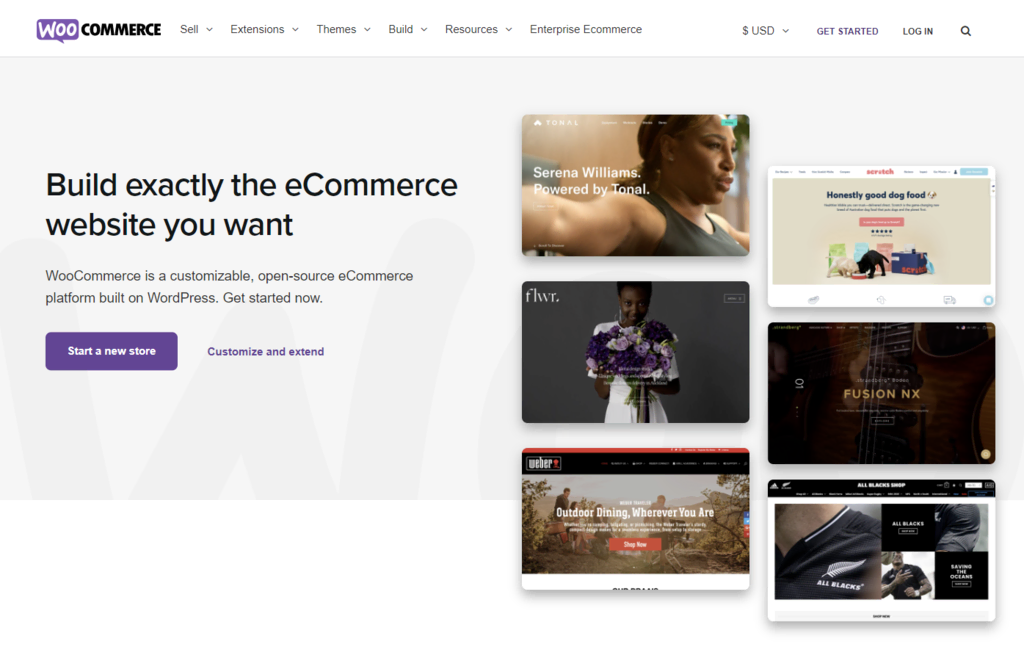 WooCommerce is a popular eCommerce platform built as a WordPress plugin. It's specifically made for creating and managing online stores. It's free, scalable, and customizable to fit your business needs. Furthermore, you don't need any coding knowledge to set up a good eCommerce store with this plugin.
Hostinger offers three types of WooCommerce hosting plans starting at $3.99/month:
Woo Starter – ideal for those just starting out. It has 100 GB of storage and weekly backups.
Woo Premium – great for medium-sized online stores. This plan offers 200 GB of storage, daily backups, and a WordPress staging tool. This lets you experiment with your site without risking its functionality.
Woo Business – best for online stores with more traffic. It comes with 250 GB storage, 6 GB RAM, and a staging tool.
These hosting plans also come with a free SSL certificate and a free domain with a 12-month order.
On top of that, our WooCommerce plans include a custom server setup, a cache booster, and an in-house administrator team that will ensure maximum performance for your online store.
PrestaShop Hosting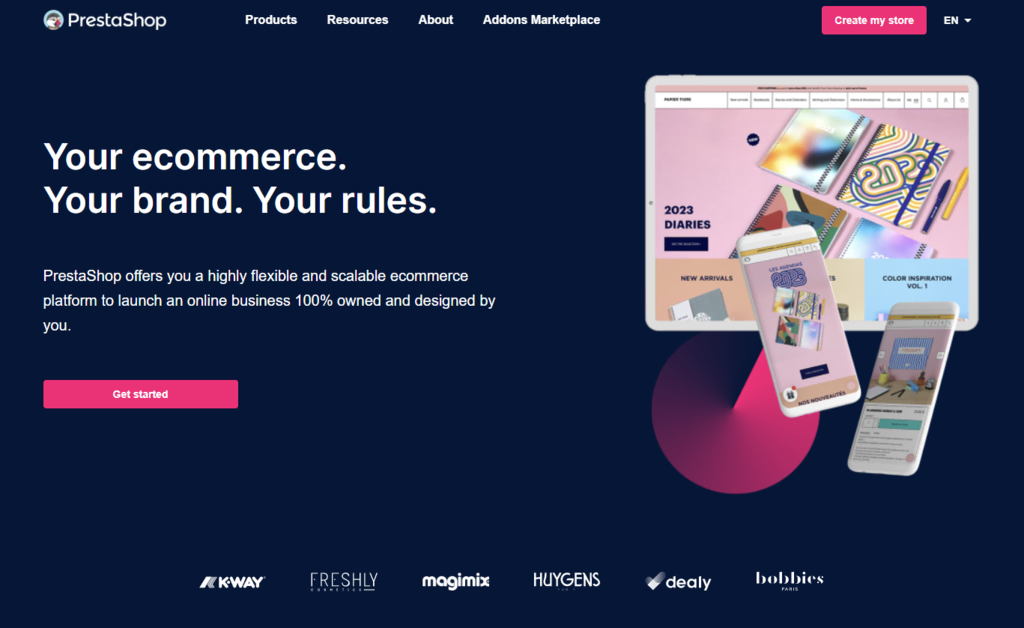 PrestaShop is another popular eCommerce platform known for being user-friendly and suitable for business owners with minimum technical knowledge.
Starting at $2.99/month, our PrestaShop hosting plan options are:
Premium Web Hosting – this beginner-friendly plan can handle up to 25,000 monthly visits.
Business Web Hosting – optimized for small to medium businesses that have around 100,000 monthly visits. This plan includes daily backups as well.
Cloud Startup – we recommend this plan if you run a larger online store. You'll get dedicated resources to guarantee your website's top performance.
In addition, we provide a PrestaShop one-click installer on hPanel, enabling you to start managing your online store within minutes of setting up your hosting service.
Shared Hosting
Alternatively, consider shared hosting plans for eCommerce sites. Our Business Web Hosting plan starting at $3.99 comes with 200 GB SSD storage, daily backups, and a WordPress staging tool. This will suit you if you're just starting out, running a smaller online store, or still unsure about the eCommerce platform.
Cloud Hosting
Meanwhile, we recommend cloud hosting for medium to large online stores as it can withstand larger traffic.
This is because cloud hosting offers a network of connected servers to guarantee your eCommerce website has the best uptime and performance. As you will get dedicated resources, a traffic surge on other websites won't impact yours. Also, there's no need to have the technical expertise to set up and manage your cloud hosting – the web host will take care of any back-end issues.
Our cloud hosting plan starts at $8.99 with 200 GB SSD storage and unlimited bandwidth.
Why Use Hostinger As Your eCommerce Hosting Provider
Besides providing specific eCommerce hosting plans for various platforms and stores of different size, Hostinger offers certain features to boost your online shop's performance.
Hostinger's Key Features for eCommerce
Without further ado, let's go over Hostinger's key features to support your eCommerce site.
Performance and Speed
Both performance and speed are very important for an online store. In fact, 57% of online shoppers will abandon their carts if the website fails to load within seconds.
To avoid this, Hostinger uses the LiteSpeed Web Server technology to maximize your website's performance. We also provide advanced cache solutions to ensure your eCommerce website stays lightweight and speedy.
Aside from that, Hostinger has data centers all around the world. This means you can choose a server in your region, reducing network latency.
Uptime
Website uptime refers to the time your website is online. For an eCommerce website, having a high uptime is critical. You don't want your online store crashing when customers are browsing your products or already paying.
That is why you need a web host with a good uptime rate. Hostinger gives a 99.9% uptime guarantee, ensuring your eCommerce website will be running smoothly.
24/7 Customer Support
Make sure to choose a reliable provider that offers 24/7 customer support. You should be able to get help once your website crashes, even if that's during the weekend.
The Hostinger Customer Success team is available to help you anytime in the day.
We offer 24/7 live chat instead of a ticket system to ensure that you get help fast. We also provide support in over 10 languages, so you'll feel more welcome and comfortable when describing your issues.
Security
eCommerce stores have to deal with sensitive information like phone numbers, mailing addresses, and billing details, making them an attractive target for cyber criminals. Therefore, ensuring your hosting provider has the right security measures is crucial.
To protect our servers, we have advanced security modules such as mod_security, PHP open_basedir protection, and Suhosin PHP hardening.
Furthermore, all Hostinger plans come with a free SSL certificate that is easy to set up. This certificate is important to ensure all information on your website is encrypted.
We also provide DDoS (distributed denial-of-service) protection with our Hostinger CDN that comes with our Business Web Hosting and the above plans. This protects your eCommerce website from a massive wave of fake traffic from attackers. Therefore, you'll avoid system overload and let your customers complete their transactions safely.
Furthermore, we offer automatic backups, and all our servers are closely monitored 24/7.
Professional Email Accounts
Professional email accounts help build your brand and increase customer trust. Customers will be more likely to do business with an email that looks like contact@yourbusiness.com compared to yourbusiness@gmail.com.
We give a free Hostinger email service when you purchase a hosting plan. We also have a built-in migration tool, so you can move your previous email data to our platform easily.


Conclusion
Choosing the right web hosting provider and plan for your eCommerce business is crucial. Your website needs to run smoothly, load fast, and process financial transactions safely to gain the trust of your customers.
Hostinger has several hosting options for eCommerce businesses:
WooCommerce hosting – ideal if you run a WordPress site.
PrestaShop hosting – great if that is your chosen eCommerce platform.
Shared hosting – excellent if you're just starting out.
Cloud hosting – best for medium-to-large-sized eCommerce stores.
Furthermore, we've also gone over Hostinger's key features for eCommerce websites: a 99.9% uptime guarantee, data centers all over the world, 24/7 multilingual support, close monitoring of our servers, along with free SSL certificates and DDoS protection to secure your website.
Whichever plan you choose, remember that you can upgrade it easily once you scale your business. Good luck! Should you have any questions, don't hesitate to leave a comment below.