Free Online Courses for All Hostinger Users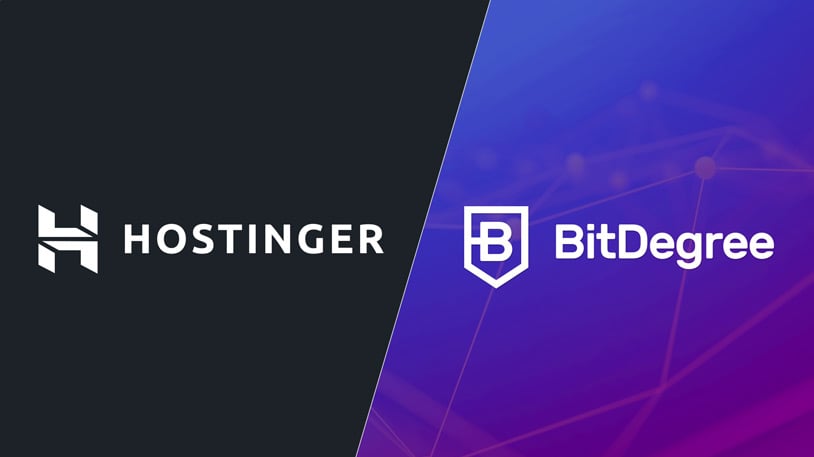 Here at Hostinger, our mission is to help people succeed online. We are proud to announce that we will be offering free online courses to all Hostinger customers as a special promotion together with BitDegree. All Hostinger customers now have access to 120+ free online courses provided by BitDegree, the most user-centric online education platform.
Shaping Education Worldwide
Hostinger is a company that encourages learning, curiosity, and advancement. We have been participating in the IT education sector since the company's establishment back in 2004. Furthermore, with the launch of 000Webhost, the biggest free web hosting platform in the world, we gave free access for users all around the globe to host their websites together with more than enough space to test and improve their projects and skills. We are also working with the best universities in the region to build really competitive educational environment, which is in-line with the current business environment in the region. Recently, we have joined forces with Vilnius University and become business and educational partners in building new study disciplines.
We are happy to know that a significant portion of our customers used our services to learn web development and test out their projects. Here are some of the reviews that our users have left:
"This is the best platform to test your projects."

"It definitely helped me learn and present my work by hosting my files online for easy access."

"Great tool for learning."

"It is a great place to learn and showcase our skills in a mere simple fashion."

"I use it a lot for teaching website design to Elementary students. It's kind of perfect."
Since millions of users were using our hosting platform to experiment, test, and learn we wanted to provide them with even more tools to accelerate their learning process. That is why we are joining our forces with BitDegree and running this campaign. The goal we want to achieve with this partnership is to provide our users, who are naturally curious, with the best learning experience possible to help them to succeed online even faster!
BitDegree – the Future of Education
BitDegree is a leading online educational platform, offering courses on most digital subjects, such as:
Web development
e-Commerce
Data science
Digital marketing
Programming languages
Game development
Graphic design
These courses are created by teachers, designers, developers, and writers. Their goal is to work together and form the highest-quality learning material.
Here at Hostinger, we believe that education should be the driving force of the business. So, we have always provided educational opportunities to our employees via seminars, conferences, and books. Moreover, we are actively using Peer-to-Peer reviews and applying the Montessori Methods. Our employees who are curious and constantly striving to become better are what made Hostinger the company it is today.
We also genuinely care about our customers and their projects. Our ultimate goal is to help every project that is hosted with us to grow and succeed. That is why we're providing our customers with the unique set of tools to advance professionally and take their online projects to the next level.
So, What's in It for YOU?
Take this opportunity to study for free and learn how to monetize your next blog. Or learn HTML, CSS, SQL, PHP, or Javascript to make your website look truly unique. If you have already mastered programming, take advantage of search engine optimization (SEO) courses to help rank your site on the first page of Google. We believe that no matter how successful you are there is always something that you could improve.
What is more, free courses are not the only good news for our customers. In the future, BitDegree will allow you to earn BitDegree Tokens while you will be studying on the platform and it is already possible to pay for Hostinger services with BitDegree Tokens!
We would like to thank everyone who chose Hostinger as their hosting provider. Let's stay curious and innovative together. I kindly invite you to participate in our educational campaign and forge the future of digital space together with BitDegree! We wish that you would never stop learning and always find new ways to improve. Take some time and explore how we applied this concept here at Hostinger and get to know the 3 processes we use to achieve results quickly.
Have you already tried BitDegree courses? We are very interested in hearing your feedback – please do not hesitate to leave it in the comments below.