phpMyAdmin is the most popular tool used to administrate MySQL databases. You can run SQL queries and create, edit, drop, import / export MySQL databases using phpMyAdmin. In this tutorial you will find out how to export MySQL database using phpMyAdmin.
What you'll need
Before you begin this guide you'll need the following:
Access to the control panel of your hosting account
Step 1 — Entering phpMyAdmin
You can find phpMyAdmin icon under Databases section in your hosting control panel.

Step 2 — Selecting The Database You Want to Export
On the left side of phpMyAdmin you can see all your MySQL databases. Click on MySQL database you want to export.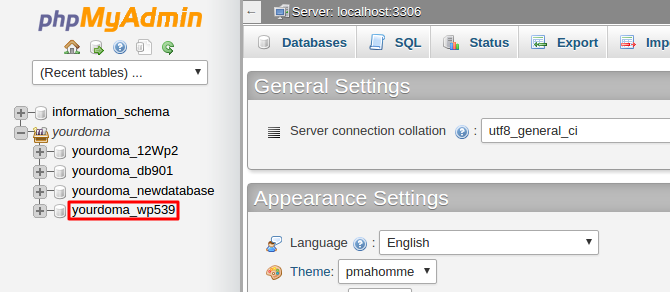 In our case we will export yourdoma_wp539 database.
Step 3 — Exporting MySQL Database
In order to export your MySQL database, follow these simple steps:
Press on Export tab which is located at the top of the page.
Choose Export Method. phpMyAdmin offers 2 export methods: Quick – display only the minimal options and Custom – display all possible options. Custom export method allows to change number of different settings:

Tables. Export only selected tables.
Output. Change character set of the file, file name template and enable compression – MySQL backup file will be compressed. This is handy if your database is big as it will reduce the size of the file.
Format-specific options. Different settings can be changed here depending on the selected format. For example, you can change columns separator when exporting database as CSV file.

It is recomended to use Quick – display only the minimal options export method. phpMyAdmin will select optimal settings depending on your export format.

Choose preferred format. You can choose from:

PHP Array
OpenDocument Text
JSON
YAML
XML
CodeGen
SQL (selected by default)
OpenDocument SpreadSheet
Texy! text
LaTex
PDF
Microsoft Word 2000
CSV for MS Excel
MediaWiki Table
CSV

Choose SQL format as it is default format used to import / export MySQL databases and is widely supported by different systems.

Press GO button to begin export and start the download of your MySQL backup file.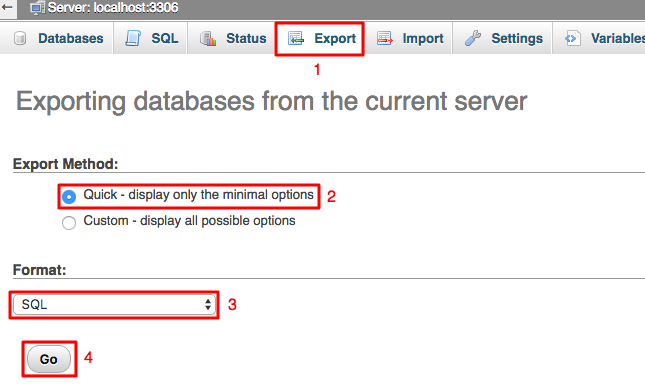 Conclusion
This short tutorial showed you how to export MySQL database using phpMyAdmin. It will help you if you want to migrate website between hosting accounts or simply backup your MySQL database. Tutorial showing how to import MySQL database can be found here.