How to Link CSS to HTML – A Video Guide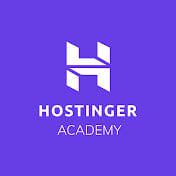 Subscribe For more educational videos!
Hostinger Academy
Subscribe
CSS plays a significant role in website design since it gives a website its look and layout. For instance, you can customize a website using CSS by editing font styles, borders, and background colors.
However, it's crucial to know how to link CSS to HTML if you want a well-structured and functional website. In this video, we'll explain how using three methods:
Internal CSS
External CSS
Inline CSS
Learning these methods to link CSS to HTML is crucial to help you find the most effective way of styling your website. Play our video tutorial to find out more.