How to Create a WordPress Blog Using Elementor – Course
If you want to learn how to start a WordPress blog with the help of Elementor, we've got you covered. Our step-by-step WordPress and Elementor course has all that you'll need to create a blog.
In this course you will learn:
How to set up your hosting and install WordPress
How to navigate WordPress
The most important WordPress settings
How to install themes and plugins
How to use Elementor
How to create pages and add blog posts
SEO for beginners
How to add your website to Google Search Console
How to add Google Analytics to your website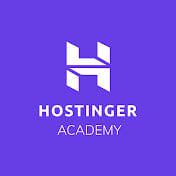 Subscribe For more educational videos!
Hostinger Academy
Subscribe