How to Create a Contact Us Page on WordPress
The Contact Us page is essential when you want to receive inquiries from your readers or potential business partners straight to your inbox.
In this video, you will learn how to create a WordPress contact form using Ninja Forms. With the plugin, you will be able to create your contact form in just a few clicks. What's more, you'll have the possibility to add your form by simply copying a short code that you can insert anywhere on your website.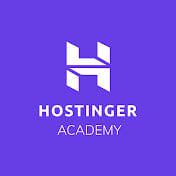 Subscribe For more educational videos!
Hostinger Academy
Subscribe