Thursday December 22, 2022
Hostinger's 2022 Wrap-Up: 10 Features for a Seamless Online Journey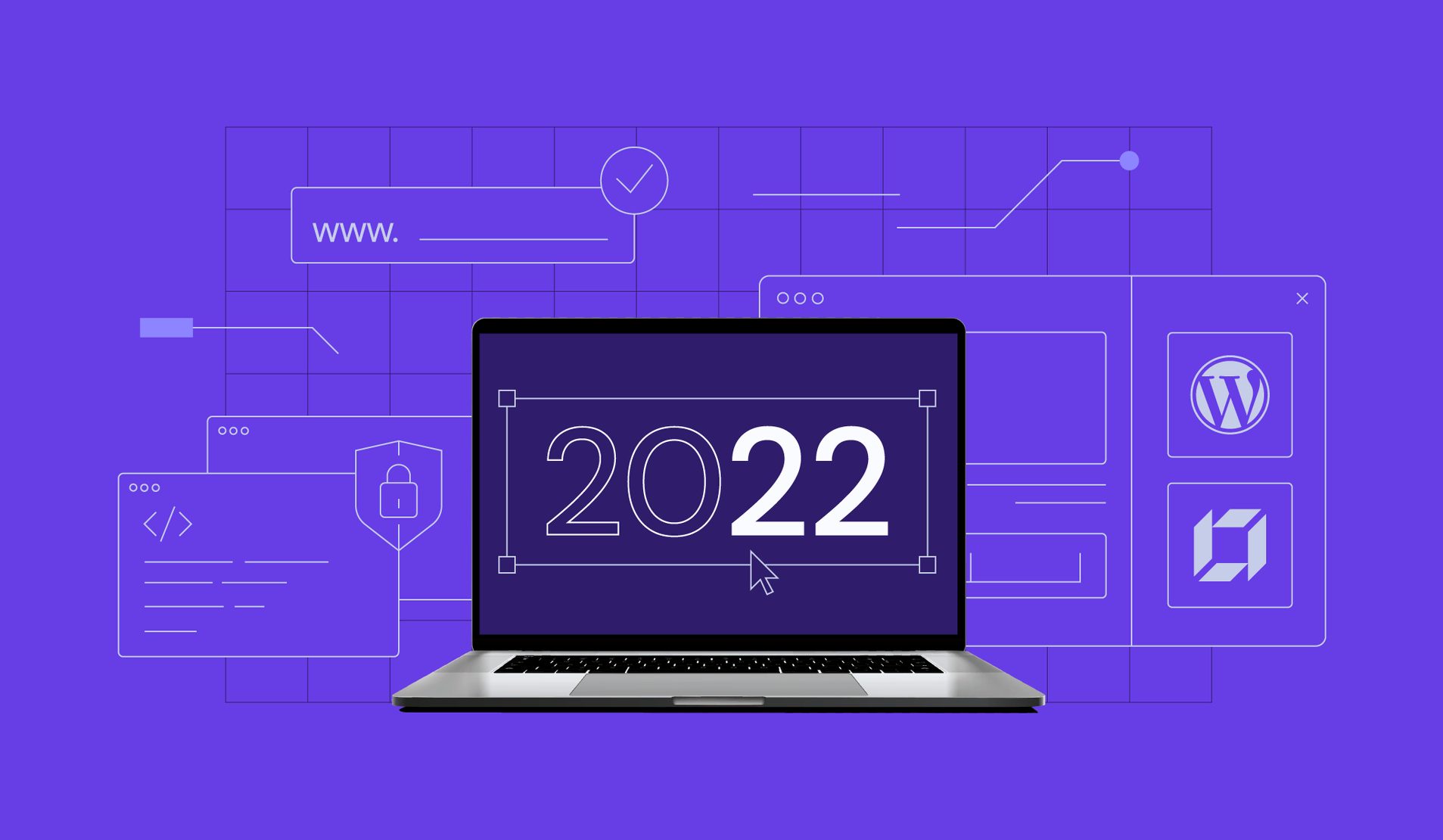 Website owners are constantly on the hunt for the best ways to boost their user experience and, naturally, build success online.
At Hostinger, learning about our customers and giving them exactly what they need is our mission. Whether through client reviews or the customer interview initiative, we always look for ways to improve our services.
Based on user feedback, we've launched several new features and products in 2022. Whether you're an aspiring website owner or a seasoned online hustler, they will help you stay ahead of the game.
Top 10 Product Highlights of the Year
From a website builder to advanced security measures, explore our top releases and updates in 2022.
1. Hostinger Website Builder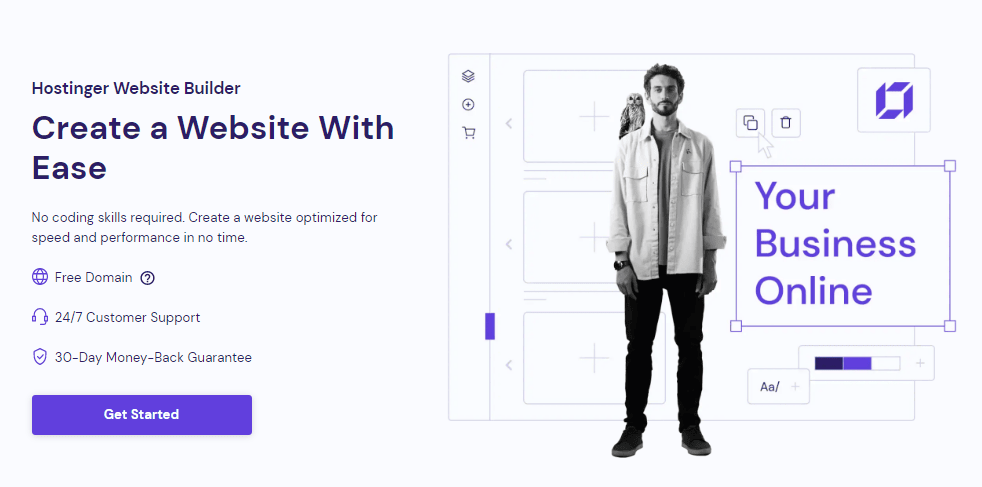 Whether creating a blog, online portfolio, or business site, Hostinger Website Builder offers a one-stop solution for your virtual needs.
For example, it's got everything you need to build an online store website that converts. With its quick setup, inventory management, and various payment options, selling products online has never been easier.
You don't need coding or design skills to get started – our website builder's friendly user interface, drag-and-drop editor, and rich library of designer-made templates simplify the website creation process.
Whichever type of site you're planning to make, crafting high-quality content is a must. If you struggle with words, the ever-reliable AI Writer tool generates unique copy for your website.
There is also an AI Heatmap tool showing which areas of your pages resonate with visitors the most, helping you improve user experience.
2. AI Logo Maker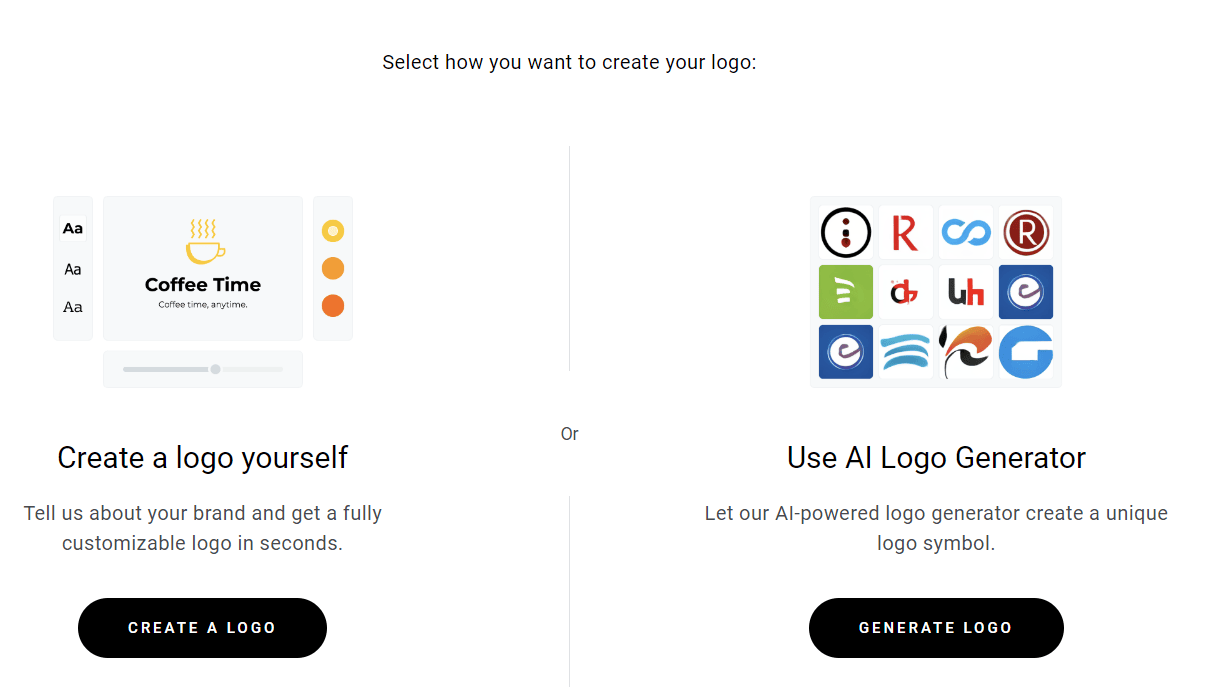 A well-designed logo is crucial for your online success. It instantly catches the audience's attention, helping your brand become more memorable.
By using Hostinger's free AI Logo Maker, you can save thousands of dollars on professional design services.  Simply enter your brand name, add a few details, and the tool will provide you with plenty of customizable logo templates.
Alternatively, use our AI Logo Generator to create a unique symbol in three easy steps – pick a starter logo, choose a suitable color, and select your desired shape.
3. Automated Malware Scanner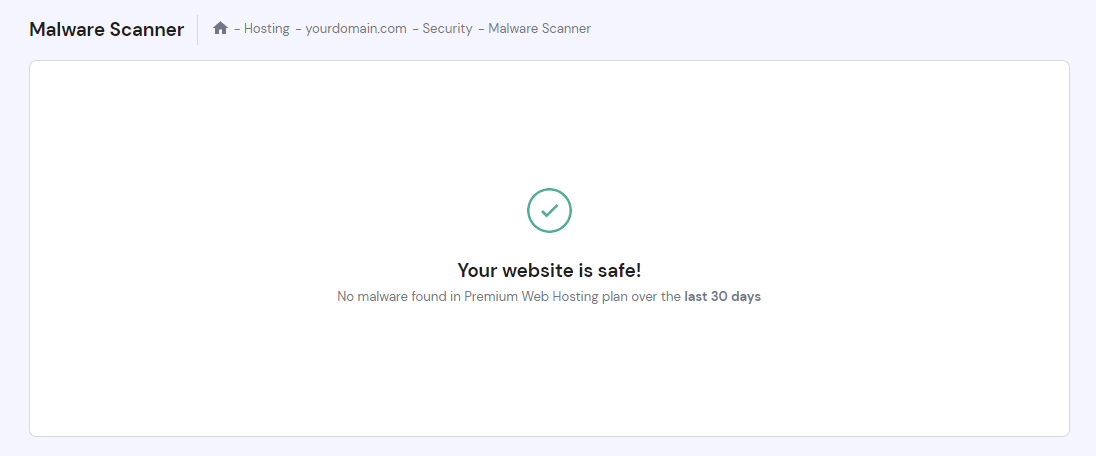 Hackers use malware for various purposes, such as making a site unresponsive, stealing user data, or redirecting a domain address to illegal websites.
To prevent this, we have integrated Hostinger's Malware Scanner into hPanel. It will automatically scan and remove malicious files, keeping your website secure.
4. Industry-Standard WordPress Staging Environment
When modifying a WordPress site, it's important to test everything before going live. Failing to do so can lead to site crashes and data loss.
That's where the WordPress staging feature comes in – it offers a safe environment for functionality testing and bug discovery. If an error occurs, your live website will not be affected.
For David Shaw, a senior web designer at Creative Graphics UK, the WordPress staging tool is indispensable.
"The WordPress staging tool is a game-changer. Before this, I used to manually download and upload website files via FTP, which took a lot of time. Now, I'm able to click on the staging tool to create a copy of the site and make another click to publish the changes. That has really sped up the process," he shared.
This feature is available with our Business, Cloud, WordPress Business, and WordPress Pro hosting plans.
5. Automatic WHOIS Privacy Protection

When registering a domain name, your personal information is made publicly available in the WHOIS database. This might result in unwanted spam emails, sales calls, or, even worse, cyber attacks.
At Hostinger, every domain purchase comes with free WHOIS privacy protection, keeping your sensitive data hidden from the public eye. You don't have to set up anything, as the feature automatically applies to all users.
However, note that some domain extensions don't support WHOIS protection due to restrictions placed by their registry. For the complete list, check out our WHOIS privacy protection article.
6. New File Manager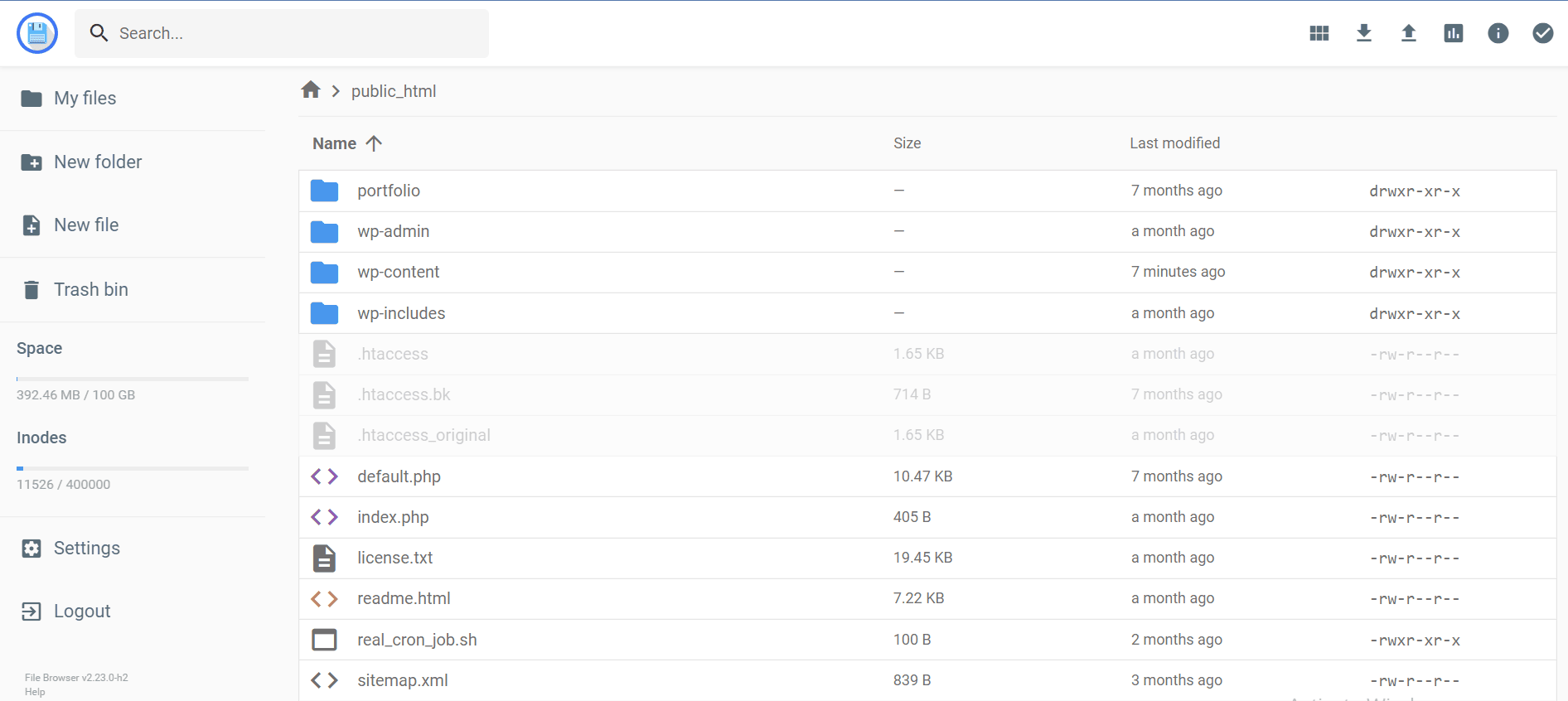 For beginners, organizing website files can be frustrating and often time-consuming. To make everyone's lives easier, we've released an updated version of File Manager.
According to Shreyash Pandey, the CEO of Ethereal Corporate Network, the new File Manager is "quite faster and easier compared to the previous one."
Accessible through hPanel, this tool allows you to create, import, edit, move, and delete documents with ease. It also informs you which files are taking up space and causing poor website performance.
7. Automated WordPress Migration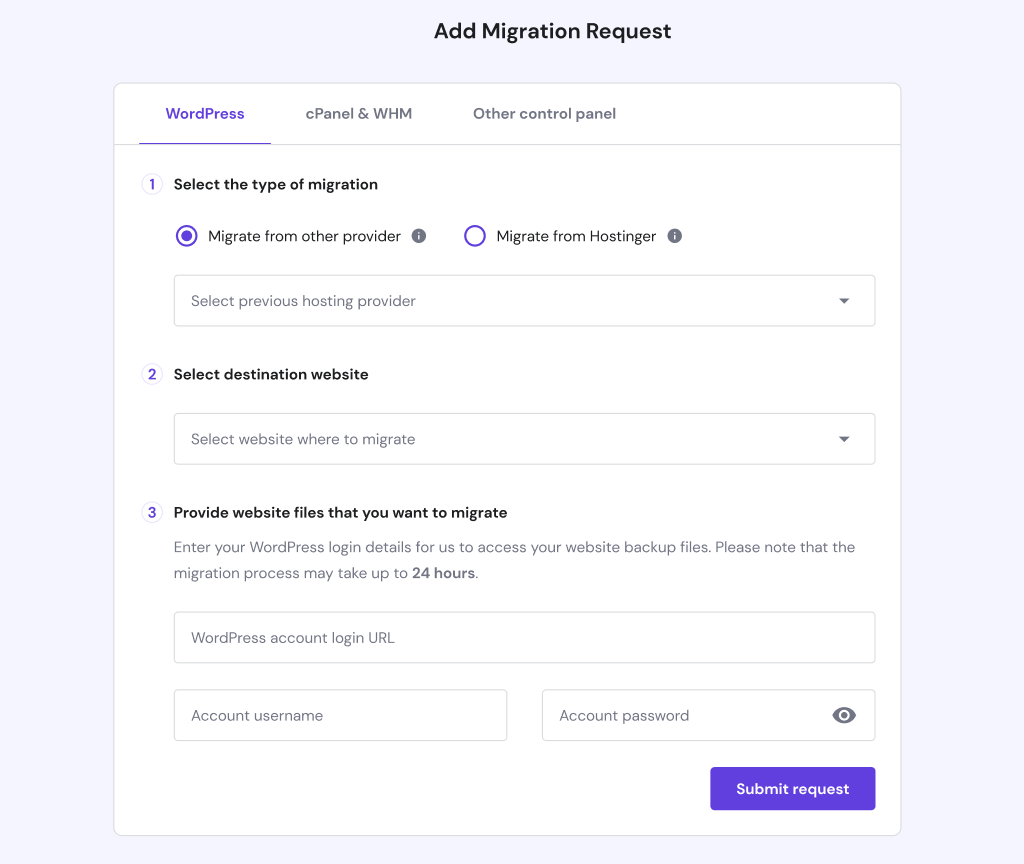 If you want to migrate your existing website to Hostinger, the process is extremely straightforward. Simply access hPanel and provide your WordPress admin URL, login credentials, and previous web host.
After that, submit the request, and our team will take care of the rest. Note that transferring your website to Hostinger can take up to two business days.
Here's what one Trustpilot reviewer had to say about their migration experience: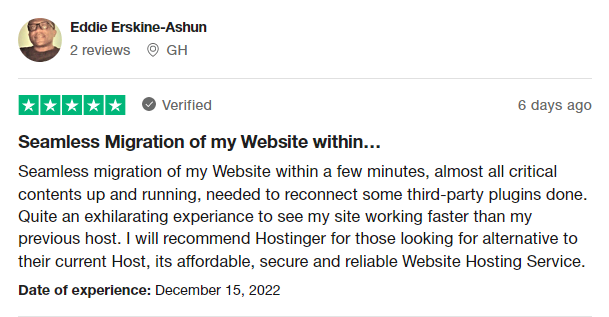 8. Vulnerable Plugin Detector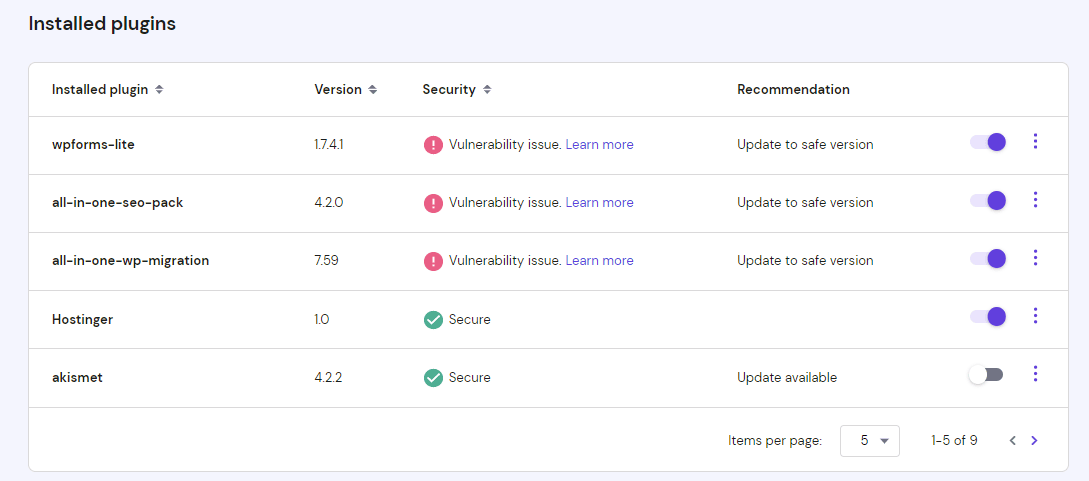 With its reputation as the most popular content management system (CMS), you'd probably think that all the plugins in the WordPress directory are safe. The truth is some plugins – the outdated ones in particular – are vulnerable to security threats.
Security is our top priority. We've partnered with Patchstack to offer the Vulnerable Plugin Detector. It regularly checks your installed plugins and looks for WordPress security loopholes. Once an issue has been discovered, you can update, deactivate, or remove the unsecured plugin directly via hPanel.
9. Advanced Spam & Virus Protection
In addition to other security measures, our premium hosting plans are equipped with advanced spam and virus protection to ensure a safe online environment.
Powered by machine learning and real-time data updates, it protects you against 99.9% of threats other antivirus software can't detect, including spam, viruses, phishing, malware, and other forms of cyber attacks.
Chris W. Balmer of CWB Consultancy has experienced the benefits firsthand. "After migrating to Hostinger, some of my clients even said they've seen at least a 50% reduction in their spam emails."
10. Plan Boost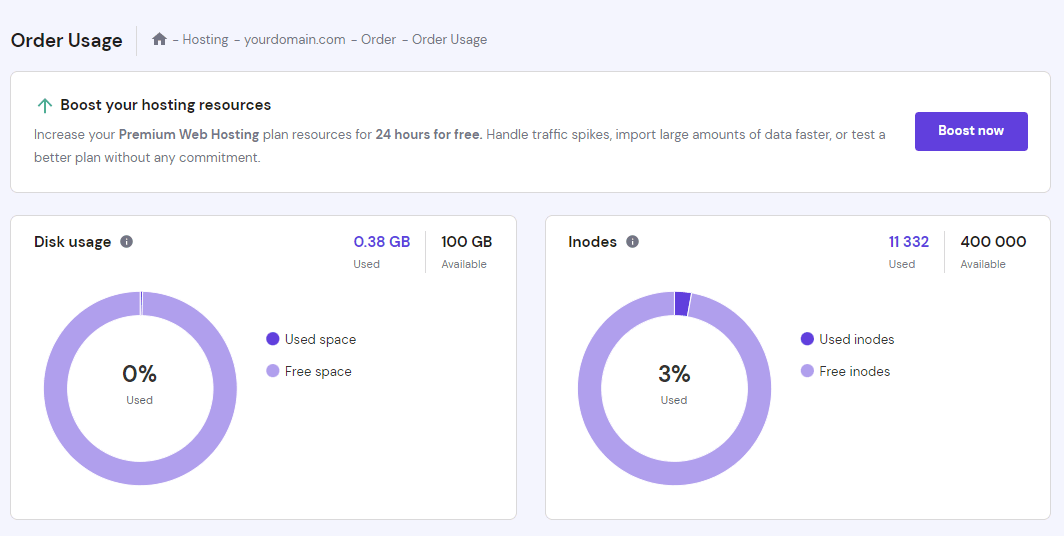 Do you want to get your hands on a higher-tier plan before buying it? We've got you covered. The new Plan Boost feature improves your hosting resources for a full day, allowing your website to better handle marketing campaigns and traffic spikes.
And if you like the real-time demonstration, you can upgrade your hosting plan directly via hPanel.
Start Your Online Journey With Hostinger Today
With these updates, our clients can have a faster and more secure website – key elements of an excellent user experience. For a full list of product updates and upcoming releases for 2023, the Hostinger Roadmap provides all the information you're looking for.
Sign up for a hosting plan today and give these new features a try. If you have already, share your thoughts in the comments section below on what you like and what we should improve in the next year.