Got something to say? Podcasts are a great way to be heard. But for that, you need more than just content – you need an attractive place to host your podcast and build your following. Here are our favorite WordPress podcast themes.
There's at least 550,000 active podcasts and over 18,5 million episodes on the internet. Almost 124 million US citizens (44 percent) listen to them. Imagine how much bigger the number would get if there was a survey showing global statistics. Start taping into this massive crowd yourself!
Why WordPress?
Running a podcast is a lot of work. You need to research your topics, learn to edit audio, write briefs, and constantly keep learning.
WordPress simplifies the final step of the process – publication. It lets you focus on the creative process by offering an intuitive user interface that you can learn in minutes. Pretty great, huh?
Outside of a great interface, you get everything you need for audience interaction – like contact forms – and even tools for a bit of marketing – like social media integration and email subscription forms!
It's SEO friendly too. Just pick the keyword you want to rank up, learn some SEO basics, pay attention to details, and you'll be climbing the SERP – search engine result pages – in no time.
All these WordPress benefits and much more are available with Hostinger! Go to hostinger.com, select a web hosting plan that works for you, and a domain name that fits your project. Check out, get a notification from a customer success agent and you're almost ready to get started! Pick WordPress as your preferred content management system (CMS), and start working
After that, you can log in to your site by visit yourdomainname.com/wp-admins. Remember your WordPress website isn't on wordpress.com.
For a more detailed guide, read our tutorial on how to start a website.
The Best Podcast Themes for WordPress
As promised, we present the top 10 podcast WordPress themes.
If you're looking for a modern podcast theme this is the answer. Gumbo provides stunning visuals and a neat layout.
It allows you to control your website's look using the Elementor page builder. You can drag and drop elements while seeing the changes in real time. You can also tweak every single feature available to your liking.
Aside from the aesthetic, Gumbo is compatible with various plugins. You can install the Seriously Simple Podcasting plugin which eases you into publishing content. Gumbo also supports externally hosted services like SoundCloud, YouTube, Vimeo and more.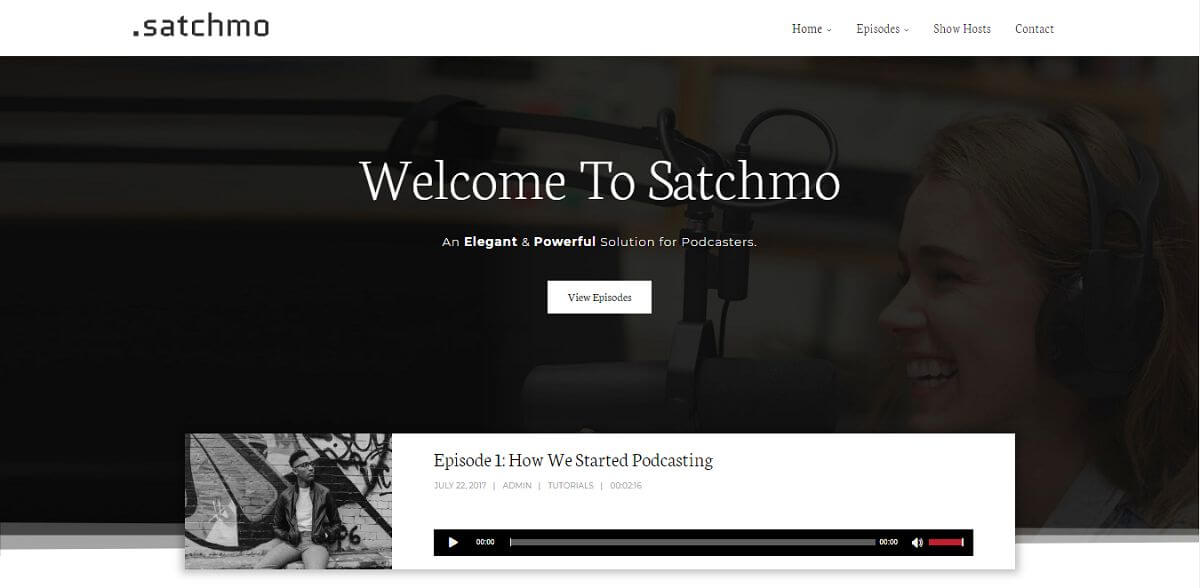 A clean and timeless podcast WordPress theme – Satchmo. The large background image and rectangle player-options are easy to remember. The homepage is where you showcase the latest episode of your podcast. On the episode page, you can add a blog post, to give your audience some context.
The podcast WordPress theme supports easy sharing for content distribution. You can promote your podcast across social media – Facebook, Twitter, and Instagram are all supported. Visitors can fill a subscription form to get your content right after publication.
Satchmo supports responsive design, looking great on any screen – mobile device, 4k resolution display, or a 27″ monitor.
We love this podcast WordPress theme for its customization options. We know, we say it a lot. But this one is exceptional.
A clean and simple podcast WordPress theme usually restricts you from improvising to keep the design clean. Promenade, on the other hand, allows you to customize your webpage while remaining clean and simple.
You can change how your homepage looks with the help of widgets. Showcase your albums, videos, gigs, recent news, or  – of course – your podcast. This theme is intended for musicians, but definitely works for podcast websites!
40% of people abandon a website that takes more than 3 seconds to load.
OceanWP promises to load your website in the blink an eye. The theme is well-known for getting the highest grades with most speed testing tools. It strips off any unnecessary features to make your website lightweight. Need additional features? Get some extensions!
This podcast WordPress theme is rated five stars by 1600+ users, OceanWP offers full customization. With extra add-ons, you can prepare a one-of-a-kind home for your content. By adding extensions, you can modify the look. Add elements, a custom sidebar, share buttons or whatever else you need.
You can't go wrong with this one. Just pick one of the available demo templates and install it.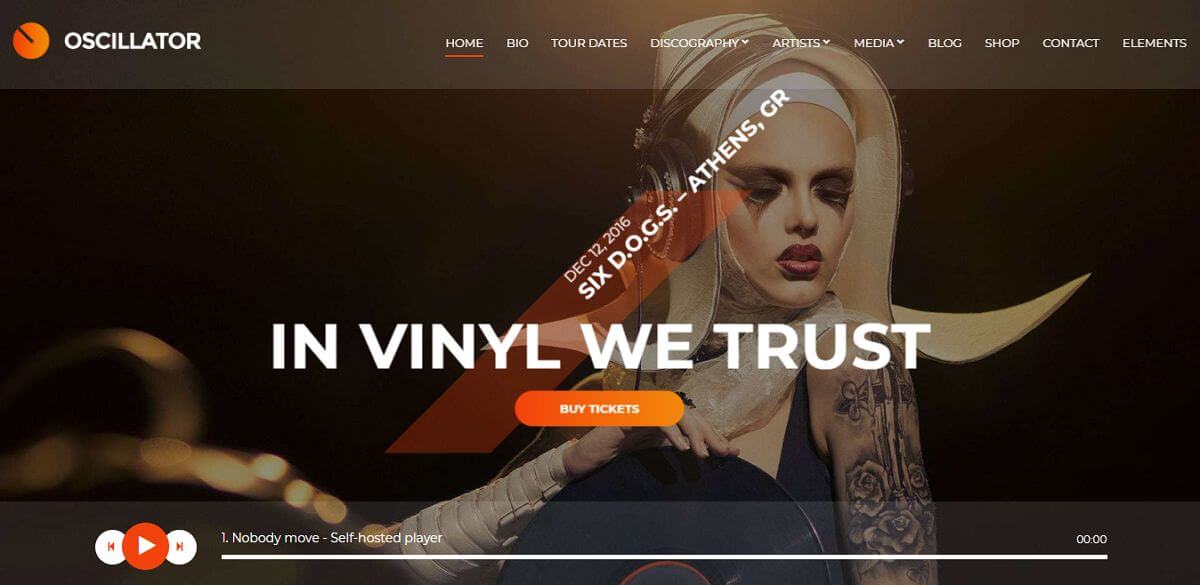 Not interested in a minimalist design? Do you need something more daring and exciting?
Give the  Oscillator a go. It has six custom post types to choose from – slider, artists, discography, event, gallery, and video. It also gives an option to present content in two-columns, three-columns, four-columns, or isotope. Additionally, you can still customize the layout using a page builder plugin like Elementor, Divi, or Project Gutenberg.
But, if you already love the theme and layout, you can instantly use it using the 1-click demo import. Just replace the placeholder content with yours and go!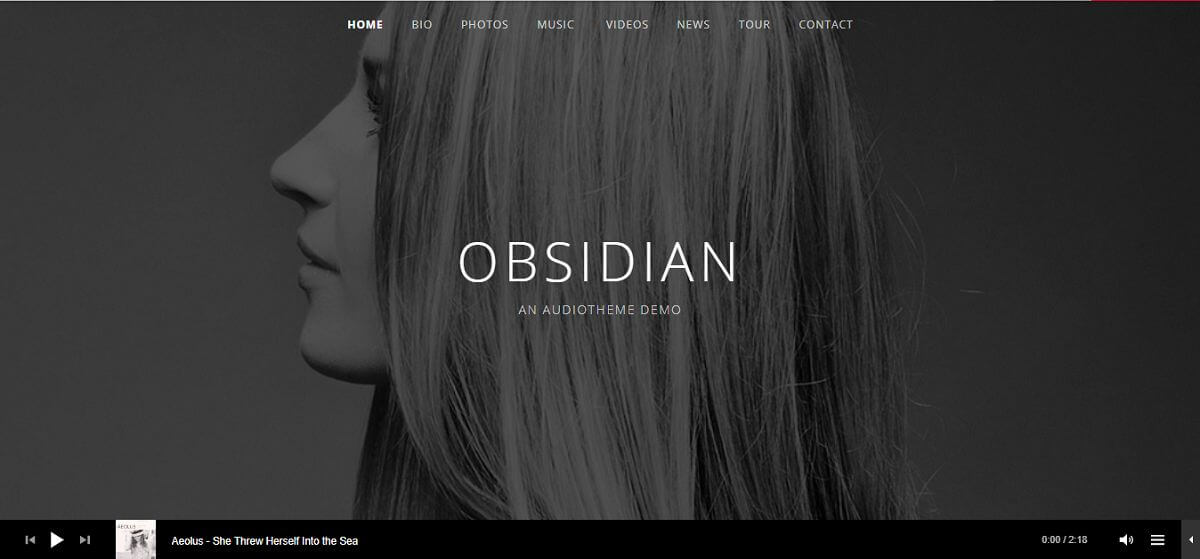 Take a beautiful high-res photo, set it as the background, and you're halfway there. Everything else will follow.
Using Obsidian, you can emphasize yourself as the main focus of the content. At the same time, you benefit from maintaining the website effortlessly – no need to tweak every single part of the look since your photo will be the background of all the content.
To make it not as close to the template, you can change the podcast WordPress theme's fonts. Obsidian has handpicked 30+ fonts for you. There's also a color scheme option if you're not into monochrome.
Compared to the podcast WordPress theme options we've mentioned, Dixie brings unique nuances to your podcast. It's clean, beautiful, and modern without making the theme look too rigid.
You can exhibit your latest episode on the header, so your audiences can find and listen easily. Set however many episodes you want on the homepage. It won't be excessive as the theme makes sure they're listed beautifully. Moreover, you can let your audiences download podcast audio files with the helpful button available with the player.
This theme works best for those who aim to become professionals. Dixie sets the right tone between personal and professional. People can easily subscribe to your content by putting it in their RSS feeds too!
Some people have tons of ideas but only turn a few into reality. If you're one of those talented people, you might love this theme.
Bolden was created for those who'd like hosting multiple podcasts on the same website. Multitalented-podcasters will feel at home. It's also fuss-free because there's no need to host different domains and set them over and over.
The podcast WordPress theme gives you three choices for each show: show carousel, episode slider, and show slider. Doing so, your followers will easily notice which show they'd like to hear.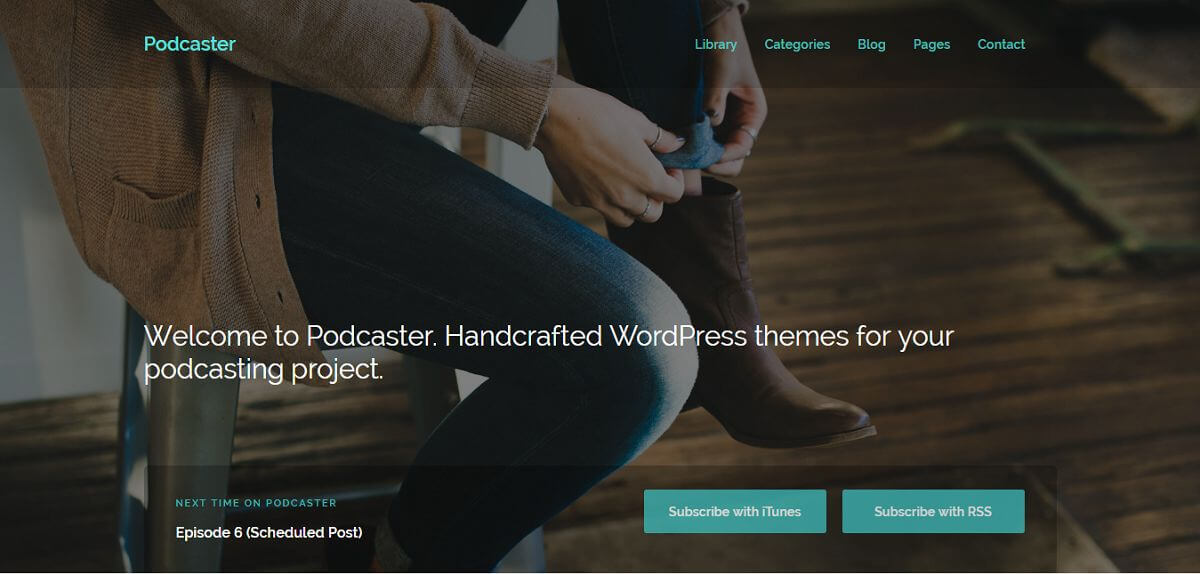 Doing an experimental podcast? Podcaster is a perfect podcast WordPress theme for you.
Keeping the look simple, Podcaster combines podcasts with blog posts beautifully. Podcasts lay at the header while plenty of white space below become areas for blog posts. You can use the area to contextualize your show. You may also list important information and related sources.
Or you can combine both making content while thinking outside the box. You may write a short story and create an in-depth setting using the podcast.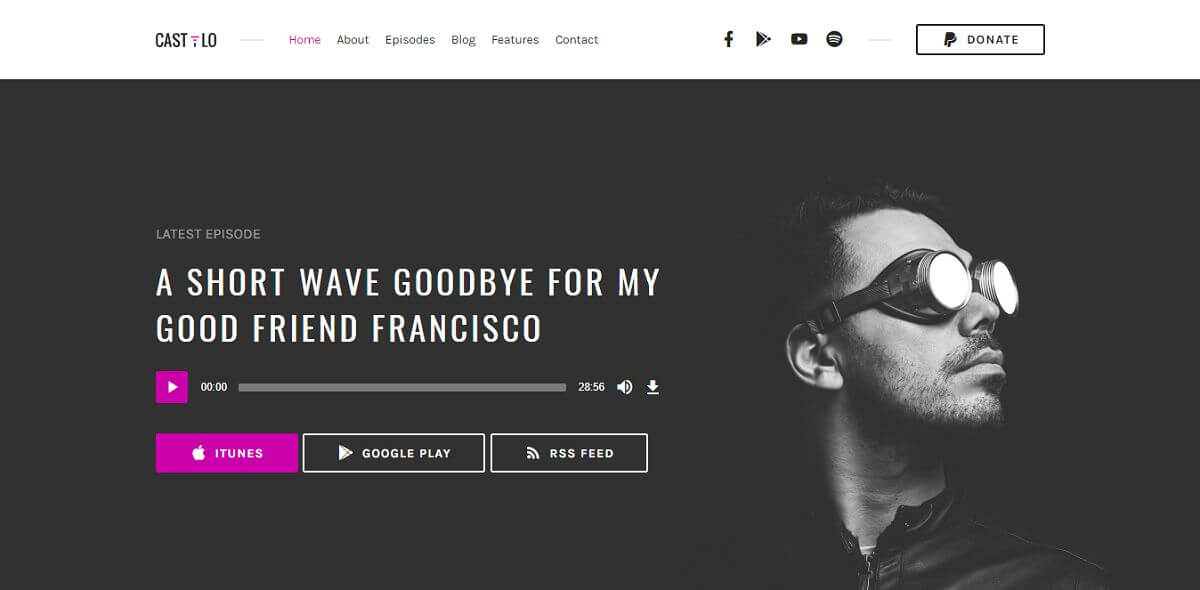 If content is king and distribution is queen, then let us introduce you to her royal highness.
Castillo deals with content distribution. This podcast WordPress theme allows you to submit your podcast to iTunes, Google Play Music or any other RSS based directory. You don't need to install an additional plugin to get your podcast 'out there.'
The audio files spread using permalinks or permanent links. On the other hand, every episode of your podcast available on the internet is sourced from your website. As a result, you can track total listens, listeners, and listening sources of the podcast on daily, weekly, or even monthly period.
Summary
There are a lot of podcast themes offering different features. Choosing one may require a bit brainstorming. So to save you some time, here are our favorites:
Promenade because of its customizable, beautiful, and functional features.
Bolden as it extends limits by letting you host multiple podcasts.
And last but not least, Castillo for making podcasts widely accessible in a few clicks.
Whatever theme you choose, remember it's just the beginning of your podcasting journey.