Reaching New Heights: Hostinger Client Base Surpasses 2 Million Worldwide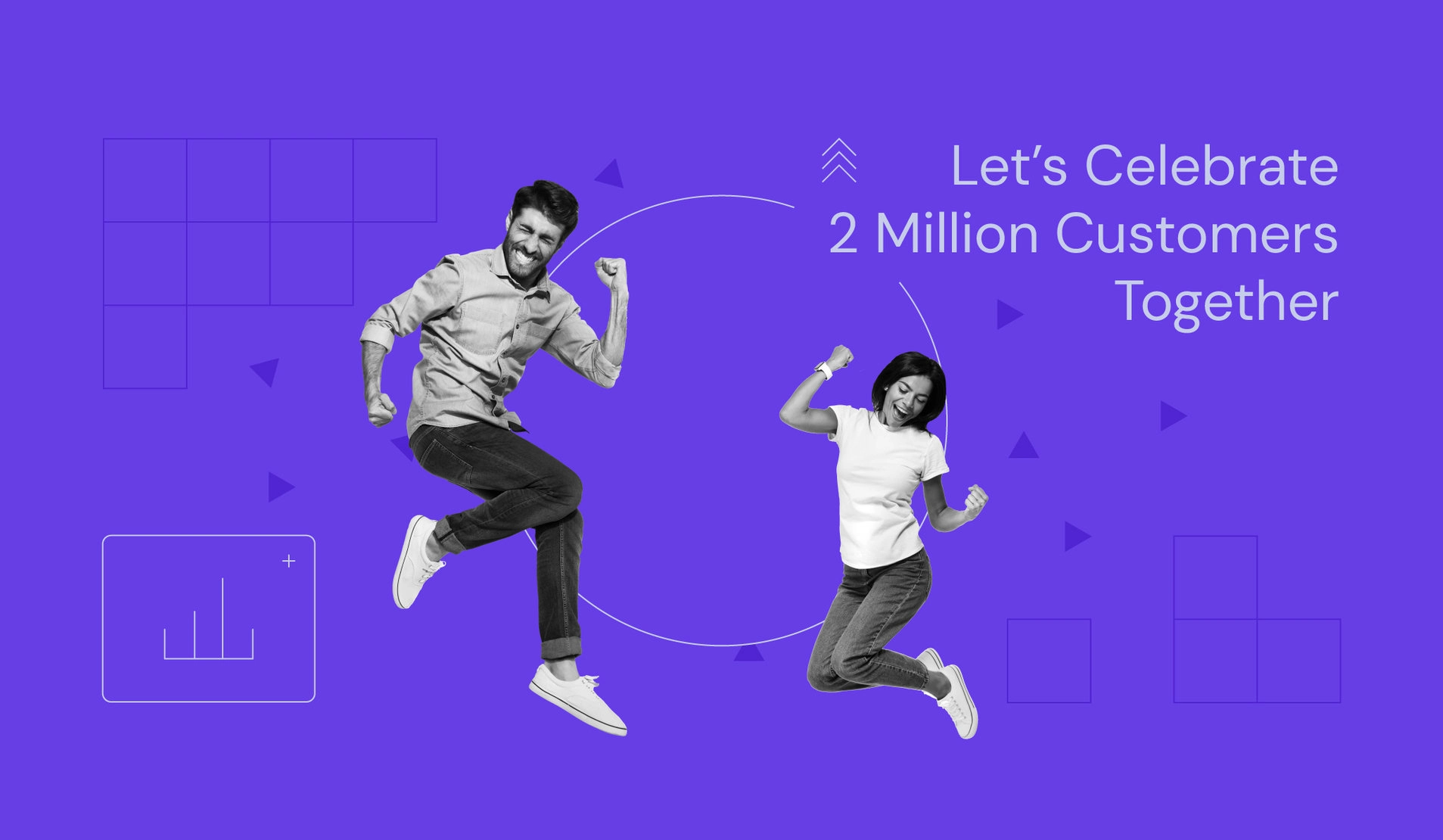 Hostinger reached a significant milestone in July – we officially surpassed two million clients. This achievement marks a significant step forward and sets the stage for even more ambitious goals. Join us as we celebrate this journey of growth, innovation, and global impact. Take a look at how we reached this milestone and what it means for our future.
Pushing the Boundaries
It took 17 years to reach our first million customers and less than three years to reach our second. As our CEO Arnas Stuopelis says, this is only possible by having clients who trust us with their online projects and through the continuous efforts of our talented team.
"This figure shows that our customers value our services to help them start and succeed online, whether that's through eCommerce shops, blogs, or websites showcasing their talents or services. With a team dedicated to delivering top results, we have pushed boundaries and unlocked new opportunities," Arnas confirms.
To celebrate the two million milestone, we organized a special Hostinger lotto to thank our team. Employees worldwide were invited to participate for a chance to win prizes specially curated from our clients' products. Supporting our customers is a privilege, as it is their trust and online projects that make this achievement possible. 
Meeting Customer Needs
Customer Obsession is the key principle that underpins every decision and drives us to achieve such milestones. We have Client Interviews and Customer Connection initiatives to get to know our customers better, learn about their challenges, and strategize on how to better meet their needs. To ensure that these are met, we talk to our clients daily.
Our Chief Customer Officer, Darius Grigorjevas, assures that our Customer Success specialists not only solve problems but they establish and build an emphatic relationship with customers. This is an exceptional advantage of Hostinger, which also perfectly reflects our company mission – to make online projects faster and customers happier 24/7.
"We aim to respond quickly and help our customers as much as possible so they can be successful online. Our ultimate goal is to provide the best possible technical solutions in no time, which is why we are unlocking the potential of AI with our new AI Assistant. We are ready to keep going and create even more value for our customers," says Darius.
Worldwide Possibilities
We have crossed borders and connected with clients from every corner of the globe, as our customers reside in more than 150 countries. This widespread reach has allowed us to gain insights into diverse markets, cultures, and customer preferences.
The largest number of customers is recorded in India, with over 366 thousand active users. Brazil, the USA, Indonesia, and France are also among our biggest markets in the first half of 2023. This is closely followed by the United Kingdom, Mexico, Colombia, Argentina, and Spain – making up the top ten.
Our customers often choose hosting or domain registration and management services. However, the increment in demand for website development tools drives strong customer growth. This area continues to have significant growth potential, especially with AI possibilities.
Continuing the Journey
By prioritizing personalized experiences and delivering cutting-edge technologies, we have earned the trust and loyalty of our clients. Reaching the milestone of two million customers worldwide is a testament to Hostinger's dedication, exceptional products, and commitment to clients.
This achievement motivates us to keep pushing boundaries and further expand our global presence. The journey to two million customers worldwide was just the beginning, and we are excited about what lies ahead!
Are you ready to boost your career? Join our team as we continue to shape the industry and make a positive impact on a global scale. Take a look at the open positions we are currently hiring for!
If you want to dive deep into the topic of Customer Obsession, here is our recommended reading list:
Also, check out our blog posts: