WordCamp Europe 2023 Roundup: Making WordPress History in the Historic Athens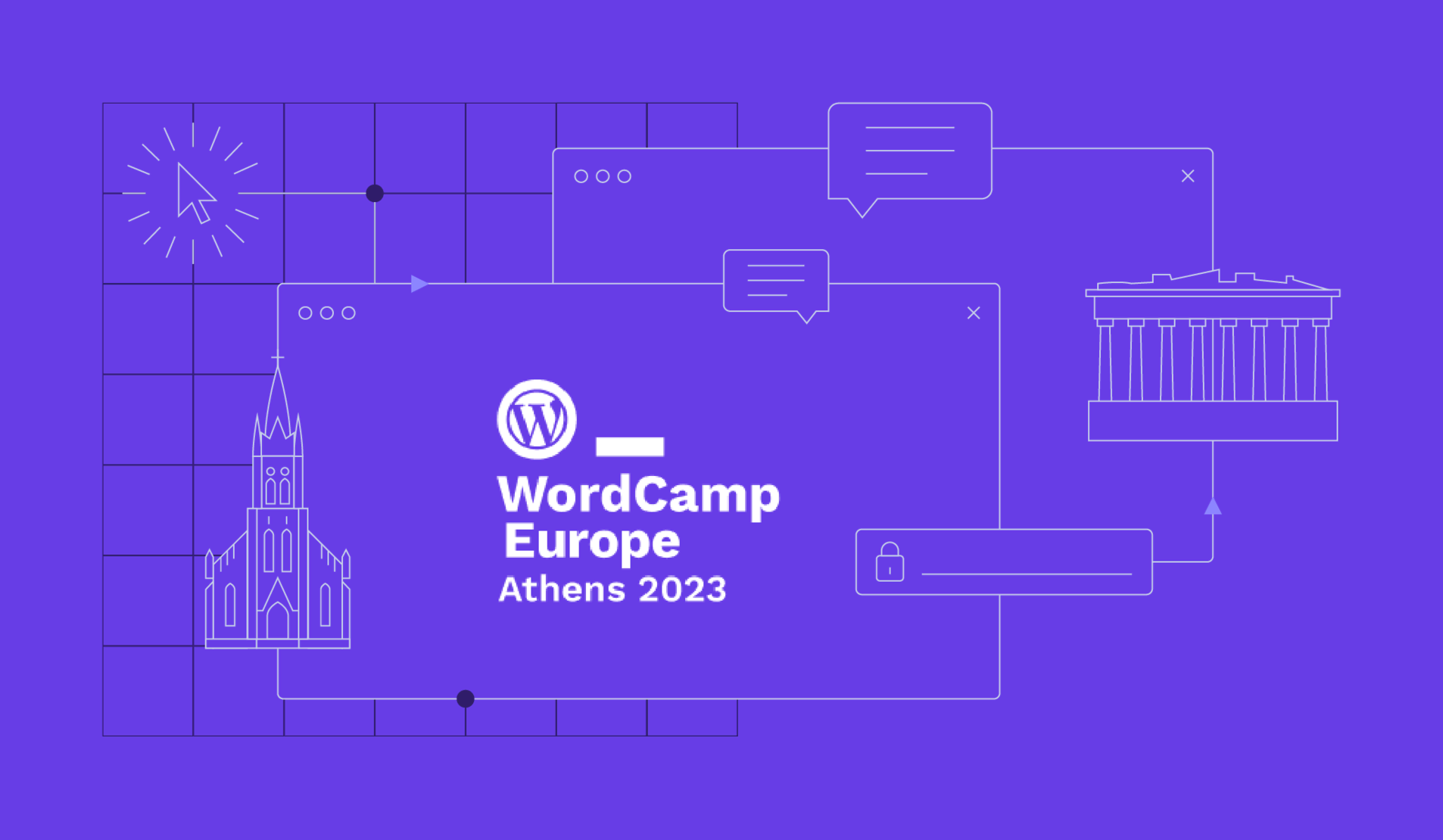 Our team just returned from WordCamp Europe 2023, which took place in Athens, Greece, from 8 to 10 June 2023. 2,545 people from 94 countries attended the event – proof of WordPress' wide reach!
It was Hostinger's second time sponsoring WordCamp Europe, and this year we're proud to have supported the event as a Super Admin Sponsor.
All talks and workshops were recorded and will soon be available for watching on WordPress.tv. In the meantime, you can also watch the recorded live streams on WordCamp Europe's official YouTube channel.
We took notes of some of the event's highlights – read on to find out about the fun we had at WordCamp Europe 2023 and what's coming at the next WordCamp Europe.
Watch Our WordCamp 2023 Highlight
Curious how vibrant the event was? Check out our WordCamp Europe 2023 Highlight video.
Subscribe For more educational videos!
Hostinger Academy
Subscribe
20 Years of WordPress and Its Future
WordPress turned 20 on May 27, 2023, so a celebratory spirit was still very much apparent during WordCamp Europe 2023. Some of the sessions reflected on how far the content management system has come.
One such was Aaron Reimann's Where did we come from?, which went through some of WordPress's major features over the years, including WordPress version 0.71 and search feature version 1.0. It showed attendees the gradual development of the CMS while WordPress community members could see how their contributions had helped along the way.
Meanwhile, the Variations on a theme: 20 years of WordPress session had WordPress' Co-founder and Project Leader Matt Mullenweg, WordPress' Executive Director Josepha Haden Chomphosy, and Automattic's Product Architect Matías Ventura come together and review the year's accomplishments and learnings.
This session was followed by a live Q&A, during which Matt shared his reflections on open-source innovation and disruption in the past 20 years.
Instead of retrospection, other sessions covered the possibilities for the future of WordPress.
For example, Let's make WordPress & its community sustainable today invited attendees to envision sustainable practices in the WordPress ecosystem. The Women and non-binary folx of WordPress panel discussion examined underrepresented people's involvement in the open source project, including tips to take part in the initiative. This was especially important since the upcoming WordPress 6.4 release is led by an all-women and non-binary release squad. It will be the second release version with such a team formation.
As a member of the WordPress community, Hostinger joined the anniversary celebration as well.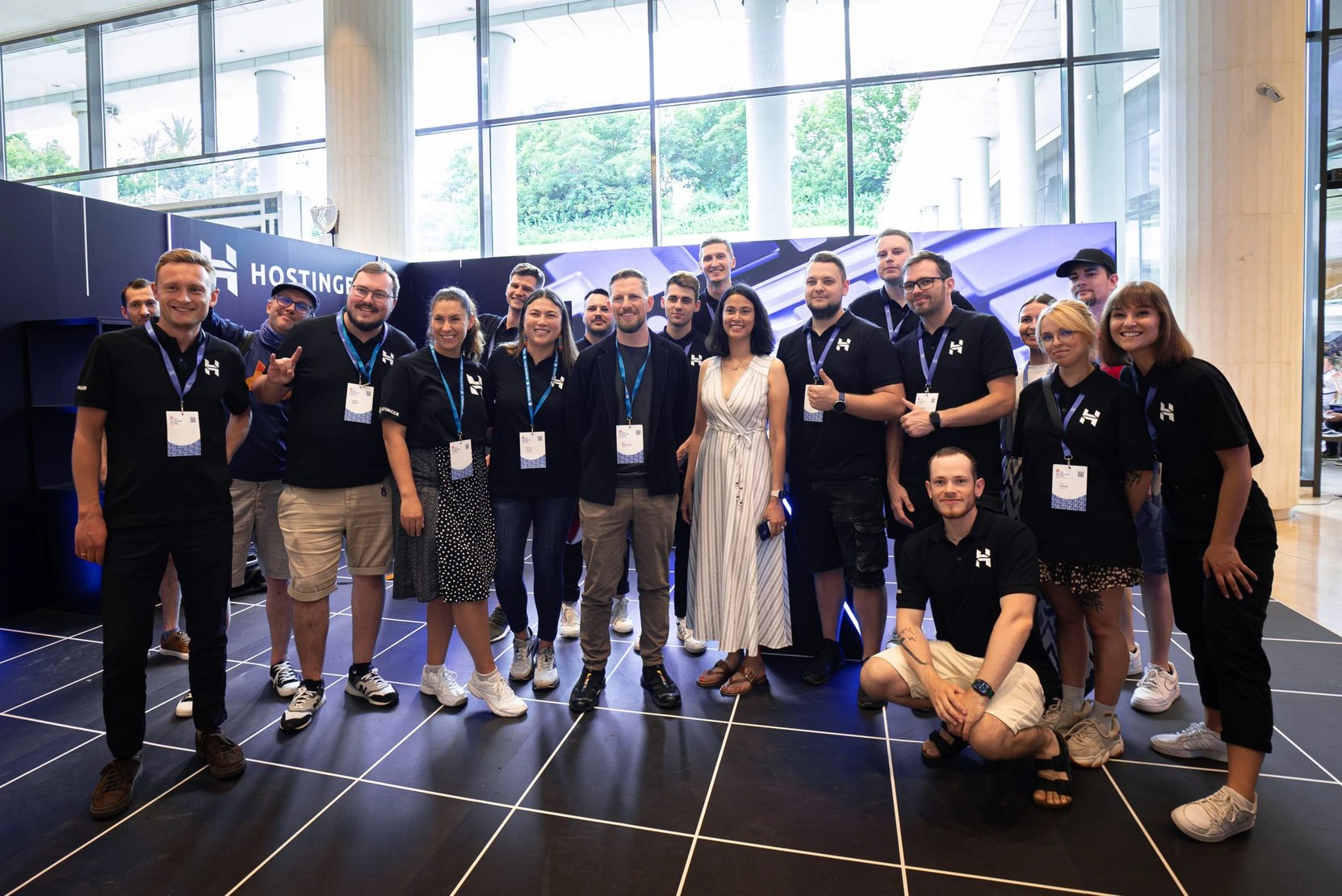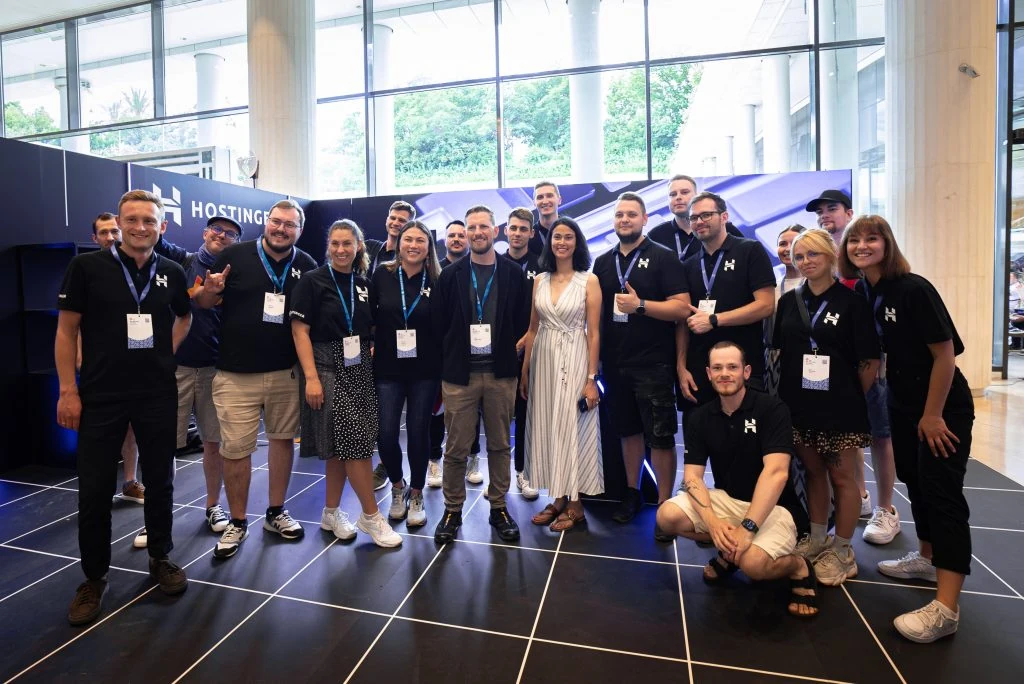 Besides an anniversary blog post and a podcast with Tammie Lister, we also set up a WordCamp Europe booth highlighting our WordPress clients. This way, we could engage with WordCamp visitors on a more personal level.
The event finished with a bang – the WordPress 20th Anniversary after-party allowed everyone to relax and mingle after hard and rewarding work.
Artificial Intelligence in WordPress
It comes as no surprise that the Artificial Intelligence topic was a high-traffic one at WordCamp Europe. Most sessions had at least one AI-related question during the Q&A. Many professionals from various industries, especially IT, were looking for ways to integrate AI into their workflows to promote smarter work.
It's only natural then that there were several AI-themed sessions at WordCamp Europe 2023. They covered a broad ground – from much sought-after AI-assisted content creation to lesser-known areas like AI for accessibility.
Some sessions specifically talked about AI uses for WordPress, such as AI translation. Another panel discussion explored the active use cases of AI as an accelerator.
For those still unsure whether AI was worth their while, there was a session called How I learnt to stop worrying & love our AI rulers that discussed AI's pros and cons and forecast the near future.
As veteran WordPress contributor Birgit Pauli-Haack pointed out in an interview with us, "The only constant is change itself." Being open to any new technology while questioning it seems to be the best decision.
Contributors' Team in Highlight: the Polyglots Team
Last year at WCEU22, the WordPress Community team highlighted the Performance Team. This year, the community booth highlighted the Polyglots Team.
Booth visitors could find out more about the team. They could also meet members of various local communities and learn what they do and how to get involved. This is one of the ways the WordPress community appreciates the global network of teams and contributors who build the project.
Polyglots Team is responsible for localizing WordPress' core software, themes, plugins, and other components like support documentation. Half of WordPress installs use a localized version of the CMS, so Polyglots help lessen the communication gaps by making WordPress more accessible to users worldwide.
The team features translators, who suggest translations in local languages, and translation editors, who review the suggestions and ensure the quality. The team also works to set and maintain translation guidelines to ensure consistency.
WordPress currently supports more than 200 locales, with only around 70 fully translated. There's always room to make this platform more inclusive, so multilingual contributors are always welcome to join the team.
Our WordCamp Europe 2023 Experience
The event started with Contributor Day. The attending Hostingerians contributed to the Support and Community table at the venue, while one of us joined the Training Team online from Indonesia.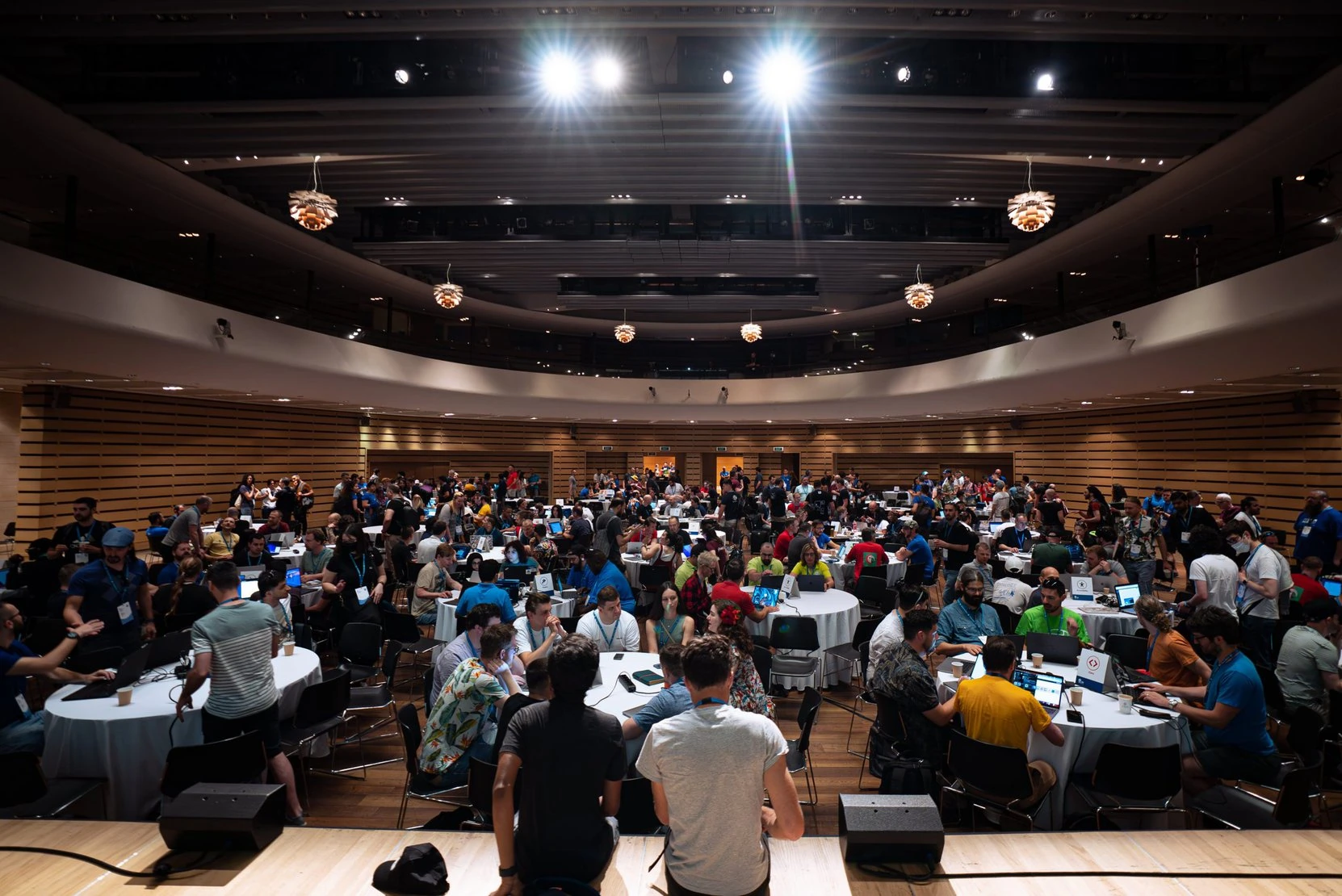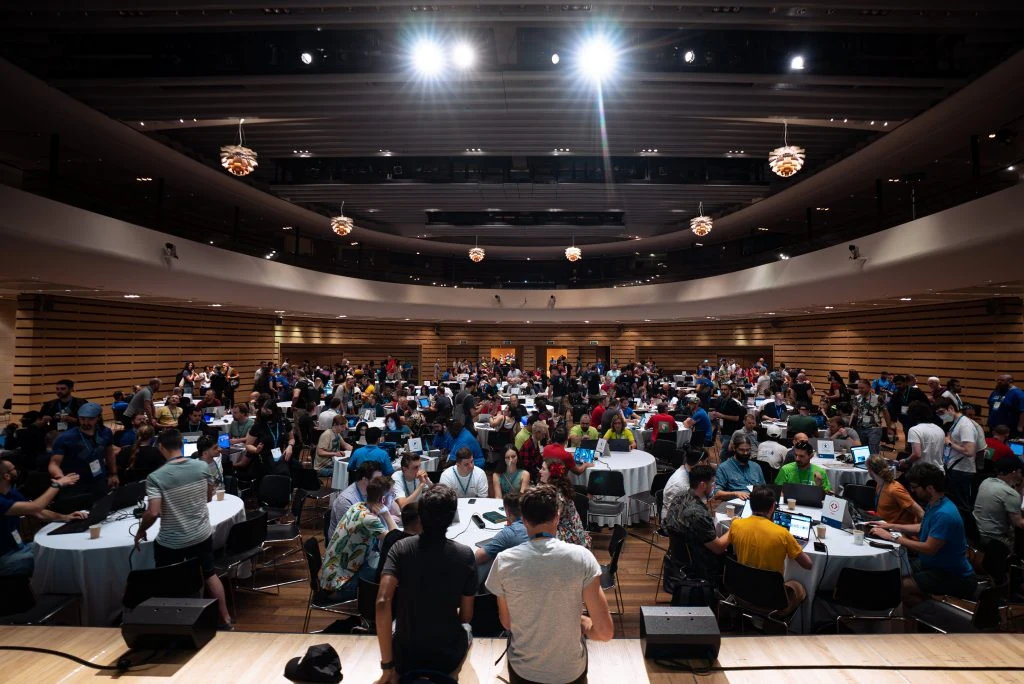 Contributors explored WordPress Playground – a version of WordPress that runs entirely on your browser. It's a handy sandbox for experimentation, like trying a theme, testing a plugin, or even building a site.
Contributor Day also hosted a lot of cross-team collaboration. Meeting other contributors in person and becoming immersed in an all-hands-on-deck experience are some of the perks of joining an offline WordPress event.
At the end of Contributor Day, an official announcement unveiled the addition of a new team to the WordPress ecosystem – the Sustainability Team. This team will focus on finding ways to make both WordCamps and WordPress more sustainable.
The second and third days of the event were conference days, allowing attendees to participate in various sessions and workshops. Emma Young, our Content Lead, volunteered as the event's MC. She could mostly be found on Track 2's stage.
"I volunteered as an interviewer in WordCamp Asia 2023, and that was fun, but I wanted to try something new. I also wanted to see how comfortable I would be on stage because I would like to be a speaker someday," said Emma. "If public speaking excites you, definitely do it at your local WordCamps!" she added.
Meanwhile, visitors to Hostinger's booth could view special videos with our clients who successfully developed businesses using WordPress. We also ran a personality quiz that would tell you which WordPress theme you were.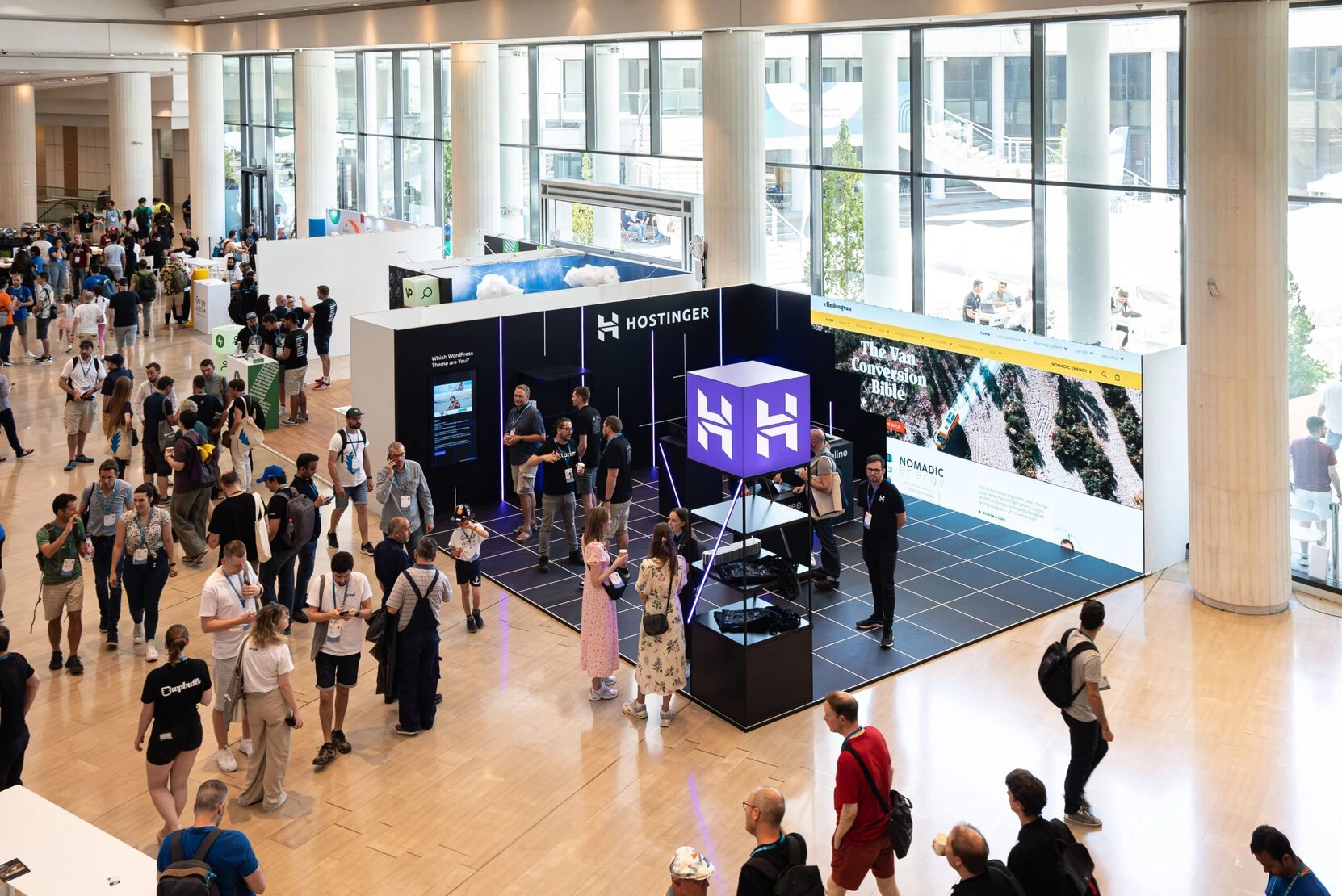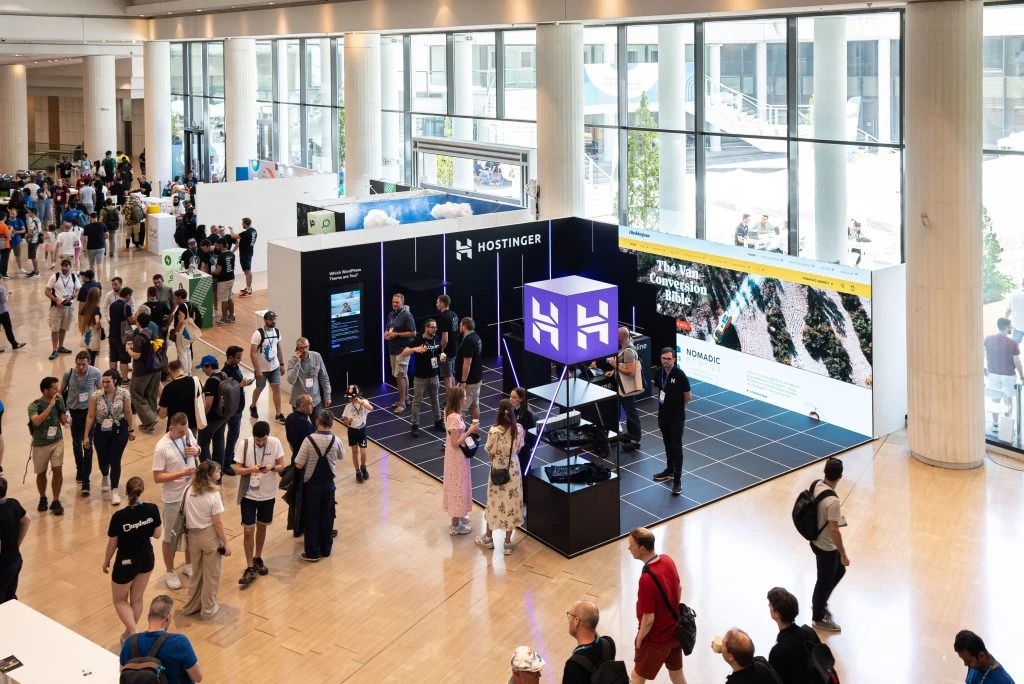 As connecting with fellow WordPress enthusiasts is the essence of WordCamps, we used the chance to meet our clients and customers. As always, we were after candid feedback to improve our products and services. We also introduced them to our newest product updates, such as our in-house Hostinger Blog Theme and AI Content Generator.
Our client, digital business card company Doup, supported us during the event by providing NFC cards to activate newly-signed hosting plans.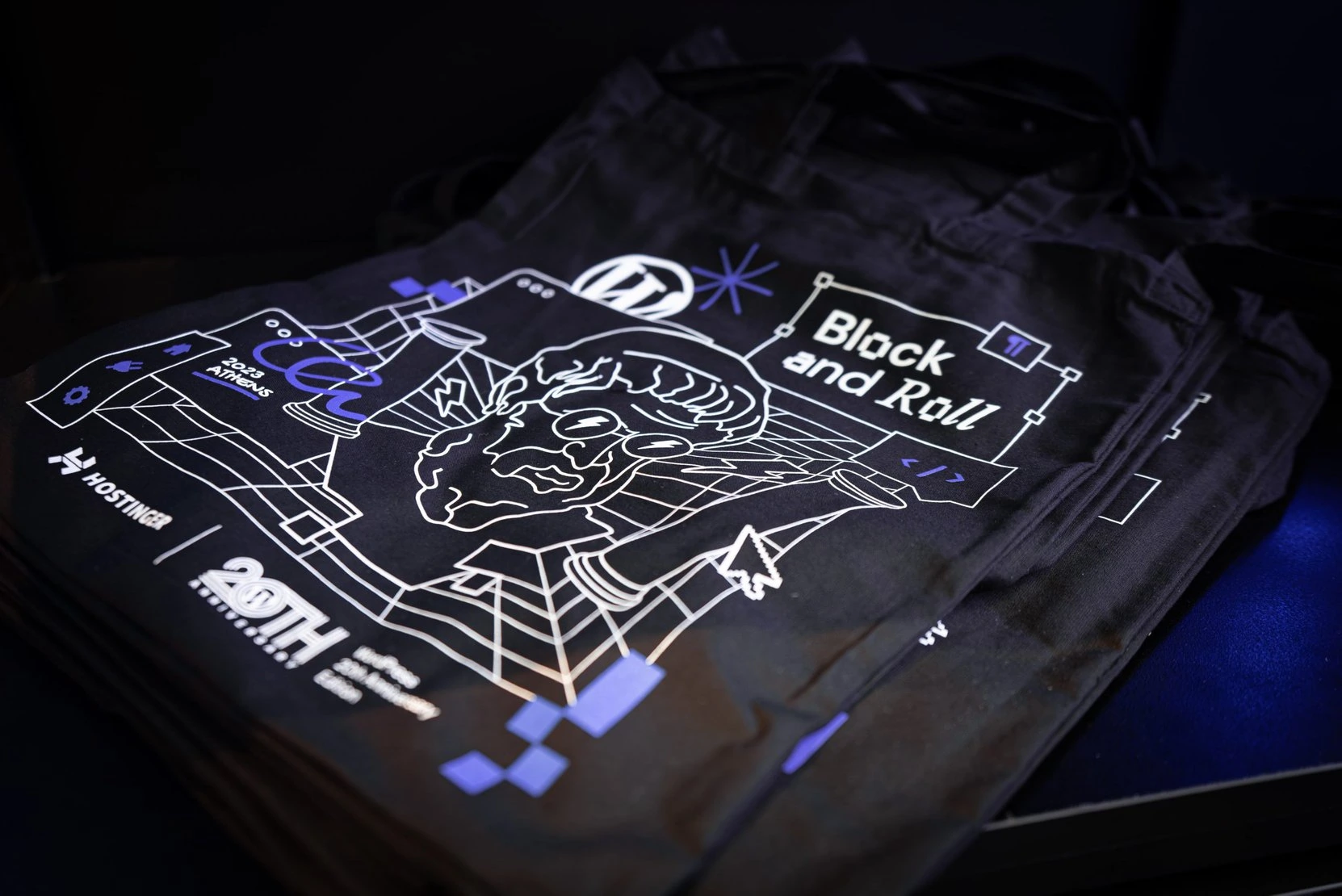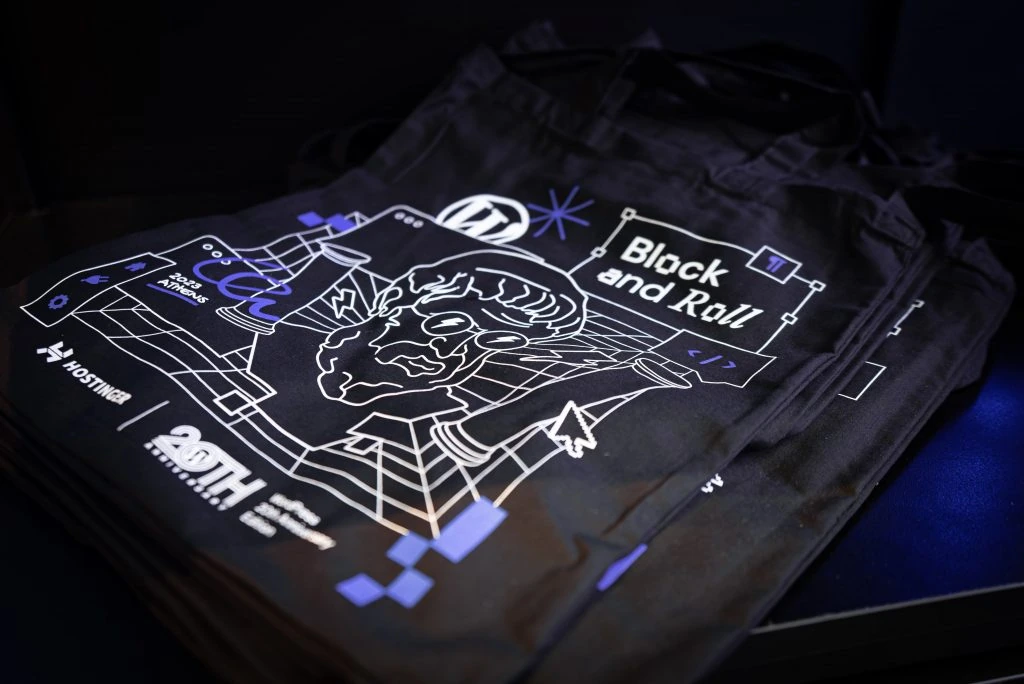 However, WordCamps are only complete with signature swag. That's why we brought our Block and Roll-themed merchandise – a homage to WordPress's very own Block Editor celebrating the 20th-anniversary. Within 3.5 hours, we had given out 500 T-shirts – we were happy people found them cool!
What's Next
At the end of this three-day event, Torino, Italy, was announced as the host city of WordCamp Europe 2024.
Until then, there are many upcoming local WordCamps that you can attend. WordPress Community Summit and WordCamp US 2023 in National Harbor, Maryland, are the next flagship events.
Hostinger will also be sponsoring WCUS 2023, so we're looking forward to meeting you there and geeking out over WordPress together. Block and Roll!