Thursday September 1, 2022
Fostering the WordPress Community: Our Podcast Interview with ​​Josepha Haden Chomphosy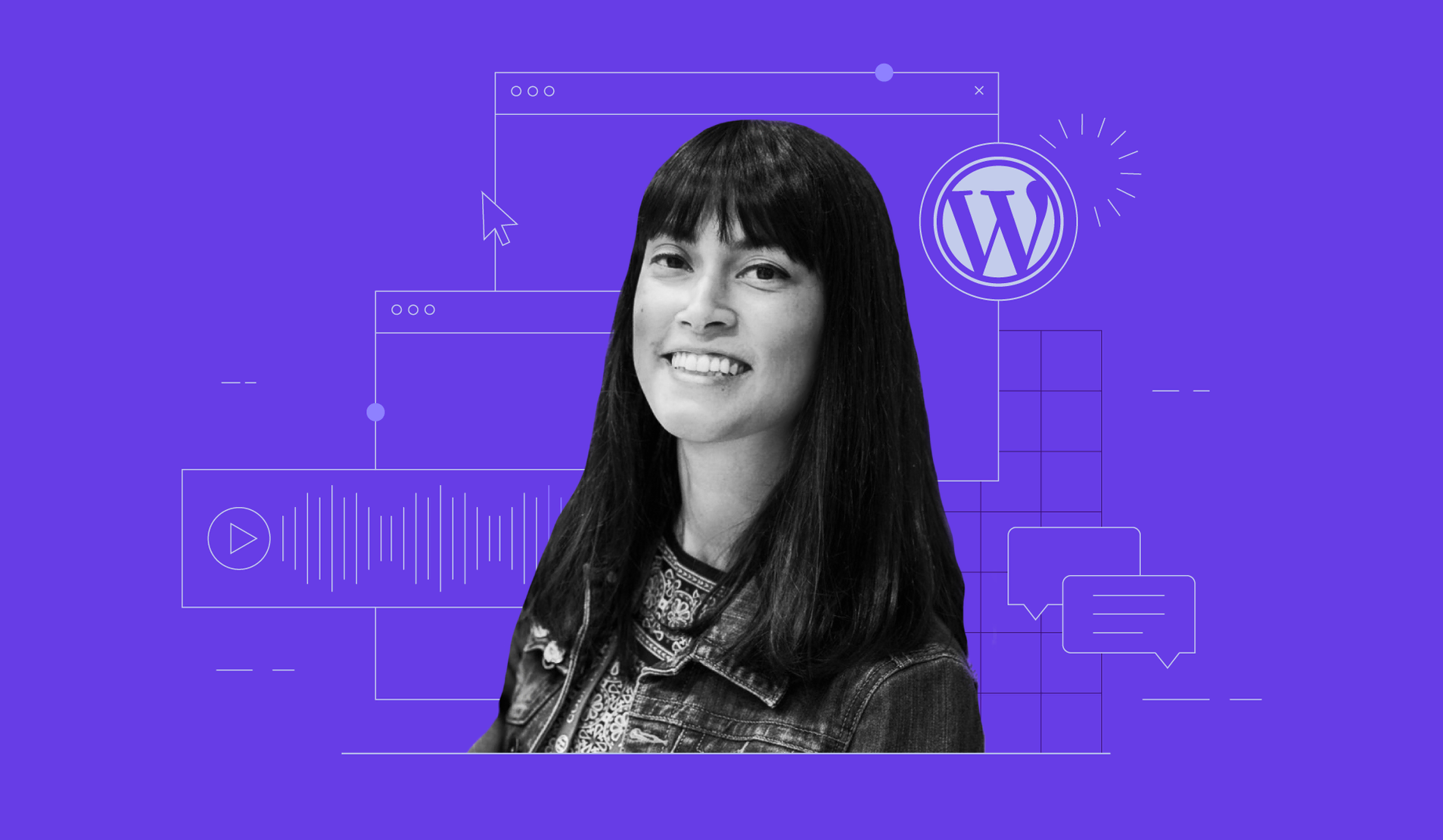 In our latest Hostinger Academy podcast, we speak to the Executive Director of the WordPress project Josepha Haden Chomphosy about how careful and conscious community building is driving the WordPress project forward.
Hostinger makes web hosting simple, however you decide to build your website. That said, around 70% of all Hostinger users opt to create their site using WordPress, meaning that we have deep roots within the WordPress community.
Since the strength of the WordPress community is so closely linked to the success of Hostinger users, we decided to talk to the best source of information on WordPress community building – Josepha Haden Chomphosy.
Josepha is the Executive Director of the WordPress project, tasked with coordinating the work of volunteer contributors worldwide. After catching a WordPress bug at a WordCamp that she attended on her mom's spare ticket, Josepha began contributing to WordPress as the lead of the open-source division at Automattic in 2015.
Josepha is now well known as a leader in the WordPress community and for her involvement in volunteer training programs. She can tell us a lot about directing volunteer-based, open-source projects at scale.
In our debut podcast, Hostinger Chief Marketing Officer Daugirdas Jankus quizzes Josepha on topics ranging from WordPress 6.1 and the WordPress roadmap to the Five for the Future initiative and ways our clients can contribute to the community.
Why the WordPress Community Matters
In Josepha's words, "WordPressers like to hang out with other WordPressers," but the sense of community around WordPress isn't just about a shared love for a tech product. WordPress is an open-source project, and its forward momentum relies on the contributions of volunteers around the world.
Becoming involved as a contributor offers not only the opportunity to learn about WordPress from a dedicated community of knowledgeable experts, but also the chance to really make a positive impact on the quality of the platform.
To highlight the benefits of working with the WordPress community, both to the platform and contributors, Josepha points to the buzz around new WordPress releases.
Carried out in a public Slack channel, these releases invite volunteers worldwide to follow along and help out. "When it's time to test and package, they then test with dozens of people, where people test all kinds of things you'd never thought of."
Josepha stresses the value of the skills you can learn and develop from being part of open-source projects. This can be as broad as understanding how work functions in the 21st century and how diverse cultures contribute to a project, or as simple as learning the correct way to write a ticket for a bug.
It's also simply great for meeting new people. A topic that recurred in our conversation is the spirit of generosity within the WordPress community. "You rarely see an old contributor who won't help new ones."
But how easy is it to contribute? Josepha highlights four simple steps to start your journey:

Sit down and think about how you'd like to contribute. Consider your strengths and what you'd like to learn. Go where you feel called to contribute.
Next, attend a meeting. Most teams hold new contributor hours, which provide an excellent opportunity to introduce yourself, find out what the team is working on, and identify tasks you could complete.
Assign yourself to a task. Take that first leap to put your hand up and say, "I can do that." Here, you can see all of Josepha's contributions.
"Keep assigning yourself stuff until you're leading a project."
Five for the Future
Josepha isn't just interested in individuals contributing but also organizations. That's why she's a champion of the Five for the Future initiative, which invites companies that use WordPress to donate 5% of their resources to developing the platform.
Originally intended simply as a call to contribute, Five for the Future is now a program for contributor recruitment and retention. "The aim is to coordinate sponsored time, especially around giving more guidance to new contributors."
Organizations can choose how much time and resources to donate and where to focus their contributions. They could donate developer time, work on community projects, or help out in the training team.
The program is all about moving WordPress forward. That's not just about developing the tech to take it further as a CMS, but also building the infrastructure in the community to make sure that everyone's contribution is meaningful.
Five for the Future also plays a crucial part in elevating underrepresented voices by offering targeted support and mentorship. This is particularly important to Josepha – "I am one of those underrepresented voices in technology, and would not have stayed in the WordPress project were it not for people who were checking that I had what I needed to really succeed here."
Restarting WordCamp in the Post-Covid World
A fascinating part of our discussion with Josepha surrounded the post-Covid relaunch of in-person WordCamp events and the challenges of holding such occasions. "So much of our new contributor and new user onboarding takes place at those in-person events that we had to find a way to offer them while keeping everybody safe."
If you didn't already know, WordCamps are informal, community-led events held worldwide by and for WordPress users. At WordCamps, you'll come across everyone from casual users to core developers, and each individual has the opportunity to exchange ideas and meet others in the WordPress community.
While the opportunity to have safe face-to-face meetups is a priority, Josepha's team also learned lessons from the pandemic and recognizes the value of making a similar experience available online. "We want to keep a hybrid option since online events opened up to people who otherwise couldn't make it to events."
Did we mention that Hostinger is also preparing for WordCamp US? After a great experience as a Super Admin Sponsor at WordCamp Europe 2022, we're thrilled to be sponsoring our second WordCamp in San Diego on 9-11 September 2022.
Want to Hear More?
To hear Josepha's take on the topics mentioned above and much more, we highly recommend listening to the full podcast episode.
If you're inspired to get your business involved in contributing to WordPress, there's no better place to start than with the Five for the Future initiative discussed in the podcast.
Finally, if you're keen to hear more from Josepha, you can check out her own podcast WP Briefing for an even deeper dive into the world of WordPress.