Podcast With Tammie Lister: How Gutenberg Evolves and the Future of WordPress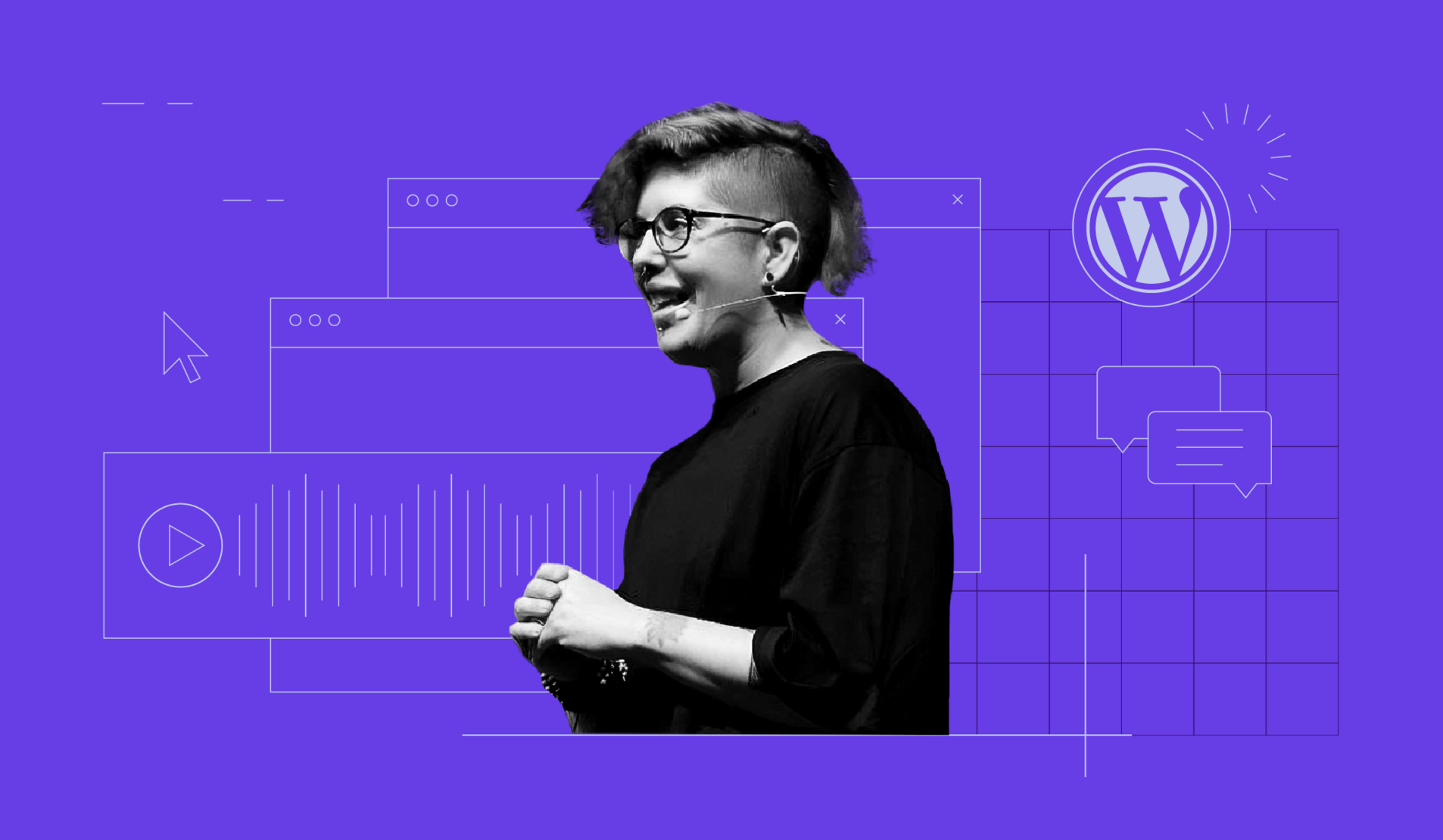 Tammie Lister is our guest on the latest Hostinger Academy podcast. As a product creator, open-source designer, and core contributor involved in WordPress releases, we discuss how Gutenberg evolves and empowers its users.
WordPress is almost synonymous with websites. After all, the CMS makes up 45% of websites on the internet, and over 70% of Hostinger clients use it to build their websites. As WordPress keeps evolving and growing its user base, we talked to Tammie Lister to find out how the core contributors are working to improve WordPress and bring more value to its users.
Tammie has been involved with WordPress since the project's early days. She started using WordPress for blogging after someone introduced it to her as a solution for a customizable CMS, and she never looked back.
After attending WordCamp in Portsmouth, she started contributing to WordPress herself. She described her WordPress contribution journey as a beautiful spiral as she became increasingly involved until she eventually became a full-time core contributor.
Fast-forward to today, Tammie is contributing as a hobby and working between design and development, as she is interested in the product side of things.
In this podcast episode, Hostinger's Head of Content, Emma Young, sits down with Tammie to discuss how the core contributors are working to improve WordPress to bring more value to its users. Tammie also shared some insights into the future of WordPress and Gutenberg.
Watch the Full Podcast
Watch the full podcast on the Hostinger Academy YouTube channel.
Subscribe For more educational videos!
Hostinger Academy
Subscribe
The Importance of Experimentation and Feedback
Experimentation is at the heart of Gutenberg. After all, the tool exists because people with different visions and ideas experimented for five to six years before the project officially began.
Tammie uses the old parable to describe the process:
"The whole process resembled the story of the blind men and the elephant. The men are all trying to describe what an elephant looks like without being able to see one in the flesh. Someone probably got the trunk right, and someone figured out the leg, but they all had to work together to piece out the complete elephant", she explains. That's what happened with Gutenberg – the project combined input from various contributors together to bring us the final result.
Experimentation will also be an important part of the upcoming Gutenberg development phase. After all, experiments could help develop game-changing features or uncover technical roadblocks that need to be fixed.
Or, as Tammie explains: "Someone could come up with an incredible experiment that completely pivots our plans." In order to create the best possible tool out there, experiments, together with community input and feedback, have become a staple with Gutenberg and WordPress core updates.
For the project to be successful, it needs to cater to different users – from agencies and product people to multilingual users, and so on. Initially, it was difficult to get feedback on new developments, as the team didn't organize calls for testing. Organizing in-depth feedback sessions can be time-consuming, but the team agrees that the benefits outweigh the hassle. Now, they are trying to make testing calls a habit.
"So we've had testing tables and tried to get different people to participate. Ideally, the people who are developing certain features would also attend to hear what users think first-hand. I did some user interviews in Japan. That was amazing," Tammie shares her experience in gathering feedback. She agrees that it's all about getting into the habit of collecting feedback rather than just expecting someone to report an issue or share their two cents with you.
And thanks to that habit, the project now has initiatives focused on user feedback. Full Site Editing (FSE) calls for testing are a prime example of this. People can run a user test at home, do tasks on WordPress, such as building a front page, and send feedback. This feedback is powerful because it can come from anyone, not just the contributors. "You don't create the next evolution of WP just by listening to the people who are full-time contributors", Tammie says.
Testing and sending feedback are also great ways to contribute to WordPress. Contribution is often tied to a specific WordPress team, like core or design. But in Tammie's mind, contributing means you move the project on in some way or another.
Maximizing Gutenberg's Potential
Tammie sees Gutenberg as a toolkit that should provide the bare minimum to help you achieve what you want. Ideally, the tool should have all the features for site editing, from beginners to pros and beyond.
Tammie's main advice for WordPress users is to not go against the Site Editor, as it's more of a sliding scale. Users don't have to do everything with it – they can use it just to colorize the text or use theme.json for development. Ultimately, it's in the user's hands to choose their own adventures.
Beginners don't have to learn everything either to get started. Tammie recommends using a default theme and core blocks, and getting to know how they work by using them. There's also the Create Block Theme plugin that helps you create a child theme. If you feel brave, you could just start editing the theme itself, making it your own. It's the easiest way to learn how to edit a theme without learning to code.
The Gutenberg and block themes have also grown, with more theme options available in the WordPress repository.
"Look at the themes that are out there and look at people who are building on top of them to start building one yourself," Tammie says. Browsing for themes can open up more design options for you, and seeing how people build a website based on one can inspire your build, too.
Keeping your website light from the beginning is also important. "Don't load too many blocks to start off with. Know the core blocks," Tammie advises. While there are plenty of great block library plugins, it's highly advisable not to install them before knowing what you can already do with the core blocks. Determine what you need first, and see if the core blocks fit them.
The Future of Gutenberg and WordPress
WordPress is celebrating its 20th anniversary on May 27, 2023, and Tammie shared her hopes for WordPress for the next 10-20 years with us.
Ideally, Tammie would have more diverse groups of people involved with WordPress. This way, younger people could also share their views and perspectives on the project. It's clear that involving a wider range of people is key to developing WordPress further. "I want most of the things I've put into WordPress to not exist anymore – because then that means other voices have become part of WordPress," explains Tammie.
Welcoming more investment in the WordPress ecosystem in the future is also a great way to bring in diversity. This also allows people who need a job or who want to pivot their career to find it in the WordPress community.
Tammie also expects more frequent changes in interfaces. In Tammie's opinion, we tend to be tied to the interfaces, which can be a problem in terms of usability.
If we stick closely to an iteration of an interface, its extensibility will be limited. One size doesn't fit all when considering accessibility and usability, especially with both aging and younger users coexisting in the WordPress ecosystem.
Meet Tammie Lister and Hostinger at WordCamp Europe 2023
Tammie will attend the WordCamp Europe 2023 in Athens, Greece. She's looking forward to hearing some thoughts from other visitors and will also participate in the Contributor Day. She wants to be involved in many different teams, as more interesting discussions happen when you get multiple teams together and start talking together.
If you're coming to WordCamp Europe, it's your chance to talk with Tammie face-to-face. She will also be a part of the WordPress 6.3 Release Squad, so if you have any feedback or ideas for the upcoming updates, you can share them with Tammie.
Hostinger will also be in WordCamp Europe as a Super Admin sponsor. Be sure to visit our booth – we love to talk about all things WordPress and web hosting.