Gate Foot Forge: Ancient Craft, Modern Approach
Blacksmithing is one of the oldest traditional crafts – it dates back millennia. Owen Phillips puts a present-day spin on blacksmithing and brings it online for the world to see, buy, and learn.
Even though blacksmiths are rare nowadays, Owen was keen to make his business stand out. Gate Foot Forge is positioned as a one-stop blacksmithing solution. The business offers artisan metal handicrafts and homewares, repair services, and blacksmithing workshop packages, all available to book online.
Owen had had previous experience with different hosting providers and found Hostinger just before starting his own business. It was the perfect opportunity – this way, he could build and scale a website with the right provider from the beginning. 

The First Ember
Before Gate Foot Forge, Owen was a graphic designer for the event and hospitality industries. He had also built websites for his clients.
"This is a hobby that got out of control," Owen explains when asked how he got into blacksmithing.
As an outdoor person, he wanted to make a bushcraft knife for himself. It turned out he enjoyed the knifemaking process.
"I learned from some really good books for beginners. There were also quite a lot of very old, traditional books. They're freely available online, or people have compiled them into very cheap, fat books full of stuff from a hundred years ago," Owen elaborates.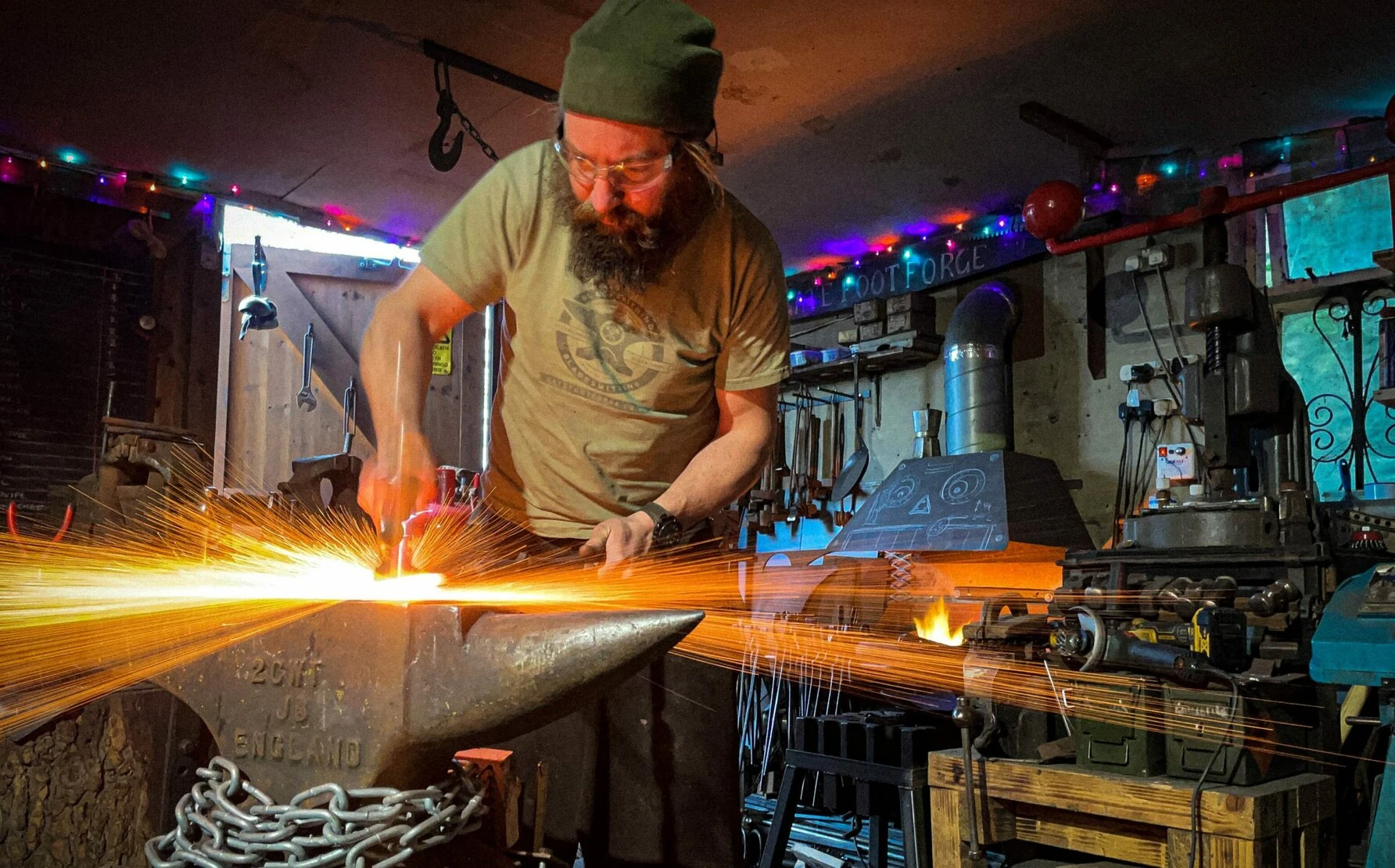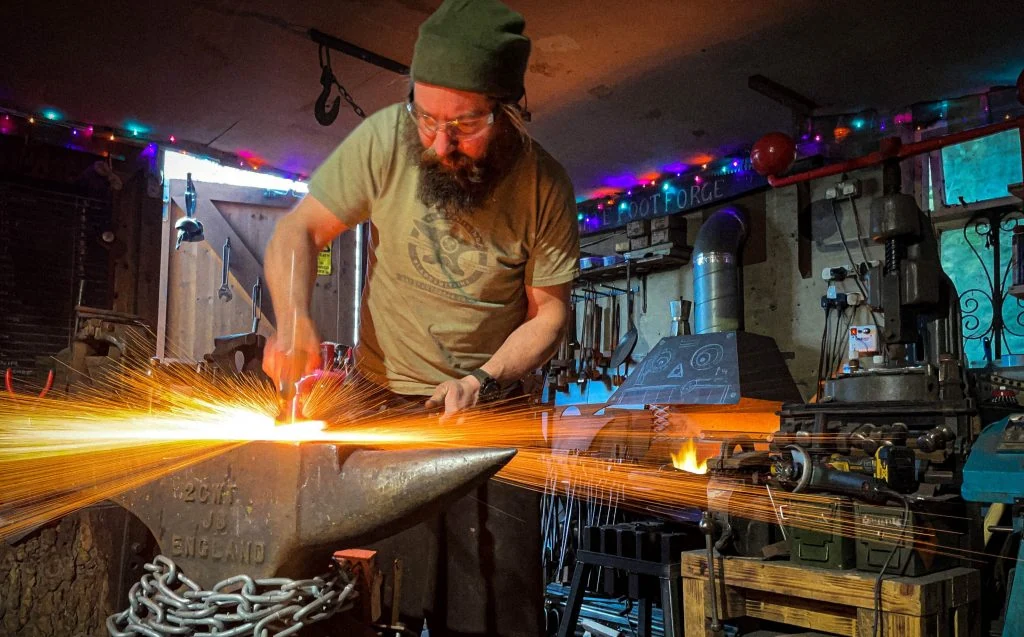 He continued experimenting and made more iron and steel works with the mini forge he had built. Meanwhile, other blacksmiths contributed significantly to his learning process.
"The blacksmithing community is fantastically helpful. I could just message them, and they'd draw diagrams and send me pictures or videos to explain how to do things," Owen says. "In this field, there are no secrets."
A few years ago, after Christmas, Owen started to take this hobby seriously. A couple of people mistook the trinkets he'd forged for them as presents as products from his new business venture. He had put little printed tags on them, making them look like commercial products.
His family and friends' reception to the gifts made him wonder: "I'm self-employed anyway. So I thought, why don't I spend a couple of days a week blacksmithing, then see how things go?"
And that was what he did.
Feeding the Fire
Gate Foot Forge's rise coincided with the emergence of the pandemic. A lot of graphic design projects that Owen worked on got canceled. He pivoted to the hammer-and-anvil path – what started as a hobby became his main source of income.
Owen's background in web design and development helped him kickstart the marketing of the business. He started by designing the logo and brand identity. After that, he created a WordPress website, set up social media channels, and set up an Etsy account.
"The first sales were through Etsy," Owen remarks. "It's a huge marketplace for people looking for handmade stuff. So it was good for starting out."
He shared his products and working process on social media, which helped spread the word about his works. This went hand in hand with the positive word-of-mouth from Owen's satisfied customers.


Additionally, Owen set up Google Business. Now, when someone searches for a blacksmith in his area, Gate Foot Forge will pop up as a result.
"I find it interesting because when people walk in, I never quite know what that job will be. Sometimes people would just come in with all kinds of broken things. In a society that's too quick to throw lots of things away, it's nice to be able to fix stuff and extend products' life span."
The cooking tripod for campfires has been Gate Foot Forge's most popular product so far. "My friend from Wales originally requested it, and now I've sold almost 500 of those. I've shipped them all over the world, from Singapore to the USA," he says.
Shaping Online Success
Even though Gate Foot Forge had a website from the get-go, Owen realized only later that it'd be better to focus on making sales via the website.
His main issue with Etsy was the sizable commission. Owen understood that selling directly from his own website would make him entitled to the whole revenue.
He also noticed the other things that a website could do, including better branding opportunities. "It's better to have 'gatefootforge.co.uk' than a link to my account in a long URL with slashes written on the side of my pickup. It's easier to remember. People can go and buy stuff from there," Owen explains.
The website also makes it easier to connect with his customers, as people come to the website specifically for Gate Foot Forge. There's also more space for stories about blacksmithing and what he's up to – his audience loves them.
Most importantly, the website helps Gate Foot Forge stand out. The blacksmith community is mostly offline, so taking the business to the internet increased its brand awareness.
Setting up the Gate Foot Forge website with Hostinger was easy. Owen stresses that he didn't need to talk to customer support once – everything was running like clockwork.
"The process was fast. I could manage the hosting, domain name, and SSL certificate in one place, which was really refreshing. The migration process was pretty straightforward, too," he smiles.
Forging Ahead
Moving forward, Owen plans to expand his workshop. As he also accepts commissions, he wants to take on bigger jobs like sculptures and gates. He hopes to start using bigger machines soon to diversify and increase production.
"At the moment, I'm doing everything by hand. Nothing will make you fall out with your neighbors like installing a power hammer next door," he laughs.
He's also keen to teach blacksmithing to the younger generation. He's noticed there are a lot of children who are interested in handicrafts. Owen wants to do talks and blacksmithing demonstrations at schools, which, he feels, have forgotten a lot of traditional crafts.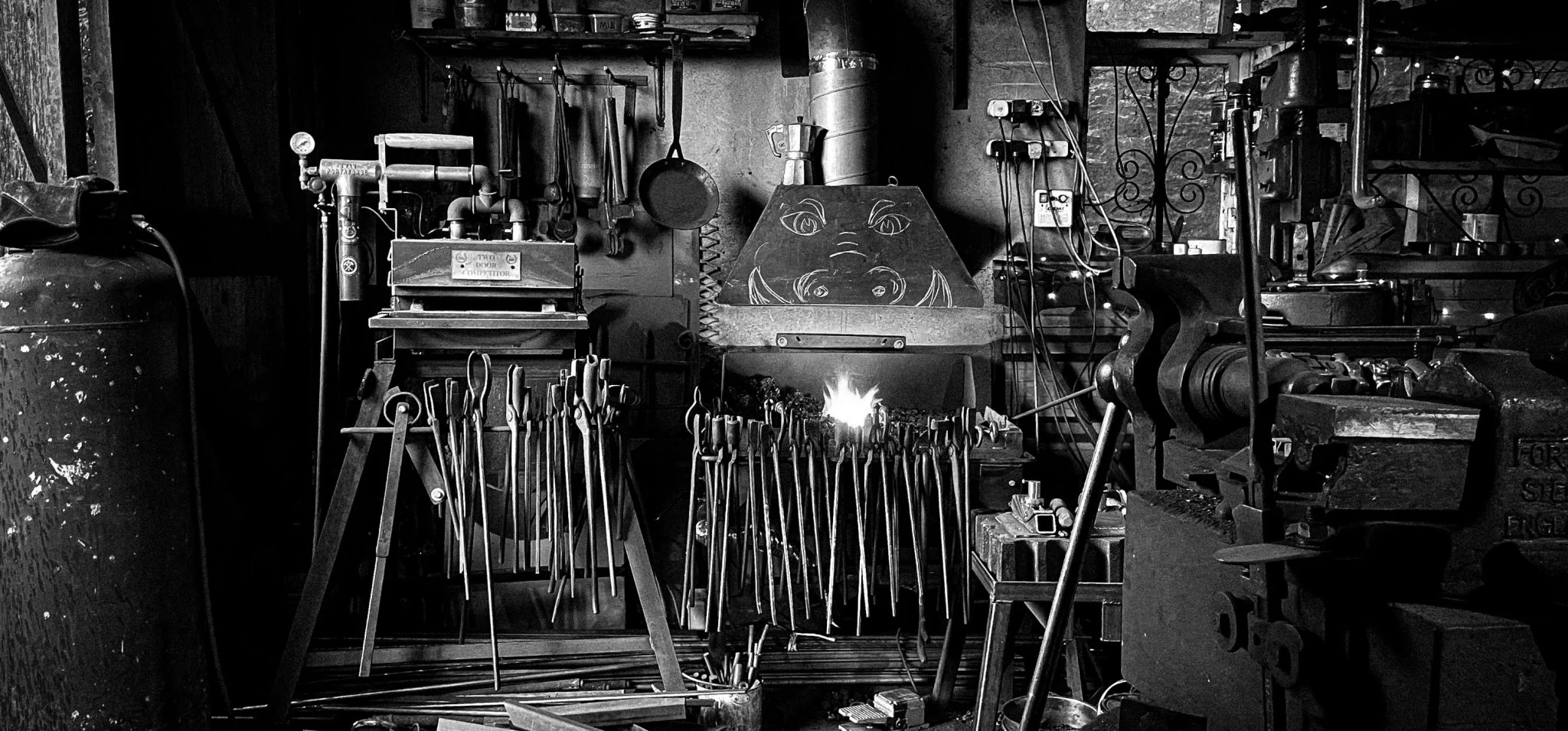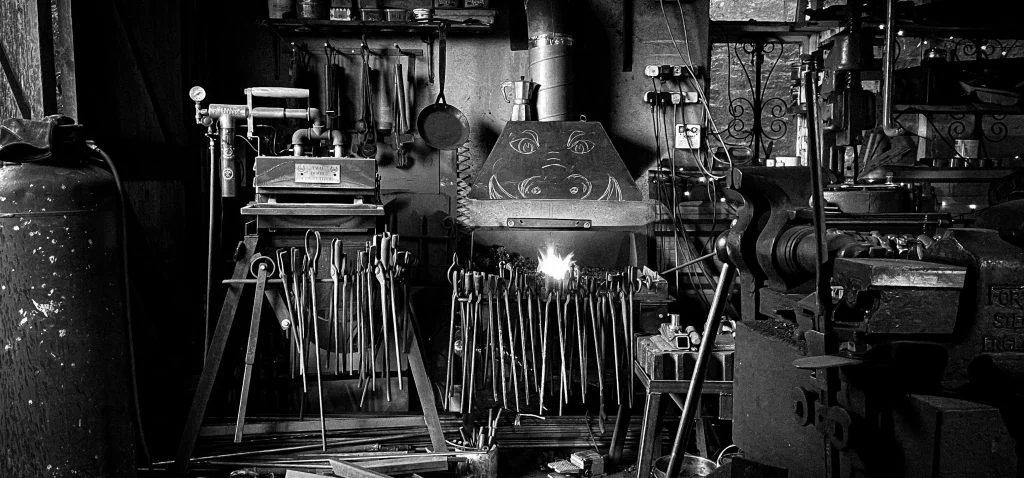 "People thought blacksmithing is a dying trade, whereas there are about a thousand working blacksmiths in the UK. The scene is actually quite busy because there's a lot of work going around that's only shared between relatively few people. There's a shortage of blacksmiths here."
He aspires to help fill this gap. For now, Owen does that by offering blacksmithing and knifemaking workshops through his website. He wants people to see that everyone can take up handicrafts – either as a hobby or for a living. Especially with the power of the internet.
"Doing what I do now would probably not be viable without the website. Or at least it would have taken me an awful lot longer to get going. If you're hoping to take a craft hobby and turn it into a successful business, just get cracking," Owen laughs.