Wednesday October 18, 2023
Describe Your Business and Hostinger AI Website Builder Will Create Your Unique Site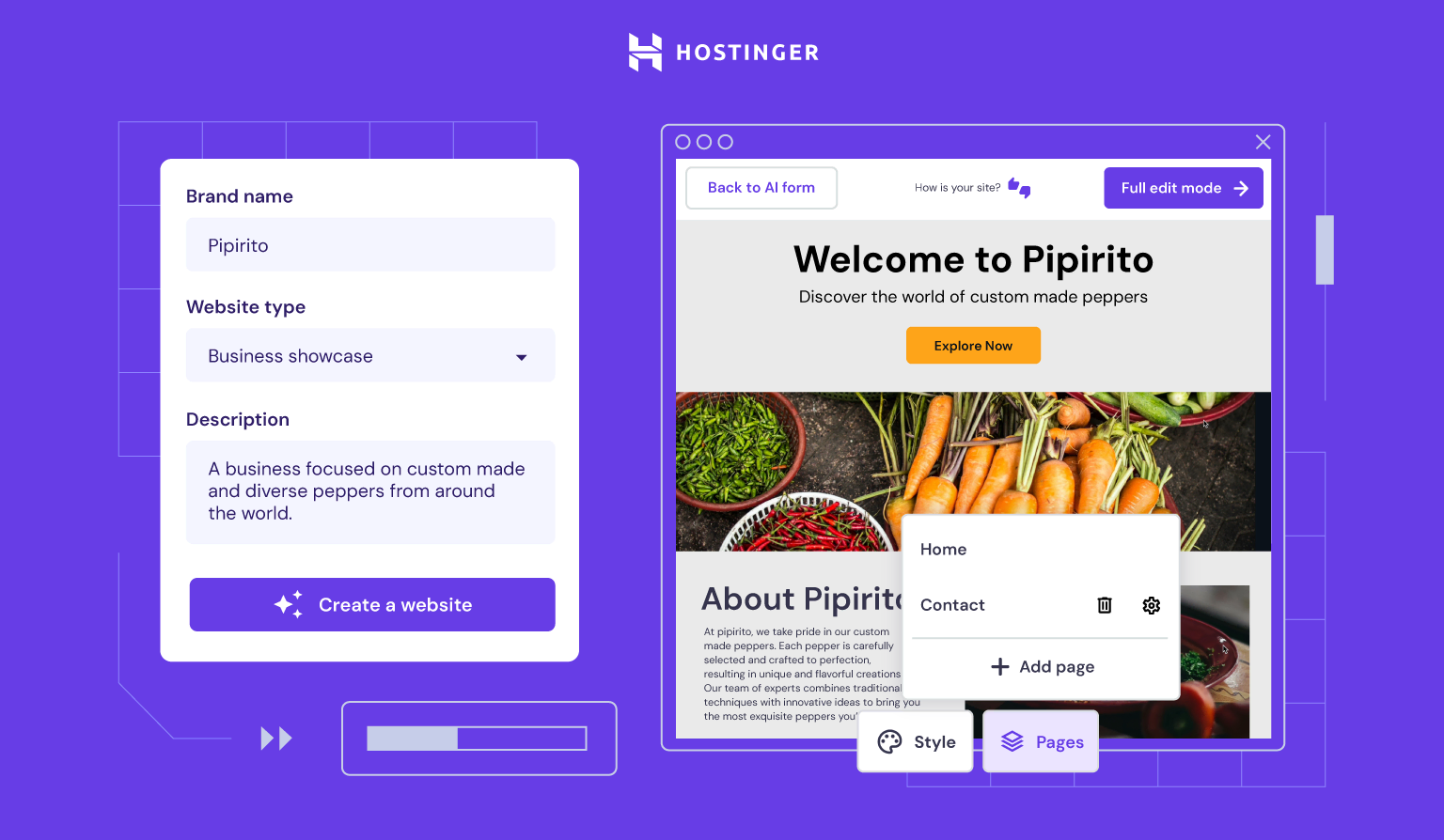 You only need a name, a website type, and a short description to get a website with Hostinger's AI-powered website builder. The most recent update ensures that every website AI generates is unique and that the design and content fit the nature of the site.
The website creation process remains the same and takes only four clicks. After choosing the AI Website Builder, you just need to describe your business or project.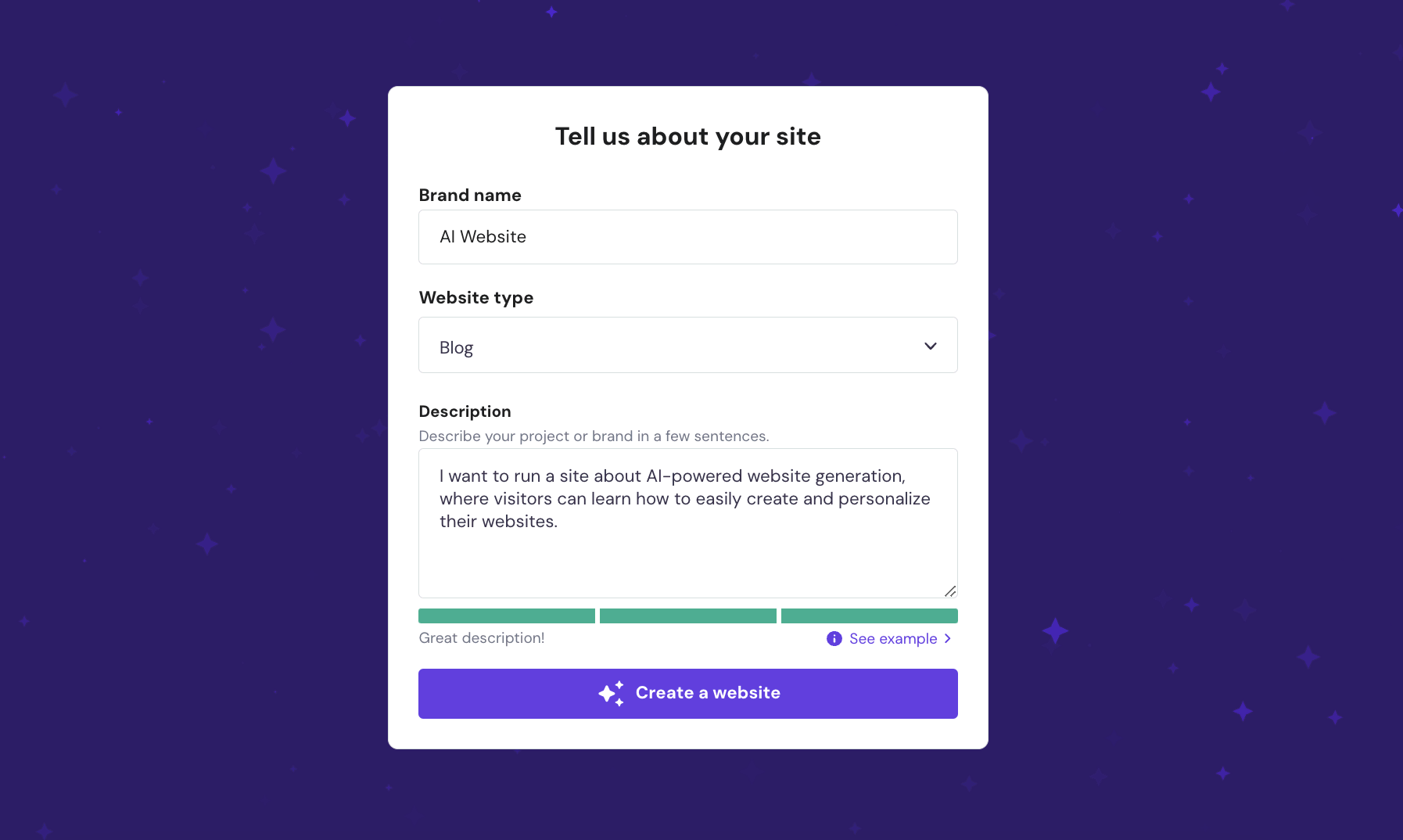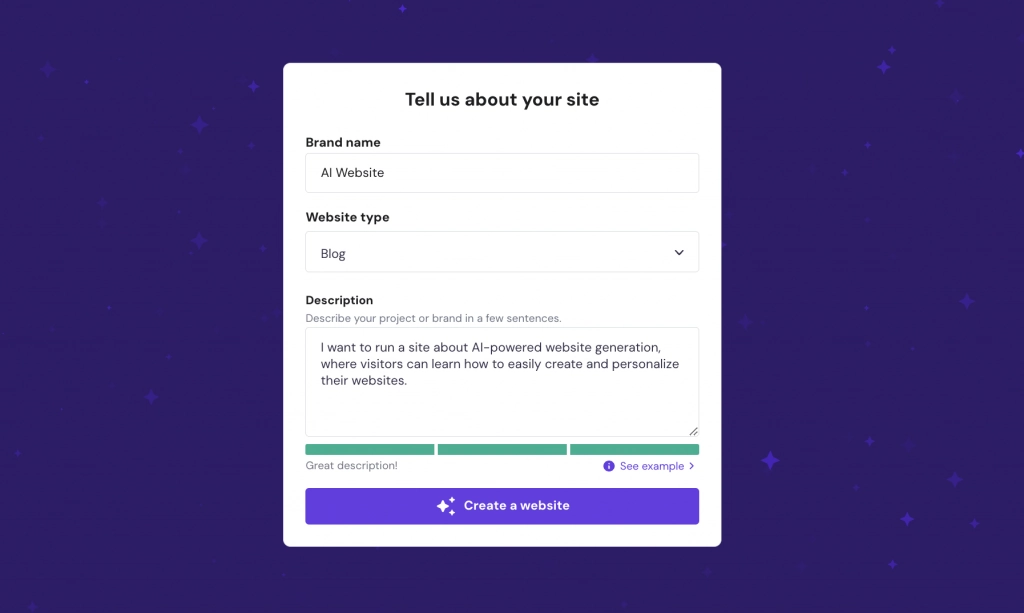 The AI will automatically prepare the page structure, layout, and mobile view. Then, it will generate your unique content, choose relevant pictures, and perform other technical tasks. While this might sound complicated, your unique website will be ready in less than a minute.
If you are unhappy with it, return to the AI form by clicking the corresponding button on the page's top-left corner. Refine your request, or don't even change anything – the newly generated site will still differ from the previous version.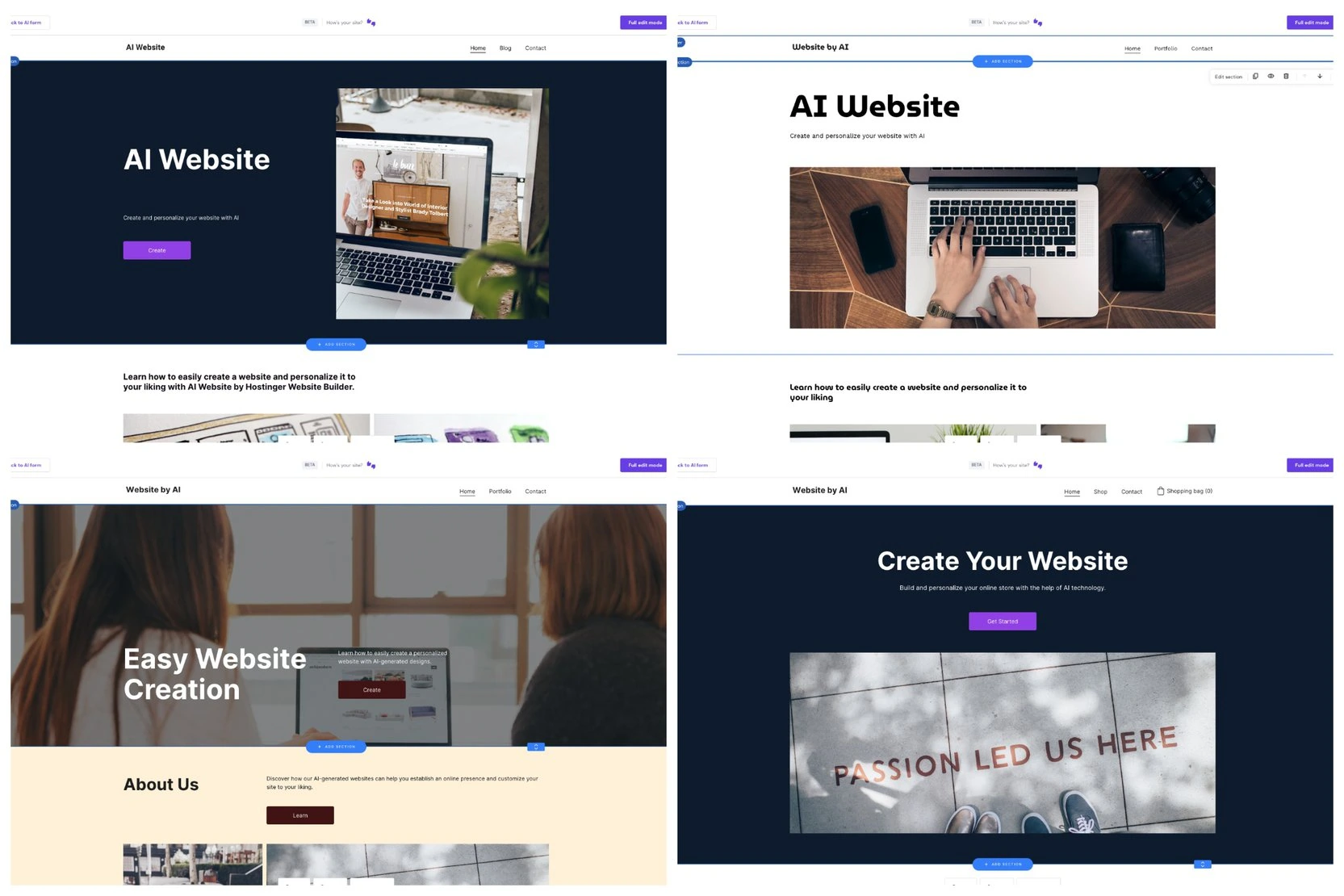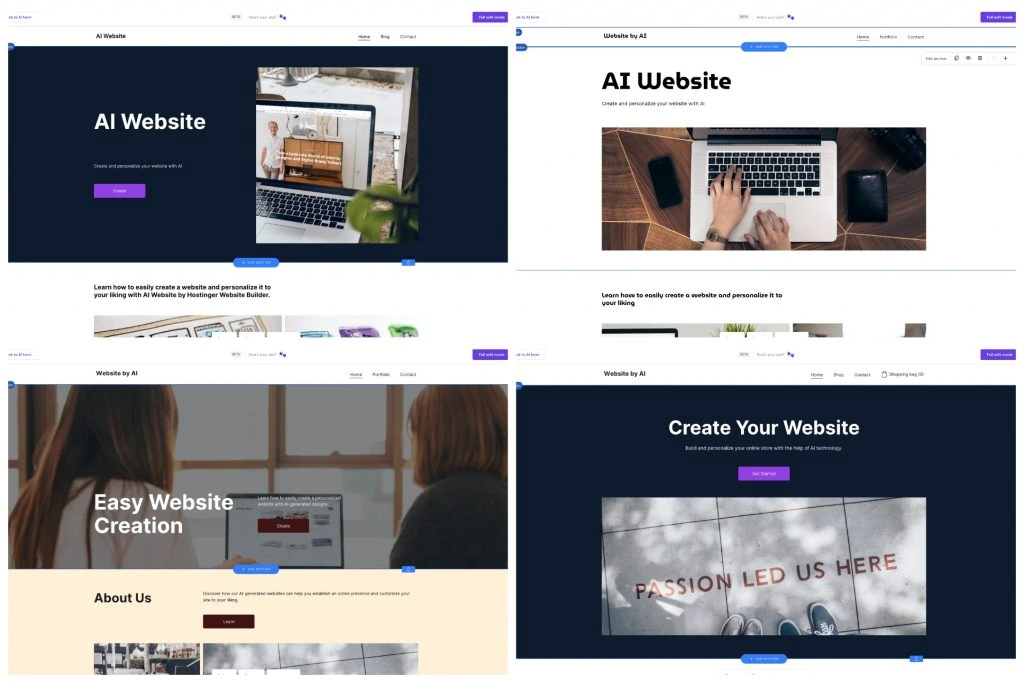 Once satisfied with the result, personalize the site to your liking. Enter the Full edit mode for complete customization. Change colors and fonts, drag and drop page elements, add, remove, or switch sections, and make other adjustments to get the website you want.
Advantages of the New AI Engine
Our earlier AI integration used several predefined templates and added relevant content to them. In some cases, websites were very similar to each other.
The new AI engine generates a sitemap of website pages and their sections. It then injects a suitable variation for each of the sections.
Simply put, AI uses the same framework to create a new, unique website for every request it gets.
This way, every blog, online portfolio, or business showcase generated by AI differs. The advantages are threefold:
Bigger variety of site layouts. We're also working on more design options to expand the choice even further.
The same website type can cover more use cases. With a Business showcase type, a restaurant website can now have a separate menu section, and a personal coach site can include an appointment section.
Websites are much more complete. The relevant pages are generated based on the initial description, and additional ones can be added anytime.
More AI Tools in Hostinger Website Builder
AI builder is one of several AI tools in Hostinger Website Builder. Here's how AI can make web development easier and more efficient:
AI Writer. Describe your idea, and get unique, compelling, and SEO-friendly content. It can generate any kind of content, including blog posts, pages, or even product descriptions, to boost your SEO performance and user experience.
AI Heatmap. Analyze your website's design and structure to predict user behavior. By using the heatmap, you can adjust the layout, font sizes, images, buttons, and other design elements so that visitors notice exactly what you want to show them first.
AI Logo Maker. Upscale your visual identity with a captivating logo. Share your brand name and slogan, describe your ideal logo, and choose a design from the AI-generated options. Just a few clicks, and you can start using your new logo everywhere.
Other Hostinger Website Builder Benefits
The best part of using Hostinger Website Builder is that you don't need coding or web design skills. Anyone can create a website, including a business site, a portfolio, or an online store.
For more experienced users with specific preferences, get started with one of 150 designer-tailored templates and make your website stand out.
Sell online without additional transaction fees and optimize campaigns with integrated marketing tools. Create and edit websites with your smartphone. It's all included. With the Website Builder & Web Hosting plan, you also get a free domain, emails, up to 100 websites, and dozens of tools and features to ensure the security and performance of your online business.

Curious to learn more? Check out a broader overview of Hostinger Website Builder and learn how to use it.