So you've decided to try your luck and hop on the Facebook marketing bandwagon. A very wise choice. But how can you be successful on this platform with so many businesses competing against each other? Don't fret, we're happy to help. In this article, you'll learn some tips and tricks on how to promote your business on Facebook.
What Exactly is Facebook Marketing?
Facebook marketing refers to the act of building, promoting, and maintaining your brand on Facebook. The ultimate goal is, of course, to increase traffic and sales.
As the biggest social network in the world, Facebook is still the go-to choice when it comes to social media marketing.
If you haven't used this platform as one of your marketing strategies, you're completely missing out on tons of opportunities. This site has about 2.27 billion active users — or 29% of the world population!
That means, there's a big chance that your target audience is on Facebook. No matter what kind of group you're aiming for, there's plenty of them on this social site.
So why don't you give it a try?
Marketing with Facebook
Facebook has come a long way in providing the best marketing features. You can use two main methods in this platform: Facebook Pages and Facebook Ads.
Facebook Pages
Using Facebook Pages is the most obvious trick in the book on Facebook marketing.
It's essentially setting up a profile for your brand or company in order to get more exposure.
The main difference between a personal profile and a page is the way users interact with you. Instead of sending a friendship request, they can "Like" and "Follow" your page and see any updates in their newsfeed.
While setting up a business page is easy, the real challenge is to create a great one and gather a big enough following. A lot of pages are created every day, but most of them don't live up to their potential.
So, how can you create a page that compels people to click that "Like" button?
First off, let's start with something simple —  setting up the profile photo and cover image.
Your page's profile photo should be your brand's logo. It's that easy. Let everyone know about your brand's identity and show it off to the world.
Just take a look at the list of top Facebook brand pages and you'll see that they use their logos as the profile photo.
Now, the same can't be said for the cover image. Get creative here. You can use a simple photo that represents your brand's niche like L.L Bean, or display an attention-grabbing video like WIRED. It's really up to you.

Next, provide a short and simple explanation of what your brand does in the "About" section. After all, your goal is to attract potential customers, right? So cover the necessary info and then add some unique facts. It'll spark some interest.
To get you inspired, Mabel's Labels is an excellent example of writing a good "About" section. They cleverly incorporate their goals and what they do into a story-like paragraph.
The full about section also covers other details like contact information, links to other profiles, location and working hours (if you have a physical office).
It helps people to know your brand better so don't forget to fill out that information!
When you're all set on the basics, you can add more additional features to your page by using Facebook Groups, Facebook Market, and Facebook Jobs. Then, study the performance of your page by using Facebook Insights.
Facebook Groups
Facebook groups are a fantastic way to boost your social media engagement. Users can ask questions and discuss anything related to your brand. And the great thing is, you can monitor everything as you're the admin of the group.
You can also use groups as a way to build your brand's community. It helps you to understand your customer and meet their expectations. That way, hopefully, they will stay loyal and even promote you to their friends and families!
Facebook Market
Got any products or services to sell? Setting up a shop is worth a try. It allows you to create a "Shop" tab on your page and list your products there. Hence, people don't have to scroll around to find what you're selling.
Facebook Jobs
Make your business page as a one-stop destination — even for your future employees!
With Facebook Jobs, you can post job vacancies easily and feature it on the "Jobs" section of your page. Job seekers also can find everything they need to know about you from there. What a beautiful way to create a first impression, right?
Facebook Insights
Facebook Insights gives you plenty of useful information about your page and your Facebook audience. The following are some reports that you can see from this tool:
The demographics of your following
The total number of likes and whether it's increasing or decreasing
How many users interact with particular posts
What type of content that's most popular
Weekly page views and unique visitor views
Pay attention to these reports and use it to your advantage. You can share the most popular content again — at different times, of course — to engage more audience. Alternatively, it's also possible to create a similar type of content and see whether it generates the same results or not.
Facebook Ads
Advertising on Facebook has never been so effective. Facebook Ads are so targeted so you can be sure that every penny spent is worth it. If you have a budget, consider investing some on Facebook Ads.
A great and successful ad is the one that can stop people from scrolling and entice the readers to click it.
Later, an Instagram post scheduler, provides a great example here. It has a catchy description, beautiful and appealing pictures, and an effective call to action text (Drive traffic and sales with Link.bio today).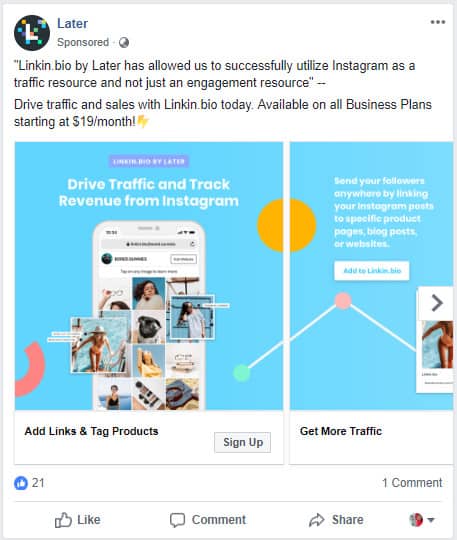 When using Facebook as one of your marketing strategies, think of it as an investment instead of an expense. The return can be direct sales, traffic, conversions, brand awareness, and so much more. It all comes down to how you set up the campaign in the first place.
Setting up a Facebook Targeted Advertisement
The first thing you need to decide when setting up a campaign is your goals: whether it's Awareness, Consideration, or Conversion.
Awareness: rising brand awareness
Consideration: engaging people and making them hooked on your site
Conversion: encouraging visitors to make a purchase
If you're just starting out and want to learn about Facebook marketing, your best bet is to choose the Awareness goal. Introduce your brand first, and sales will come later.
The next step is very crucial for the success of your campaign: define your audience.
As the brand owner, you must know what kind of group you're targeting. Don't aim for a broad audience because it'll never work. You'll only end up spending money on people who are not interested in you.
On the plus side, Facebook offers the number of potential reaches you can get based on your audience definition. In addition, it also tells you whether your audience is too broad, too narrow, or just the right size.
For example, we tried to create a Pizza advertisement that targets people who live in New York, age 18-65+, male and female, speak English, and show interest in Pizza. This demographic gave us an estimated reach of up to 4.200.000 people, with up to 3.000 reaches per day.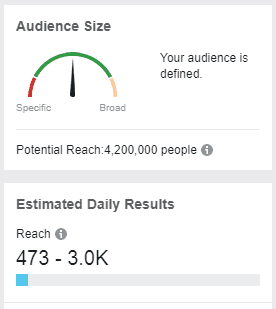 You can put out different ads for different target audiences in order to get a bigger return on investment. As each demographic has its own needs, an ad that specifically made for that group will have a higher chance to perform better.
Let's say if you have skincare products for women, you should create several ads for women with normal, dry, or oily skin. The image and the ad copy (text) should cater to their needs.
The last step you need to do is to set up your budget and schedule.
Choose how much money you're willing to spend every day and how long the ad runs. Or, alternatively, you can also choose to set a lifetime budget instead. It's the maximum amount you want to spend during the lifetime of your ads.
Facebook Ad Types
Facebook offers a wide range of ad types to meet the needs of various businesses. To create a successful Facebook marketing campaign, you'll have to use a type that's proper for your business.
Below are the basic format of Facebook ads:
Image ads — the most common type. Use interesting images related to your brand.
Carousel — features several pictures in one ad.
Slideshow — also features several pictures, but they are presented in a video.
Video ads — capture your audience's attention with short videos.
Collection — features a cover video or image as the main element. When clicked, it'll display thumbnails of several product images related to the cover image. This is a perfect ad type for ecommerce sites as you can showcase different products in an elegant way.
Instant Experience — previously called Canvas. It's a full-screen interactive ad that enables your audience to swipe through a carousel of images, watch videos, fill out forms, and so much more! You can combine all types of Facebook ads here.
If you're unsure when choosing the best format that fits your niche, do some research first. Try to see how your competitors are doing and learn from them. Write down some tricks that they use, then try it for yourself. Experiment a bit and find out which format works best for you.
Conclusion
Marketing with Facebook should always be included in your list of marketing strategies. No matter what kind of business you run, this platform can accommodate all your needs.
The great thing about Facebook marketing is you don't have to spend money right off the bat. Start for free and build your audience with Facebook pages. When you have enough resources to spend, then consider creating Facebook ads to reach a wider audience and generate more sales.
It can take some time to learn all Facebook's marketing features and make the best out of it. A lot of trials and errors will happen before you can generate followings and sales. But in the long run, all of it will definitely worth the hard work.