Thursday October 26, 2023
WordPress AI Assistant Update: More Choice and Control for You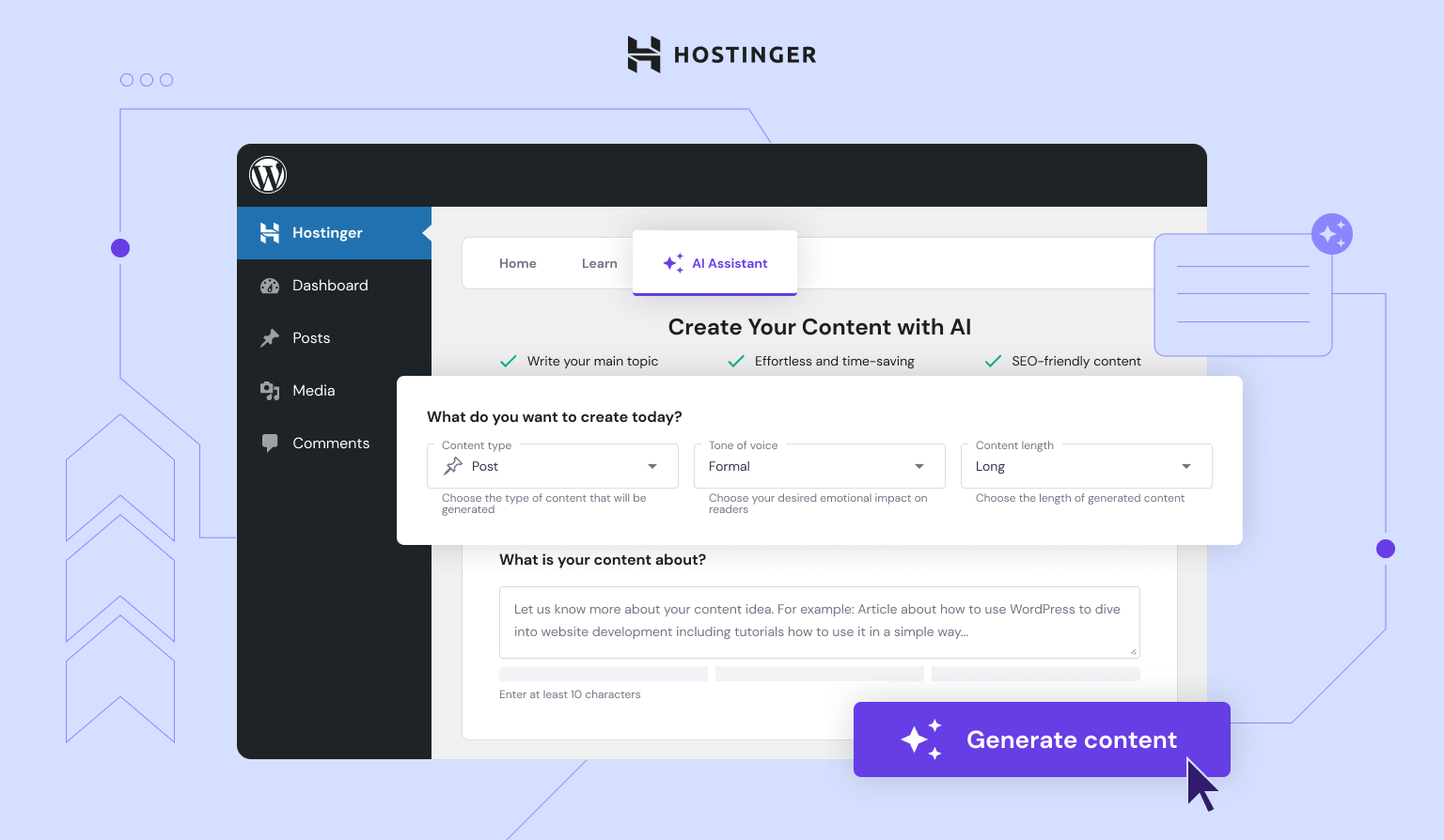 Generate nearly any type of content for your website. Control its length and tone. Improve your click-through-rates (CTR) with a captivating meta description. You can do it all with WordPress AI Assistant, our free plugin available with Business and Cloud Managed WordPress hosting plans.
Relevant content is crucial for attracting a larger audience to your website, and WordPress AI Assistant is your sidekick for this task. Just share an idea, and artificial intelligence (AI) will take it from there, producing well-structured and SEO-friendly content for your website.
Since its introduction in August, tens of thousands of WordPress enthusiasts have generated over 100,000 unique content pieces with AI Assistant. We have also improved the tool based on lots of feedback and suggestions from our clients. These enhancements go beyond minor fixes and user experience improvements; the plugin has evolved significantly and is now officially out of beta.
What's New in AI Assistant?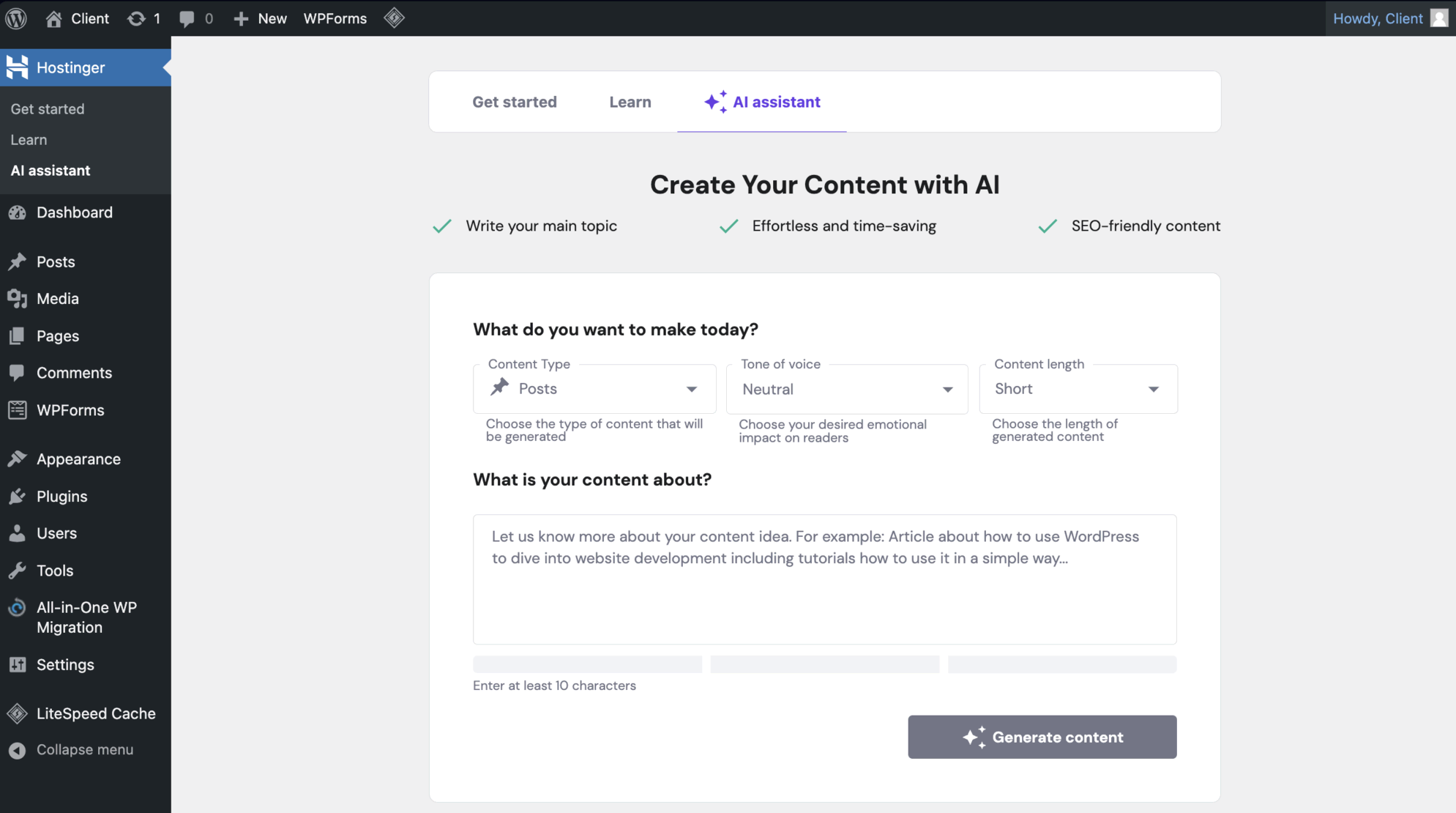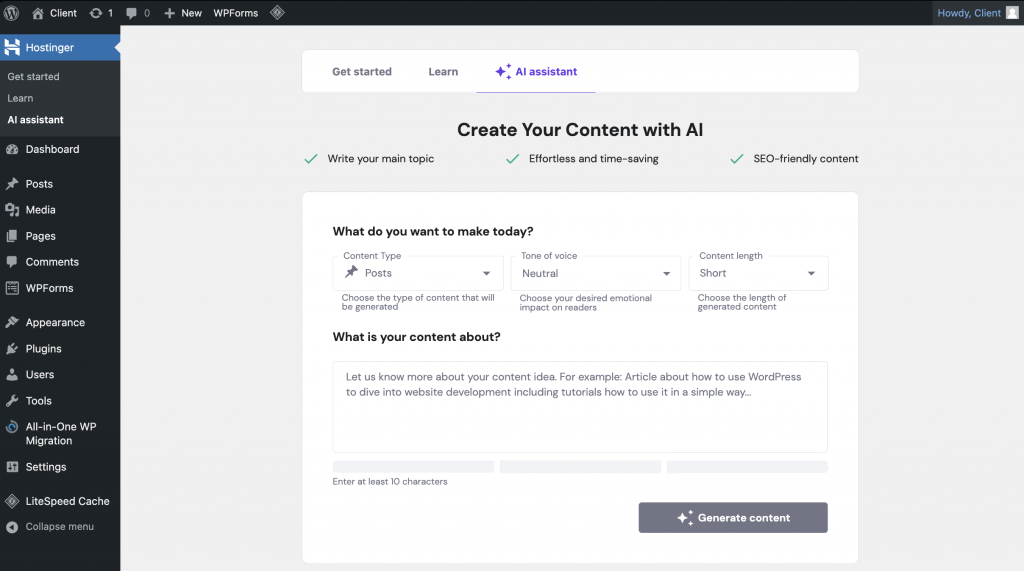 You can generate blog posts and other content types, including pages or product descriptions for online shops. As always, the content is optimized for search engines and includes focus keywords for easy discovery by visitors.
When generating content, you can input a single focus keyword, and the text will be optimized for it by adding relevant synonyms and semantic variations.
The plugin also automatically adds a meta description – a brief summary of the page or post. Meta descriptions are often used to generate snippets users see in search results.
What sets AI Assistant apart is its flexibility. Enhance your content and customize it to your specific needs by controlling its length and tone of voice. You can even select multiple tones if, for example, you want the content to be both formal and friendly.
The plugin can generate content in over 50 languages. Meanwhile, its user interface – what you see using the plugin – is available in ten languages: English, French, Spanish, Arabic, Chinese, Indonesian, Lithuanian, Portuguese, Ukrainian, and Turkish. The interface automatically adapts if your WordPress dashboard language is set to one of those mentioned above.


Go ahead, check out how to use AI Assistant, and start generating captivating content for your WordPress site with ease. Stay tuned – we will continue to enhance our plugin and Managed WordPress hosting plans to make your online journey a breeze.