WordCamp US: Connecting A Global Community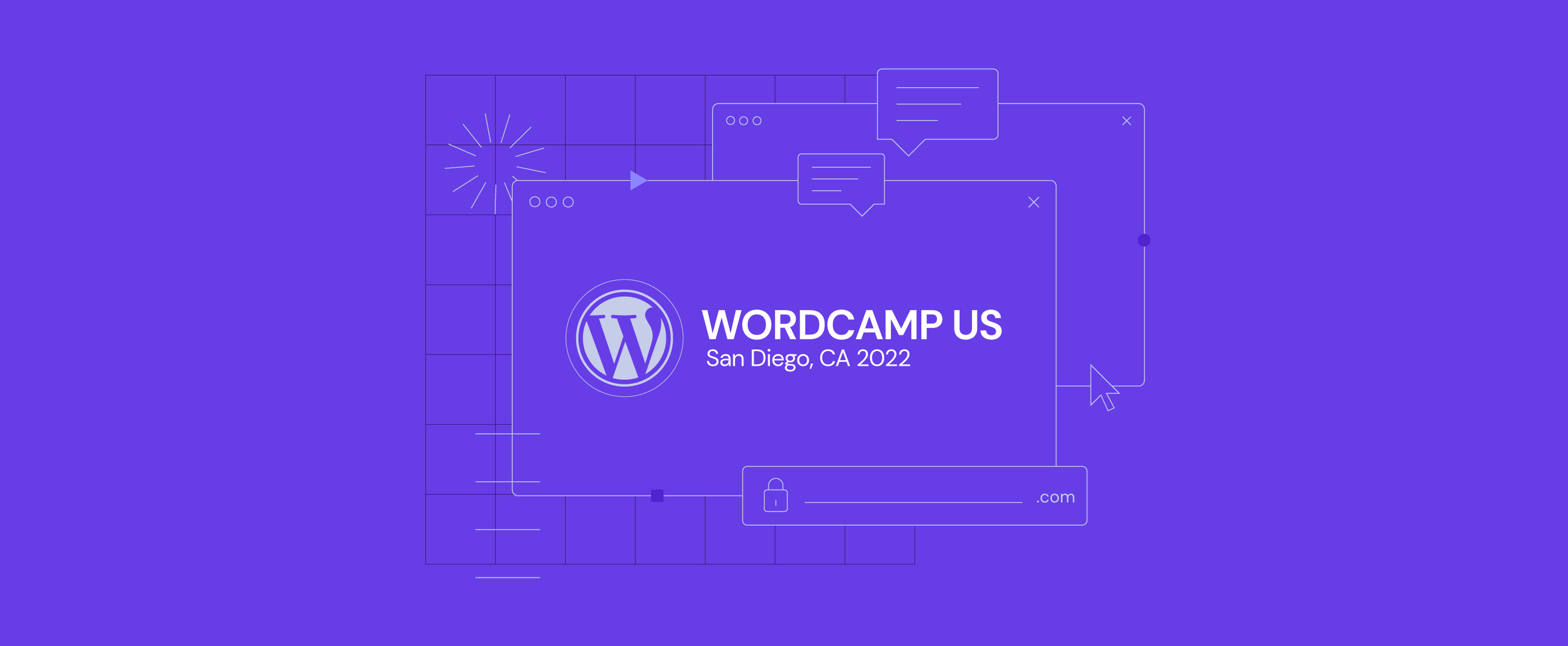 Hostinger is proud to sponsor WordCamp US as part of our commitment and contribution to the worldwide WordPress community.
If we learned one thing from our experience at WordCamp EU in Porto this summer, it's that we want to be with the WordPress community to help, learn, and grow together.
From September 9 to 11, we'll be at WordCamp US in San Diego to give as much as possible to make WordPress even better.
Why We're Headed to WordCamp US
Becoming a part of the global community of passionate WordPressers presents a unique opportunity to interact with our clients and gather insight into the needs of WordPress users so we can continue to improve our service and facilitate our clients' online success.
Most of our users choose WordPress as their go-to CMS – currently, 70% of all new hosting customers use it. This makes our goals at WordCamp US simple:
Represent and pitch in on behalf of our users.
Help WordPress from the bottom-up by connecting with the community and contributing to the technology.
Learn how to provide the best possible WordPress experience and performance for our users.
Preparing for Our First WordCamp
Customer Obsession is business as usual for us – we collect and analyze client insights, especially regarding our product and WordPress usage. WordCamp EU '22, however, presented an entirely different prospect.
We want to meaningfully contribute to the WordPress community and make a difference in how we serve WordPress users. And there's no better place to trade knowledge and get the feedback we need to create more success for our users than at an event with over 2,300 WordPress gurus.
It was our first-ever WordCamp. We were very excited – but also had our reservations about jumping into the tightly-knit WordPress community. We wanted to start things off right.
We did our due diligence gathering information on how we should approach the event and introduce ourselves.
This led to us participating as a Super Admin Sponsor. Our crew of 29 Hostingerians armed with a Next-Gen web hosting solution came to contribute to and communicate with a community we believe in.
What We Learned at WordCamp EU
Our clients value transparency, and it is a guiding principle here at Hostinger. Instead of trying to sell the technology we brought with us, we looked for radical feedback. We asked about real-world experiences with our services, what we did right, and, most importantly, what we could improve.
Even for a business, such feedback may be daunting – but we like challenges. Massively grateful for their input, we took note of what our peers had to say about us.
Then, it was our turn to talk about what we're most proud of – the way we work.
Our quality standards and operating principles like Freedom & Responsibility, Courage & Candidness, Learn & Be Curious, and Bias Toward Action are the real reasons why we have our Next-Generation Web Hosting Technology in our back pocket.
At WCEU, we learned that the WordPress community is driven by people who share the same values. We met dedicated inspiring people who showed us where to direct our enthusiasm for WordPress and how to make sure our contribution is as efficient as possible.
How We're Giving Back
Mutual exchange is the foundation of every community, and the WordPress community is one that we want to grow alongside.
While we're proud of the developers who brought us the resources, experience, ideas, and technology to improve the WordPress experience for everyone, we are even more excited to be able to continue to learn and achieve by working to connect a truly global community.
WordPress doesn't like to speak about itself too much, but its Five for the Future initiative encourages organizations to dedicate 5% of their resources to the development of the CMS that powers over 40% of all the websites in the world and we're all in.
Currently, we have 20 contributors pledging 71 hours per week and contributing to 7 WordPress development teams: core, hosting, meta, support, documentation, marketing, and polyglots. Our goal is simple – help make WordPress and its ecosystem better for everyone.
The Essence of WordPress
Now it is time to start using our resources to shine a light on the individuals, self-starters, and small businesses who genuinely use WordPress every single day.
Whether it is Sally and Edgar, proudly following their wildest dreams, Jake building his own business, or a group of 27 volunteers literally saving lives by raising more than 1 million euros to safely house over 33,000 Ukrainian refugees – our users are WordPress users, and we want to celebrate them even if it's something as small as a bit of good old-fashioned blogging.
The individuals who make the WordPress community more than the sum of its parts and the opportunity to meet more of them, learn from them, and do everything we can to give back are why we're flying out to WordCamp US this week – and it's why you can expect to see us at similar events in the future as well.