How Cinq Galerie Achieved Black Friday Success With Hostinger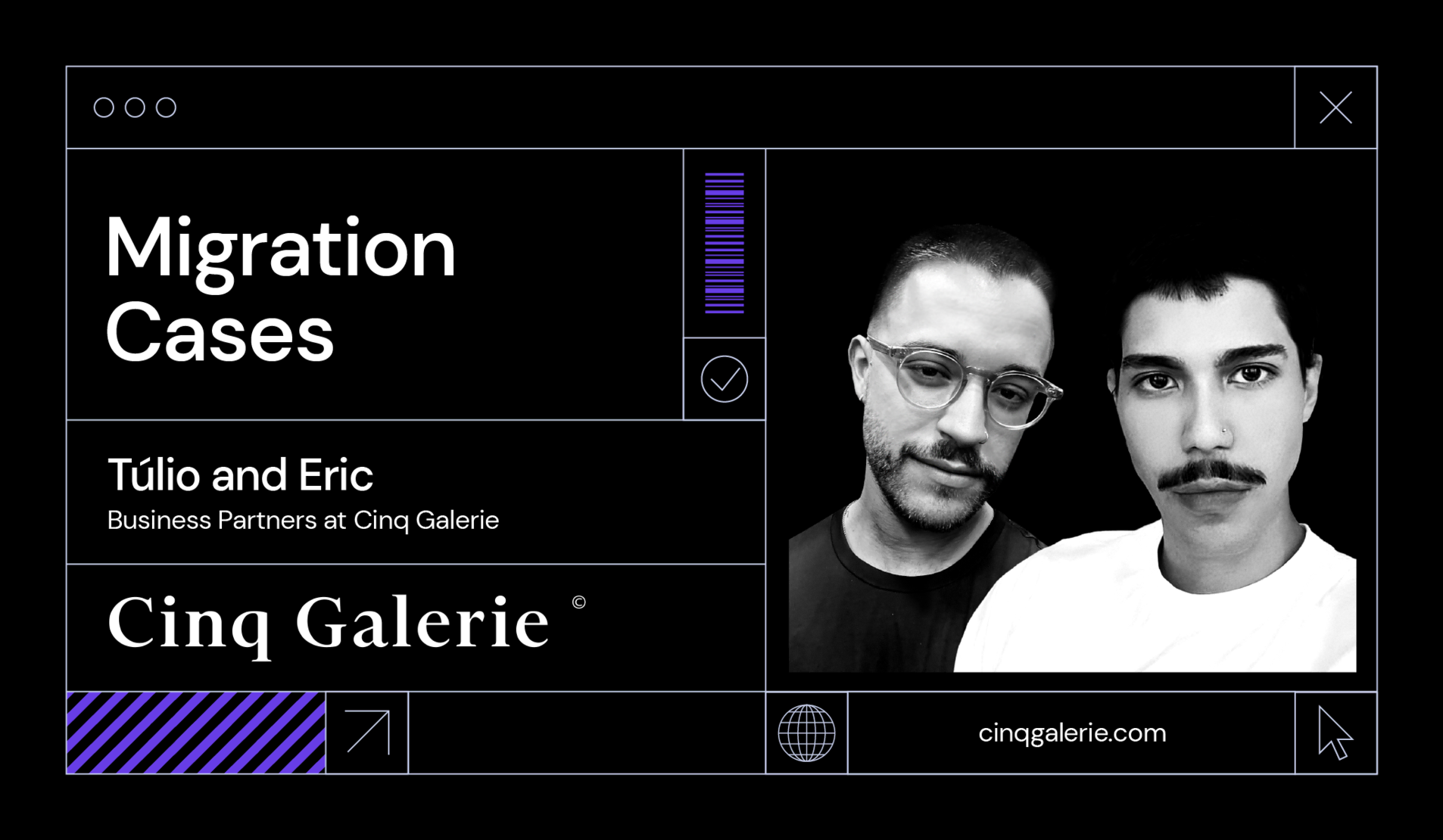 In the eCommerce world, your website uptime can make or break your business. After consecutive downtime incidents, Túlio and Eric were looking for a web host that could keep their online store up 24/7 – no matter how big the traffic gets. Discover how migrating to Hostinger has improved their website performance, reliability, and customer experience.
Background
Cinq Galerie is a São Paulo-based online fashion store by Túlio Herani and Eric Henrique. Inspired by Túlio's experience in the US, the company sells clothing items from select contemporary and streetwear brands in Brazil.
As an industry newcomer, Cinq Galerie aims to offer a brand-new online shopping experience for style enthusiasts in the country.
Challenges
Since Cinq Galerie is exclusively available online, having a highly-functional and well-designed website is crucial for Túlio and Eric.
"When users land on our website, we want them to feel like they are in a physical store. That's why we focus on improving our user experience and solving our customers' problems. Most of our competitors lack this aspect," said Eric.
Initially, Túlio and Eric hired a web developer who built their online store on WordPress. It was hosted on a local hosting provider for the first six months.
Unfortunately, issues arose immediately. The web host's server performance proved unreliable, especially during peak traffic hours.
"Our online store took more than six seconds to load. Worse, our site would crash every time we launched a campaign because of increased traffic, taking us more than one and a half hours to restore it. We were flooded with customer complaints." they shared.
They ran into problems when updating their website, too. "WordPress would go offline if we uploaded new products or photos in bulk. Changing prices for each item also took us a long time," Eric commented.
Cinq Galerie needed to grow, but the web host was holding it back. And with Black Friday coming up, Túlio and Eric had to act quickly.
Solution
When Túlio and Eric thought of alternative hosting solutions, Hostinger was one of the first names that came to their minds. They had once taken a web development course and purchased a plan to host their project at the time.
Recalling their positive experience, they decided to get a Business WordPress plan and migrate their website there. It offers up to 200 GB SSD storage and unlimited bandwidth – perfect for a small to medium-sized online business.
With the help of Hostinger's global Customer Success team, the online store was transferred smoothly.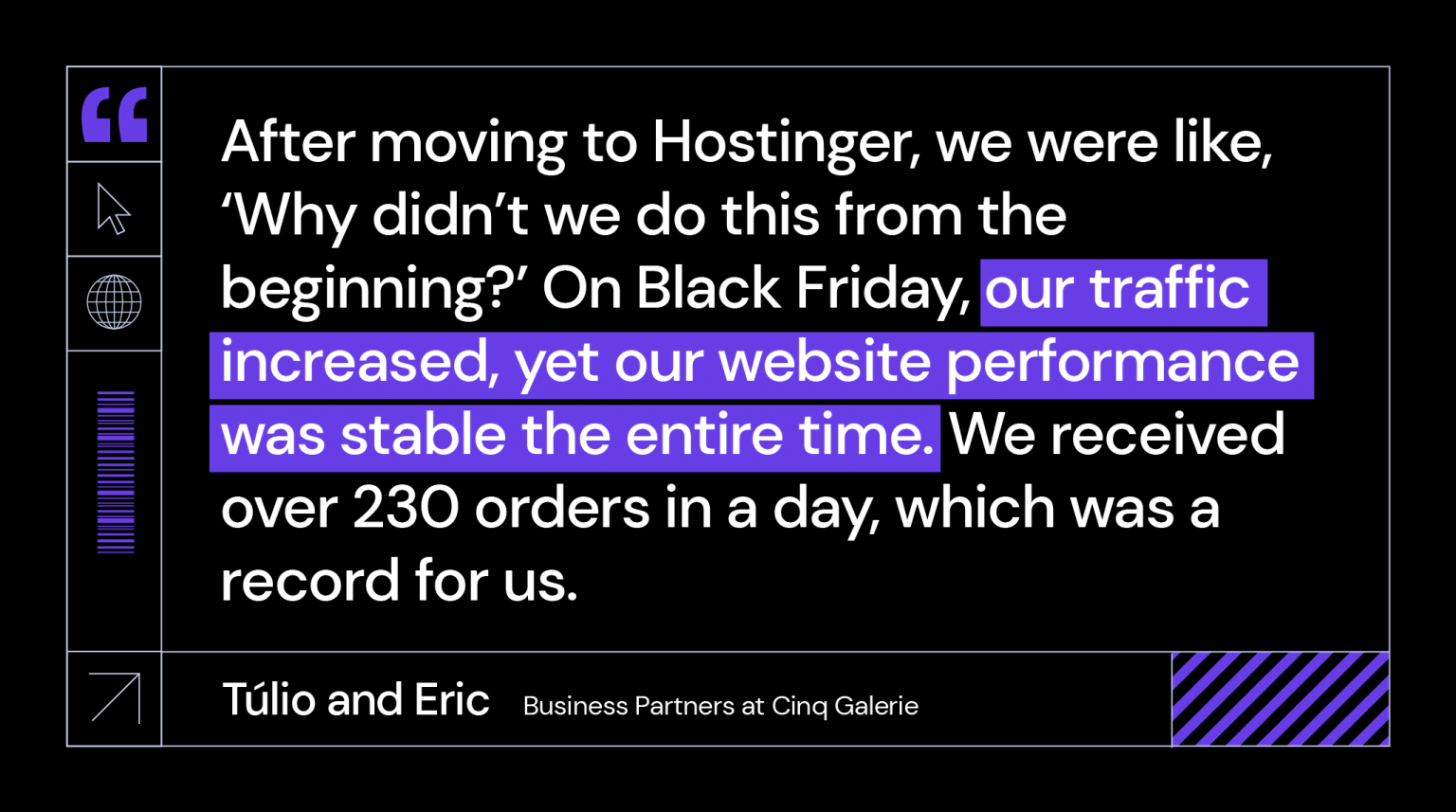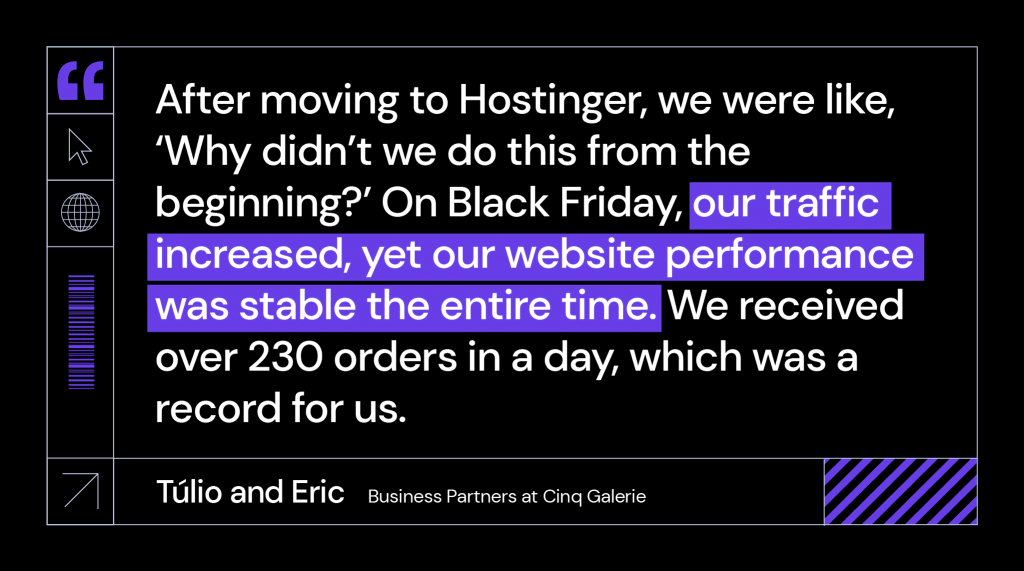 Seeing this success, Cinq Galerie launched over nine sales campaigns back to back in December. The website never went offline once.
The back-end WordPress user experience also significantly improved.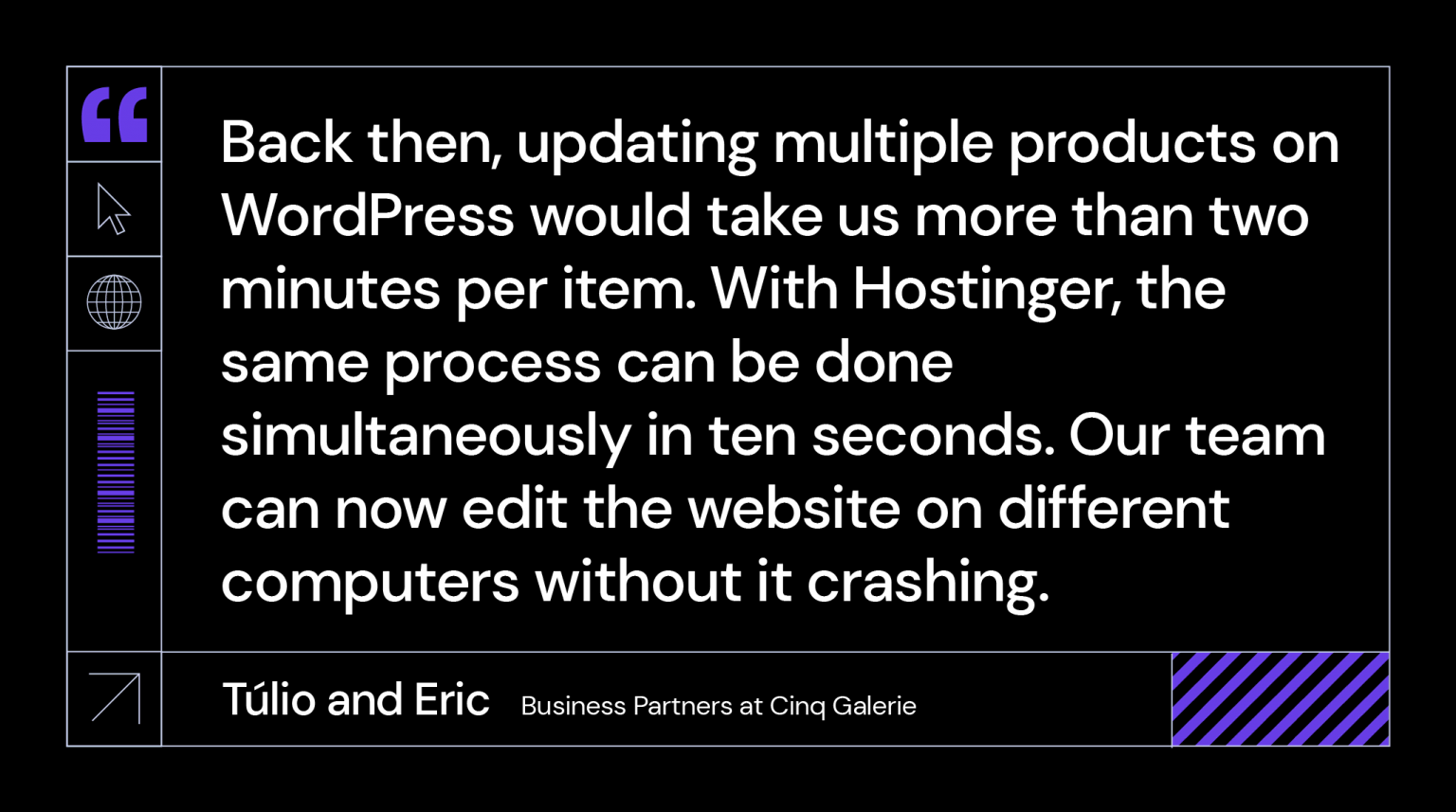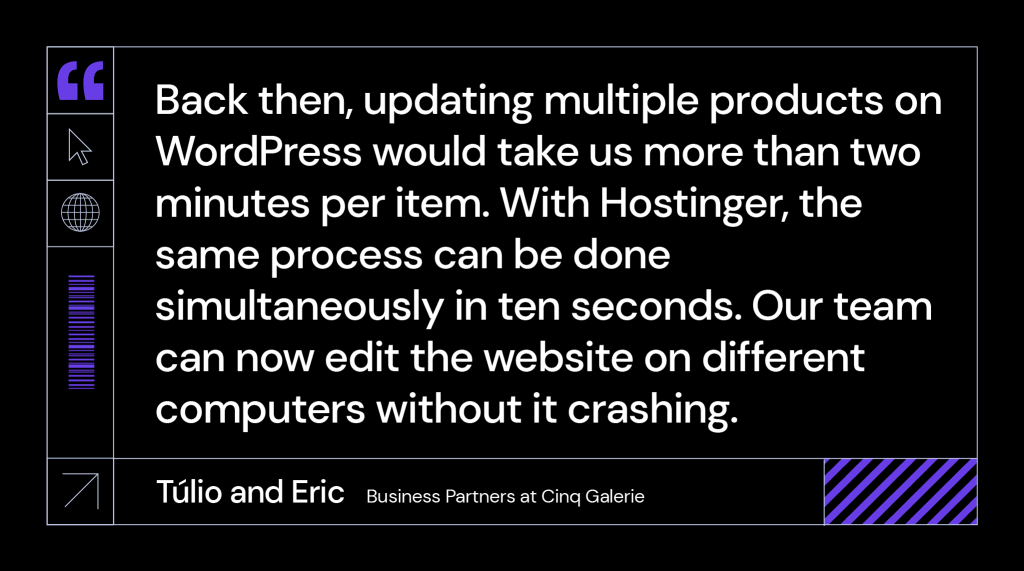 With Hostinger's 99.9% uptime guarantee, clients can rest assured their websites will always be up and running, even during traffic spikes. We always let customers know when there is upcoming maintenance, and they can check out our systems' statuses for more information.
Furthermore, our hosting plans are powered by the LiteSpeed Web Server. Our speed comparison tests have proven it to be the fastest out of all the popular servers in the industry. Activating the built-in LiteSpeed Cache plugin can make your WordPress site score 100% on Google's PageSpeed Insights.
Today, Túlio and Eric manage the online store on their own, saving them money on development services.
"If we could go back in time, we would rather create the website ourselves. Hiring a developer wasn't the best investment for us. Today, you can build an online store for less than $200 (R$1000) and look for online tutorials to help you out. Back in the day, you needed more than $20,000 (R$100,000) to build a brick-and-mortar business," said Túlio.
Eric cited Hostinger Tutorials as one of the platforms that helped him build Cinq Galerie. It covers everything from building a website and marketing your business to solving errors.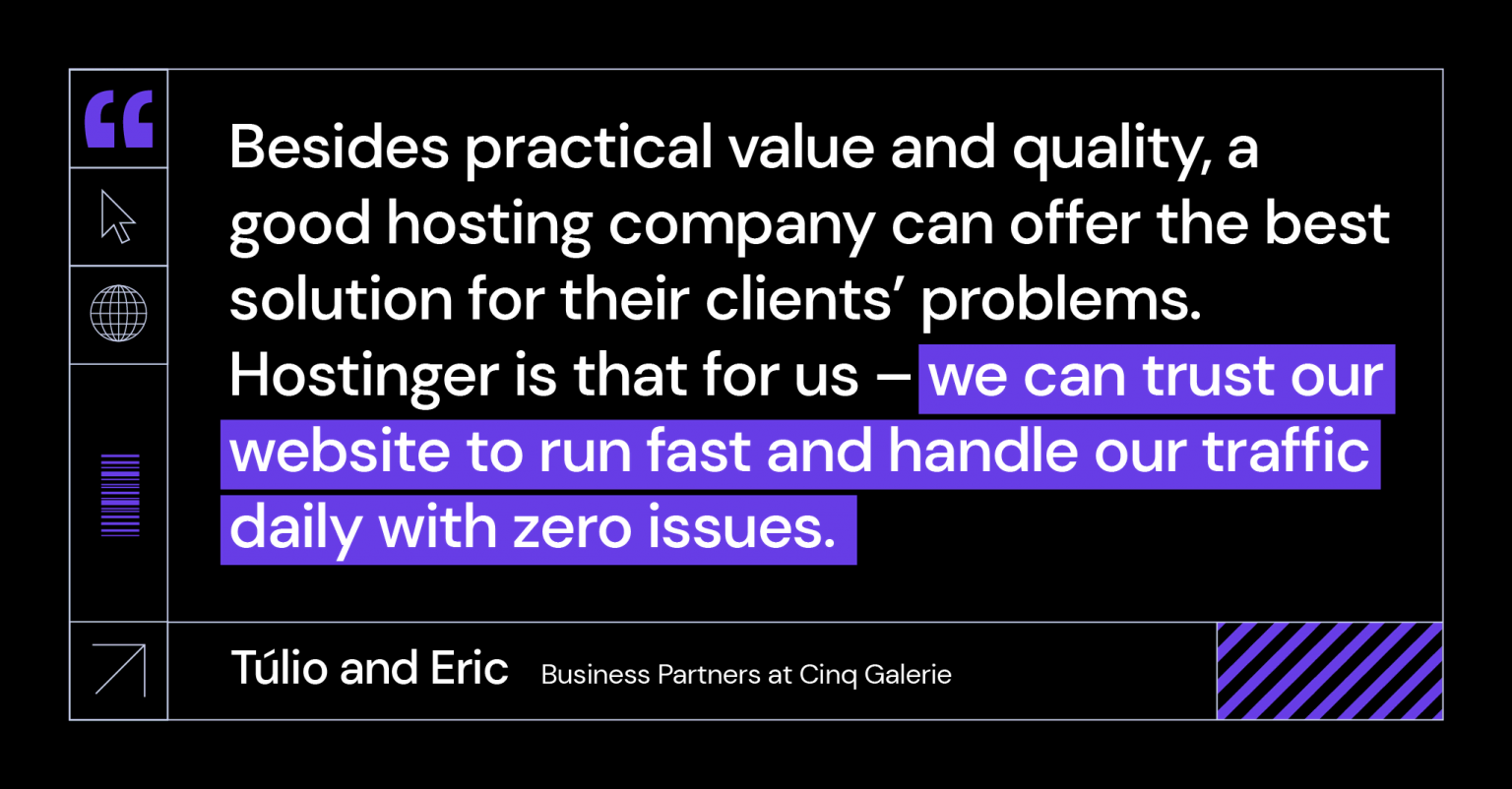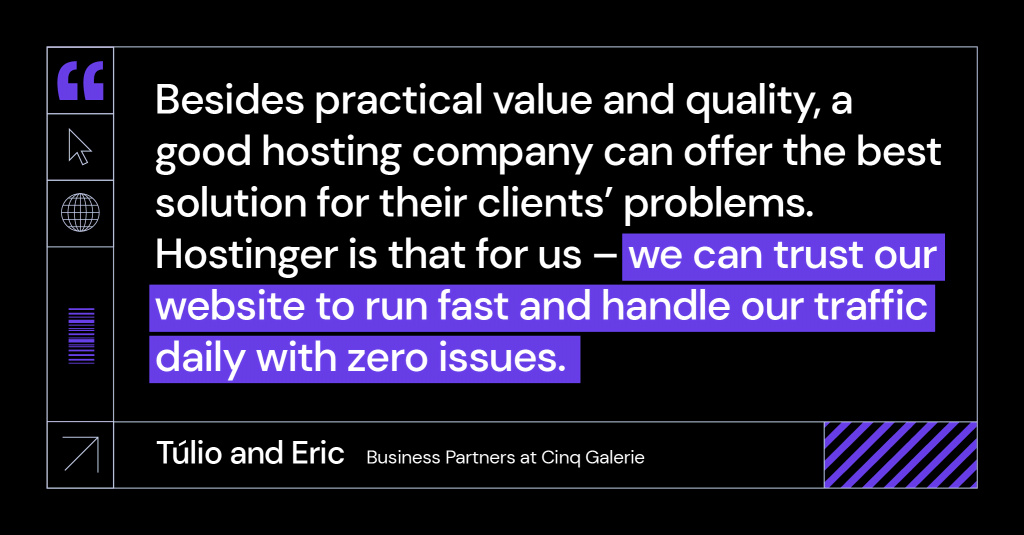 Now that their website performance is stable and they have full control over their store, Túlio and Eric can focus on running their business and offering the best service for their shoppers. "Success for us is to make sales every day and create the online shopping experience so enjoyable that our customers always want to come back."
What's Next?
"The moment we migrated to Hostinger, our website never went down, and all our problems were solved. We're very happy with the services," said Túlio.
When asked about their future plans, Túlio and Eric aspire to take their business to the next level. "We want Cinq Galerie to become Brazil's number-one fashion inspiration and go-to online clothing store. Having a reliable website is a must to reach the entire country."
And Hostinger will be in every step of their way to make that happen.