How to Host a Website for Free + Best Free Hosting Suggestions
Web hosting services are a vital part of startup businesses. While affordable hosting solutions are widely available, some are still interested in how to host a website for free.
Free web hosting is typically offered in a shared hosting environment. Consequently, this usually results in more limited features and flexibility.
The good news is that many free website hosting services provide ample resources, enabling users to run a small online store. Some come with advanced functionality, such as automated CMS integration, making it perfect for beginner programmers to learn about website development.
This article shares a step-by-step guide on how to build and host a website for free. We've also included the top eight free website hosting companies and six free website hosting limitations to consider.


How to Host a Website for Free
Hosting a website for free is more straightforward than hosting a website on a paid plan. In this section, let's look at four steps to host a website in a free hosting environment.
1. Look for a Free Web Hosting Service
Despite all the free web hosting sites on the market, finding a reliable one requires considerable effort. To help you make more informed decisions, here are a few factors to think about:
Uptime. The website uptime claim shows the estimated time a server is accessible for users without a shutdown or restart. Opt for a free web host guaranteeing a 99.9% server uptime.
Connection speed. Also known as server response time (SRT), this factor measures how quickly a server responds to requests. A good SRT is below 200 milliseconds. Hence, check your chosen provider's SRT using tools like Bitcatcha and GTmetrix.
Data centers. These reduce latency which helps boost site performance. Choose a free website hosting provider with data centers near your target audience.
Resources. This includes CPU power, disk space, RAM, and bandwidth. While free website hosting typically offers limited resources, you can always calculate your site's requirements and choose one that caters to it.
Security. Check whether the web hosting company implements robust firewall features to block malicious traffic. Also, research other security measures, such as domain privacy, DDoS protection, malware scan, and backup policies.
Customer support. Many hosting companies only provide access to customer support in their paid plans, so be sure to check this carefully.
User reviews. Take advantage of forums and review sites like Stackoverflow, G2, and Trustpilot, to see what people say about your chosen web hosting provider.

2. Determine the Type of Website You Want to Host
Once you know what a free web hosting service offers, consider the website you want to build.
In general, websites are categorized into two types – static and dynamic.
Static websites, stored as HTML pages, show the same content to every visitor. Dynamic websites allow their pages to update in real time or change based on the visitor's behavior.
As free hosting has limited resources, building a static website is the more suitable option. Most static websites are read-only, with popular examples including resume websites, online portfolios, and documentation sites.
Such a website is also less prone to cyber-attacks. It doesn't need as many additional third-party extensions as dynamic websites, minimizing plugin vulnerability issues.
That said, some free web hosting services offer ample resources, making it possible to host a dynamic website while maintaining the site's health. Some dynamic website examples include eCommerce websites, news sites, streaming services, and social networks.
3. Set Up the Free Web Hosting Account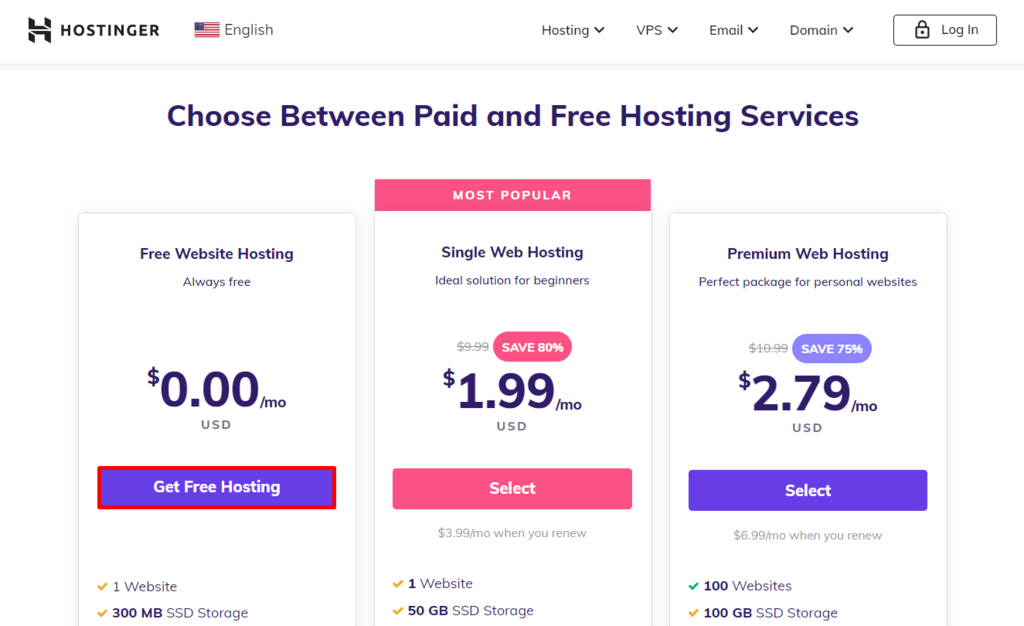 Setting up a free web hosting account is easy, and you can have your site up and running after a few minutes.
Here's a general step-by-step guide on how to set up free website hosting. We'll be using Hostinger as an example:
Click Sign Up, Get Free Hosting on a web host's free plan.
Fill in the registration form with an email and password.
Input the domain name. Some providers allow site owners to connect a unique domain name or use a subdomain of their service-based top-level domain (TLD).
Log in to your account to start building your site and uploading website files.
Regarding the last step, some providers include a website builder with hosting plans. It usually comes with a drag-and-drop editor and dozens of templates, making it easier for website owners to design their pages.
4. Get a Domain Name
Like web hosting, a domain name is a vital website element. Most free providers offer service-based extensions attached to the domain.
Typically, they have some indication of the free service the client is using. If you're building a personal website, this won't be a problem. However, it will look less professional if you wish to develop a business website.
Fortunately, many free website hosting companies provide the option to use custom domain names. Users can check whether the provider offers a free domain name. They can purchase domain names separately from an ICANN-accredited registrar if they need to.
Top 8 Free Web Hosting Providers
Searching for the best free web hosting provider can take time and effort. For that, we've compiled eight providers to help with your process.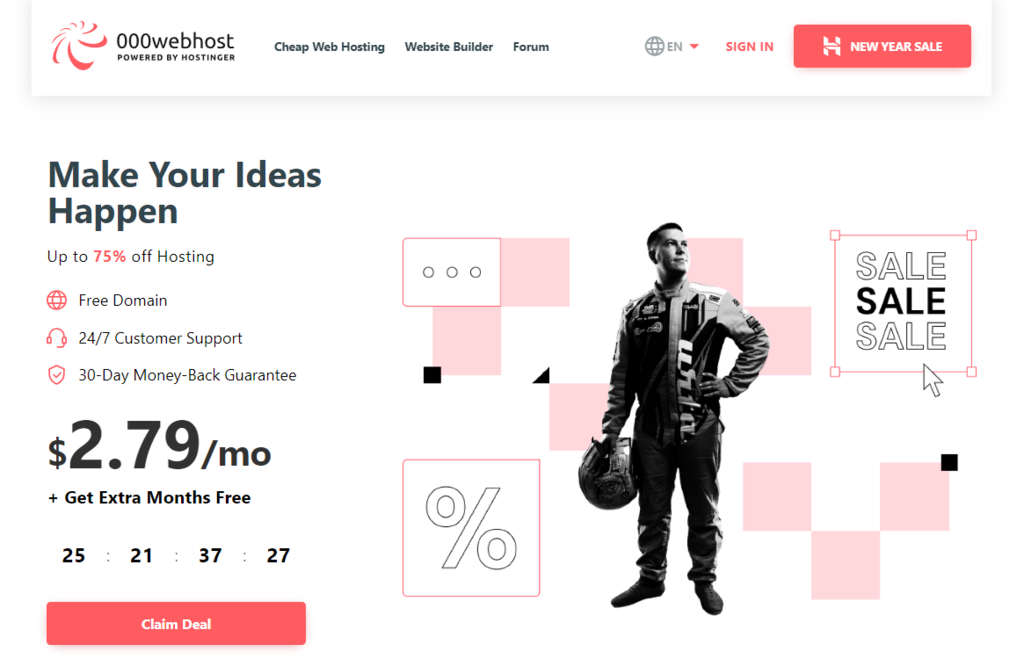 000webhost Stats:
Rating: 4.4/5
Best for: WordPress blogs, review sites, small businesses, online resumes, school projects, test websites
000webhost, powered by Hostinger, offers free website hosting in a shared hosting environment with 300 MB of disk space and 3 GB of bandwidth.
If you want to build a business website but are currently on a tight budget, opting for 000webhost is a great way to try out Hostinger's hosting environment before going premium. It also doesn't force ads, which is perfect for branding purposes.
000webhost offers an intuitive hosting control panel. On it, users can utilize auto-installers for popular content management systems (CMS) like WordPress and Joomla, making the setup process quick.
Security-wise, 000webhost offers secure hosting with robust firewalls and DDoS protection. It also integrates Cloudflare Protected Nameservers to harden its server's security.
Key Features:
Built-in website builder. Take advantage of this drag-and-drop website builder and more than 100 customizable templates.
Technical features. The more experienced website owners can utilize 000webhost's advanced features like cron jobs. It also supports FTP, MySQL, and PHP.
24/7 customer support. Reach 000webhost's live chat support from the hosting control panel.
Unfortunately, 000webhost's Free Web Hosting plan only allows users to host a single website. Also, it doesn't offer a free professional email account.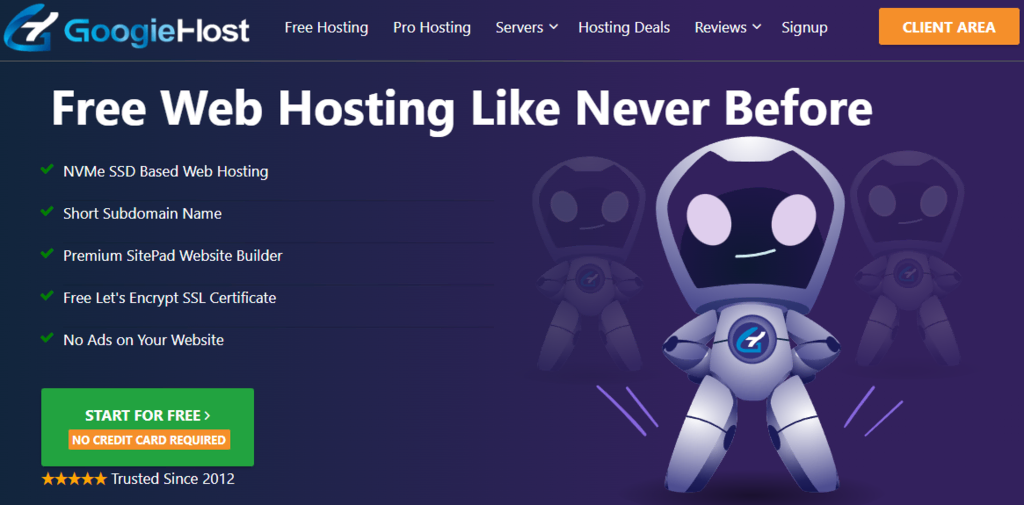 GoogieHost Stats:
Rating: 4.2/5
Best for: image and video hosting, small businesses, and portfolio websites
GoogieHost is a feature-rich, free website hosting provider. It's also one of the few free web hosts offering freebies. GoogieHost's free plan comes with an SSL certificate and allows users to create professional email accounts without paying any extra fee.
Incorporating Cloudflare and malware protection, GoogieHost ensures more robust server security. This free website hosting provider uses LiteSpeed Web Server to provide excellent performance and guarantees a 99.9% server uptime.
Regarding the control panel, it uses cPanel with Softaculous integration, enabling site owners to install their preferred CMS in just one click.
Key Features:
Abundant resources. GoogieHost's free plan comes with 1 GB of NVMe SSD and 100 GB of bandwidth. Hence, it can host media-heavy, medium-traffic websites while maintaining good performance.
SitePad integration. GoogieHost includes the SitePad website builder and a good deal of website templates.
Diverse customer service channels. Besides a knowledge base and blog tutorials, site owners can reach GoogieHost's customer support via email.
GoogieHost's drawback is that it doesn't include a free domain name. Even so, users can utilize the hosting provider's free domain extensions, .cu.ma and .thats.im.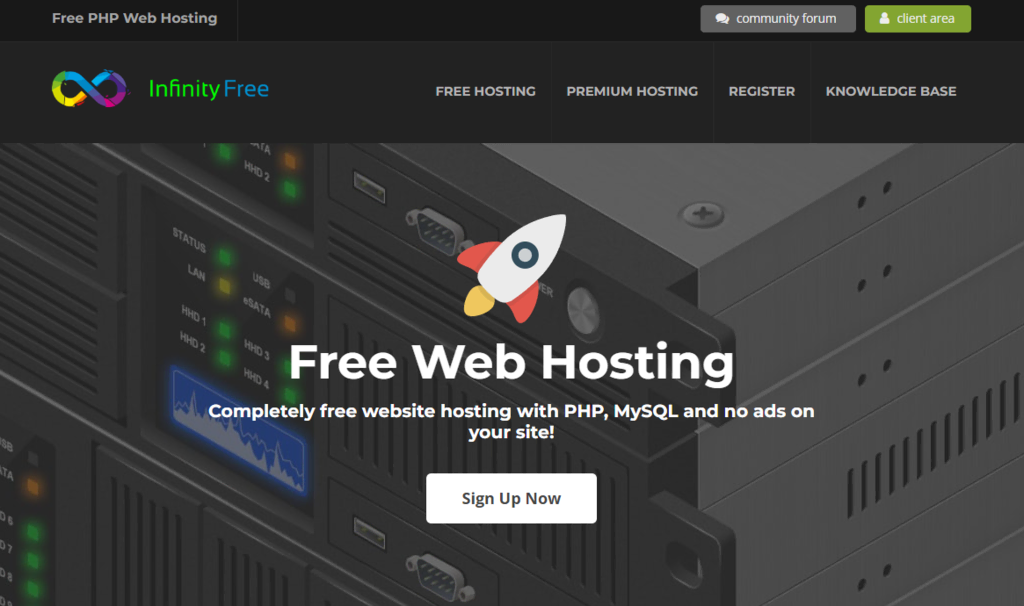 InfinityFree Stats:
Rating: 3.7/5
Best for: small businesses, news sites, review sites
InfinityFree is one of a few free website hosting companies offering unlimited bandwidth. It's also ad-free.
This free website hosting company allows users to host as many websites as they need. They can use their custom domain names or subdomains from over 25 extensions. Also, it provides free SSL certificates for all of the user's domain names.
The web host's free plan has 5 GB of disk space and a 99.9% uptime guarantee. On the cPanel dashboard, users can access Softaculous and use the one-click software installer to streamline their setup process.
Key Features:
400 MySQL databases. Other free hosts only allow one, if not two, MySQL databases. InfiniteFree lets users create up to 400 MySQL databases.
Hosting environment. InfinityFree uses the Linux OS and Apache web server.
Self-help support. Offers a knowledge base and a support forum.
The downside of InfinityFree is its limited server power, which may affect a site's availability and performance. This free website hosting service doesn't include a free domain name and email account. Also, it lacks additional security features compared to the other services.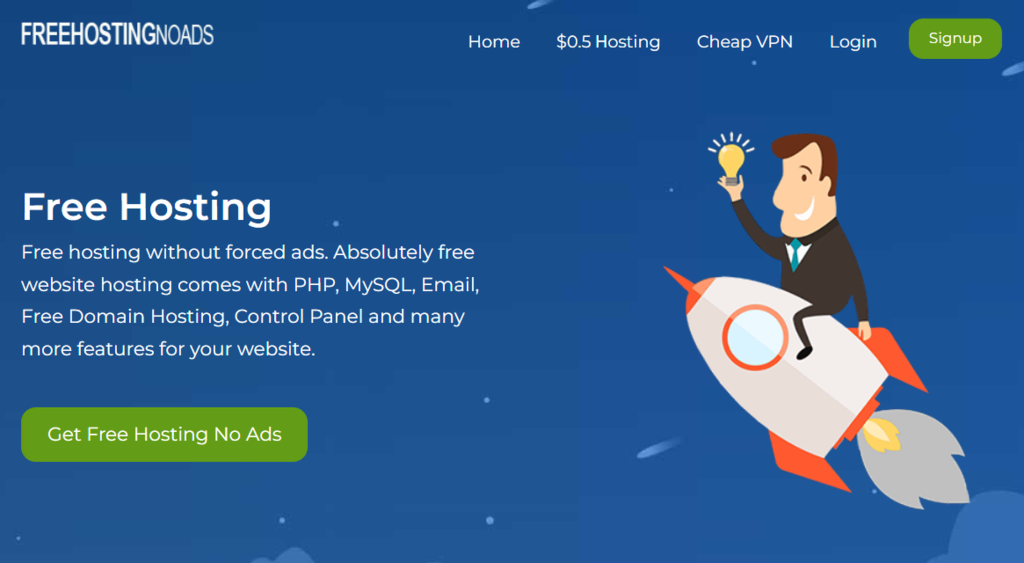 FreeHostingNoAds Stats:
Rating: 3.2/5
Best for: small businesses, blogs, review sites, and a test website
FreeHostingNoAds doesn't force advertisements on users' live sites. The free plan has 1 GB of disk space, 5 GB of bandwidth, and a 99.9% uptime guarantee. Moreover, it includes a free site builder and a professional email address.
Setting up is easy with FreeHostingNoAds. Users can utilize the Zacky App Installer found in the custom control panel to activate their preferred CMS among WordPress, Joomla, and Grav. They can also host their registered domain names for free.
Key Features:
Advanced features. Beginner programmers can utilize FreeHostingNoAds technical features like phpMyAdmin, MySQL database, Perl, CGI, and GD.
Numerous security features. FreeHostingNoAds provides email filters, ClamAV antivirus software, and SpamAssassin.
Customer care. FreeHostingNoAds offers various customer service communication channels – 24/7/365 customer support, sales live chat, and an integrated ticket system. It also provides online documentation.
Two drawbacks of FreeHostingNoAds are that it doesn't provide a free SSL certificate and backup policies.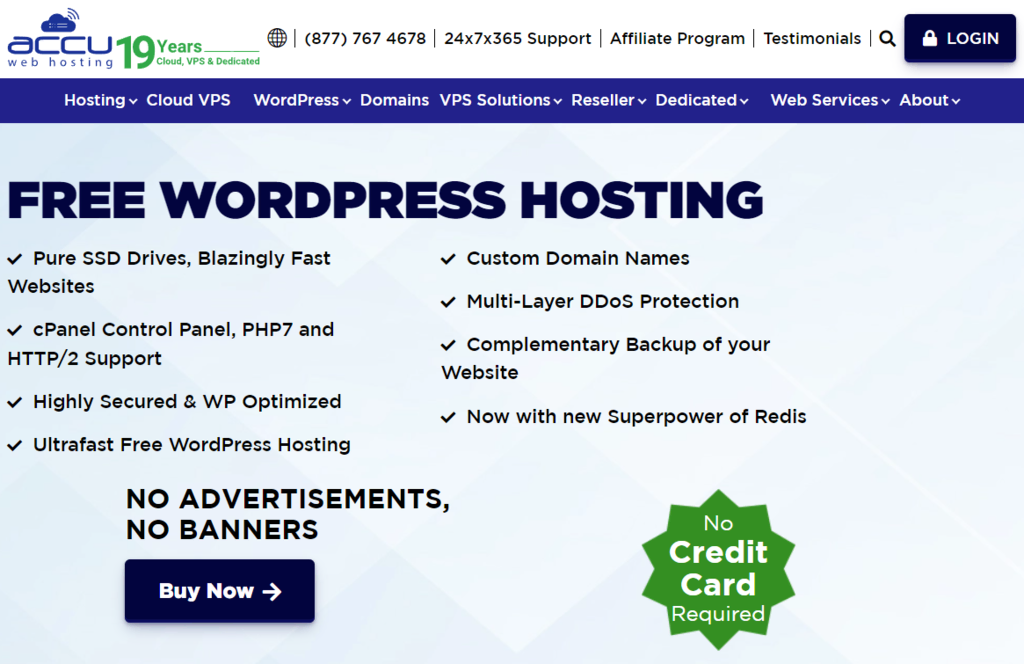 AccuWeb Hosting Stats:
Rating: 4/5
Best for: all kinds of WordPress websites
AccuWeb Hosting offers one of the best free website hosting providers for WordPress sites. It's ad-free and allows site owners to utilize custom domain names.
Free WordPress Hosting includes 768 MB RAM, 2 GB of SSD storage, and 30 GB of bandwidth. This web hosting company lets users create up to 25 domain-based email accounts, making it a great choice for personal and small business purposes.
Key Features:
Security and backup policies. Apart from providing multi-layer DDoS protection, AccuWeb Hosting offers complimentary backups.
Caching tools. AccuWeb Hosting provides Hyper Caching Plugin and xVarnish to help with caching and performance monitoring. It also packs Redis to help with WordPress database caching.
Performance and security tools. The Cloudflare and CloudLinux integration helps boost site performance as well as secure it from cyber-attacks.
Control panel. Choose between cPanel and WebHost Manager (WHM) control panel. Create and manage up to 10 MySQL databases using phpMyAdmin.
AccuWeb Hosting's email ticket support for free plan users is limited. In terms of data centers, there's only one available in Canada. This service also doesn't provide an uptime guarantee.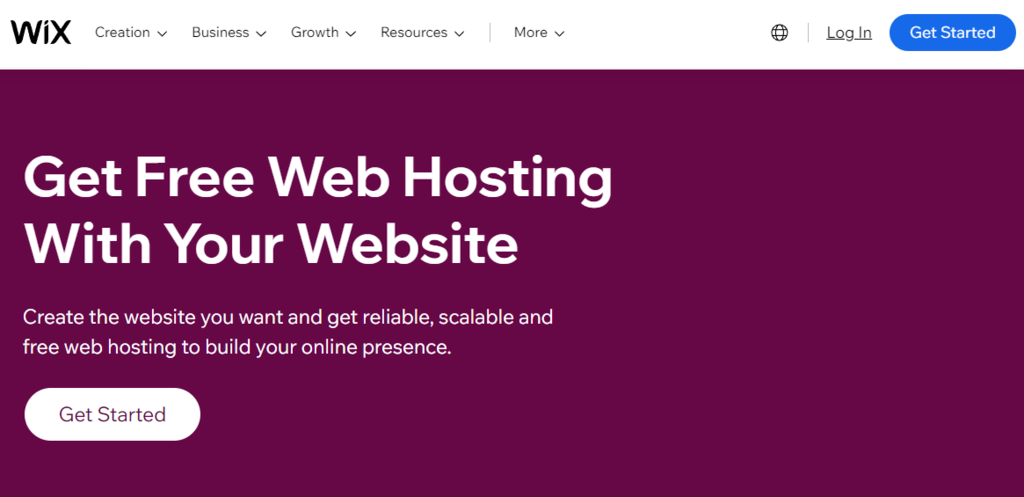 Wix Stats:
Rating: 4.6/5
Best for: personal websites like blogs, review sites, online resumes, portfolio websites, and a test website
Wix, a popular drag-and-drop website builder, offers a free web hosting package with 500 MB of cloud storage and 500 MB of bandwidth. It includes a free SSL certificate and a 99.9% server uptime guarantee.
The automatic setup is a handy feature allowing the hosting service to be accessible once you launch your new website. Design-wise, website owners can choose from Wix's beautiful template repository.
Key Features:
Global CDN integration. Short for content delivery network, this feature enables a web server to direct visitors to the closest server. A CDN helps reduce latency, resulting in faster loading time worldwide.
Advanced 24/7 security monitoring. Wix provides extensive hacking testing and DDoS protection to ensure the site's security.
Help center. Wix offers a comprehensive knowledge base to help users solve any website-related issues.
Unfortunately, Wix is not ad-free. It will place its advertisements on users' websites, which don't have TLD options other than .wix. In addition, the eCommerce functionality isn't available in Wix's free web hosting plan.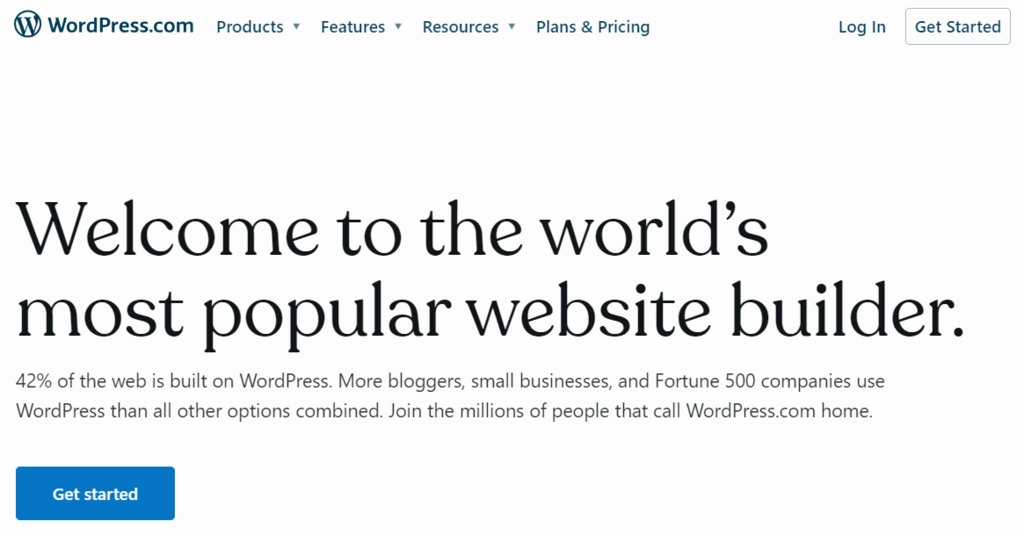 WordPress.com Stats:
Rating: 4.4/5 (G2 reviews)
Best for: personal WordPress websites like blogs, review sites, online resumes, portfolio websites
WordPress.com is a leading website builder for WordPress websites. It offers free web hosting with 1 GB of storage space, unlimited bandwidth, and a pre‑installed SSL certificate.
Designing the website is convenient, thanks to WordPress.com's dozens of free templates. Site owners can modify the templates using pre-set color schemes, built-in font sets, and stock images.
Key Features:
Jetpack. This all-in-one WordPress site maintenance tool helps boost performance, improve website SEO, safeguard it from cyber attacks, and automatize social media sharing.
Community support. Share your issues in the WordPress.com community forum, and you'll get a discussion running quickly.
While WordPress.com is a reliable provider, it comes with a few limitations. WordPress.com is not ad-free; it displays advertisements on users' sites and uses the .wordpress.com TLD.
However, the good news is that site owners can connect a unique domain name without an additional charge.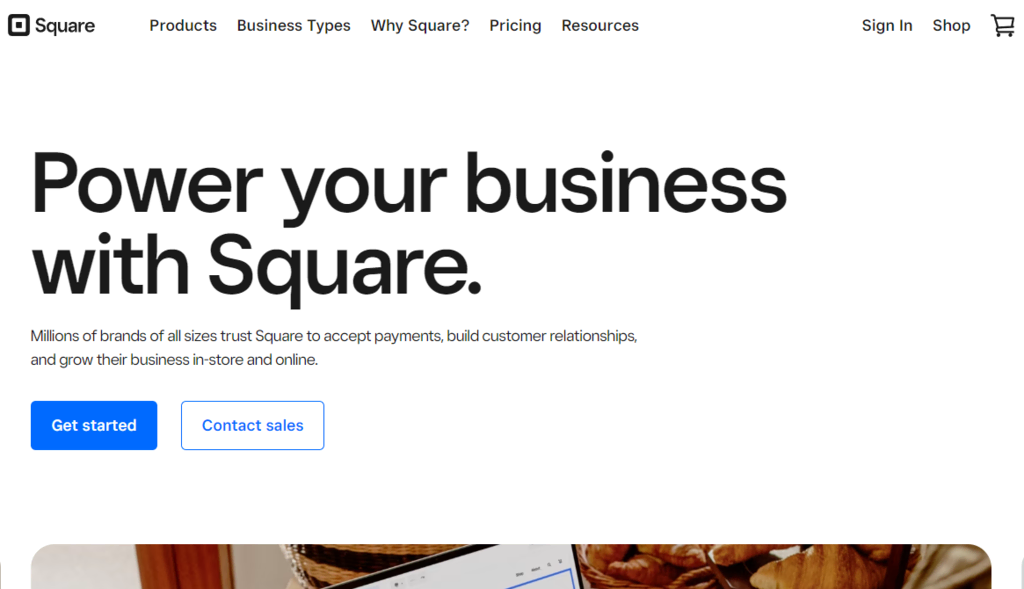 Square Online Stats:
Rating: 4.4/5 (G2 reviews)
Best for: early-stage businesses, small eCommerce sites
Square Online, a Weebly and Square collaboration project, is another site builder offering a free plan. It specializes in eCommerce, making it one of the best free website hosts for business owners.
Square Online's free plan comes with a wide range of retail-specific features. It allows business owners to sell unlimited products and provides an inventory feature to help them track sales.
The Square POS synchronization lets business owners offer multiple payment options, including mobile payments, credit cards, and cash. Sellers can also create payment links, purchase buttons, or QR codes.
Key Features:
Social media integration. Square Online is among the best free eCommerce hosting platforms offering Facebook and Instagram integration.
Numerous customer service channels. This platform offers a knowledge base, live phone support, and a Seller Community discussion forum where business owners can share tips or open a discussion about site-related issues with each other.
Unfortunately, Square Online pushes ads on users' websites and uses the service-based .square.site domain extension. It also applies a 1.9% transaction fee for each sale and may add up for high-volume sellers.
Limitation of Free Hosting Services
While free website hosting is attractive, it has a few drawbacks. Let's take a look at six free hosting limitations to consider.
Security Issues
Among the main downsides of using a free website hosting service is the security risks. Most free hosting plans lack intensive website security tools or defensive measures. Consequently, users' websites will be more prone to cyber-attacks.
While fixing a hacked website is not impossible, it can cause panic and requires a lot of effort to mitigate the damage.
One of the prerequisites for free hosting service users is to run a regular website security audit. Otherwise, they risk sensitive information like account credentials and customers' personal data to cyber-attacks.
Limited Support
Customer support is essential, especially for newcomers learning website development essentials. Unfortunately, most free web hosting plans don't offer quality support through live chat or phone calls.
The good news is that many free web hosting providers have a self-help customer service page. With it, users can solve website-related issues using an extensive documentation library, tutorials, and a knowledge base.
Not Flexible
Free website hosting services are often ad-supported and unfavorable for branding purposes.
Domain names are essential for brand recognition. If you host your business website on free hosting, you may not get a unique domain name. Some free website hosting services also force ads on users' sites, resulting in shared branding with anyone using the same service.
Clearing the cookies will log you out of previously-visited websites. Thus, we recommend saving your login information before following this method.
Regarding web design, free website hosting typically offers several template options. Also, it may not allow website owners to use custom designs. This may clash with the brand voice, making the website look unprofessional.
Limited Resources
Free website hosting has limited server resources, including storage space and bandwidth.
A lack of resources can lead to performance issues. Slow page load time and frequent downtime may occur as the allowed resources cannot keep up with the site's ever-increasing content or growing audience.
Therefore, not all free web hosting services are perfect for media-heavy, high-traffic websites, such as eCommerce stores, streaming services, and video-sharing websites.
Not Scalable
Free website hosting doesn't have package tiers. Once it cannot meet a site's needs, upgrading to the premium plan is the only option.
In comparison, paid hosting users can upgrade their plans when necessary. This lets them install additional features and software, adding more functionality to their sites. They may also downgrade their plans if the allocated resources are only used partially.
Additionally, migrating to another provider may be nearly impossible, as a free website hosting company owns your site and its content. Hence, you may need to start from scratch if you move to another web hosting company.
Poor SEO Optimization Possibilities
Search engine optimization (SEO) is an excellent tool for boosting a site's visibility and improving brand awareness. However, your SEO efforts won't yield the best possible results due to all the free hosting limitations.
From the points above, here are some factors causing search engines to not see a website as credible:
Poor website performance
Increased bounce rate
Frequent downtime
Low domain authority
Consequently, your website may have a low ranking on the search engine results pages (SERPs).
All in all, premium hosting is superior to free web hosting. It offers flexibility, one of the most crucial factors for website development.
We recommend researching a provider's free plan thoroughly if you want to use it. That way, you can upgrade to the provider's paid plan without worrying about data loss or performance issues.

Conclusion
If you're a student or programming freshman looking to host your website, consider free hosting sites. While they may not include unlimited disk space and bandwidth, many providers offer sufficient resources for a medium-traffic website.
Let's have a short recap on how to host a website in a free hosting environment:
Research some of the best free website hosting sites. Factors to consider include server uptime, connection speed, data centers, security, and customer support.
Determine the type of website you want to build. It can be a static website like an online resume or a dynamic site like a small-scale eCommerce store.
Set up your free website hosting account. This stage includes filling out the free hosting registration form, considering the domain name, and verifying the new account.
Get a domain name. Website owners can use the service-based domain extensions the free hosting service provides or connect with a premium domain name.
We hope this article helped you set up your new website for free. If you still have some questions, feel free to leave us a comment.