Thursday February 24, 2022
How Agamabox Website's Performance Improved 5x After Migrating to Hostinger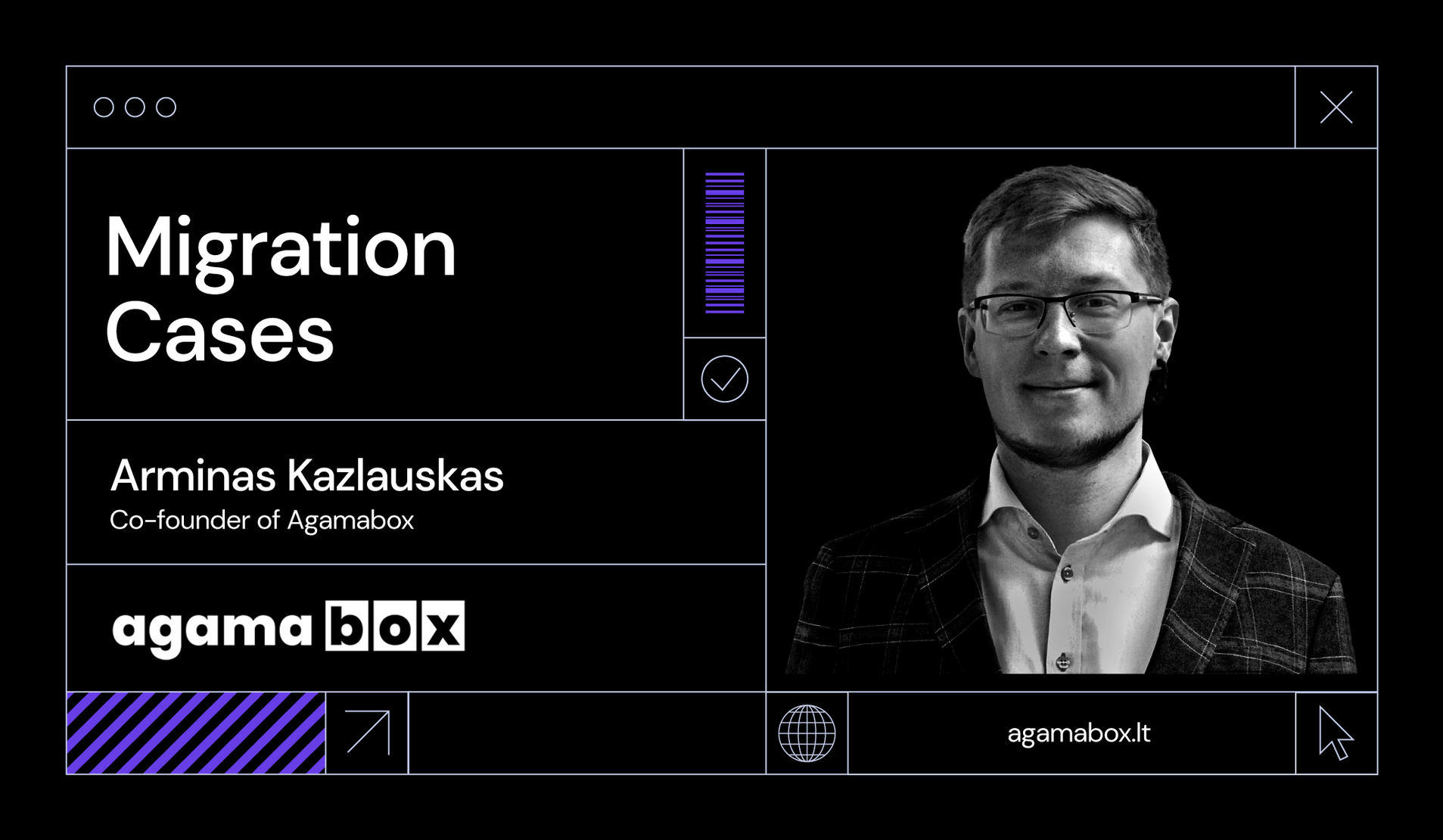 After the co-founder of Agamabox migrated his website to Hostinger and received technical guidance from our support specialists, its loading speed improved and the conversion rate increased by 14%.
Background
Agamabox serves both businesses and individuals in need of packaging solutions. Whether for gifts or product packaging, it offers a wide variety of envelopes, boxes, wrapping sheets, and other options for any occasion.
Agamabox's clients include small, retail, and enterprise-level companies who expect high levels of performance at all times. This is especially the case during shopping seasons like Christmas, Valentine's Day, or Black Friday. For this reason, Agamabox's website had to be optimized for better performance and thus migrated to a hosting service specifically suited for WordPress.
Challenge
A small business owner, Arminas Kazlauskas, faced an issue – his website took between 10-20 seconds to load and often exceeded the server's resources. Without a dedicated developer on his team, Arminas needed to ensure a smooth user experience for his clients and resolve all technical issues by himself.
Although he used a powerful VPS, his lack of resources and know-how hindered the site's development. The site's poor performance resulted from no caching solutions, almost no optimization, and out-of-date software. While a thorough setup is necessary to create a functional environment for a similar server, it is pricey and time-consuming.
Before learning about Hostinger, Arminas had settled with a hosting provider that didn't meet the expected speed and lacked the attentive support and features needed to host an eCommerce WordPress website. As the Christmas season approached, Agamabox urgently sought a better long-term hosting solution.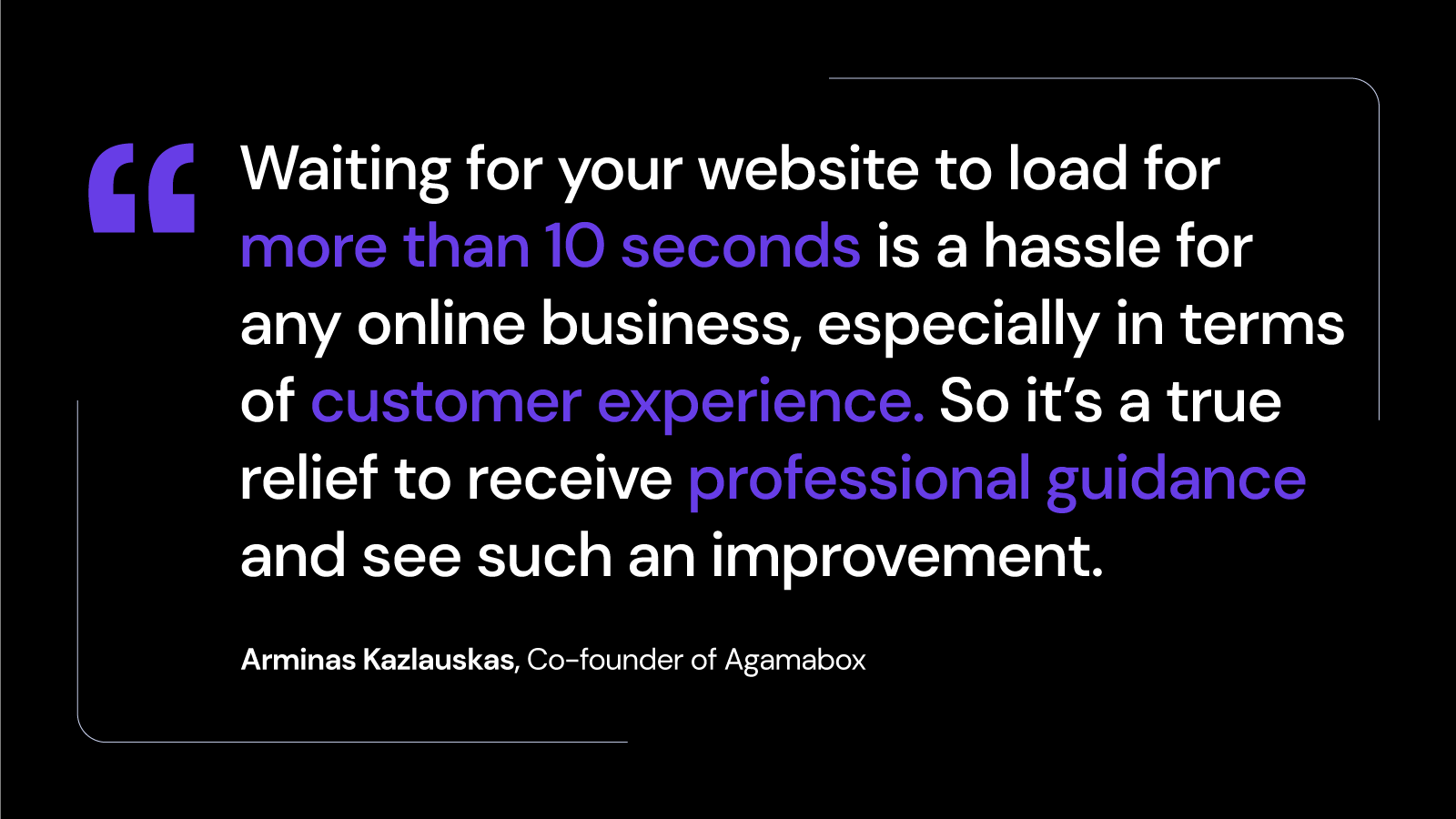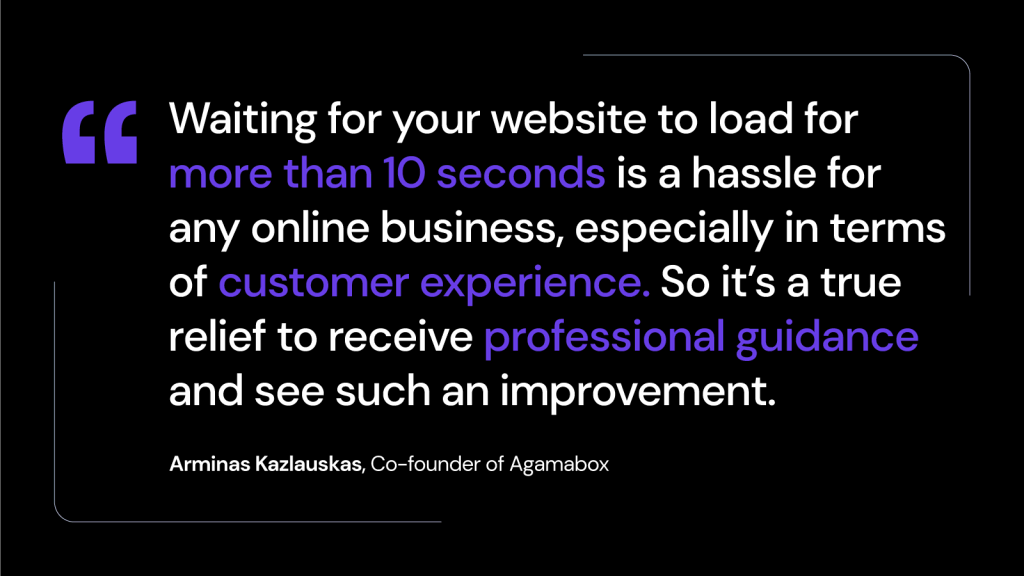 Action
When Arminas got in touch with the support team at Hostinger, they showed him how to migrate his site to Hostinger and pinpointed some of its code-related issues. By receiving technical guidance and relevant resources, he was able to accomplish most of the tasks himself.
Once Agamabox migrated to Hostinger, its performance drastically improved. Before taking any website optimization steps, the migration process itself resulted in an overall performance increase across the board. Some of the improved parameters included the site's largest contentful paint (LCP), total blocking time (TBT), and cumulative layout shift (CLS).
How so? To be specific, Agamabox used the auto-migration feature to move the website to Hostinger. Hostinger's support team also recommended a better-suited cloud server hosting plan and installing the LiteSpeed Cache (LSCache) plugin. LiteSpeed Cache is an acceleration plugin with built-in optimization features, helping reduce both page and server load times.
As for the type of server used to host a WordPress website, choosing the wrong kind can be detrimental. LiteSpeed is the go-to option offered at Hostinger, especially for WordPress users, which was the case for Agamabox.
LiteSpeed's default settings provide a faster load time when processing operations and databases upon request. The best part is that once Agamabox switched to a new server, all traffic peaks were well-handled while also improving resource efficiency and increasing page speed.
Outcome
So, what was the result? Here's a performance assessment comparing the Agamabox website before and after moving to Hostinger.
The client's TTFB was reduced from 10-20 seconds to 0.5-1 second. With such a significant drop, Agamabox experienced 10x improvement in page load time.
Looking at other Web Vitals, the LCP performance significantly increased – load time was reduced from 12 to 2.6 seconds. However, there's still room for improvement, since 1.2 seconds or less is the goal for an optimal experience. Regardless, the progress was primarily achieved by taking one action – migrating to a different provider.
Complete website optimization is necessary to get the highest grade.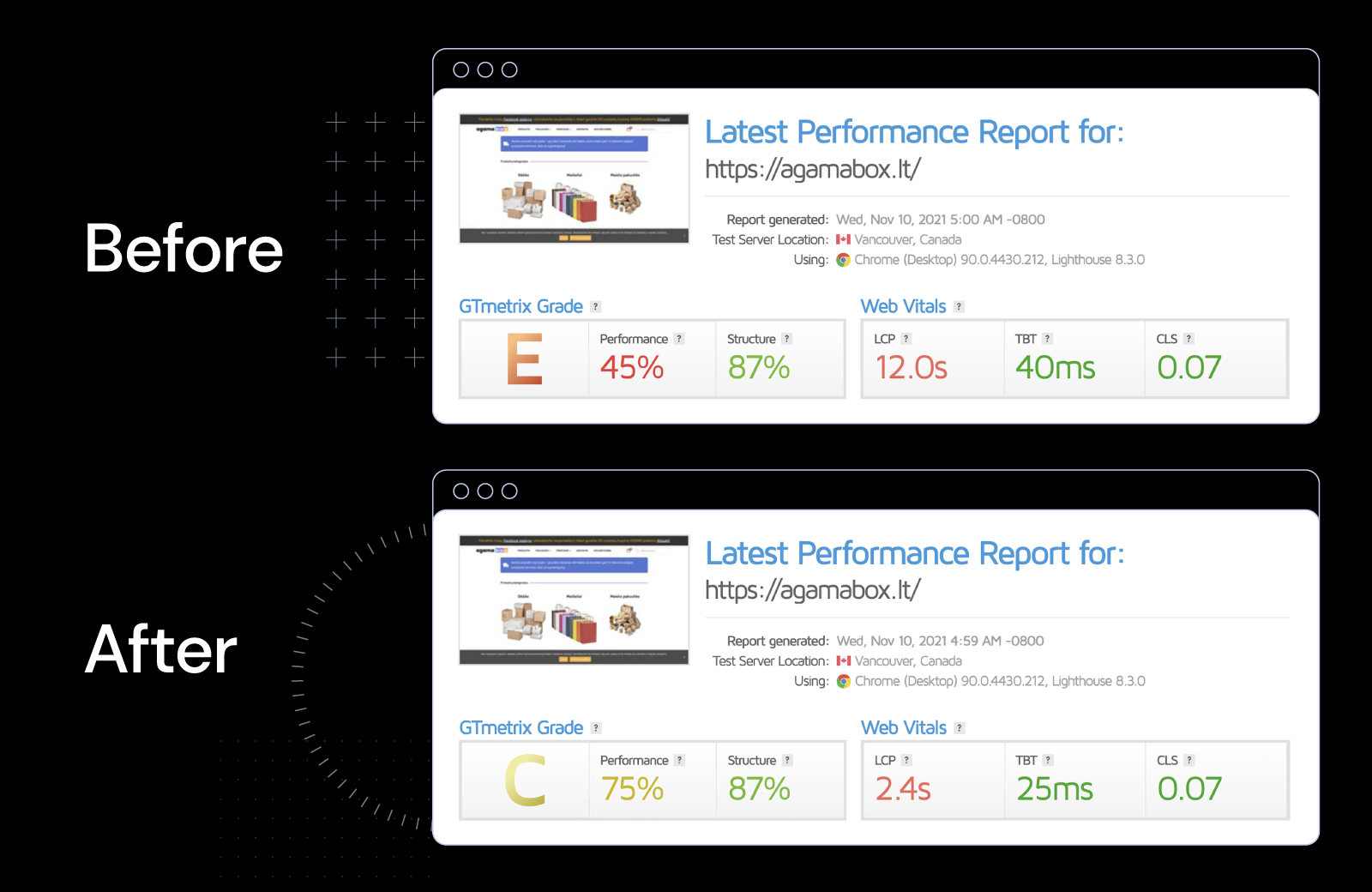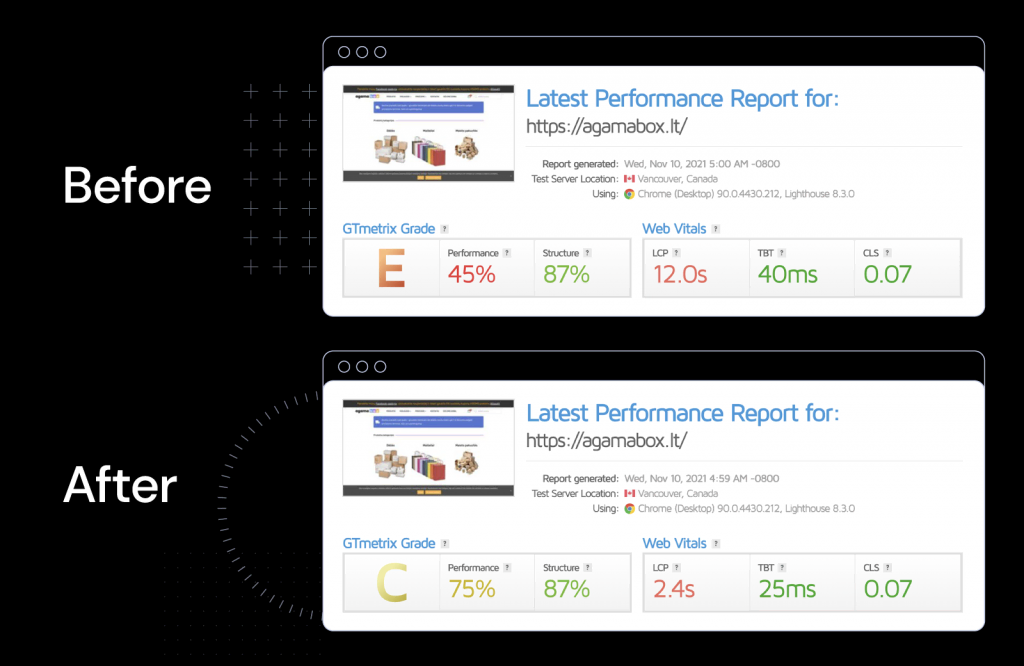 Even though there's still room to refine the website's code, like its database requests, Arminas is on the right track. In his case, it is clear that changing hosts can make a huge difference in a website's performance.
Hostinger's infrastructure is the reason why Agamabox achieved such notable results right after the initial automated switch to a cloud hosting plan. Powered by CloudLinux and LiteSpeed, our custom-built stack runs on the latest server hardware platforms with multi-core CPUs and high-speed SSDs.
Altogether, they provide instant optimization for websites. Our engineers have also made various tweaks and network layer adjustments for maximum performance wherever possible.
As for clients, Arminas no longer receives complaints about his website being slow. On the back-end, order handling and various queries that used to take several minutes to load have also been improved, resulting in increased efficiency overall.
Even better, the website's bounce rate dropped by 20% while the conversion rate has improved by 14%. So, Agamabox can now solely focus on its business and serving its clients instead of being concerned about hosting and website speed.