Hostinger's Shared Hosting Was Just Right for Jack's Business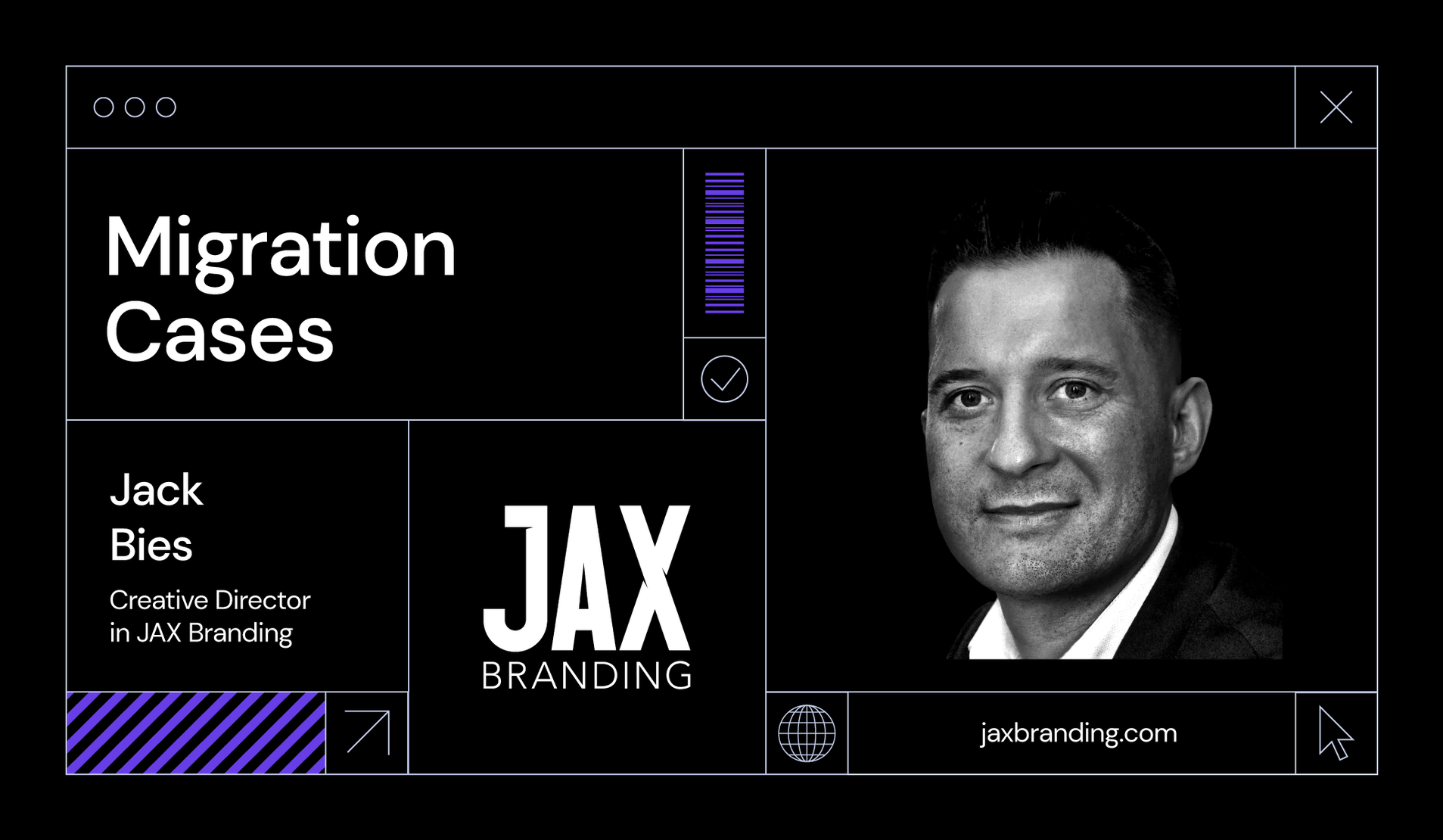 Working with companies that support your business's success is crucial when you're an entrepreneur. Jack Bies, a branding agency owner, has tried various hosting providers to build his websites, but his positive experience with Hostinger made him a loyal customer. Learn how our services have supported his entrepreneurial journey and boosted his website speed.

The Background
As a former football player, Jack knows how difficult it is to make it in the sports industry. "I used to play professionally, but I quickly realized that only one percent of players can get to the top. So, when football players end their careers, they're usually not sure what to do next," he said.
Seeing this problem, Jack turned his passion into a business. And thus, JAX Branding was born – a creative agency that helps football professionals establish their brands and start their businesses.
To accomplish this mission and promote his services, Jack needed a website.
The Challenge: Finding Web Hosting With Responsive Customer Support
For Jack, it was important to establish long-term relationships with companies that could be reliable partners for his business. When he was about to launch JAX Branding, he knew he needed a web host with fast and helpful customer support.
He also wanted one that supports WordPress – his go-to platform for building websites. Even though Jack had web development experience, hand-coding sites from scratch would take too much time. He also didn't want to use a website maker as it's not flexible enough for his business.
"I was using a website builder for a while, but I wasn't really happy with the limited customization options. It's like you don't have full control over your own website," said Jack.
What Made Jack Choose Hostinger
Jack found Hostinger seven years ago through various recommendations online. Since then, he has been using our Single Shared Hosting plan for a family project.
As his experience at Hostinger had been positive, purchasing another plan for his agency's website was a no-brainer.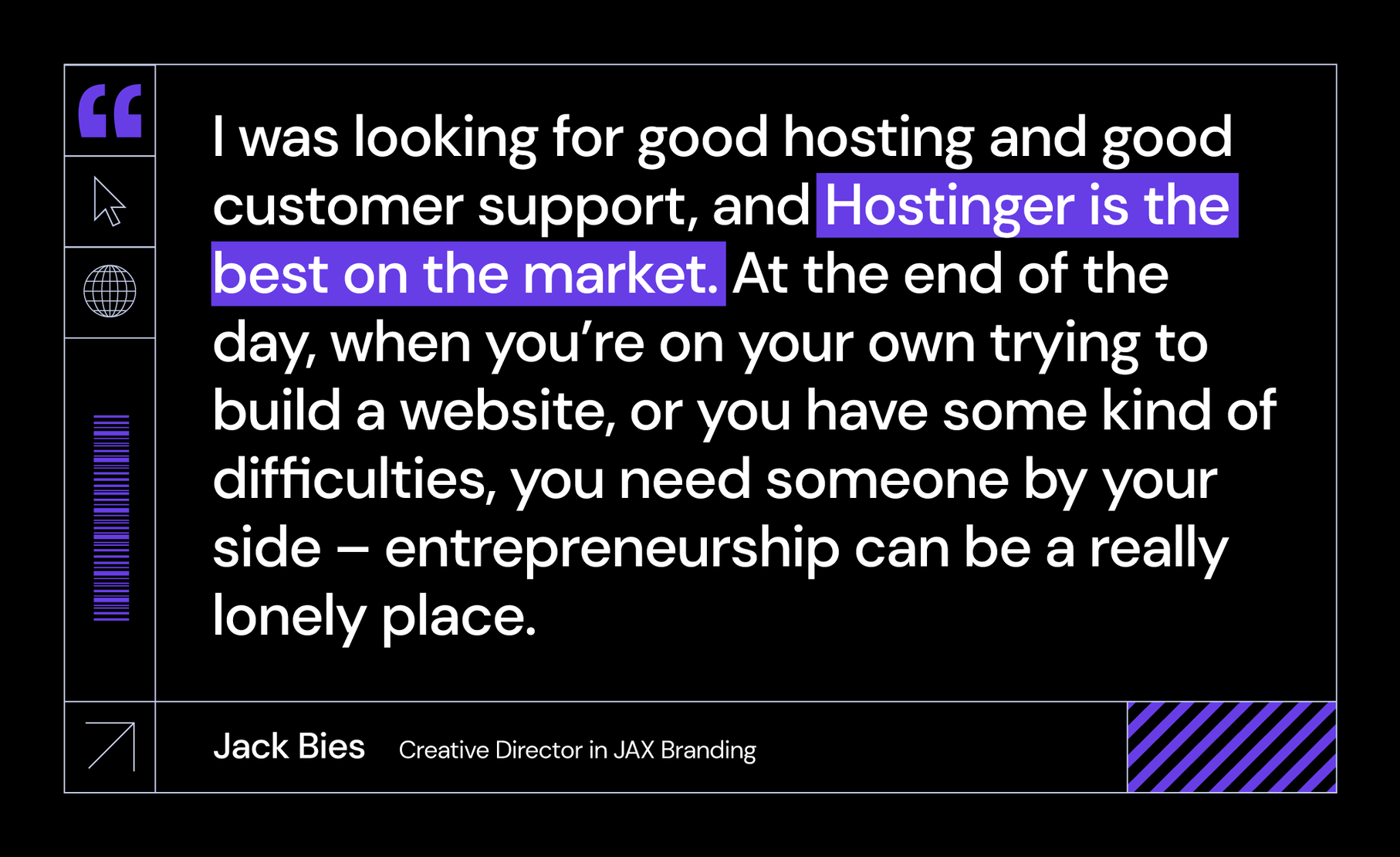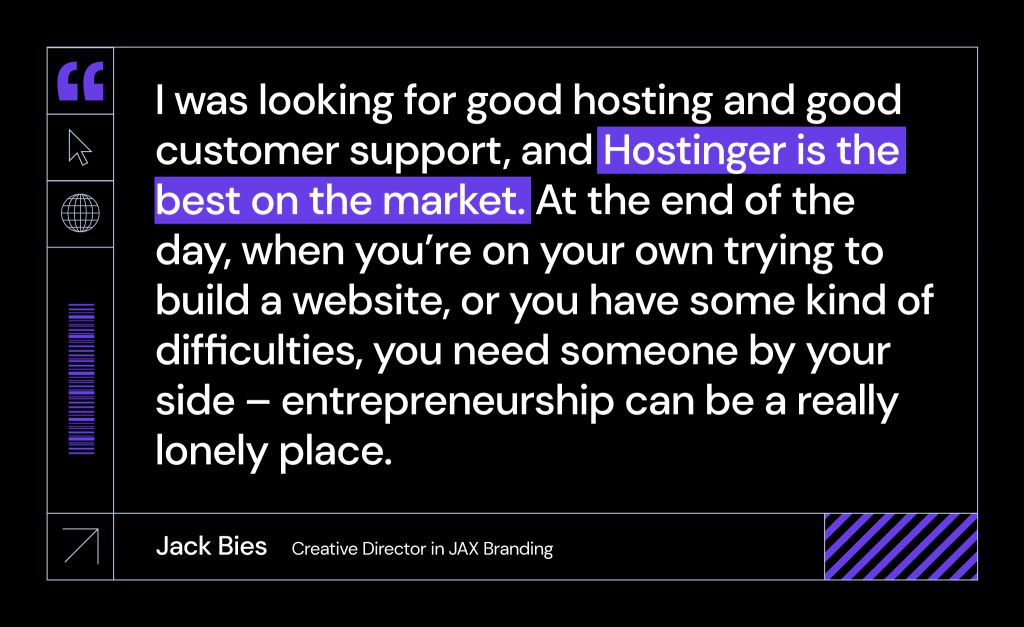 Customer Obsession is an essential value for us at Hostinger. That's why we offer 24/7/365 live chat and email support, available in over ten languages. Clients can get the assistance they need in no time, no matter where they are.
When asked to share his experience with our Customer Success agents, Jack recalled the time his website was down due to a sudden traffic surge.
"I've spoken to your Customer Success agents probably a hundred times. I even spoke to someone on Christmas Eve because my website crashed, and you were still kind enough to help me during this occasion. This is something I will never forget," Jack comments.
Jack also cited our knowledge base and tutorials as another reason he sticks with Hostinger.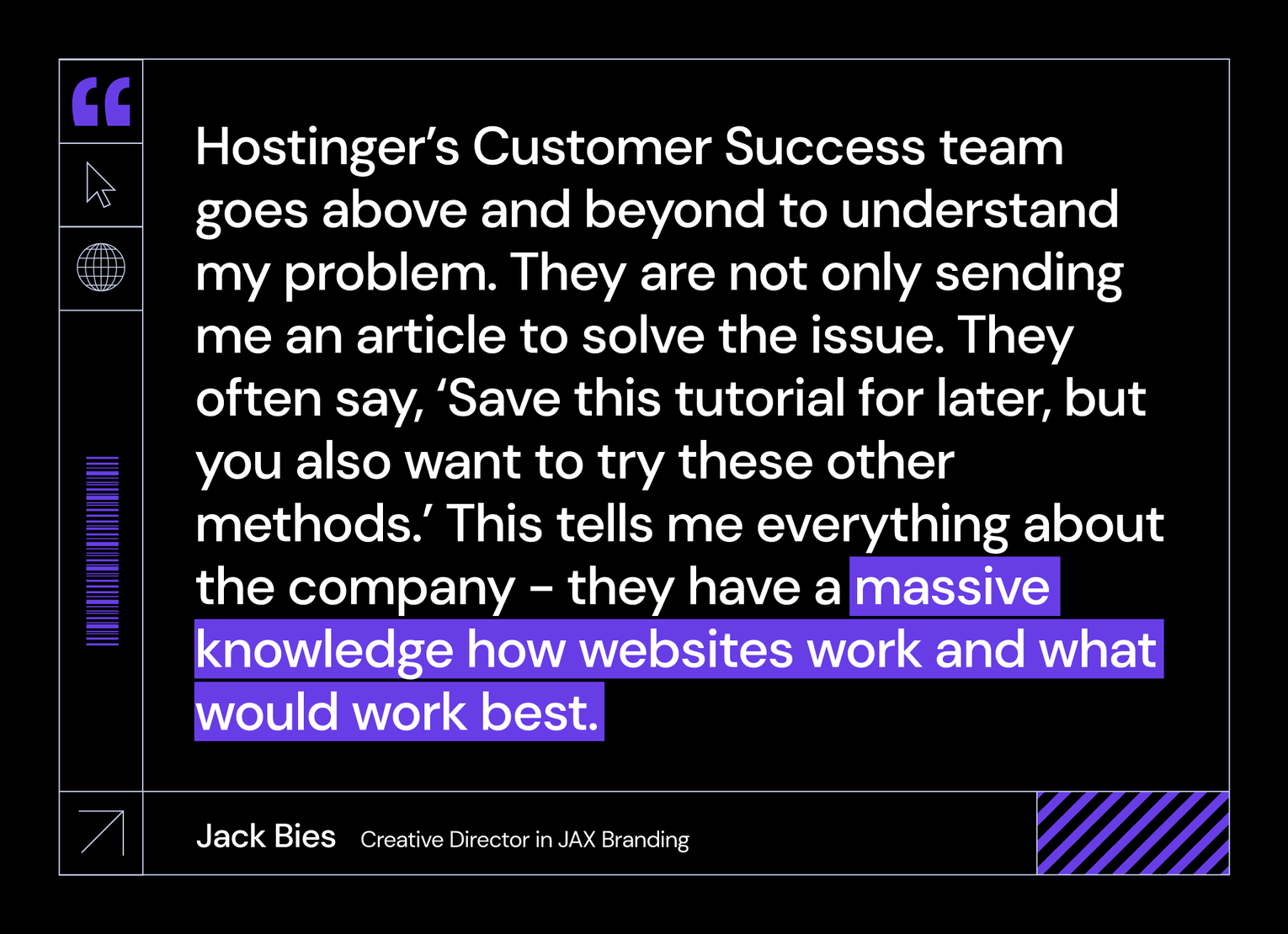 When it comes to Hostinger's features, Jack likes the hPanel's Account Sharing, which lets him safely grant his clients access to their websites' hosting or domain. If they need to modify their hosting configurations, they can simply log in to the account instead of having Jack do it for them.
Boosting Jack's Website Performance
The last time Jack contacted our Customer Success team, he asked to help with one of the most pressing issues faced by website owners – how to speed up a site. At the time, GTMetrix gave his website a D score, with the speed index being six seconds.

To ensure the best possible performance, we asked Jack if our technical team could look into his site to diagnose the problem. Before implementing any changes, we waited for his permission to edit the files and back them up.
The good news was his website was already using a premium caching plugin, but it wasn't enough. One of the main speed bottlenecks was the enormous network payload, typically caused by large file sizes.
To tackle the problem, our technical team merged all of the pages' CSS and JavaScript code. This has decreased the number of requests made between the web browser and server, reducing the site's loading time.
The result? An outstanding boost of performance. JAX Branding went from a D to an A grade, with a fully loaded time of 814 milliseconds.

With a faster loading time, potential clients will feel more than welcome to stay on JAX Branding's website and explore its services.
What's Next?
"I've obviously used Hostinger for every stage of my journey. It's absolutely fantastic to have you by my side for all these years," said Jack.
Jack's next goal is to scale his agency to the next level and support more football professionals. At the moment, he's looking to improve his website's SEO so that he can expand his business's reach.
Whatever Jack needs to build success online, our team will always be happy to help him. "With business, it's not about the big things – it's the little things that make it worthwhile, and Hostinger is extraordinary in that."