How Switching to Hostinger's Cloud Hosting Reduced Deividas' Hosting Costs by 23%
From outdated UI to the lack of support for the latest PHP versions, Deividas faced various challenges with his previous hosting provider. After discovering Hostinger at a WordPress meetup, his issues were solved, enabling him to deliver the best results for his eCommerce clients. 

The Background
Since 2018, Deividas Daukšys has worked as a freelance web developer and programmer in Lithuania. Thanks to his services, some of the biggest eCommerce projects in the country have gotten their business up and running.
The Challenge
Deividas's primary tools are WordPress and PHP via Laravel. To build prototype websites for his clients, he needs a web hosting service that supports these two applications and is powerful enough for eCommerce functionality.
Previously, Deividas used a cloud hosting plan from another hosting provider for several years. While it was sufficient for his needs, Deividas had many issues during that time.
For one, the control panel lacked user-friendliness. "The outdated, Excel-like design made it difficult for me to access all the features quickly. Furthermore, the access logs were unclear," he commented.
Secondly, that host was late in including the latest PHP versions into its system – which was essential to Deividas. Without them, he wouldn't be able to use the newest editions of the Laravel framework.
An internal caching feature was also absent, requiring him to install his own to boost the performance of his websites.
Finally, the cloud hosting plan was expensive. As a freelancer, Deividas prioritizes web hosts that offer great value for money.
The Solution
Deividas discovered us at a WordPress meetup three years ago, where we were sharing hosting plans for attendees to try out. He started with our Business Shared Hosting and then upgraded to the Cloud Startup Hosting plan last year.
Compared to shared hosting, cloud hosting is up to four times more powerful. Our Cloud Startup plan can handle an average of 200 thousand monthly visits – double the amount of Business Shared Hosting. It includes high-speed CPUs, 3 GB of RAM, 200 GB of SSD storage, and unlimited bandwidth to ensure the best possible performance. The $9.99/month price tag is also the best in the market.
Cloud hosting is also powered by the LiteSpeed Web Server, which includes an integrated server-level caching module. Unlike with his previous web host, Deividas doesn't need to look for a third-party caching solution to speed up his website.
Furthermore, Deividas was impressed with hPanel, our own custom-built control panel.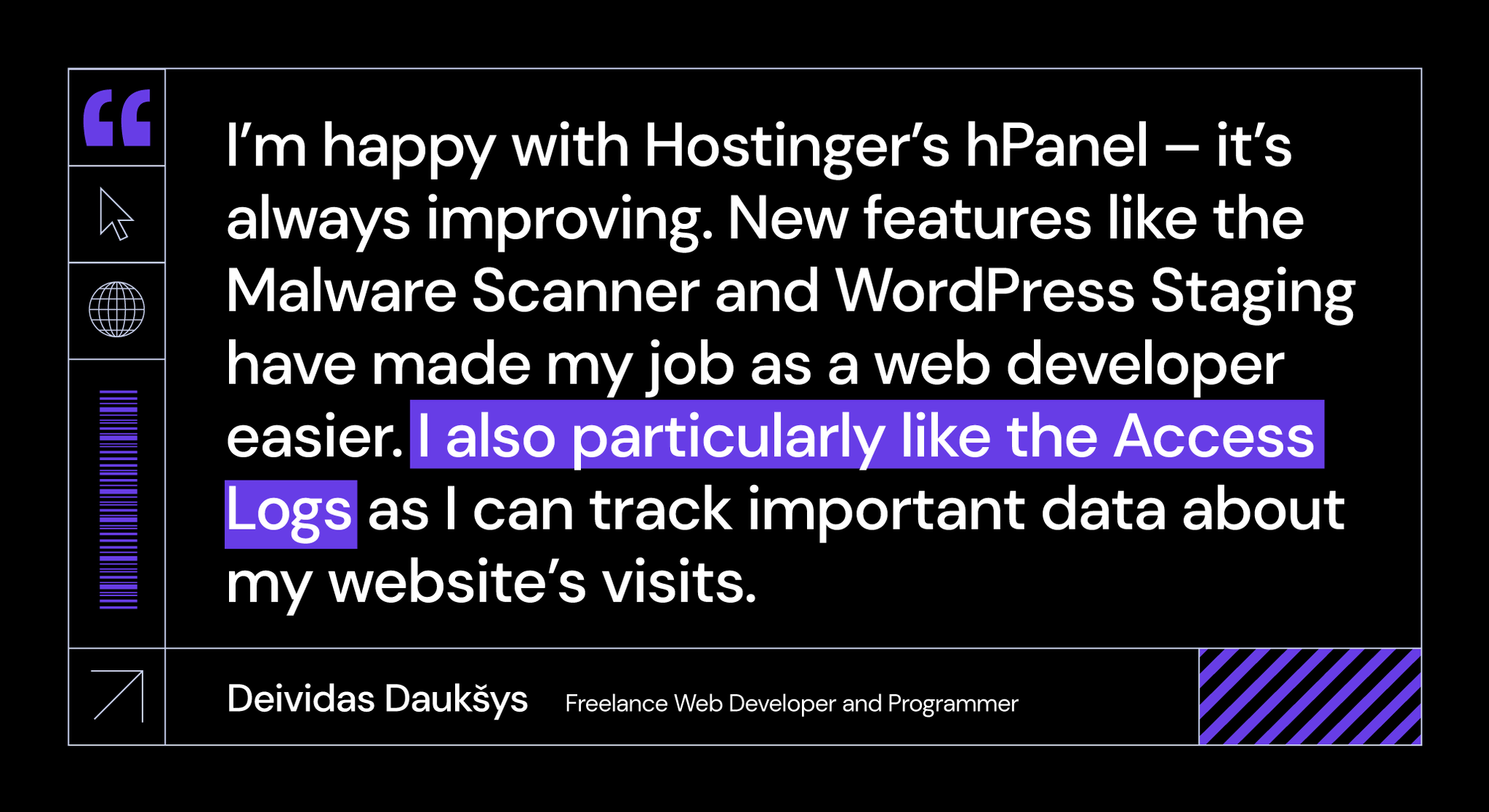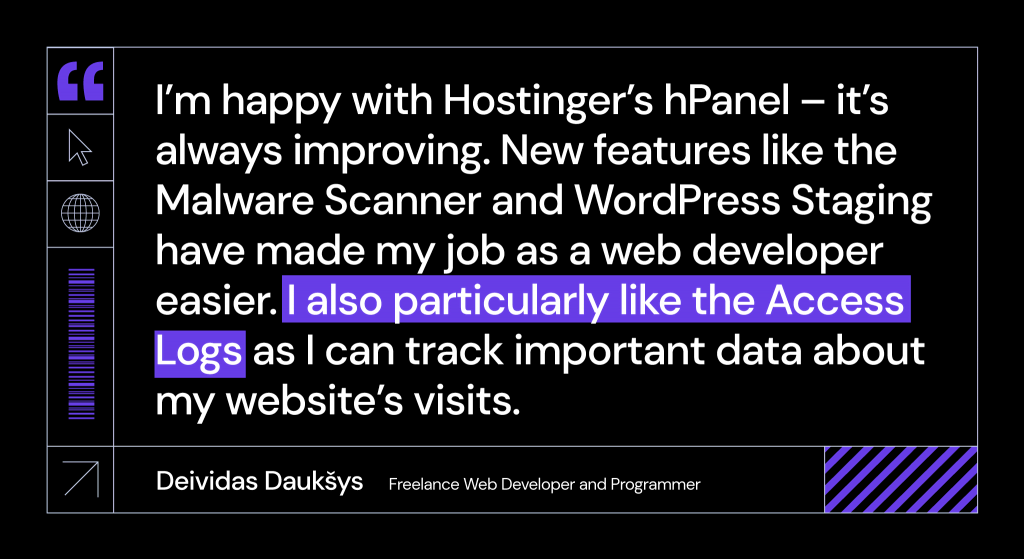 With the Access Logs feature, our clients can discover where their visitors come from, which devices they use to browse the internet, and whether your website is experiencing errors in certain regions.
Other features that Deividas enjoyed were SSH access, WP-CLI, and the newest PHP versions. To be more specific, our system supports PHP 7.3 up to PHP 8.1 and their extensions.
The Conclusion
We are proud to see how Deividas can save money while still delivering the best service to his clients with our cloud hosting service. Furthermore, our hPanel and its advanced features let him develop his projects faster and with higher quality.
Because of his positive experience with us, Deividas has joined our affiliate program and recommends our Cloud Hosting plans to his clients creating eCommerce sites. In fact, everyone willing to make extra money can join our affiliate program – go ahead and earn at least 60% from every sale.