What Is a Domain Name – Video Guide
A domain name is a website's online address and what users insert in a web browser to access it. Without a domain name, users would have to insert an IP address instead – remembering a domain name is much easier than remembering a long string of numbers.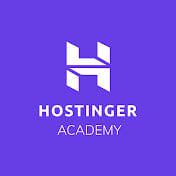 Subscribe For more educational videos!
Hostinger Academy
Subscribe
In this video guide, we will explain how a domain name works and discuss the different types of domains, which include:
Top-level domains (TLD) – some of the most popular TLDs are .com, .org, and .net. There alternatives are new extensions such as .online, .club, or .site.
Country-code top-level domains (ccTLD) – they use two letters based on the international country code. For example, .us is a domain for the United States, .jp for Japan, .co.uk domain is for the United Kingdom.
Generic top-level domains (gTLD) – primarily intended for a specific purpose. A common example is .edu for an educational website and .store for eCommerce website.
If you want more information on how to register a domain name, make sure to check our tutorial.