This post will help you verify and found out what version of Ubuntu you're running.
In a work environment, it is likely that we will have to use several pieces of equipment. Especially if we are talking about servers or Linux systems that do not have a graphical interface to see them. Knowing your version will help understand what packages or applications you should be installing.
We will teach you how to check Ubuntu version information in two ways, through the terminal and using the graphical interface.
Ubuntu Versions Explained
Ubuntu releases versions every 6 months. This seems like a lot, but it makes the development more controlled. Versions are usually released in April and October.
Every two years, there is an LTS (long term supported) version with support of at least 5 years. The current LTS version is 18.04 released in April 2018. You probably already noticed, the Ubuntu version number refers to the year and month of release. That means that the next LTS version will be 20.04 if they continue with this numbering.
On the other hand, all other versions that are not LTS have fairly short support, and their goal is limited to testing new features and bug fixes.
Check Ubuntu Version Through System Details
As we said before, it is possible to know which version of Ubuntu our computer is running from the graphical interface, if you're running in a desktop environment.
First, we have to open the applications menu and look for the system settings window. Open them
There are a lot of options we can configure in this window. However, it is not our goal for now. Look on the right side for the Details section and click on it.
This method will work by showing us a simple window with the basic information of the system. In it, we will be able to see, the version of Ubuntu that we are running at the moment. As you can see in the screenshot, our system is runnign Ubuntu 18.04.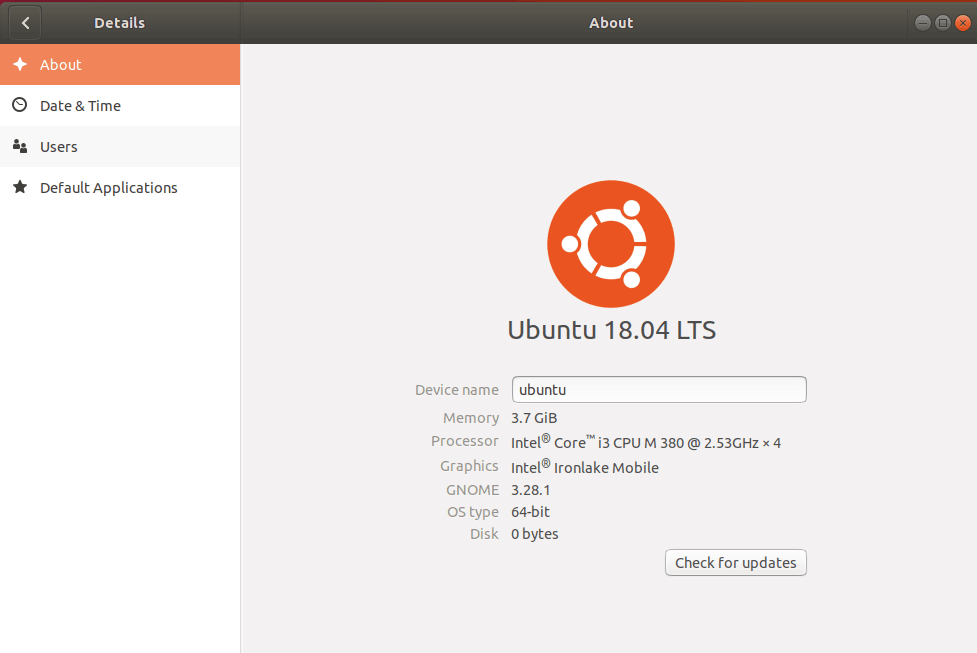 But what if we are on a server? Or the graphical interface is not available?
Check Ubuntu Version Through the Terminal
First we'll need to use SSH to access our server. Here's a tutorial to remind you how to do it with PuTTY.
There are several options we can chose, some show us the version directly and others more information about the system.
The fastest way to know the Ubuntu version we are running is with this command:
lsb_release -a
And that is how easy it is to check the Ubuntu version. The output will look something like this:

As a bonus, we can verify the hardware information of the equipment, by executing this command in the command line:
sudo lshw
If the command doesn't work, you most likely have to install the list hardware utility with the following command:
sudo apt-get install lshw
Conclusion
Knowing how to check Ubuntu version you're working on is something simple but essential. Not knowing your tools can complicate work. We check the Ubuntu version through the graphical interface or the terminal and both methods are quick and easy.