One of the hardest parts of running a website is getting people to come back time after time. Even if your content is engaging, you need to find a way to hook readers and stay in touch with them. WordPress push notifications offer an elegant solution to this problem if you know how to set them up.
That's what we'll cover in this article. We'll explain how to:
Install the OneSignal plugin, which will enable you to send WordPress push notifications.
Set up a OneSignal account.
Create a push notification.
Configure the plugin's settings.
Before we talk specifics, however, we're going to discuss push notifications in general and explain what their upsides are. Afterward, we'll even introduce you to a few other push notification plugins you can use, in case you're not a OneSignal fan. Let's get to it!
Thinking of starting a WordPress site?
Go online with the ultimate WordPress hosting platform and enjoy flawless performance with 24/7 support. 30-days money-back guarantee included!
An Introduction to Push Notifications

Push notifications are messages that pop up on your screen, to let you know when something happens on your device. For example, when you get an email, you probably see push notifications on both your smartphone and desktop computer. They're not as intrusive as popups, and you can usually configure when you want to see them (so they don't become annoying).
In the past, push notifications were limited to applications and system updates. However, it's become more and more common for websites to also implement this feature. Here are just a few of the reasons why:
They enable you to alert your users about new content. With push notifications, users don't have to visit your website to find out if you've published a new article, for example. They can just get a notification when new content is available.
Users can opt in and out of them. Unlike pop-ups, users can choose whether they want to receive push notifications in the first place. This means that only interested parties will see them.
They require less attention than an email. You can always send email blasts to let people know about offers and updates, but push notifications don't require users to open a full message.
They're very effective. Push notifications have high click-through rates, especially when compared to other marketing methods.
There are a lot of upsides to using push notifications in WordPress. However, it's worth noting that some people aren't big fans of this feature. If you overuse push notifications, it can annoy your subscribers, which can lead to them not wanting anything to do with your website.
To maintain a good balance, think about how you might react in your subscribers' place. If you install an app that sends you too many push notifications for no good reason, you'll probably end up uninstalling it. The same applies to websites, so you need to use notifications sparingly. That way, when your subscribers see one, they'll know that it's something worth checking out.
How to Add Push Notifications to WordPress for Free (In 4 Steps)
For this tutorial, we're going to use the OneSignal plugin. It's by no means the only WordPress tool that enables you to set up push notifications. However, it's easy to get started with and supports multiple browsers, which makes it our favorite option.
After this, we'll talk about some other plugins you can use to add push notifications in WordPress if you like. For now, roll up your sleeves and let's get to work!
Step 1: Install the OneSignal Plugin
Let's start by installing the plugin you'll need. Go to your WordPress dashboard, and head into the Plugins tab. Click on the Add New option, and use the search bar on the next screen to look for the OneSignal plugin. Once it comes up among the results, install and activate it: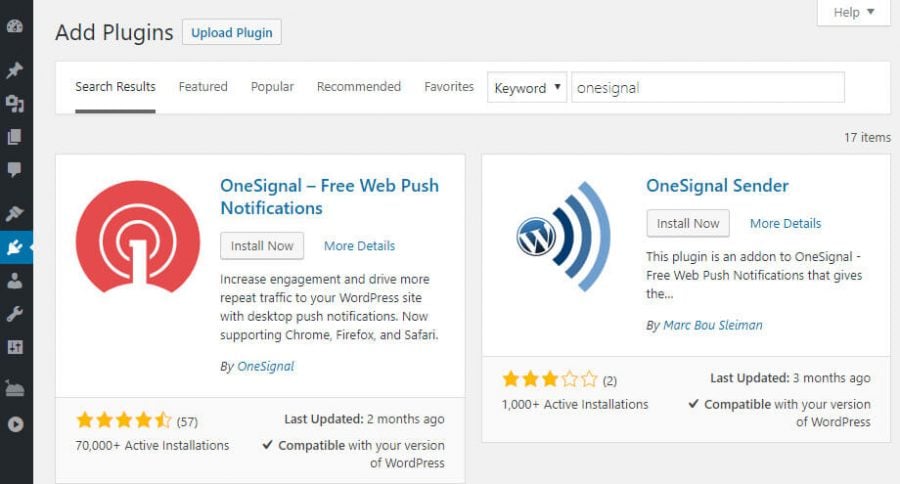 The plugin will create a new tab in your dashboard called OneSignal Push. Select that now, and you'll see a new page outlining the rest of the steps you'll need to follow. We'll guide you through the process, so don't worry about this too much. For now, just note the location of the tab called Configuration, since we'll need to come back to it in a moment.
Step 2: Set Up a OneSignal Account
For the plugin to work, you'll also need a OneSignal free account. Go to the platform's home page, and click on the button called GET STARTED next to Web Push: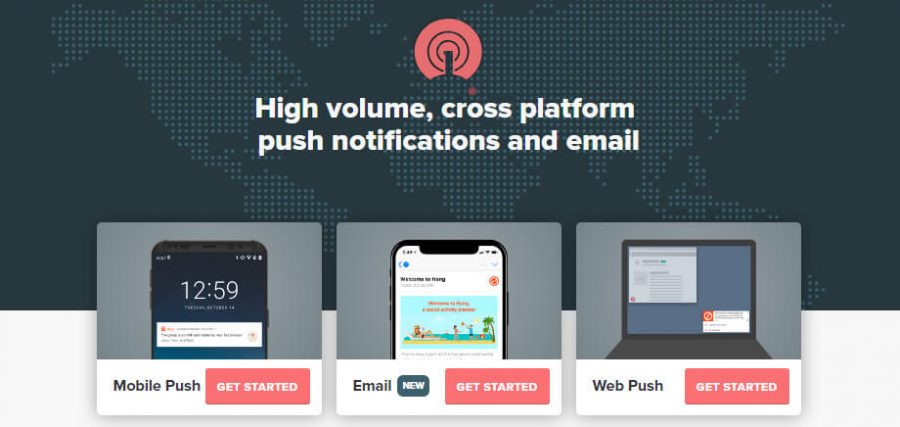 You can sign up using credentials from various social media platforms, or through your email. Go ahead and set up the rest of your account now: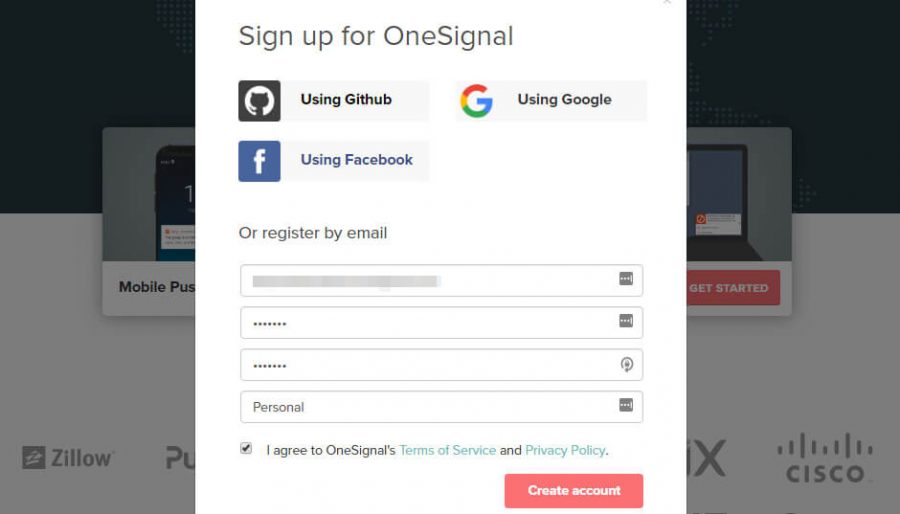 The platform will ask you to confirm your email. Once you do, you'll get access to your OneSignal dashboard.
Step 3: Create a Push Notification App
Along with enabling you to send web push notifications, OneSignal also supports mobile apps and email services. That means you need to choose exactly what type of service you want to use the platform for. To get started, go to your OneSignal dashboard and click on the Add a new app button: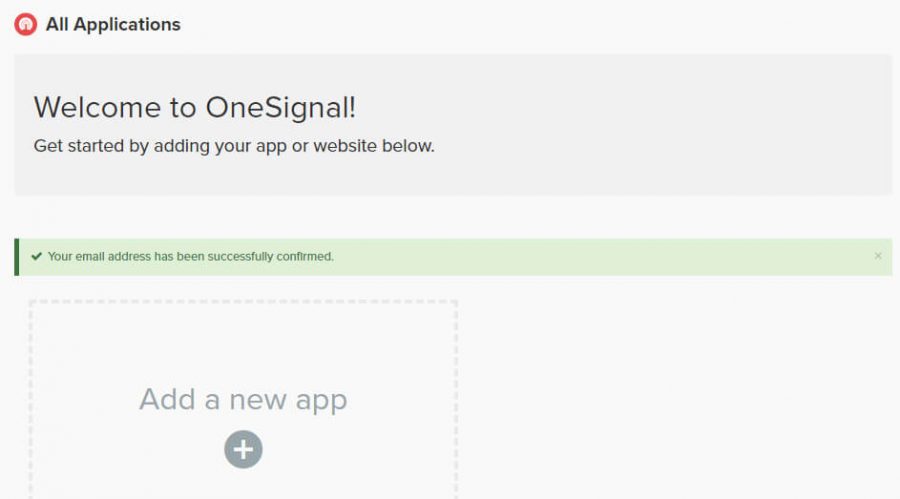 OneSignal will ask you to set a name for your app, for internal identification purposes. We went with WordPress Push Notifications, but you can use any name you want. Then, the service will ask you what type of notifications you want to configure. Choose the option labeled Web Push: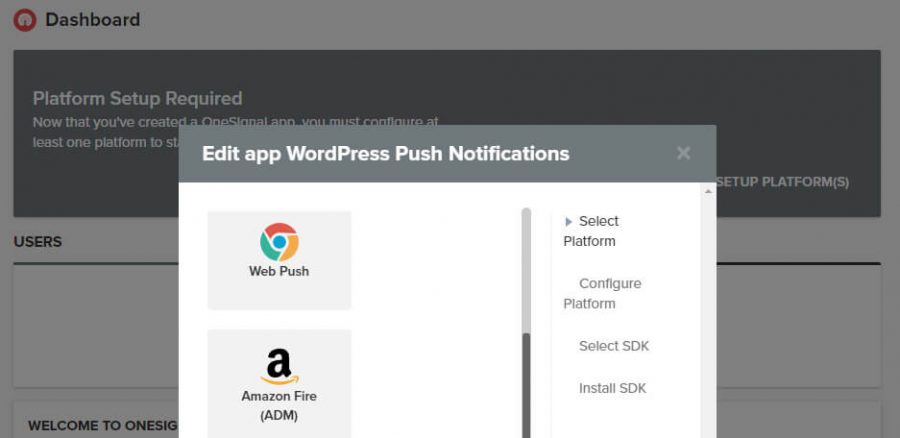 Now, you can choose what type of integration you want to use. Click on the WordPress Plugin or Website Builder button, and choose WordPress from the options below: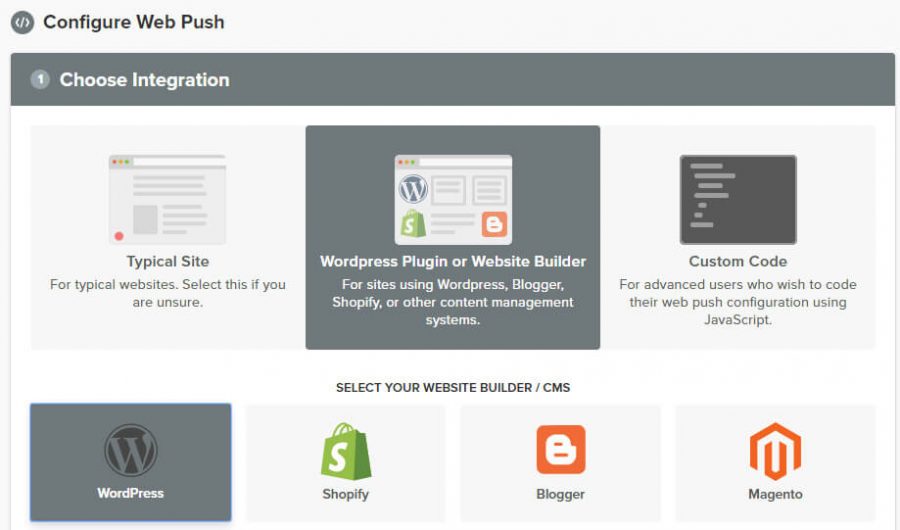 Finally, scroll down and enter your site's details, including its name and URL. You can also set an icon for your website, which will show up on your push notifications, but this step isn't strictly necessary: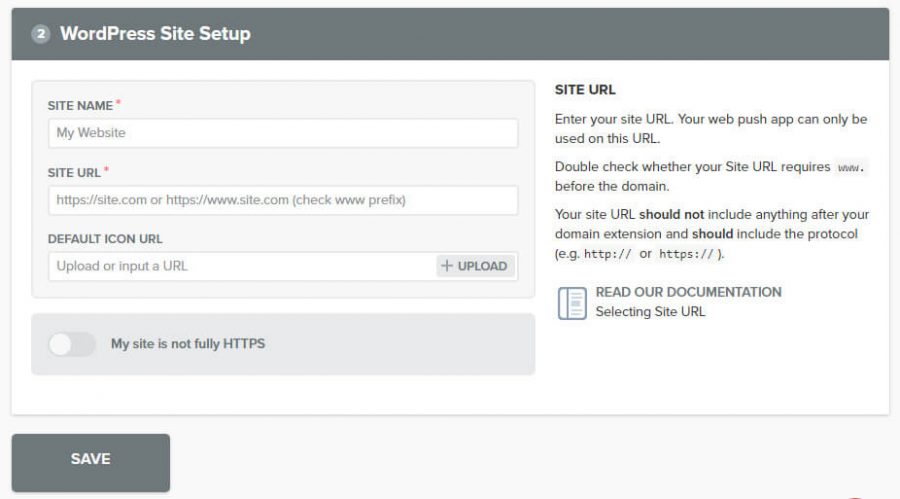 In any case, be sure to indicate whether your site uses HTTPS or not before you save the changes here. Once you click on Save, move on to the last step.
Step 4: Configure the OneSignal Plugin
After saving your configuration in the OneSignal dashboard, you'll see a new screen showing your APP ID and API KEY: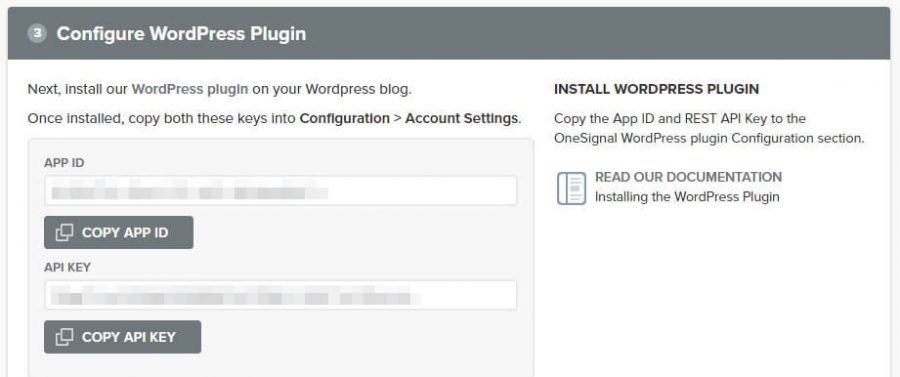 Keep this tab open for now, since you'll need both in a minute. Return to your WordPress dashboard, go to the OneSignal Push tab, then jump to the Configuration screen. Once you're in, you'll see three fields, one for your App ID, another for your API Key, and a final one for your app's label. Fill out the first two using the data from the previous screen:

As for your app's label, that's the name you chose during the previous step. In our case, that's WordPress Push Notifications.
Once you fill out all three fields, scroll down to take care of a few extra settings. Look for the section called Prompt Settings & Subscription Bell. Here, you can choose whether the plugin should prompt new users to subscribe automatically: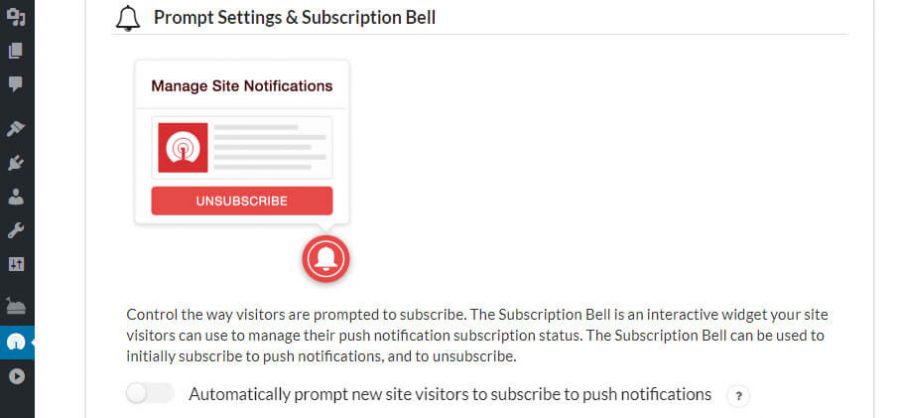 If you scroll down further, you can change the text of your subscription message: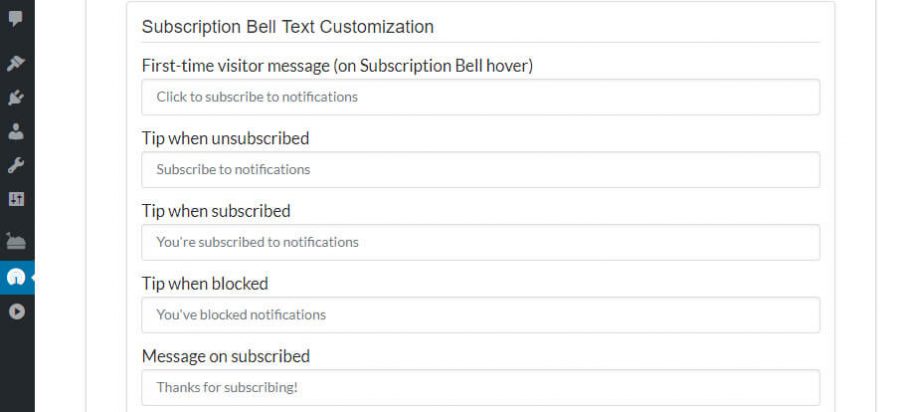 Further down on the page, you'll see a section called Welcome Notification Settings. By default, OneSignal will send a 'welcome' message via push notification when someone subscribes to your website. In this section, you can disable or customize that message: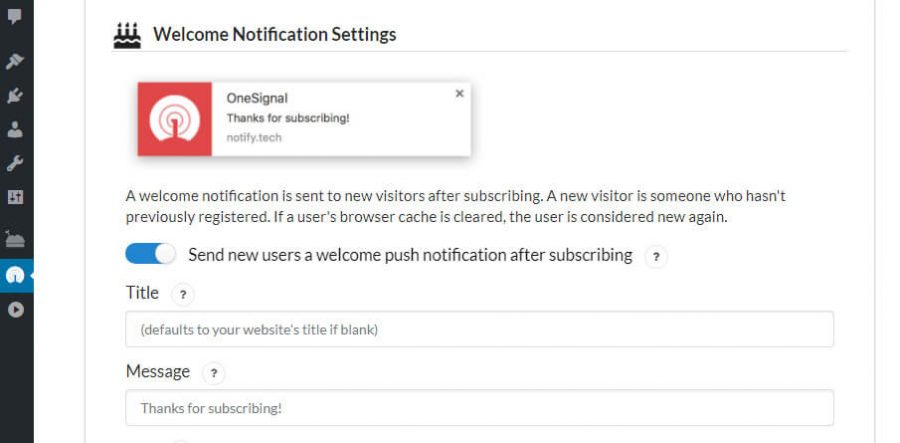 Finally, look for the section labeled Automatic Notification Settings. Here, you can configure whether the plugin should send automatic notifications whenever you publish a new post:

In most cases, you'll want to keep this setting on, especially if you only publish new content once or twice a week. However, if you publish new content daily, your push notifications may begin to feel like spam.
If you don't turn on automatic post notifications, you can choose whether to send one out within the WordPress editor, each time you're about to publish a new post. This way, you have full control over which posts get their own WordPress push notifications and which don't.
Remember to save your plugin's settings, and you're good to go! When someone visits your website, they'll see a OneSignal prompt to subscribe to your push notifications. If they decline, the message won't appear again, so you won't risk bothering uninterested visitors.
5 Alternative Plugins to Set Up WordPress Push Notifications
If you're not a fan of the way OneSignal works, then you have several other options to choose from. Let's talk about five alternative plugins, and the features they each offer.

PushEngage Web Push Notifications enables you to add Chrome and Firefox push notifications to your website. It's similar to OneSignal, in that you have to create an account with the PushEngage service for the plugin to work.
Along with basic push notification functionality, you can also use the service to target specific segments of your subscribers. It's also possible to schedule push notifications in advance, which can come in handy as a reminder for scheduled events.
Key Features:
Add Chrome and Firefox push notifications to your website.
Set up automatic notifications for new posts and RSS feed updates.
Include calls to action within your notifications.
Schedule messages in advance.
Target specific segments of your subscribers.
Pricing:
This plugin offers a limited free plan, and a variety of premium plans as well.
Push Notifications for WordPress by PushAssist enables you to set up push notifications for most major browsers. You can configure the actions that trigger these notifications, and even send fully custom messages if you want to.
Overall, this plugin stands out due to its polished interface and how easy it is to set up. It's an excellent option if you're looking for a straightforward WordPress push notifications plugin. However, its free plan caps your list of subscribers at 3000, which can be a downside if you aren't willing to pay for the upgrade.
Key Features:
Send push notifications to all major browsers from WordPress.
Configure which actions trigger notifications.
Customize the style of your push notifications.
Pricing:
This plugin is free up to 3,000 subscribers. Premium plans are also available, starting at $9 per month.

So far, all the push notification plugins we've featured are very similar. Push Monkey Pro is a little different, since it enables you to integrate your push notifications with WooCommerce. This way, you'll be able to target users with abandoned carts on your site, and talk them into coming back and wrapping up their purchase.
Aside from WooCommerce integration, Push Monkey Pro also supports regular push notifications when you publish or update a post. Moreover, we're big fans of the plugin's stats screen, which shows you a lot of helpful information at a glance. The only downside is that the plugin itself is still fairly new, so we can't fully endorse it. However, it does look very promising, so it might be worth trying out for smaller websites.
Key Features:
Set up push notifications for abandoned WooCommerce carts.
Configure notifications for post publications and updates.
Pricing:
Push Monkey Pro is free up to 100 subscribers, after which you'll need a premium plan.

Smart Notification WordPress Plugin is an all-in-one plugin that enables you to send push notifications via more platforms than just browsers. Along with the basics, such as Chrome, Firefox, and Safari, it also supports Facebook Messenger notifications and mobile operating systems.
The downside, in this case, is that you have to do a lot of setup work to get all those types of notifications working. This is even more true if you want to integrate the plugin with WooCommerce or bbPress, which are two other add-ons the platform offers.
Key Features:
Set up web notifications for Chrome, Firefox, Safari, and Opera.
Configure notifications for Facebook Messenger users.
Integrate the plugin with WooCommerce, bbPress, and others.
Pricing:
This is a premium push notifications plugin, which will cost you $59 for a license.

The Free Web Push Notification Tool by iZooto is different from the other plugins we've covered so far. It doesn't enable you to set up WordPress push notifications for new posts or updates. Instead, it's built to help you create and deliver campaigns via push notifications.
This can come in handy if you're running an online store instead of a blog, for example. This isn't the only plugin on this list that supports campaigns, but it's the only one that offers the feature for free. Moreover, it provides a decent amount of styling options for your WordPress push notifications. The only downside is the plugin itself is rather new, so it may still have some kinks to work out.
Key Features:
Create and deliver campaigns via push notifications.
Deliver notifications to all major browsers.
Pricing:
The basic plugin is free, as the name suggests. But there are premium plans available as well.
Further Reading
Looking for more ways to enhance your WordPress website? These tutorials will set you on the right path:
Conclusion
WordPress push notifications are an excellent way to keep your subscribers up to date with your latest publications. The problem is that WordPress doesn't include push notifications as a feature out of the box. However, that's nothing you can't fix with some help from the right plugin. We're partial to OneSignal, which only takes a few steps to set up. However, other excellent choices include PushEngage Web Push Notifications and Push Notifications for WordPress by PushAssist.
Do you have any questions or tips about web push notifications usage in WordPress? Let's talk about them in the comments section below!