WordPress 5.9: A Deep Look Into Full Site Editing
WordPress 5.9 will bring new features and enhancements that make full site customization even easier. This new version is currently in beta testing and is expected to launch on Jan. 25, 2022.
The previous stable release, WordPress 5.8, was already pushing full site editing with the integration of the Gutenberg block editor for post and page building. The 5.9 version will push the functionality even further by introducing a block-based theme editor along with more features and changes.
This article will discuss the new features, changes, and bug fixes of this core release. The WordPress 5.9 beta version is currently available for testing, so you can try it on a test site to see what's coming.
A Quick Overview of the New Features and Changes
The new features and improvements to the design and user interface aim to make intrinsic web design possible using WordPress. WordPress 5.9 will offer the following features:
Block theme editor – a new way to customize WordPress themes.
Design and UX improvements – new features for the block editor, such as collapsible list view and focus mode.
Global styles interface – a new cohesive design interface to change the global styles of the theme.
Pattern – a set of blocks that let you create a new page section in just a few clicks.
Design tools – various new design options.
Twenty-Twenty Two theme – a new WordPress default theme built to suit the new theme block editor.
Lazy loading – changes to lazy loading settings to speed up the pages.
Login page language switcher – select a language for the login page using a drop-down menu.
Gallery block refractor – every image in the gallery block will be treated as an image block.
PHPUnit Tests – an update to the PHP testing framework to enable compatibility with various PHP versions.
New compatibility and support – WordPress 5.9 will be compatible with PHP 8.1, jQuery 3, and Pinterest embedding.
Block Theme Editor
One of the highlights in WordPress 5.9 is the new Gutenberg-based block theme editor. In essence, this feature may replace the old WordPress Customizer. If you navigate to the Appearance section on the WordPress admin dashboard, you'll find Editor instead of Customizer.

The interface is similar to the Gutenberg-based page and post editor from WordPress 5.8. You can create or edit themes using WordPress blocks, with theme elements such as the header and footer having their own.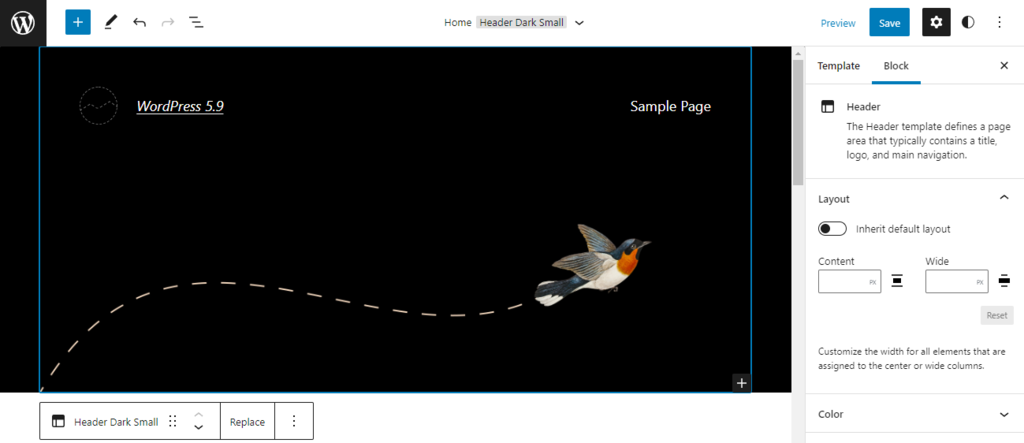 Other new theme blocks include navigation, site title, and site logo. The navigation block, for example, now has built-in keyboard accessibility and responsive menu options.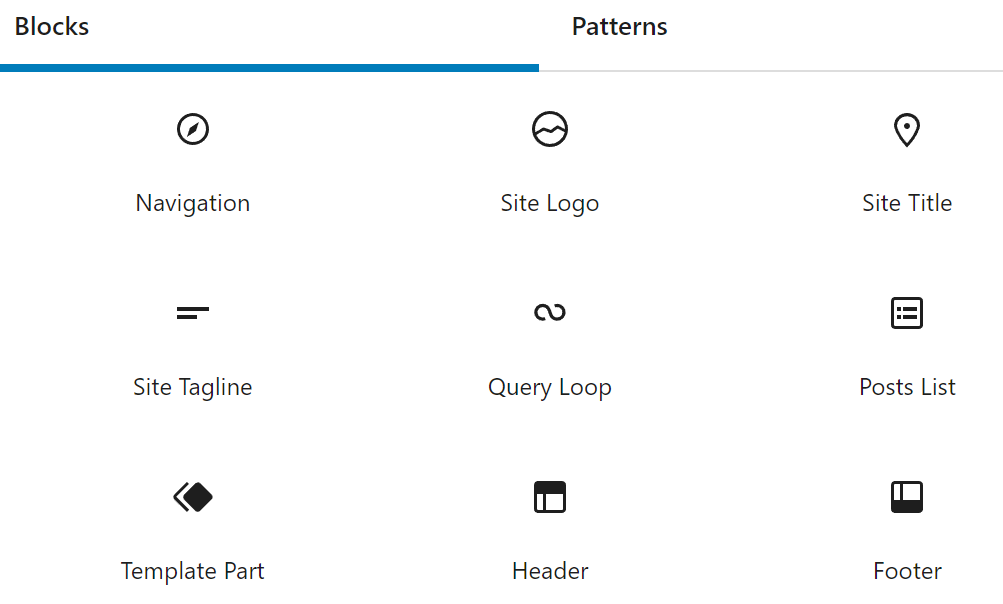 With the official release of the block theme editor, we can expect to see more WordPress block themes in the future.
Design and UX Improvements
The new WordPress version also improves the interface's design and user experience. The list view will have a drag-and-drop capability to rearrange the content simply by dragging and dropping elements.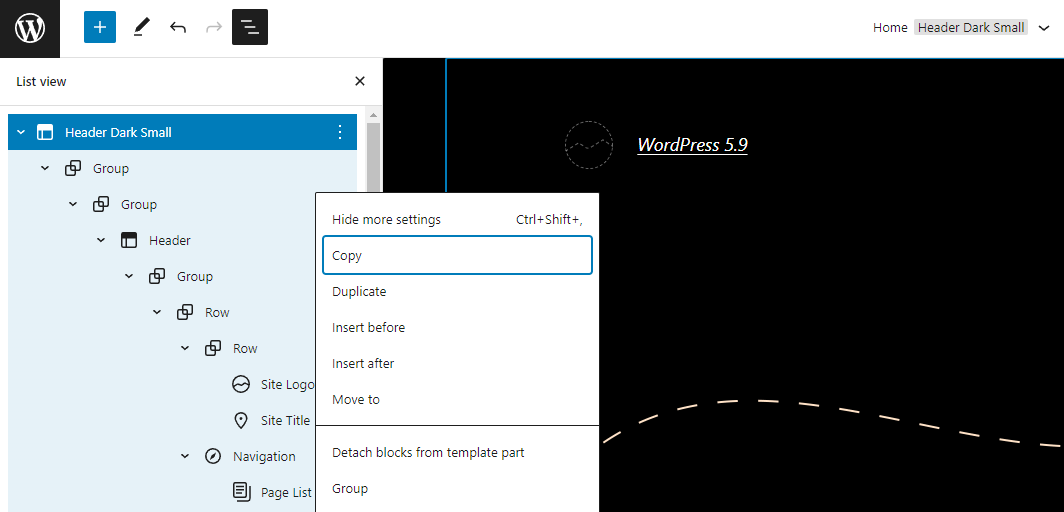 The items on the list view are also collapsible, making it easier to manage complex content with many blocks. Moreover, it's possible to add an HTML anchor to any block for quick navigation.
The theme editor also has a focus mode for the header and footer. This feature is accessible from the top panel of the editor and will show only the part you want to edit.
Global Theme Styles
WordPress 5.8 introduced theme.json, a file located in the theme's top-level directory that allows you to configure the theme's default styles using minimal CSS.
WordPress 5.9 introduces the global styles interface. The feature lets you change the global styles on the theme editor without tweaking the content of the theme.json file directly.
The interface is accessible by clicking on the black and white circle at the top-right corner of the editor. The panel will appear on the right side and let you change the font style, color scheme, and padding for the entire site.
There's also an option to set a style for specific blocks. For example, you can set different typography and color only for the button blocks.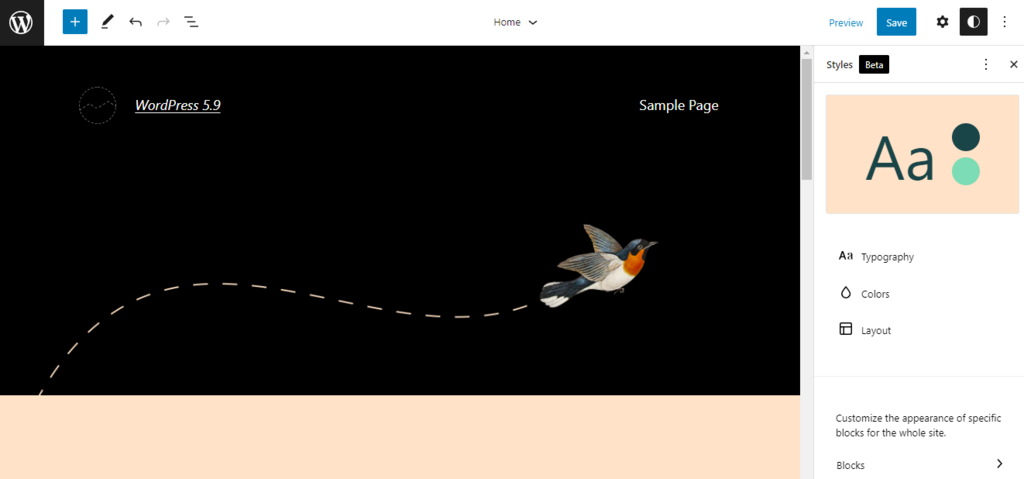 Pattern Insertion and Creation
This feature lets you add a pattern – a block package – to efficiently create a new website section. For example, create a section for a subscription form by inserting a pre-made pattern instead of adding new blocks one by one.
Click the plus icon at the top-left corner of the editor, then select the Patterns tab. Use the drop-down menu to choose a category or click the Explore button to see all available patterns.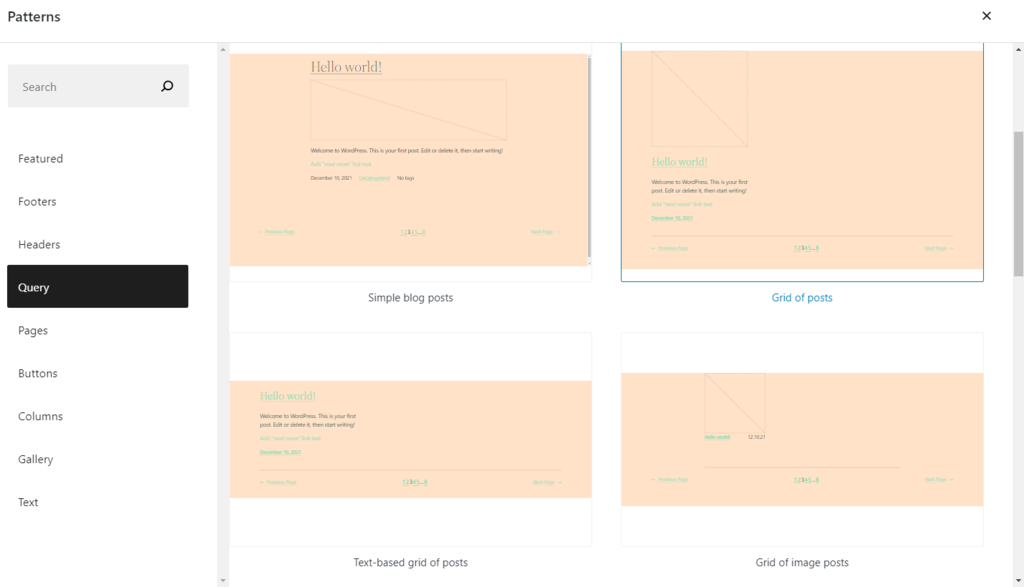 New Design Tools
WordPress 5.9 brings a lot of updates to the design tools, accessible from the block settings panel. Each block type has different design tools and customization options. Below are some of the notable new additions:
Pagination – options to change the arrow styles, text orientation, and block layout.
Navigation – options to control the space between navigation items.
Buttons – options to adjust the layout justification and select horizontal or vertical alignment.
Feature image – dimension and scale options were added.
Border – various border design options, such as border style, color, and border-radius properties were introduced in WordPress 5.8. In the 5.9 version, they will also support child themes.
Duotone filter – this option is now available for featured image and gallery blocks.
These are just some of the new design tools available in WordPress 5.9.
New Twenty-Twenty Two Default Theme
WordPress launches a new default theme every year, and 2022 is not an exception. The new WordPress 5.9 includes the Twenty-Twenty Two default block theme.
This block theme was built with full site editing in mind. The theme developers focused on making the theme editable through theme.json and the new editor, resulting in minimal use of CSS.
Twenty-Twenty Two has a wide range of page templates, including 404 error pages, single post pages, and archive pages. The template parts also include a footer and three different types of headers – default, dark with a small style, and dark with a large style.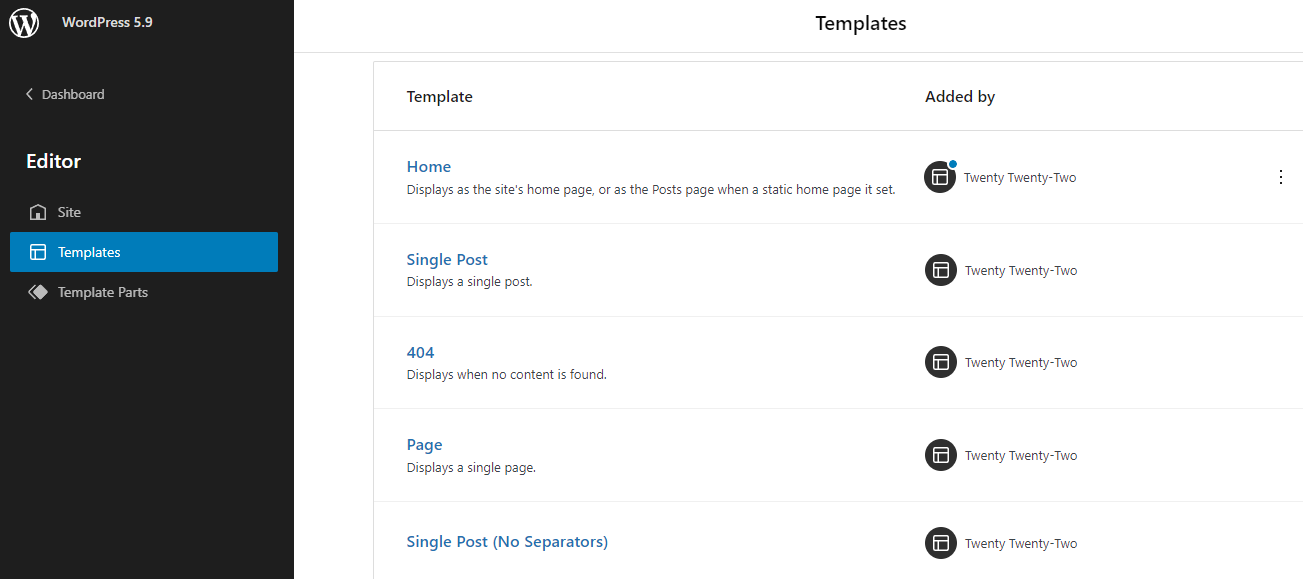 As a new block theme, Twenty-Twenty Two also has various patterns, covering headers, footers, pages, and columns. In total, there are over 70 patterns, providing endless possibilities of full site editing.
If you're looking to install this theme, read our tutorial.
Lazy Loading Images
The WordPress team found out that not lazy loading the first content image on the page improves the average Largest Contentful Paint by 7% without adding average image bytes.
WordPress 5.9 is likely to implement this change, modifying the image lazy loading feature to optimize page speed. That said, there's still discussion about whether featured images will be part of this improvement.
Language Options on the Login Screen
WordPress 5.9 will allow users to select their language on the login page. The language choice will also apply to derivative pages, such as the password reset screen and user registration. To activate this feature, users must install more than one site language.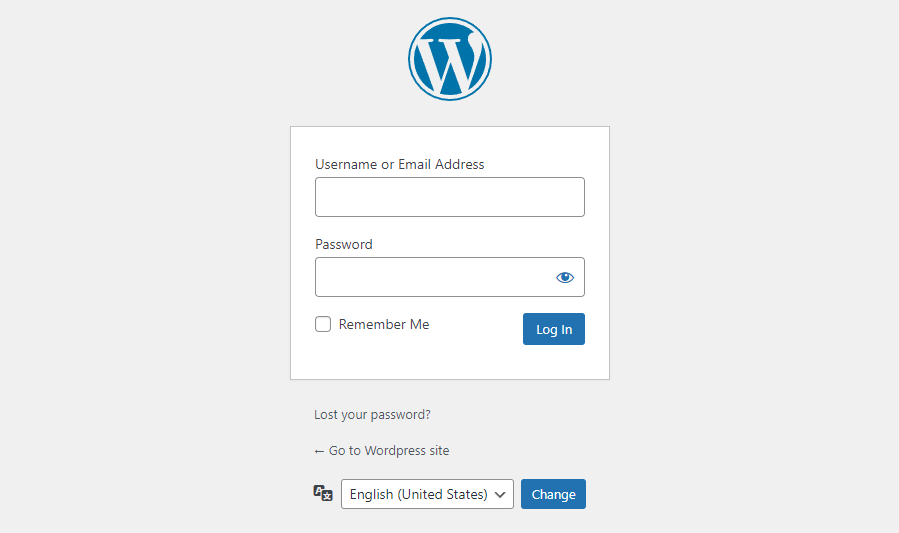 Gallery Block Refractor
The gallery block refractor is one of the most anticipated improvements of WordPress 5.9, even though it is still under development.
In the previous WordPress version, the gallery block didn't treat the images inside it individually. That meant you couldn't add alt text, links, or a custom border to each picture.
The improved gallery block will treat each image as an individual block, meaning that they will have a design tool similar to the image block, including alt text and links for each image.
Furthermore, the customizable border-radius property and duotone filter are also applicable for each image.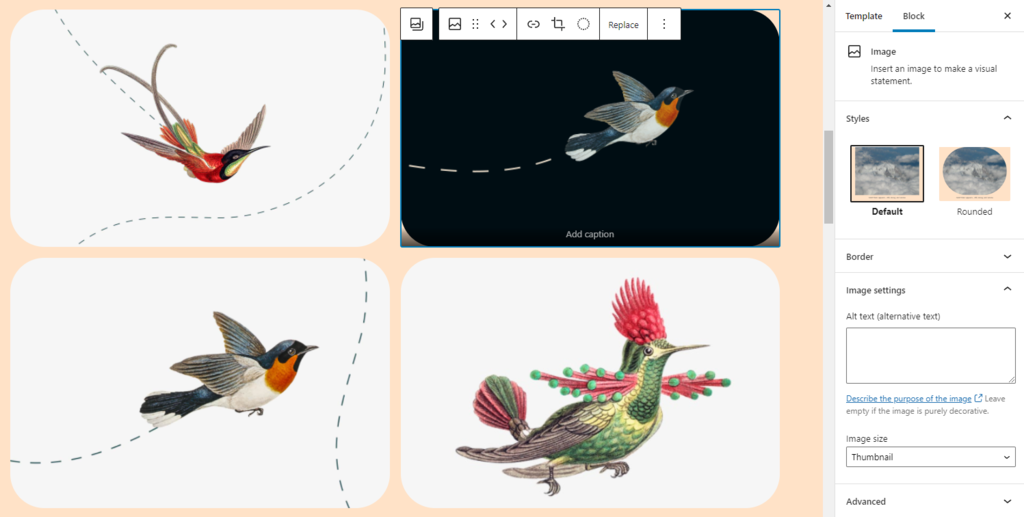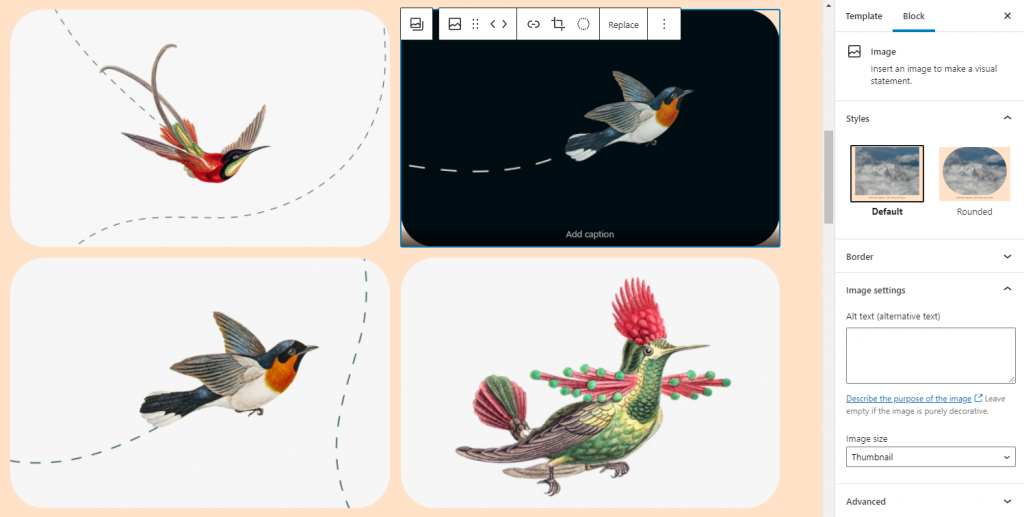 PHPUnit Tests
The PHPUnit testing framework will get an update in WordPress 5.9. This is due to the introduction and deprecation of features in PHP, most notably the recently released PHP 8.1.
For example, the void return type was introduced in PHP 7.1. Any test on PHP versions lower than 8.1 will be affected if the core contributors add this feature to PHPUnit.
Similarly, if the core contributors stick to running tests on older PHP versions, testing on PHP 8.0 and PHP 8.1 will become increasingly tricky.
The solution for this problem is based on the PHPUnit Polyfills library. The WordPress core test suite can now run on PHPUnit versions 5.7.21 to 9.5.10, allowing testing against all supported PHP versions without problems.
Added Compatibility and Support in WordPress 5.9
The new WordPress version also provides several compatibility updates for other software, programming languages, and social media platforms. Here are the three most significant ones:
jQuery 3 – after several delays, WordPress core contributors plan to roll out the update for jQuery 3 compatibility along with WordPress 5.9.
PHP 8.1 – the new WordPress version will be compatible with PHP 8.1, released in November 2021. However, check if your themes and plugins support it before running your WordPress website on PHP 8.1.
Active embeds for Pinterest – WordPress 5.9 will support seamless Pinterest embedding with the addition of a dedicated block. Simply add the block to a page or post and paste the desired Pinterest URL.
WordPress 5.9 Bug Fixes
WordPress core contributors are working to fix several bugs reported in the previous versions. They will finalize the list closer to the release date, but here are some of the bug fixes expected:
Dark mode bug – WordPress 5.9 fixes the Widget screen bug when using the dark mode. The bug causes the text to use a grey color on a white background, making it hard to see.
Shaking screen on the theme page – this bug appears on the Appearance -> Themes page. The browser screen may shake if you hover over a theme thumbnail.
Disappeared reusable blocks – since WordPress 5.7, many users have experienced issues with disappearing reusable blocks. Although various suggestions to overcome this bug are available, a bug fix should arrive with WordPress 5.9.
How to Update to WordPress 5.9
Once the WordPress 5.9 update is released on Jan. 25, 2022, be sure to update the core software to utilize its new features and enhance security. There are several ways to update WordPress:
Conclusion
WordPress 5.9 will take the full site editing experience further by adding a block theme editor, various new editing tools, and UX improvements. The new Twenty-Twenty Two default theme is also a perfect starting point for new WordPress users as it has plenty of template and pattern options.
WordPress 5.9 will also introduce features to enhance web development and design, including bug fixes and new compatibility tools.
Try the new features before the release date by installing the WordPress 5.9 beta version. Do so by installing the WordPress Beta Tester plugin and selecting the Bleeding Edge option. Alternatively, directly download the .zip file and install it manually.
We recommend testing the WordPress 5.9 beta on a new WordPress website or installing it in a subdomain to avoid issues. Contribute to the development process by sending a reproducible bug report to the Alpha/Beta section of the support forums or WordPress Trac.
Keep an eye on WordPress news to get the latest updates regarding the release of WordPress 5.9.