How to Restore Backup on VPS with cPanel/WHM

You have already learned how to transfer a backup to VPS in the previous tutorial. Now it is time to restore it on the VPS so you could manage the account via cPanel.
What You'll Need
Before you begin this guide you'll need the following:
Access to VPS with preinstalled cPanel/WHM
Full cPanel backup file, either uploaded on the VPS or located on your own computer
Option 1 — Restoring an Existing Backup
Once you login to the WHM, enter backup phrase in the search field and select Restore a Full Backup/cpmove File category.
After selecting the restore category, this page will appear: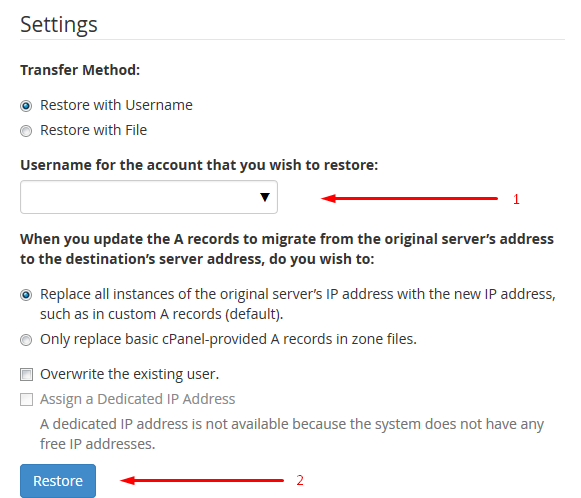 Here are all the available restoration options:
Restore with Username – this is the default option, it restores a backup that is already uploaded to the server.
Restore with File – second restoration option which lets you restore a local backup that you have on your computer.
Username for the account that you wish to restore: – once you select this field a list of available backups will be shown. You can choose one or just enter the username which should be restored.
A record update – you have two choices, one is to update all DNS A entries, the other one replaces only basic cPanel-provided A records. Usually, the first option is sufficient if you are migrating from old server and don't want to use any services provided by the old server.
Overwrite the existing user – this feature is very handy if you are restoring a backup of an account which is already active on the VPS.
Assign a Dedicated IP Address – you can assign a dedicated IP for the user so he could access his website directory via IP, however in this case we do not have any additional IPs.
Important! Your backup must be uploaded to either one of these directories: /home, /home2, /home3, /root, /usr, /usr/home, or /web, otherwise the restoration tool will not locate it.
Now just select the backup that you want to restore and click on Restore button.
If everything goes well, you will see this screen: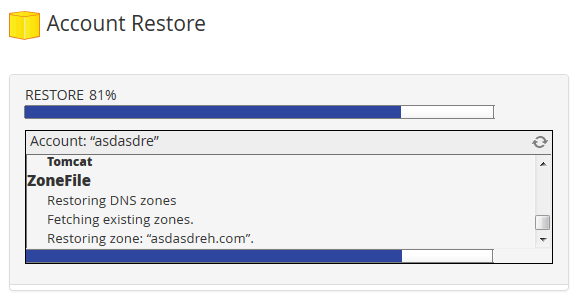 However, if you receive any error messages, please contact your old server or VPS provider support for assistance.
Option 2 — Restoring a Backup From a Local Backup File
If the backup that you want to restore is located on your PC, you will have to choose Restore with File option and click on Browse button to select the actual backup.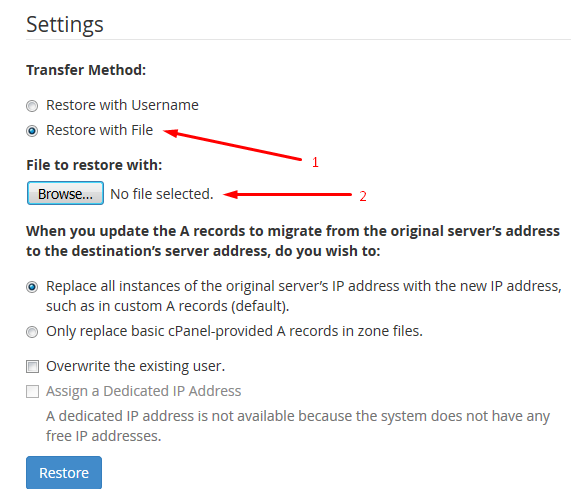 Once you click on Browse button a window will open, just navigate to the backup location and double click on the archive file. After this, click on Restore button.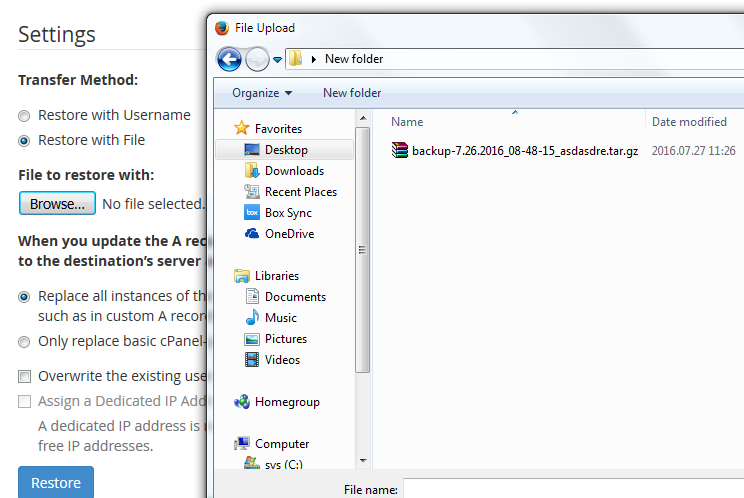 Once the restoration starts You will see the same restoration progress window as in the Option 1 of this tutorial.
Conclusion
In this tutorial you learned how to restore the backup using powerful WHM/cPanel. It is just like selecting an existing archive or uploading a new one and everything else is done by cPanel.
In the first option you have selected the existing backup by username and restored it.
Using the second option you have uploaded a local backup and cPanel restored it automatically.
Was this tutorial helpful?