Slack vs Teams: Comparing the Two Apps on Popularity, Features, Pricing, Interface and More
Effective collaboration requires more than just an exchange of communication as it also requires appropriate tools. Thus, when it comes to sharing information, exchanging ideas, and engaging in general conversation with coworkers, most businesses use various online collaboration tools which help to create an enjoyable and relaxed atmosphere.
If you work remotely, there's a good chance you've heard of such names as Slack or Microsoft Teams. These two platforms quickly became popular among businesses of all sizes due to their excellent features and benefits. Moreover, they also play a pivotal role in bridging communication gaps in virtual teams.
Microsoft Teams and Slack essentially are collaboration tools that help employees stay connected while working on various projects, cutting down the time spent on meetings and keeping track of tasks across the company's different departments.
However, which one is suitable for your company? In this article, we'll compare Slack vs Microsoft Teams based on several aspects such as pricing, security, and task management.


Slack vs Teams: Popularity
Microsoft Teams and Slack share a wide range of features, including the ability to send messages to specific individuals or groups within your business, as well as to external collaborators.
Both platforms offer free versions and feature message search, file sharing, one-on-one audio and video calls, and cross-platform compatibility – meaning that Teams and Slack are available for Windows, macOS, and Linux-based systems. They also have mobile apps for iOS and Android-based devices.
Microsoft Teams has observed a substantial increase in the everyday use of their communication and collaboration platform in the past two years due to the COVID-19 pandemic and the growing trend of social distancing and remote work practices.
The number of daily active users has increased from 75 million users in 2020 to 270 million as of 2022. Meanwhile, Slack had 10 million daily active users as of 2019. Since then, the company hasn't updated this figure.
A Statista report listing the most used collaboration tools for US workers shows that 19% used Microsoft Teams, while 7% used Slack. Thus, Microsoft Teams triumphs in terms of popularity.
Slack vs Teams: Comparing the Main Features
Despite the interface resemblance, Microsoft Teams, and Slack offer different functionalities.
One of the critical differences between Slack and Microsoft Teams is its integration with all Office 365 apps. Users can add apps to Teams by simply clicking the "Add Tab" button, including Word, Excel, OneNote, Planner, and Notes.
The Office 365 Compatibility enables users to utilize all these other apps while remaining within Microsoft Teams.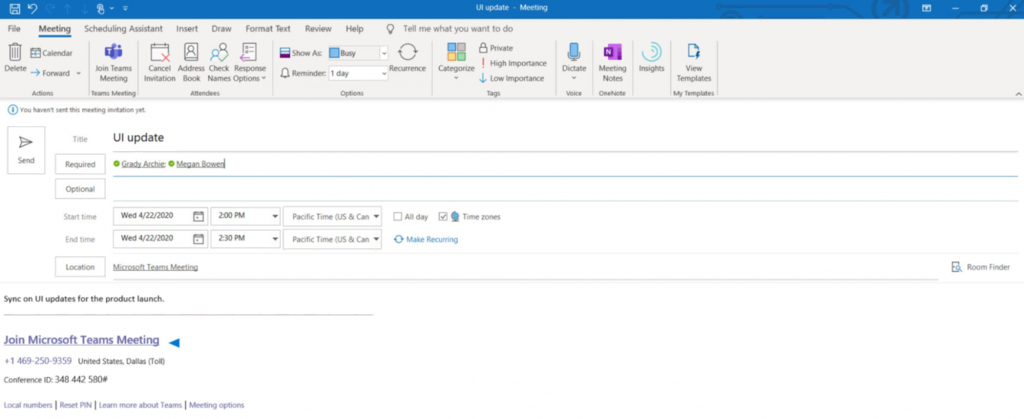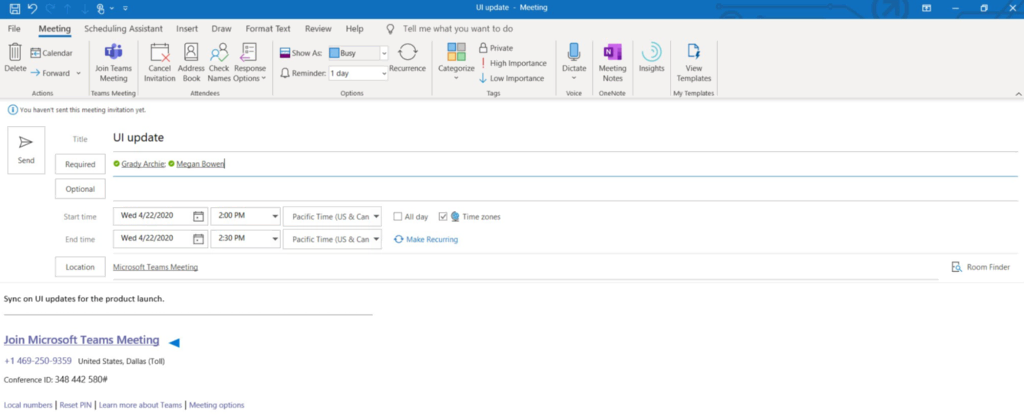 The free Slack plan supports one-on-one phone and video calls, but it does not allow screen-sharing for group calls and video conferences.
Once upgraded to a paid plan, Slack offers more accessible ways of collaboration, allowing up to 15 people for voice and video calls and screen-sharing in real-time.
Meanwhile, Microsoft Teams supports one-on-one and group audio and video calls with screen-sharing features in all of its plans.
Given Teams is part of Office 365, users can easily share and upload files using OneDrive and SharePoint. Moreover, Teams also facilitates task management using built-in file editing programs such as PowerPoint, OneNote, Word, and Excel.
Editing a document in Slack requires downloading and opening the file with the appropriate program. Slack users must rely on third-party app integrations such as Google Drive and Dropbox for file storage, sharing, and collaboration.
However, Slack's free plan only allows up to 10 integrations, while the paid plans grant users access to unlimited apps. Slack also integrates with some Office 365 apps, like Outlook Calendar and Emails, and OneDrive.
Having the ability to swiftly and easily share files with coworkers is an essential part of using collaboration tools. Both Slack and Microsoft Teams provide users with file storage space for uploading and sharing documents.
Slack workspaces can store up to 5 GB of files using the free plan. Anything users post on a channel or via direct messages counts toward this limit, including PDF files, documents, pictures, audio, and video files. As for Slack's Pro and Business plans, each member gets 10 GB and 20 GB of storage, respectively.
Users can still upload files after exceeding the storage space limit. However, Slack will archive the oldest files, which won't be accessible through channels, direct messages, or search results. To access archived messages or files, users will have to upgrade to a paid plan.
Moving on to Microsoft Teams, there is a significant difference between the free plan and paid versions. The former offers 5 GB of cloud storage for each user, while the latter provides up to 1 TB of cloud storage per user.
In terms of messaging capabilities, both Microsoft Teams and Slack allow their users to chat, share updates, and send files and links to other members. Additionally, users can also modify their statuses and view others'.
As for chat history, Slack's free version displays only the last 10,000 recent messages. Users must upgrade to a paid plan to access the entire message history. On the other hand, Microsoft Teams users have complete message history on all plans.
What stands out from the Teams messaging capability is its Immersive Reader feature. It reads text aloud at varying speeds and lets you choose different font sizes and colors for texts and add labels to messages.
To chat with external collaborators, Microsoft Teams offers guest access. It allows you to add a person from outside the company to chat, call, or collaborate. When you invite a guest, they must accept the invitation sent to their email. The team owner may include an overview of the team and what new users should expect from it in the message.
External collaboration is also made easy with Slack. Administrators can add up to five single-channel guests on each paid plan, but they will be billed as regular users of the paid plans if you need to invite more than that.
You can set a time limit for their accounts if they are just joining for a short-term collaboration. Plus, since Slack guest access is limited to just one channel, information from other parts of your organization won't be visible to Slack guests.
Still, they can freely explore the channel and view the complete conversation history prior to their addition.
By default, Microsoft Teams users can turn off read receipts. However, administrators can override this setting and enable read receipts. Meanwhile, Slack still does not provide the functionality.
Slack has 10 different languages to choose from when it comes to multilingual assistance. This is sufficient for many multinational organizations, but it lacks the coverage provided by Teams.
Microsoft Teams is available in more than 18 languages. In addition, Teams also offers an in-line message translation functionality. It can translate your messages into many languages, including Chinese, German, and Spanish.
Slack provides fast installation and deployment features. In addition, you do not have to submit extensive personal data unless you want to upgrade to the paid plans.
Microsoft Teams requires a more complex setup process. Even if you opt for the free version, you'll be required to submit your credit card details, phone number, and business email address, which means you can't download the Microsoft Teams app for personal use.
Slack vs Teams: Plans and Pricing
Microsoft Teams and Slack offer free versions that allow customers to try out all of the features before committing to a premium subscription. However, there are certain limitations, such as the inability to add more members or use as much storage space as you'd need – which might require updating to paid plans as your business grows.
Slack's plans are available in four categories – Free, Pro, Business+, and Enterprise. Keep in mind that the platform offers discounts for plans billed annually – prices are higher if you pay monthly.
Slack provides the Enterprise plan for large-scale collaboration, which supports up to 500,000 members. This plan is particularly well-suited for businesses that demand centralized controls and customizable policies. However, users have to reach out to Slack's sales team to receive a price estimate.
Now, let's look at the four plans offered by Microsoft Teams: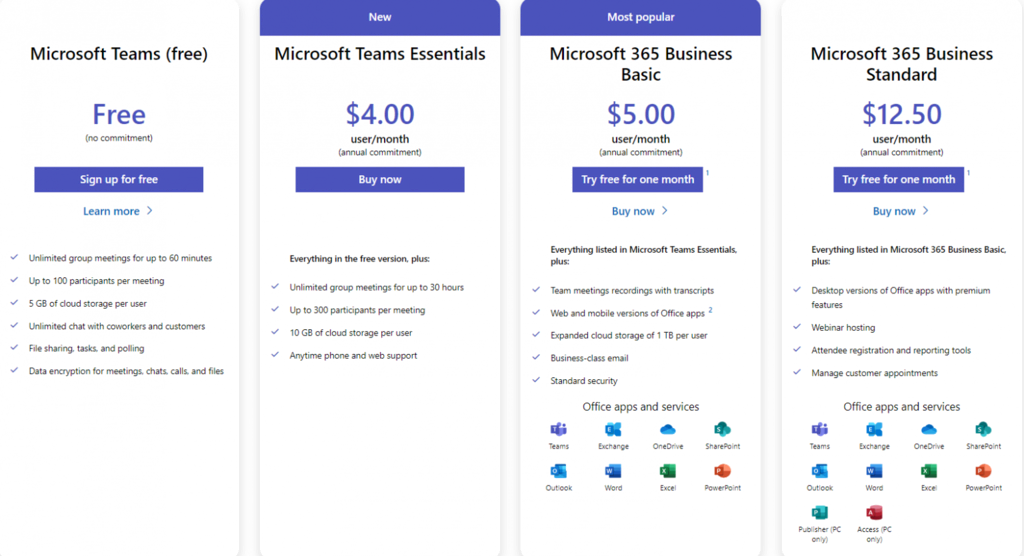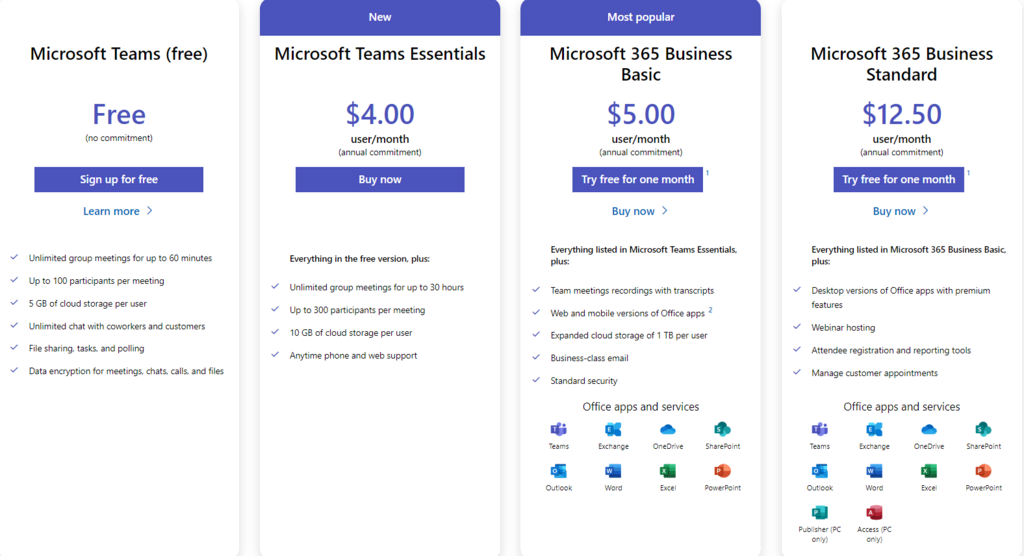 Starting at $4.00/month per user, Microsoft Teams provides a higher participant limit for online meetings. While Slack's cheapest plan among the paid options sets it at 15 users, Teams allows up to 300 participants.
Considering the price of each premium plan, Microsoft Teams appears to offer better value. However, if you plan on using any of Microsoft Office apps such as Word, Excel, or PowerPoint, keep in mind they are only included in the highest-tiered options.
Still, you can benefit from the convenience of dealing with a single vendor for team communication and collaboration.
Slack vs Teams: Messaging Interface
One of the most critical aspects of any collaboration app is messaging functionality. Slack and Microsoft Teams allow editing, deleting, and pinning messages. Furthermore, both also let you mention other users, share files, and create new threads.
These collaboration platforms allow you to include GIFs in your messages to make conversations more engaging. Microsoft Teams' stickers enable users to make images more interesting and experiment with creativity.
To have this same kind of functionality on Slack, you must download the Bitmoji app first. However, Slack does let you reply to messages and comments using built-in emojis.
Slack has a straightforward and easy-to-use messaging interface, providing immediate access to your message history.
As for modifying your Slack workspace, it's possible to change its overall appearance by switching to a light or dark theme. Additionally, you can create a custom theme by picking your preferred colors for each element.
Unlike Slack, Microsoft Teams does not offer theme customizability. Teams only allows you to change the layout option by selecting a dark, light, or high-contrast theme.
Due to the significant volume of conversations, files, and media shared, a sophisticated built-in search feature is another crucial aspect when choosing a collaboration tool. Both Microsoft Teams and Slack feature a prominent search bar at the top of the platforms' dashboards.
Furthermore, they show the search term results in real-time based on categories such as people, groups/channels, or files.
In addition, Slack and Microsoft Teams feature quite familiar layouts for text formatting. You can add bullet points, hyperlinks, bold, italicize, or underline text.
These workflow tools also have convenient quick commands for performing specific tasks, such as altering your status or adding a user to a team.
With Slack, access the set of quick commands by typing a slash (/) into the search bar. Meanwhile, with Teams, enter either @ or / in the search field and select a command from the list.
Slack vs Teams: Channels and Team Calls
When it comes to online meeting solutions, Microsoft Teams and Slack provide audio and group video calls. However, Teams features better tools for large organizations.
The free Microsoft Teams plan enables video conferencing, the ability to blur or choose custom background images, and screen sharing. Furthermore, if you opt for the 365 Business Basic plan, you can schedule, record, and host a meeting session with up to 250 people.
Slack's free plan includes unlimited voice and video calls, but it cannot record meetings. To do so, users must integrate third-party software such as Google Meet or Zoom.
In addition, Teams and Slack enable you to create private messages and channels. This provides a unified view of any project in progress or important announcements.
Moreover, both apps let you easily find what you need simply by entering a keyword in the search bar – be it files, people, or conversations.
Similar to Slack, the channels on Microsoft Teams are where coworkers can interact. The best practice is to create a channel that focuses on a single issue, whether it's a specific project, an area of interest, or a department.
Any content uploaded or chats sent to the channel, whether public or private, can be searched by other organization members. Note that you might need to send a request to participate in a private channel.
While Slack does not allow the creation of sub-channels, Teams further enhances group collaboration by enabling the creation of teams and extra channels within those teams.
Slack vs Teams: Bots and Task Management
As integrated components of both platforms, bots are a fantastic way to simplify complex processes and automate routine tasks. Furthermore, they also help you stay in touch with the team and keep everyone up to date with the important news.
Slackbot is automatically included with every workspace. Users will find the Slackbot tab within the Direct Message tab – making it easily visible and accessible. Slackbot helps streamline tasks like setting personal reminders and answering questions related to the platform.
On Microsoft Teams, on the other hand, users can find numerous bots in the Microsoft Store to help with project management and communication.
Bots like Workbot and FAQ Plus help automate workflows and find out information about people within your company, such as their names, occupations, or connections to people you know.
Slack vs Teams: Integration
Ideally, an efficient collaboration tool should effortlessly integrate with existing tools and workflows. Fortunately, both Slack and Microsoft Teams offer an extensive list of app integrations.
With more than 2,000 applications available within Slack, you can choose anything that suits your needs and preferences – from Google Workspace to productivity apps like Trello, including Office 365. However, note that the free plan offers limited integrations.
You can find all the integrated apps within the Slack Apps Directory, where you can sort the options by category type or popularity ranking. Clicking on any integration will take you to its dedicated page, which explains more about what it does and shows how Slack users have rated it.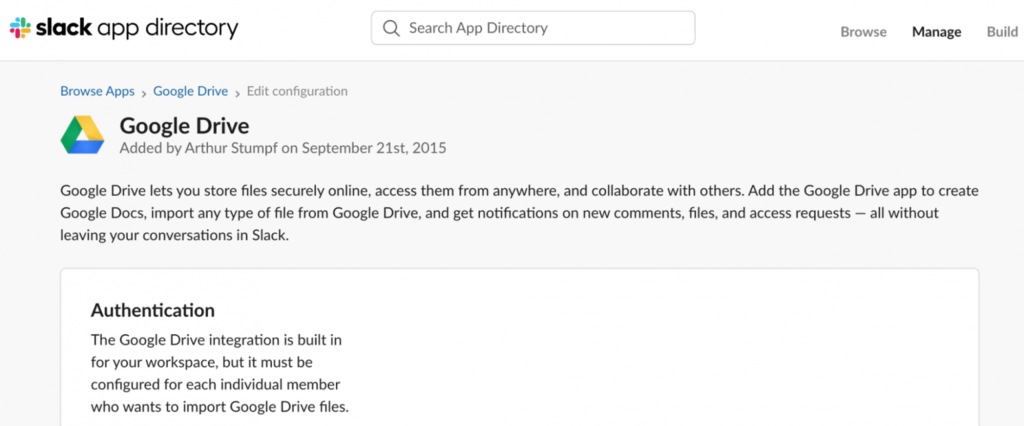 Moreover, Slack has also integrated Microsoft Teams call features into its app – users can set Microsoft Teams Calls as the default calling app. In addition, before joining a meeting, you can see who's already on the call and when it started.
On the other hand, Microsoft Teams only has around 1,000 apps available. While the integrations Teams offers are quite comprehensive, ranging from Analytics to Human Resources tools, Slack has significantly more options.
Slack vs Teams: Security and Support
Security is always a concern when choosing a collaboration app. For example, data breaches can lead to consequences such as financial loss, reputational damage, and legal issues. Thus, data integrity and security are critical when selecting collaboration platforms.
Fortunately, comparing Slack vs Microsoft Teams in security and compliance, we see the platforms take these topics seriously. Although Slack experienced a data breach in 2015 that compromised usernames and passwords, the company has since tightened up its security.
Microsoft Teams and Slack comply with the most basic ISO certifications, including ISO 27001. However, Microsoft offers more security and compliance features for Teams.
Still, both tools provide users with security measures to encrypt files, data, and messages. They both offer two-factor authentication, channel controls, and data loss prevention. Although, unlike Microsoft Teams, Slack doesn't employ end-to-end encryption.
By default, Slack encrypts data at rest and in transit for all its users. This means that the safety of users' data solely depends on Slack's own security protocols – both during transfer and after the data is stored on Slack's servers.
On the other hand, Microsoft secures all of its integrations. For instance, if you create a OneNote file from the Teams platform, the file is encrypted using Microsoft's OneNote software.
Additionally, Microsoft employs advanced threat protection (ATP), communication compliance, secure guest access control, and more.
If you're in a highly-regulated industry, then Teams has the advantage of providing more secure collaboration.


Conclusion
Slack and Microsoft Teams both offer high-quality productivity tools for collaboration. The free plans on both platforms offer plenty of excellent features and functionality, including unlimited messages, message search, file sharing, and video conferencing.
Microsoft Teams is the best option if your business relies heavily on Office 365 for everyday operations. Moreover, there won't be any additional cost to use software, from Word and Excel to OneNote.
Slack, being a stand-alone application, does not require you to be a member of any company to sign in, allowing greater flexibility.
Furthermore, virtual events have become increasingly important to many large and medium-sized businesses. With Teams' video conferencing capabilities, you can host meetings with hundreds of participants and record the entire session. This type of functionality is not included in Slack.
It is recommended to sign up for a paid plan instead of the free versions available. Free plans are there to mainly help you get started and are not meant for long-term use due to their limitations.
Ultimately, both are great collaboration tools. Depending on your needs, you can always try out the free plans of Microsoft Teams and Slack before fully committing to the paid plans.
We hope this Microsoft Teams vs Slack comparison helped you decide on the best collaboration app for your business. Or, perhaps, you have a personal recommendation for a third option? Let us know in the comment section below!
Also, if you're planning to create a website for your business, make sure to check our shared plans.