New OpenCart versions containing bug fixes and security patches are released regularly. However, OpenCart does not have an inbuilt one-click update tool for easy update process. This means that OpenCart must be updated manually. In this tutorial, you will learn how to update OpenCart manually using FTP client.
What you'll need
Access to your Hosting FTP account
Step 1 – Preparing for update
First of all, download the most recent version of OpenCart from their official website here.

Once the download is completed, extract the downloaded package to any folder on your computer.
Step 2 – Uploading files to FTP
IMPORTANT! In order to update OpenCart, you will have to overwrite almost all core files. To prevent any kind of data loss it is extremely important to backup your files first. You can do that by following this simple tutorial here.
OpenCart stores configuration settings in two config.php files. Overwriting these files would break your OpenCart installation. Therefore, it's necessary to delete them first. In order to do so, access the folder where you have extracted OpenCart archive and delete:
upload/config.php 
upload/admin/config.php
Now upload the rest files to the OpenCart directory (usually, it's public_html). You can do this easily using FileZilla client. Simply connect to your FTP and then just transfer all of the files from the left side (your computer) to the right side (your FTP server), just as it is shown in the image below. Choose the option to Overwrite all existing files.

Step 3 – Updating OpenCart
After you have uploaded all of the files, access OpenCart installation page: www.yourdomain.com/install and press on Continue button.

It should not take long for the update to finish. Once it's completed, you will see Upgrade – Complete! message.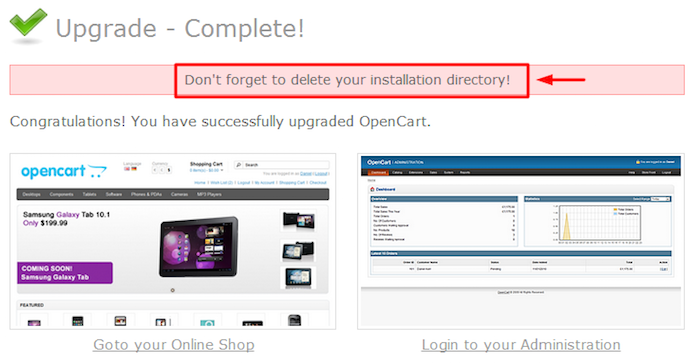 IMPORTANT! Due to security reasons, delete installation directory from your hosting account. You can use the same FTP client for this.
Congratulations, you have now updated your OpenCart to the newest version.
Conclusion
OpenCart doesn't have inbuilt one-click update tool and it can be complicated to perform manual update without exact steps. By finishing this tutorial you have learned how to properly update OpenCart to the newest version.