What if we tell you that the key to outrunning your competition lies in long tail keywords? We will answer your questions and doubts about this claim here. By the end of the article, you'll not only understand how to change your SEO game for the better but also dominate the SERPs.
Ready to be the new champ? Let's get to it!
What are Long Tail Keywords?
To get a better understanding of this topic, let's do a quick recap on the function of keywords in SEO.
If you're a blogger or manage a website, you'll know that a keyword is one of the factors that make your site appear on the SERP and, therefore, discoverable by visitors. They represent the content you offer and make them discoverable via search engines.
Based on its length, there are two types of keywords: short tail and long tail keywords.
True to its name, long tail keywords are phrases that consist of three to four words. While a four-word phrase might not seem that long in general context, it changes everything in SEO.
To show how different they are, take a look at the search results of a short tail keyword — shorter and more popular phrases compared to long tail focus keywords — below.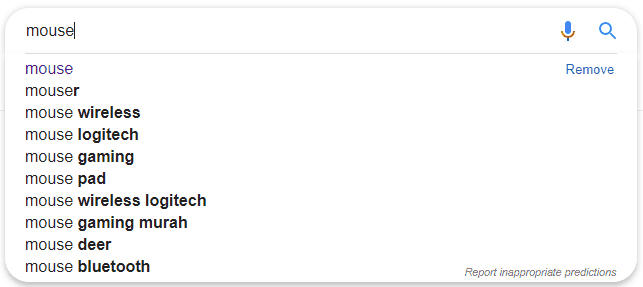 Due to the non-specific nature of short tail keywords, search engines will include all content that correlates with the phrase. As a result, you will end up getting content about real-life mouses and computer mouses.
Now, take a look at the search result of "best gaming mouse" below.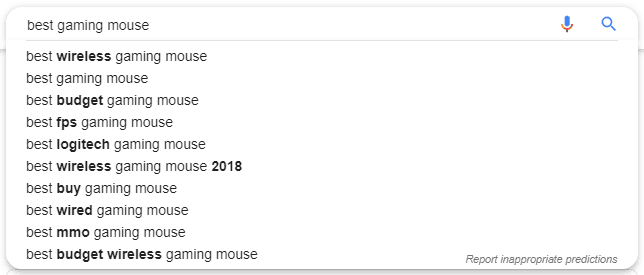 Just by adding more words into the search phrase, the result can be narrowed to specific content that has a closer relation to what you're looking for. Accordingly, you will get to create content specifically for this type of visitor.
Why Use Long Tail Keywords?
Here are the reasons why you should use long tail keywords:
1. Google voice search-friendly
Did you know that long-tail keywords contribute to 70% of all web searches? That's because longer keywords are becoming popular along with the increasing use of Google voice search.
As users use voice commands to use search engines, they naturally use phrases instead of short keywords to search for something. By including longer keywords in your content, you will get to target this specific yet large group of visitors.
2. Higher traffic
While small volume keywords can still generate traffic for your site, it's not easy to stand out in the SERP, as search results become highly competitive and oversaturated by content with various degrees of relevance.
With larger volume keywords, it might take a bit longer to rank on the SERP. However, you will get a better chance of generating more traffic as the competition is much less stiff.
3. Ease of use
Longer keywords sound more appealing to human ears than shorter ones as they look closer to a full sentence. Therefore, they will look natural in your content.
This is a good thing since you're writing for visitors instead of search engines. So, you get to focus your energy on creating quality content rather than trying to stuff awkward-sounding keywords into your post.
For these reasons, it's best to use both long and short tail keywords to get an optimal result from SEO.
How to Find Long Tail Keywords?
One of the easiest ways to find popular keywords is through the Google autocomplete function. You type in any keyword that's related to your topic of choice into the Google search box and it will generate predictions to complete the query.
Correspondingly, the predictions consist of popular or currently trending keywords correlate to the one you input previously. In other words, they are the representation of the keywords most users use when searching for a particular topic.
Another way to do it is by using a keyword research tool. This particular tool helps you gather popular keywords that have the highest search volume based on their monthly searches, niche, and SEO difficulty among many other things.
In addition, you'll get to monitor your competition and their weak points in terms of keyword usage.
Luckily for you, there are various great keyword research tools to choose from. Here are a few of the best ones for your consideration.
As part of the Adwords platform, Google Keyword Planner is a free keyword tool. Through a clean user interface, it provides keyword ideas along with their average monthly searches, level of competition, and top of page bid estimations.
This web-based application has an excellent user interface on top of various features that will guarantee great user experience.
Aside from providing an accurate keyword difficulty score, it can also narrow your keyword research down to a city level to produce even more precise, localized results.
This robust keyword search tool is not only capable to generate keyword ideas in bulk but will also dissect your competitor's keyword strategy to get you ahead of the game. In addition, it can create keyword metrics to measure your campaign's performance.
Each tool comes with different pros and cons. Therefore, it's best to find the one that suits your needs and budget.
How to Use Long Tail Keywords Correctly?
Now that you understand of long tail keywords work, it's time to put it into use. You can start by writing a content based on your keyword of choice.
Yes, it's as simple as that.
To make your job easier, you can use the keyword ideas generated by the keyword search tool to provide a detailed context on what you should include in the writing.
However, it's important not to overstuff your writing with keywords as it will harm your SEO performance. For one, search engines rank your site's relevance. Using a bunch of different keywords will make it seem that you wander around without a clear purpose.
Also, remember that you're writing for your visitors, not search engines. At the end of the day, it was they who you want to appeal to.
So, the best way to do it would be to incorporate a reasonable number of keywords into content that conveys the purpose of informing or benefitting the visitors.
Finally, don't forget to conduct keyword researches periodically to anticipate any changes that may happen in the future. After all, trending words tend to change rather quickly over time.
Conclusion
Long tail keywords are getting more and more popular these days for a reason. Despite appearing longer than the more popular short tail keywords, their ability to make your site stand out from the competition and generate organic search traffic makes them an excellent tool for a successful SEO strategy.
To incorporate them into your content, you'll need to:
Generate longer keyword ideas based on your word of choice using Google autocomplete function or keyword research tool
Build content around the keywords
Conduct periodic keyword research to anticipate any changes regarding their use and context
Added to the use of short tail keywords in your SEO strategy, it is only a matter of time until you get that number one spot in search engines.