As we all know, when it comes to search engines, Google is right there on the top. Almost everyone uses it when they're in need of information. Business owners have now taken the marketing advantage of using Google AdWords. Don't miss out on the train and read on to learn how to use Google AdWords.
What is Google AdWords?
Google AdWords is a very powerful tool that helps you to advertise your business online. It allows you to display advertisements on various platforms.
Depending on your campaign type, your ad can be shown on Google search results, related websites, or on YouTube videos. This will help lead potential customers to your products or services.
However, to get that advertising spot, you need to bid along with other advertisers on keywords or search terms. The winner will then get their ad displayed. Here is an example: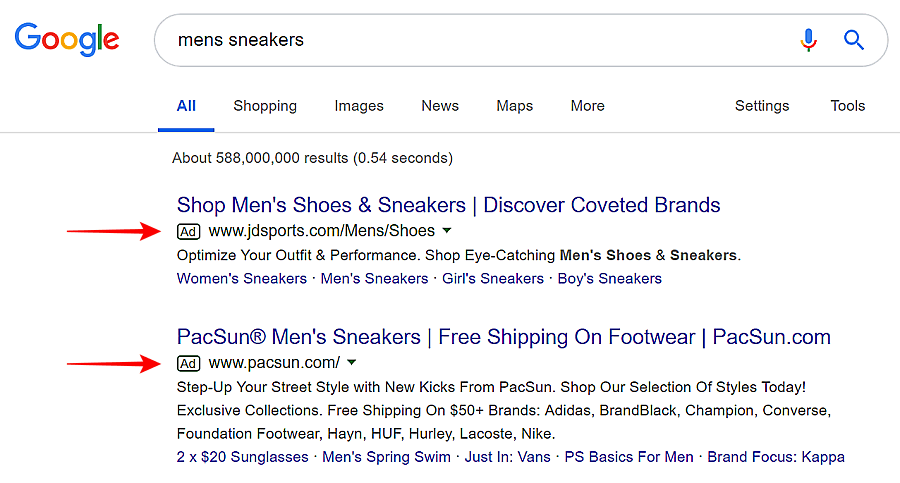 Targeting the Right Audience
One benefit of using Google AdWords is that it allows different targeting, which will result in reaching your intended target audience. You can filter it based on demographics, keywords, devices and more.

You can even schedule on what day and time your ads will run. This feature is useful if you want to optimize your budget. Local businesses can take advantage of it as well to attract visitors during peak hours.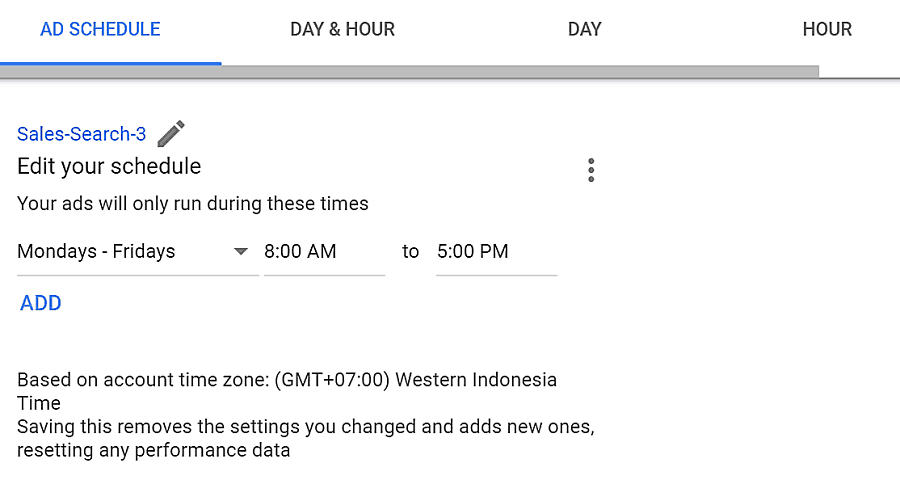 Insights on Campaign Performance
Google AdWords lets you track your ads and see exactly how they're doing. You can check how many clicks and impressions your ads are getting, monitor the average cost-per-click and your total spendings on the ad.
You will also only pay for what you get. In other words, you can save money as you're only paying for clicks and not the impressions. This is what you call a pay-per-click advertising model.
Preparing a Landing Page
When you click on an advertisement, it will direct you to a landing page. It can be your website's home page or a specifically designed stand-alone page that is different for your main site.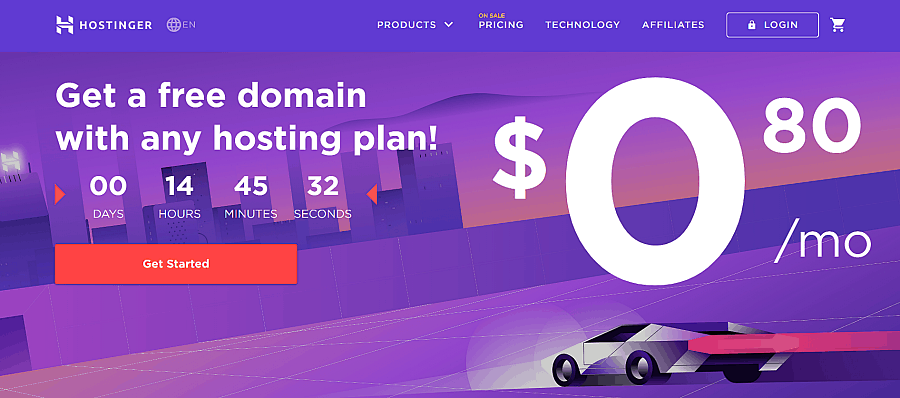 An excellent landing page is planned and created to focus on a single purpose. Its goal is to convert visitors into customers and leads. Therefore, it should include a positive and visible call to action.
Do keep in mind that the landing page should fulfill the promises that are displayed on the ads. In addition to that, a mobile-friendly layout is a plus point as people are using their phones and it's the easiest way to get information online.
How to Use Google Adwords?
Before you can launch your campaign, there are a couple of necessities that require your attention.
1. Plan Your Campaign
The first thing that you need to do is outline your campaign. It's very important to know what your objectives are. Is the add going to promote the place and location of your business, the ongoing offers, or the new app you've just launched?
Different objectives have different needs. For example, the headline and description of your ad must match your target keywords and offer a clear solution.

From the ad above, we can see that the message is clear and it can connect to the targeted visitors who are looking for "women's jackets".
To extend a campaign you can use site-link extensions. It helps your ad to stand out and gives additional links that might interest your target audience. As an example, check Chanel's add below.

Depending on your objective, you can also add other extensions such as:
Call extensions ‒ useful if you want you to add your business contact information so that users can reach you for more details.

Offer extensions ‒ can be helpful if you have promotions and discounts ‒ a way to attract potential customers.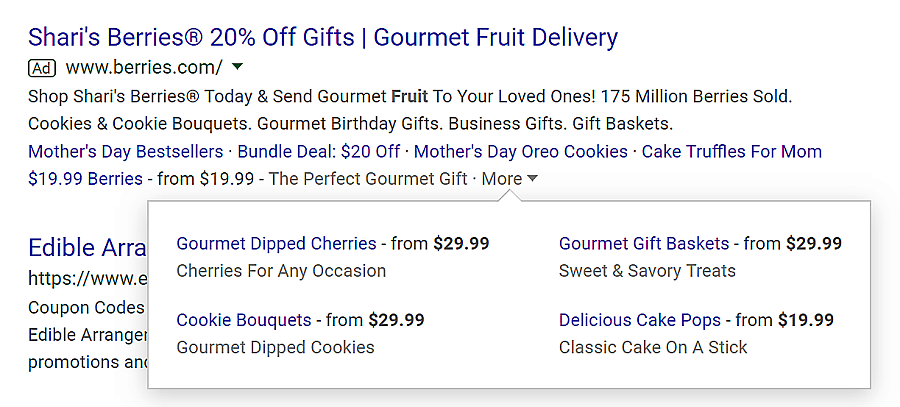 Location extensions ‒ if you have a physical store, why not show your visitors where it is located.

App extensions ‒ this is advantageous if you're in the mobile apps industry.

2. Set Up a Google AdWords Account
Once you are done planning your campaign, it's time to set up a Google AdWords account. It's not complicated. Follow the guide below, and you'll be launching your campaigns in no time.
Go to Google AdWords home page and click the Start Now button.
Sign up with your Google account. It doesn't take a minute to create one if you don't have it.
Select the campaign type of your choice and press Continue. You will be directed to the Select campaign settings tab.
Scroll down to find the Targeting and audiences section. You can set the Locations and Languages of your target audience. Under Audiences, type in the keywords related to your business in the Search box, then select the demographics and market.

Bellow that, you will see the Budget and bidding section. Set the average daily budget that you want to spend. Do keep in mind that you might spend less or twice as much on some days. You can also choose how you want to spend your budget: evenly over time or accelerated.

Next, you can select what kind of bid you want: clicks or impressions share. Feel free to type in a maximum CPC bid limit as well, though it's optional.

Choose the Ad extensions that you've decided on and add in the necessary information, then click SAVE AND CONTINUE.

3. Create the Ad
Now that you have all the necessities in place continue to the Create ads process. Here, you'll be able to write and edit your campaign. This step is crucial because it's the main factor that will attract users to click on the ad.
The main elements are:
Final URL ‒ the landing page address, which should match your campaign.
Headlines ‒ Google AdWords let you put three headlines with the limit of 30 characters each. Use the space wisely and make sure to add in the keywords.
Descriptions ‒ you're able to write in two descriptions that can be up to 90 characters each. Convey your message clearly, add in extra information and more related keywords to optimize SEO.

Once you're happy with your ad, click the SAVE AND CONTINUE button and proceed to the last step. You'll be asked to enter your business billing information. When you're all set, press SUBMIT and your campaign will be sent to Google to be confirmed.
4. Evaluate Performance
Another great point of Google AdWords is that you can track your ads performance. This is a very useful and important tool as Google will be using the information to decide where your add will be displayed on SERPs.
Google has made things easy for users to get reports on how your ads are doing. Simply navigate to the Campaigns page on your Google Ads dashboard and click on the REPORTS button.

You can check on different performance metrics of individual ads. Whether it's the keywords, the number of clicks your ads are getting, or if your target audience has been visiting your landing page. All the insights can then be used to further optimize your ads.
Conclusion
If you're currently running a business, whether it's online or offline, Google AdWords is a beneficial tool that can help you reel in more potential customers. Though setting it up does need a lot of effort, with this guide you'll be able to get through the process with no worries.
Let's recap the steps once more:
Plan your campaign ‒ a campaign design depends on the type of business you're running and your objectives.
Set up a Google AdWords account and create your ad ‒ use your Google account, then set your target audience, budget, bidding, and enter in your campaign's details.
Evaluate your ads performance ‒ track how your ads are doing, from the status of the keywords to the number of clicks an impressions your ads are getting.
So if you want to upgrade your business, go and give Google AdWords a try!