How to Point a Domain Name to Hostinger Using Nameservers or A Record
Knowing how to point a domain to Hostinger after purchasing a domain name is essential if you want to buy hosting from us but register the domain elsewhere. It's also a good idea to make sure it's pointing before transferring your domain to ensure minimum downtime for your website.
Keep on reading as this tutorial will show you how to connect the name to our service.
Download Guide To Using Hostinger


How to Point Your Domain – Video Tutorial
In this Hostinger Academy video, you will learn how to point a domain name to a new host from any domain registrar.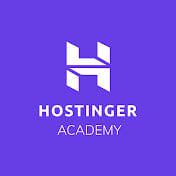 Subscribe For more educational videos!
Hostinger Academy
Subscribe
How to Point a Domain Name to Hostinger?
Hostinger's nameservers are:
ns1.dns-parking.com
ns2.dns-parking.com
There are two main ways to point a domain name to Hostinger:
Changing the nameservers at your domain name registrar. This method is recommended since your DNS zone will be automatically configured to match the hosting's IP Address. Plus, it enables you to transfer the control of your domain settings to our hPanel, making management convenient.
Pointing the domain name via A record. This method requires you to change the IP address connected to the DNS records. That way, your domain control stays in the registrar. Unless you're sure the IP address is going to be static, this procedure is not recommended.
Important! This guide shows how to point a domain name if it's NOT registered with Hostinger. For a general tutorial on pointing a domain name to another provider, check out our tutorial on how to change domain nameservers.
Changing Domain Nameservers (Recommended)
The process of changing nameservers on various registrars is quite similar. Here's what you need to do to point your domain name to Hostinger:
Find the nameservers for your Hostinger account. You can do this by accessing hPanel's DNS Zone Editor and entering "NS" into the search bar. We use two nameservers to ensure stability and maximum connectivity. So if one nameserver failed, the other will resolve the requests.

All nameservers correspond to an IP address, which you can locate by scrolling up to the A (Host) section. While in most cases you only need the names, some registrars may require the IP as well.

Log in to your domain registrar's control panel. If you've forgotten the name of the registrar's company, use WHOIS lookup.
Go to the DNS Zone Editor. Depending on the registrar, it can be named differently. The most common ones are DNS editor, Manage DNS Settings, Change Nameservers, DNS Details, etc.
Delete all values from the nameserver fields (if any) and input Hostinger's nameservers. Save your changes. It might take up to 24 hours for DNS to fully propagate worldwide.
Pointing a Domain Name via A Record
It's an alternative you can try if you wish to keep control of your DNS zone at your domain's registrar. It consists of two primary steps:
Step 1: Changing A Records
A Record maps a domain name to its appropriate IP address. Therefore, if you want to point your domain name to Hostinger, you can modify these records by replacing the old IP address with the one from Hostinger.
In most cases, you have to create two A records for your domain name: one with the www subdomain and one without.
For instance, if you have a domain named yourdomain.com and want to point it to 212.1.212.62 as its IP address, you need to create A Record entries that look like this:

It's also possible that your www subdomain is pointed via the CNAME (alias) record. In that case, you only have to change the A record for your root domain name.
Don't worry if you see a slightly different view at your registrar. Just fill in the values that look similar to the ones shown above. Each field stands for:
Name/Host – the domain or the subdomain you want to point to. Some registrars use @ symbol instead of a name to represent the root domain.
TTL – short for Time to Live. It determines how long the server caches DNS-related information before refreshing it. The default value is usually 14400 seconds (4 hours).
Type – record type.
Record/Address – the target IP address.
Step 2: Changing MX Record for Email
MX record specifies mail servers that handle incoming emails. If you want to use Hostinger servers to receive emails sent to your domain, you need to change your domain's MX record.
At Hostinger, the MX record can be found in DNS Zone Editor as well.

Important! Before starting this tutorial, take into account that DNS changes can take up to 24 hours to fully propagate worldwide.
Take note of the mail server's address. After that, open your domain's MX record and replace the old mail server:
Name – @ your domain name.
Priority – if you have more than one server, this field determines the priority of each server. The lowest number represents the highest priority.
Type – record type.
Address/Points to – destination/address of the server responsible for receiving emails.
Conclusion
By finishing this tutorial, we have learned the two ways to point a domain name to Hostinger. The first is by changing the nameservers, and the second is by changing your registrar's A Record.
We recommend the first option as it automatically sets your domain with our IP Address so you don't have to go through another hassle if it changes one day.
So what do you think? Which method will you choose? Let us know in the comments below!
How to Point a Domain FAQ
Why Is My Domain Not Pointing to Hostinger?
The activation process may take a few hours to finish if you have just bought your domain. If you recently pointed your domain to Hostinger, the changes may take up to 24 hours to propagate. There may also be a problem with domain verification in general.
How Do I Point My GoDaddy Site to Hostinger?
First, log in to your GoDaddy account and access the DNS management page of your domain. Take note of the NS records and update these records in your domain's DNS zone.
How Do I Check My DNS Pointing?
Simply log into your domain account, select the domain, and view the current records.
What Is Pointing a Domain?
When you point a domain, you're basically connecting your domain name to the right server that stores your website's data. This way, you can connect different service providers and have the optimal setup for your website.