How to Use Yoast SEO WordPress Plugin: Beginner's Guide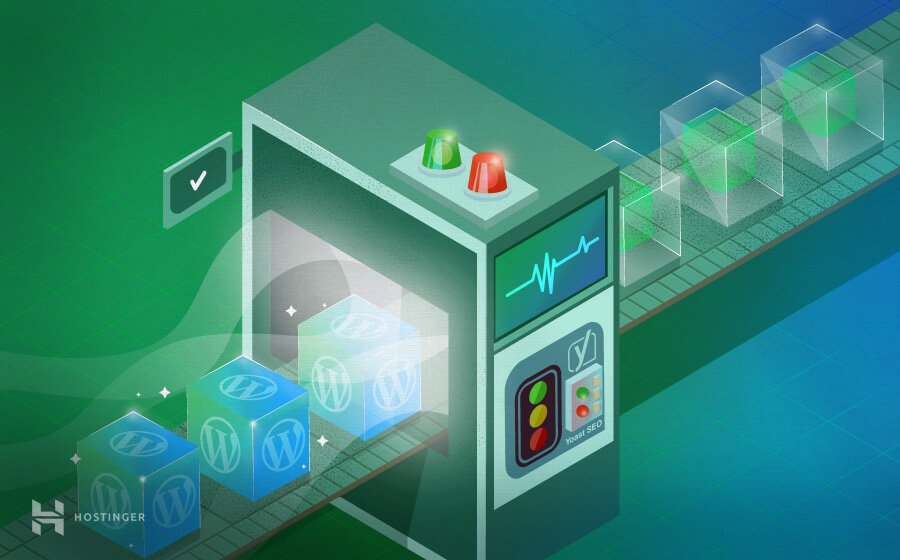 Even though WordPress is search engine friendly by default, you can get even greater results with the Yoast SEO plugin.
Keep on reading, as we will be discussing all that you need to know on how to use Yoast SEO WordPress plugin and improve your SEO.
Video Tutorial
If you prefer reading, check out the tips and tricks below.
What is Yoast SEO?
Search Engine Optimization (SEO) is a practice to optimize your website or content in such a way that it is both recognized by the search engines and potentially attracts more traffic in order to rank higher on search result pages.
With Yoast SEO, controlling your on-site SEO is a breeze – you can create an SEO-optimized quality content using a single plugin.
The free version is capable of optimizing your content using a single focus keyword. It also offers such features as density insight and readability check. Yoast SEO enhances your technical SEO practices allowing you to customize XML sitemaps' index, meta tags, and descriptions, and features a snippet preview function.
Meanwhile, the paid version covers all of the free and premium features. With up to five focus keywords support, it includes a URL redirect manager and internal link suggestions. You can also control how your content will be displayed on SERP with its breadcrumbs, content types, media, taxonomies, and archives options.
How to Use Yoast SEO on WordPress?
Navigate to the Plugin tab on your WordPress dashboard admin area, select Add Plugin and search for a Yoast SEO. Once it's installed and activated, you'll see an SEO tab on your dashboard.
1. Import Data from Other SEO Plugins
If you have been using other SEO plugins, you can import your settings instead of modifying it up from scratch. Head over to the Tools menu under the SEO tab, and select Import and Export settings.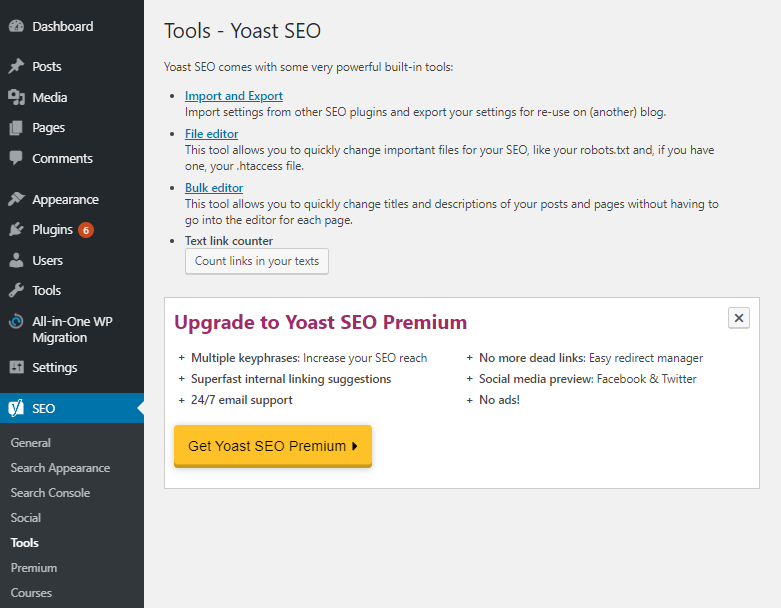 To import your previous settings, paste them on the Import settings tab, or use the Import from other SEO plugins option.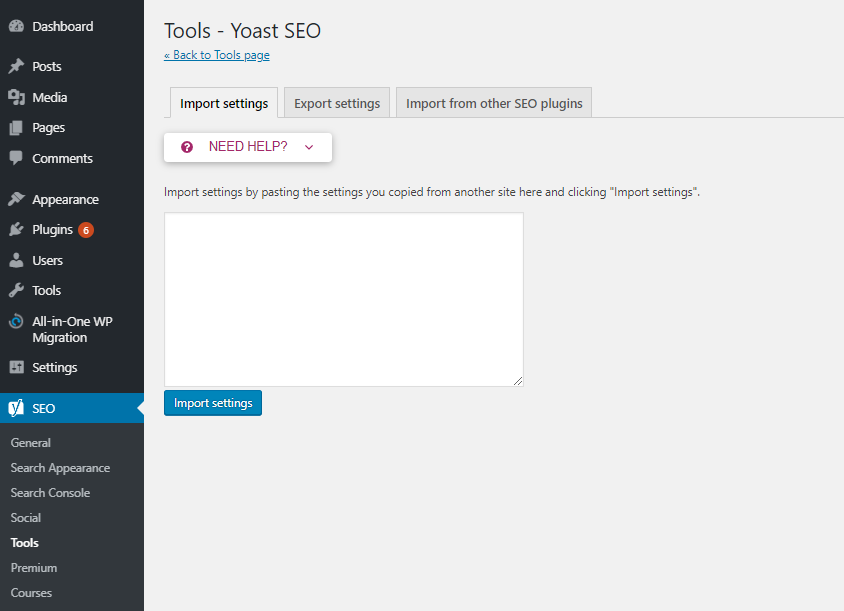 Feel free to skip this step if you haven't used any SEO plugins before.
2. Configure General Settings
Before going any further, complete the configuration wizard to help the plugin decide what kind of practices you should follow for your website's technical SEO.
Through your WordPress dashboard, go to SEO -> General section. In the Dashboard tab, click the configuration wizard link.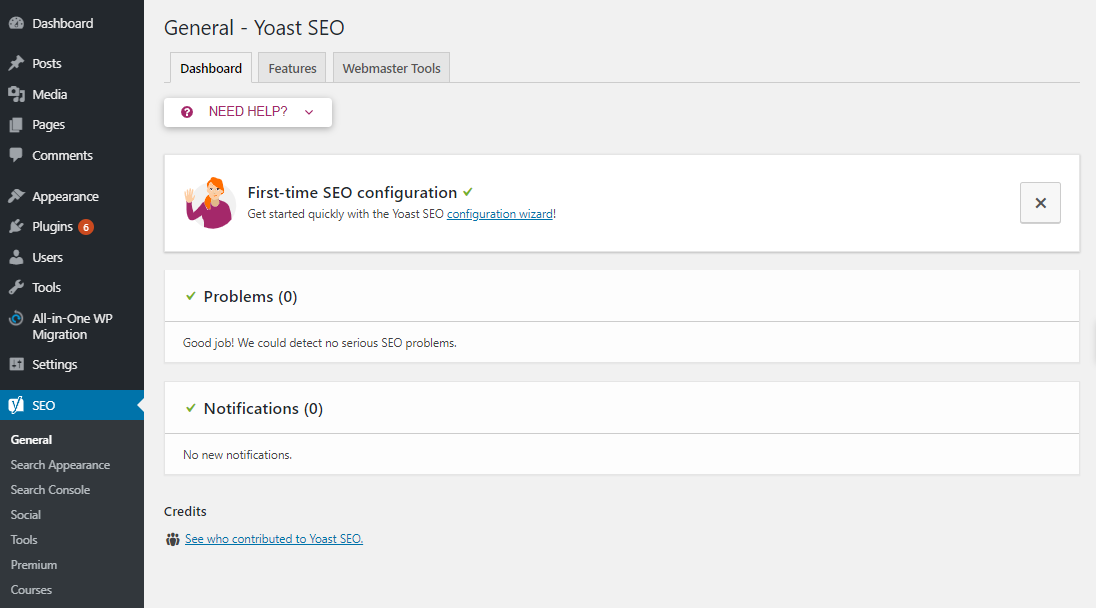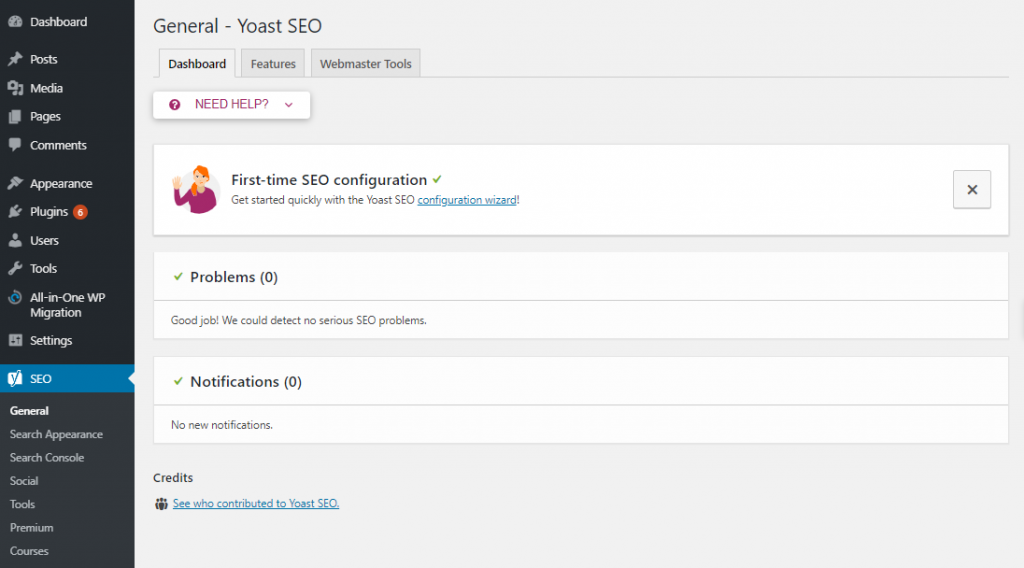 There are nine steps you have to do to specify the plugin's setting for your site:
Confirm whether or not your website is live and ready to be indexed.
Specify your site's type.
Verify your site's ownership to provide the right information for Google's Knowledge Graph.
Next, define your search engine visibility preferences.
Specify how many people will be running your website.
Tweak meta titles and variable settings to optimize your site's branding.
Provide your email information on whether you want to subscribe to Yoast's newsletter.
Check if you want to upgrade to Yoast SEO Premium.
Lastly, the plugin teaches you about some of its features.
3. Customize Features
If you feel overwhelmed by all of the available features, you can choose to either enable or disable them from the Features tab under the General menu.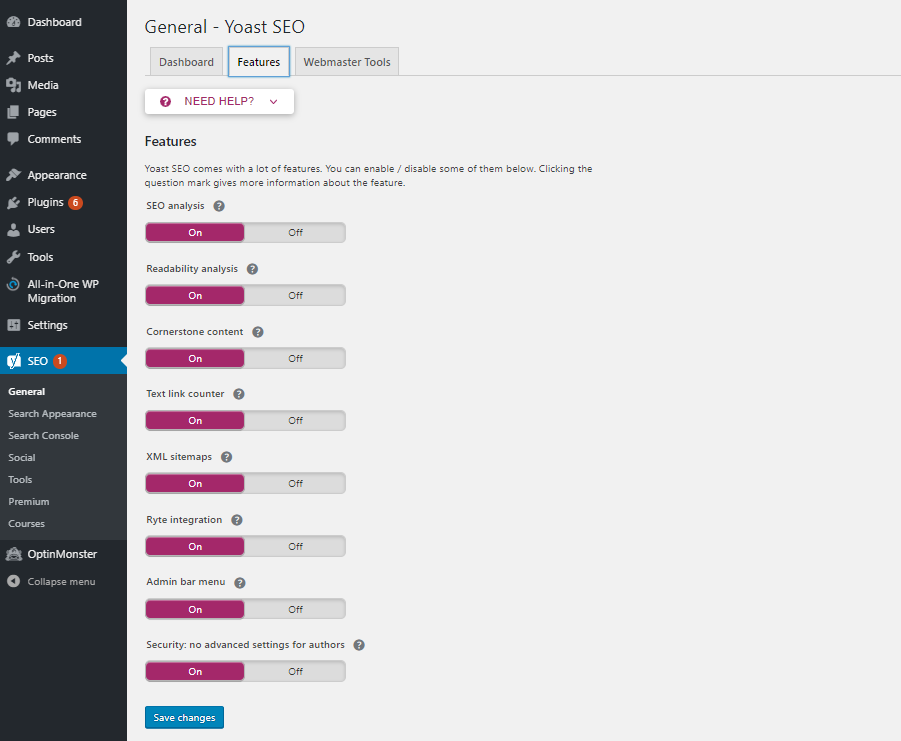 Simply click the On/Off button to tweak each setting.
4. Optimize Content with Yoast SEO Meta Box
Once configured, you'll see the Yoast SEO meta box either under or just beside your post editor. It consists of three sections – Content Optimization, Social, and Advanced tabs.
Content Optimization includes a Snippet Preview that allows you to see and determine how will your post appear on the search engine result page. You can change snippet's title, edit its slug, and add meta descriptions.
Content Optimization section also features:
Focus keyphrase – determine your focus keywords and its synonym before checking the SEO analysis.
SEO analysis – shows your post's overall SEO performance. You can see how sufficient your internal and external links are, how good is the keyword and keyphrase distribution, and how effective is your image alt text.
Readability analysis – checks how readable your paragraphs and sentence lengths are, and grades them using a Flesch-Kincaid readability score.
Cornerstone content – analyzes your important content and evaluates your overall link structure.
Insight – shows the most frequently used words and phrases in your content.
Pro tip: The indicators will turn green if you're doing good with your SEO. If it's orange or red, that means there are some issues you should optimize.
Similar to the Snippet Preview, the Social Media tab allows you to preview and manage how your posts will look like on Facebook or Twitter, etc. You can add images, customize the title and description.
Meanwhile, the Advanced section is where you can customize some advanced SEO settings. You can configure your search engine visibility, follow-or-no-follow links, and settings for meta robots. Be careful when configuring this tab, as it will cause a negative impact on your SEO if done improperly.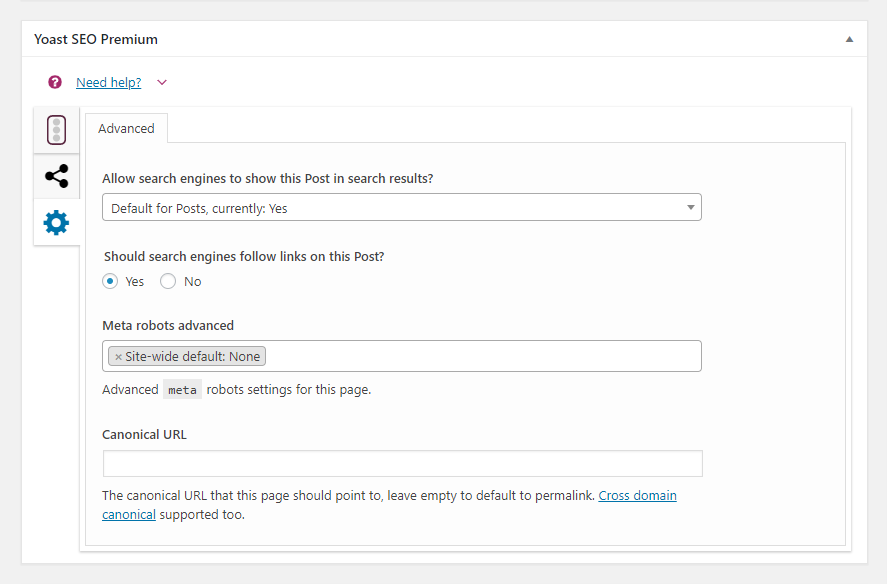 Conclusion
If you want to reach your potential customers, efficient SEO practice is crucial. Yoast SEO WordPress plugin makes it easier to accomplish that.
Using Yoast SEO to optimize your on-site SEO, you will be able to improve your content without using too much effort.
In summary, here's how you would use Yoast SEO:
Import data from other SEO plugins – transfer your previous SEO settings to Yoast SEO if you have used other plugins from before.
Configure general settings – follow the configuration wizard to optimize your technical SEO practices.
Customize features – choose what additional options you want to activate, such as SEO analysis or XML sitemaps.
Optimize content using Yoast SEO meta box – see how well-optimized your content is for SERP.