Blogger to WordPress: A Beginner's Guide to Migrating Your Site Without Losing SEO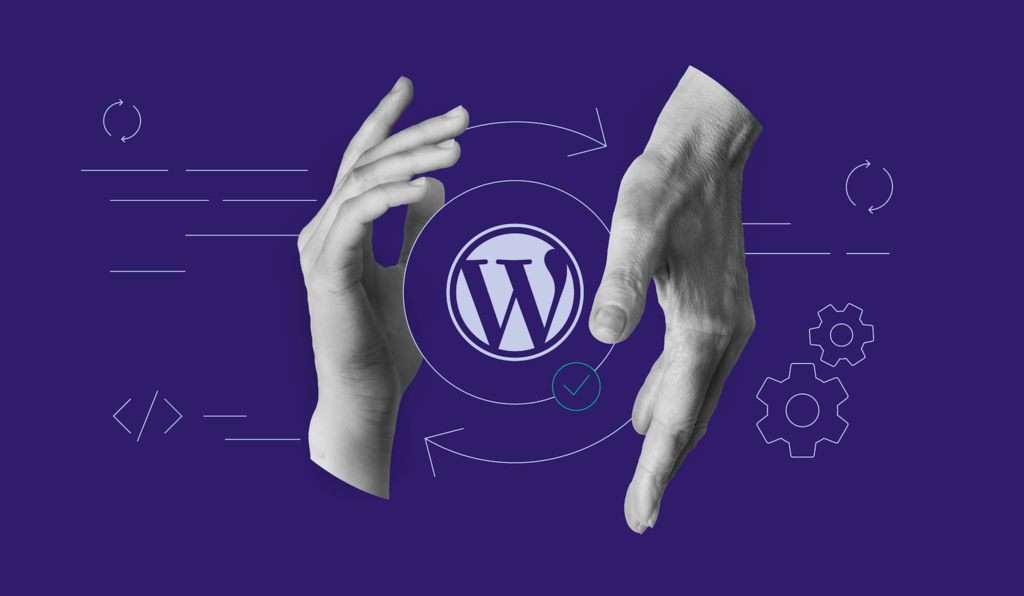 Are you planning to transfer your site from Blogger to WordPress but don't want to lose traffic and search engine rankings? Keep reading, because, in this article, we'll explain why migrating your site can be beneficial and provide a step-by-step guide to help you complete the transfer process easier.

Why Would You Migrate from Blogger to WordPress?
Blogger is a reliable but simple blogging platform for creating and publishing blog posts. But when it comes to expanding your site towards a larger-scale project (such as a digital store), Blogger may not provide all the features you need.
On the other hand, WordPress is a fully-featured CMS that you can rely on to create any kind of website, from a personal blog to a business site. Let's cover some of its strongest features:
Self-hosted — you can choose where to host your site, which allows for greater control over how much you spend, and what you get for it.
Plugin and theme availability — tons of plugins and themes are available to shape your website into whatever you need it to be, and to extend its functionality.
Completely customizable — you can easily change how your website looks and tailor it perfectly to your audience.
SEO friendly — The WordPress libraries offer plenty of SEO plugins and SEO-friendly themes to improve how your site ranks.
Light — WordPress doesn't require a lot of memory, loads fast, and offers a great user experience for both visitors and webmasters.
Keep in mind that when we talk about WordPress, we talk about the CMS that can be found on WordPress.org, not the platform WordPress.com. The two platforms have many key differences when it comes to hosting, domains, monetization, etc.


3 Easy Steps to Migrate from Blogger to WordPress
Now that you know the benefits, here are the steps to migrate Blogger to WordPress.
Step 1. Get Web Hosting
The first step to WordPress migration is to find the best web hosting provider for your site.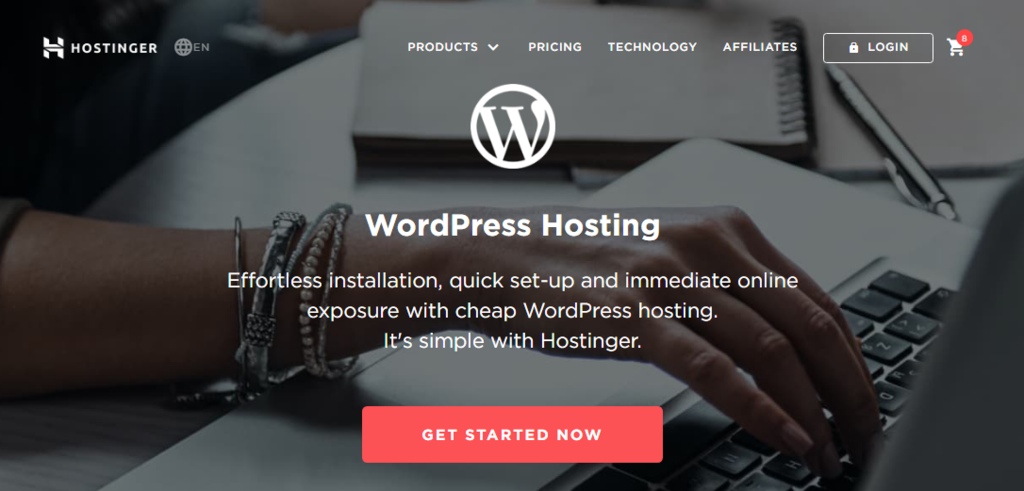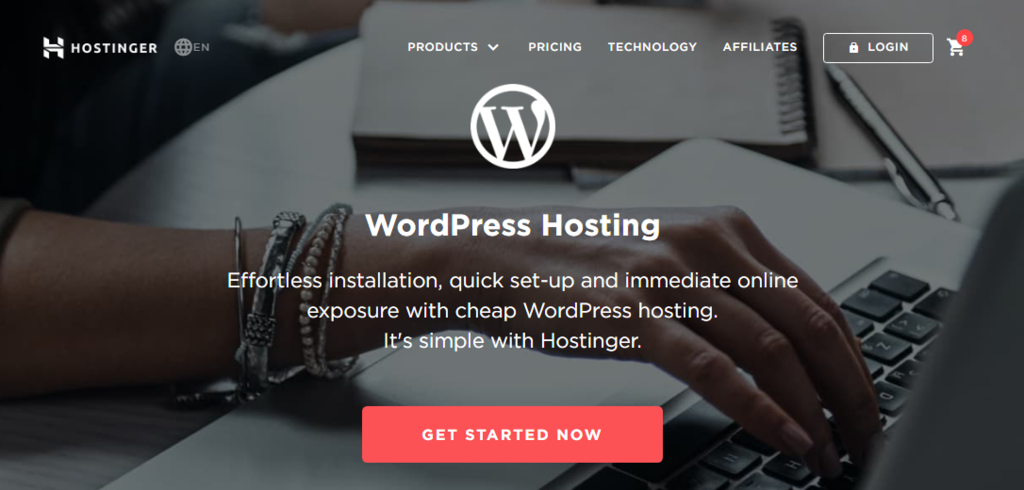 You can check out Hostinger's WordPress hosting plans, which provide a one-click WordPress installer, a 99.9% uptime guarantee, 24/7 customer support, and special optimization to improve WordPress performance. Here's how you get Hostinger's WordPress hosting:
Navigate to the WordPress hosting page.
Pick your preferred plan and click Add to cart.
At the Shopping Cart, you can add other services like daily backups. Then, click Checkout Now.
Complete the Sign Up process to create a new Hostinger account or Log In if you have one.
Pick the payment method and complete the purchase.
If you opt for the Premium or Business plan for 12 months or longer, you can register a domain completely free for the first year. Alternatively, if you already have a domain, you can transfer it to Hostinger.
Now we can use the hPanel to install WordPress:
Head to the Hosting menu on the hPanel, select Manage.
Navigate to the Websites section, and choose the Auto Installer.
Select WordPress and fill out all required information, including your domain name, then click Install.
Step 2. Manually Transfer Your Site Data
Next, transfer your site's content from Blogger to WordPress manually:
From the Blogger Dashboard, go to Settings -> Other.
In the Import & back up section, select Back up Content -> Save to your computer. The XML file will be downloaded automatically to your device.
Now, head to the WordPress Dashboard, there go to Tools -> Import.
Choose Blogger by clicking Install Now, then select Run Importer.
On the Import Blogger page, press the Choose File button.
Locate the XML file you've saved and Upload it.
You will be redirected to the Assign Authors page. Fill out the user information and click Submit.
Congratulations. You have your Blogger website's posts, comments, and categories in your new WordPress site. But it's not over yet, the last step is redirecting your traffic.
Step 3. Redirect Your Traffic with a Plugin
The most important part of preserving SEO is having your old site redirect to the new one. In this tutorial, we'll use a WordPress plugin ‒ Blogger To WordPress Redirection.
First, set up your WordPress permalinks to resemble Blogger's link structure.
Head to WordPress Dashboard -> Settings -> Permalinks.
In the Common Settings section, choose Month & name.
Hit Save Changes.
Now, let's start the redirection setup:
Download and activate the Blogger To WordPress Redirection plugin from the WordPress dashboard's plugin section.
Navigate to Tools -> Blogger To WordPress Redirection.
Click the Start Configuration button to display the List of Blogs section. Then press Get Code. Copy the generated code.
Now, head to your Blogger Dashboard -> Theme.
Scroll down to the bottom of the page and click Revert to classic themes. Before inserting the code, it's recommended to backup your old Blogger theme in case anything goes wrong.
In the Edit Theme HTML box, replace the whole code with the generated one -> Save theme.
If you want to test whether the redirection is successful, head back to the Blogger To WordPress Redirection page and select Verify Configuration. Click the Blogger link in the Test Case section.
Additionally, if your Blogger site has RSS subscribers, you also need to redirect the feed.
Access your Blogger Dashboard -> Settings -> Other.
In the Site Feed section, click Add next to Post Feed Redirect URL.
Type your WordPress feed URL (Eg.: http://yoursitename.com/feed).
Conclusion
As Blogger provides basic features for building a simple blog, migrating from Blogger to WordPress is necessary to get more and better features for growing your site once you start making money blogging or online. When transferring, it's important not to overlook a few key steps that will help carry over traffic and SEO metrics.
Here is the recap of how to carry your site over from Blogger to WordPress without affecting SEO:
Find WordPress hosting that will meet your needs, then install the CMS.
Transfer your site's content manually by downloading the XML file from Blogger, then upload it to WordPress.
Activate the Blogger To WordPress Redirection plugin to automatically redirect visitors and search engines to your new site.
Make sure to check our guide on how to start a blog to find out the post-migration steps to complete your blog set-up.
There you go. Give it a try and good luck.